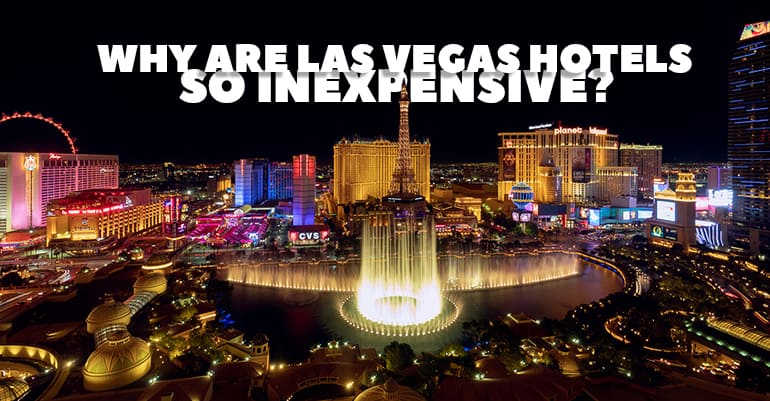 When recently looking at hotels in Las Vegas, I was surprised at how many affordable rooms where available. So, I decided to look into the situation a little further to find out why Las Vegas hotels are so cheap.
Las Vegas hotels advertise cheap rooms in order to attract visitors to the city. Hotels can afford to keep rooms cheap because they make most of their money from other sources-like restaurants, casinos, shows and nightclubs.
Hotels keep room rates low so that guests have more money to spend on things like:
Gambling
Restaurants
Drinks
Live shows
Bars
Nightclubs
Pool parties
Retail shopping
Sporting events
Hotel rooms on the Las Vegas strip account for less than 30% of a casino's total revenue. The major casinos use cheap rooms to get customers to book at their hotel, knowing that they will spend money on other attractions once they arrive. As a consumer, you want to be careful since rooms may actually be more expensive than they appear.
Why Las Vegas Hotels Are Able To Sell Cheap Rooms
When you compare hotel rates in Las Vegas to other major cities (like New York, Miami, Chicago and San Francisco), you'll notice Las Vegas to be among the cheapest. This didn't happen on accident.
Las Vegas is heavily reliant on tourism to drive it's economy. In fact, some may argue that tourism is the sole reason why Las Vegas exists. If people stopped coming to Las Vegas, the city wouldn't be able to survive. That is why hotel rooms and flights are so cheap. The lower prices act as an incentive to get people to come visit the city. Even some of the most popular Vegas resorts have inexpensive nightly rates:
| | | |
| --- | --- | --- |
| Hotel | Nightly Rate (weekday) | Nightly Rate (weekend) |
| Excalibur | $40 | $135 |
| Flamingo | $65 | $200 |
| Treasure Island | $115 | $175 |
| Mirage | $125 | $200 |
| New York-New York | $135 | $190 |
| MGM Grand | $140 | $160 |
| Mandalay Bay | $150 | $215 |
| Aria | $195 | $250 |
Some of the resorts listed above are 4 and 5 star hotels. Now you may be thinking, how do these hotels afford to sell rooms for so cheap? Don't the casinos make less money when they advertise cheap rooms?
I was asking the same questions, so I did some research to find out how Vegas hotels could sustain such low pricing. What I found was that Las Vegas hotels typically make less than 30% of their total revenue from hotel rooms. Most of their money comes from other sources like gambling, restaurants, nightclubs and shows.
The UNLV Center For Gaming Research puts out an annual report breaking down where casinos make their money. I used the most recent data to put together chart below.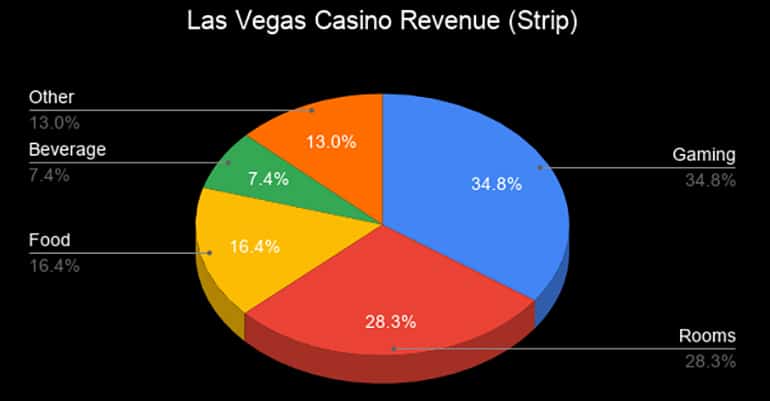 As you can see, only a small portion of a casino's revenue actually comes from hotel rooms. The chart above is a revenue breakdown of the casino resorts on the strip. The hotels in Downtown Las Vegas (shown in the chart below) make even less money on hotel rooms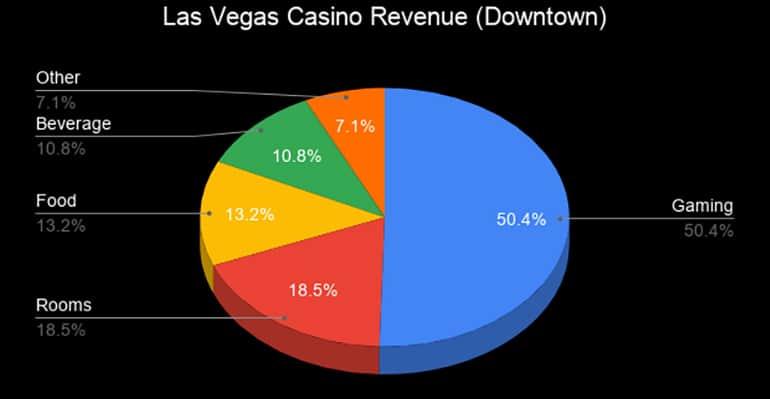 The casinos use cheap rooms to get you to stay at their hotel, knowing that you'll spend money on other things once you arrive. That's why they aren't afraid to offer cheap hotel rooms. Most hotels even offer "comped rooms" (or complimentary rooms) that are completely free.
Casinos often give out comped rooms to big spenders. Even with the free room, the casino knows that if they can just get you to visit, they'll be able to make a profit. The money will come back to them on the casino floor, at the day spa, or wherever else you plan on going.
Competition Pushes Down Las Vegas Hotel Rates
There is no shortage of hotels rooms in Las Vegas. As of now, there are about 150,000 hotel rooms in the city, plus more are in construction. The city-wide occupancy rate runs between 80-95%, so there are clearly more rooms than visitors at any one time.
This makes for a cut-throat industry, where many of the hotels are competing for the same customers. To stay competitive the hotels advertise lower prices.
Of course there are a few luxury hotels (like the Wynn or Bellagio) that don't compete on price. But the vast majority of mid-tier and budget hotels are constantly trying to out battle each other with lower nightly rates.
However, cheap nightly rates in Las Vegas are often deceptive. Most hotels on the strip charge resort fees that aren't included in the nightly rate.
Vegas Hotel Rooms Aren't As Cheap As They Appear
When you compare hotel prices online, most travel websites don't include resort fees. This is extremely deceptive, since resort fees can sometimes cost as much as the room itself!
Most hotels in Las Vegas charge a resort fee for amenities like Wi-Fi, pools, and gym access. These resort fees are mandatory expenses that are charged daily, even if you don't use the amenities. And to make matter worse, they are often charged at checkout. Most people don't find out about them until it's time to pay.
The majority of resort fees cost between $20-$45, plus tax. (I listed a few hotels that don't have resort fees in another post here.)
Resort fees allow hotels to advertise low upfront prices, since these fees are separate from the base room rate. This is one of the reason why hotels rooms in Las Vegas seem so cheap. Here are some examples:
| | | | |
| --- | --- | --- | --- |
| Hotel | Advertised Rate | Resort Fee | Total Nightly Cost |
| Excalibur | $40 | $35 | $75 |
| Mirage | $125 | $39 | $164 |
| MGM Grand | $140 | $39 | $179 |
| Aria | $195 | $45 | $240 |
Most hotels in Las Vegas have adopted this practice, not just the ones mentioned above. You can book a decent hotel on the strip for $160 a night, but then pay an additional $40 a night in resort fees. In reality you're really paying $200 a night.
Some of the lower-end hotels advertise base rates as low as $25. What they don't tell you (or what they hide in fine print) is that they also charge $35 a night in resort fees.
Look out for parking fees too. There are a few major hotels that have done away with parking fees, but most still implement them. Parking fees can cost as much as $30 a day.
I would like to point out that even with resort fees, Las Vegas hotels are still cheaper than many other popular tourist cities. Just be aware of resort fees while you're planning your budget.
When Are Las Vegas Hotels The Cheapest
Hotels in Las Vegas are by far the cheapest in early to mid-December and early January. In other words, the cheapest time to visit Las Vegas is right before New Years and directly after New Years.
Las Vegas is cheap in early December because less people are visiting leading up to the holidays. Then there is a surge in tourism from December 26th-December 31st because of New Years. After New Years most people are all partied out, so there is usually a lull in tourism until mid-January.
You can also get really inexpensive hotels during the summer (June-August), when conventions and other large events start to slow down. If you want a month-to-month comparison of hotel prices, I wrote a more in depth post about the cheapest months to visit Las Vegas here.
Another way to save a ton of money in Las Vegas is by booking your vacation during the week. Hotel rates are often 50% cheaper Sunday-Thursday than they are on Friday and Saturday.
Why Are Las Vegas Flights So Cheap
Flights to Las Vegas are cheap for many of the same reasons why hotel rooms are inexpensive. Cheap prices make potential customers more likely to book a trip.
Las Vegas is so dependent on tourism that the casinos have deals worked out with airlines. That's why you can find low airfare prices year-round. Although, how cheap the flight is depends on how far away you are from Vegas. For example flights from Los Angeles to Las Vegas may only cost $100, but plane tickets from Miami to Las Vegas cost $400. The further away you are, the more the flight is going to cost.
You can also save money by avoiding flights that arrive in Vegas on a Friday. The same goes for departures on Sunday. These are the two busiest days at McCarran International Airport.
Related Questions
How much does a Las Vegas vacation cost? The average person is going to spend between $200-$300 a day in Las Vegas. But, you could spend more or less than that estimate depending on the activities you do. If you want to get a better idea of how much everything costs in Las Vegas, I wrote a more in depth post here.
What is there to do in Las Vegas? There are so many things to do in Las Vegas besides gambling and partying, that I can't list them all out here. If you want some ideas of what to do in Las Vegas, I listed out 76 of the best activities and attractions here.