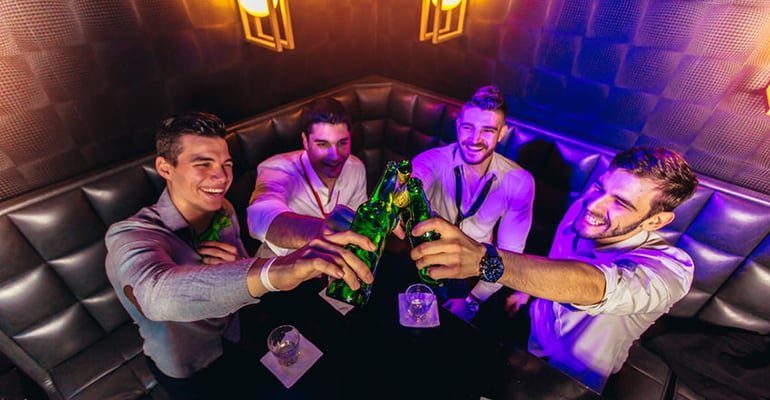 You may have heard that it's difficult to get a group of guys into nightclubs in Las Vegas. Many people say that the only way into the club is to get a bunch of girls, or to buy an expensive bottle service table. Some people even recommend tipping the doorman. But Las Vegas has changed quite a bit in the last couple of years…
Many nightclubs and pool parties now allow men in for free. There's no doorman to tip (that's a myth). In fact, all you have to do is sign up for the guest list. All Vegas nightclubs now have guest lists offering free entry into the club. It's true that most clubs only offer free entry to women or men with an even ratio of women in their group. But there are a number of clubs that allow groups of all guys to get in for free on the guest list. These club include…
Hakkasan
Omnia
Light
On The Record
Jewel
Wet Republic
Daylight
Signing up for the guest list is simple and completely free. It can be done through a promoter or online in less than 2 minutes. Plus there are no requirements for the guest list, like having a specific look or being a celebrity. You do however, need to follow the dress code. There are some things that you'll want to know before picking a club since each club plays a different type of music. Some clubs are also more popular than others causing insanely long lines. Additionally, there are times when you may want to consider a table.
Vegas Nightclubs That Offer Guys Free Entry
Of the 8 clubs listed above, a few of them are widely considered among the top 5 Vegas nightclubs. Just because the club lets men in for free, doesn't mean it's going to be a sausage fest. In fact, quite the opposite, as many of these clubs are known for having plenty of attractive women. They often give groups of women free drink tickets or comp bottle service to incentivize them to come to the club.
Hakkasan and Omnia are the two best overall clubs on the list. They also are the busiest so you will need to arrive early. The doors open at 10:30 pm but if you're not in line by 10:00 pm on a busy night, you may not get in at all. There is a cutoff time for the guest list around 12:30 am so if you haven't entered the club by then, expect to pay full cover (which is usually $30 – $75 depending on the DJ).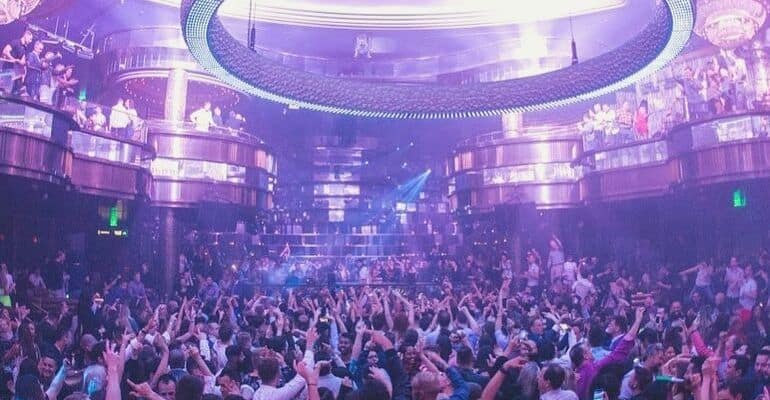 As far as music goes Hakkasan, Omnia and Light all play mostly EDM music. Although, Hakkasan and Omnia both have separate rooms within the club dedicated to Hip Hop. Jewel plays a combination of EDM and Hip Hop.
On The Record is a bit different and plays pretty much ever musical genre. They focus on the biggest hits from the past couple of years, along with throwbacks.
You can learn more and sign up for each club's guest list here. When you get to the venue, there is a separate guest list line that you'll want to use. This is different from general admission and bottle service. Every nightclub has a different spot for it, but there are plenty of signs to help you find the guest list line.
Vegas Dayclubs That Offer Guys Free Entry
There are less dayclubs and pool parties where men can get in for free. This is because Vegas pool parties are extremely popular and always packed. Luckily one of the best pool parties, Wet Republic, does allow men on the guest list free admission. This club gets extremely crowded so if you plan on partying here (which I strongly recommend you do), then you're going to want to get in line by 10:30 am. If you're late or don't use the guest list, tickets typically cost between $50 – $100.
Daylight is another popular dayclub that offers free entry to men. The same guest list rules apply here. Sign up for the guest list and get to the club early. If you do that, then you'll save a ton of money since you'll be partying at one of Vegas' top dayclubs for free. You still have to buy drinks but that's a whole other story.
Clubs That Offer Free Entry With Even Ratio
Men can get free entry at a couple Vegas clubs without having any girls, as we already covered. But what about the other nightclubs? The truth is, you can get free entry at every Vegas nightclub if you have an even ratio of women in your group (or a greater number of women than men).
So, if it's just you and your girlfriend, both of you can get in free at every club. If your group consists of 3 guys and 3 girls, again everyone would get in free. As long as there is at least one girl, for every guy then the entire group can visit any Vegas club free of charge using the guest list.
The guest lists for every club are extremely organized. As long as you meet the ratio requirements and are at the club on time, you WILL ALWAYS get in for free. There is no doorman judging you at the door. No bouncer is going to tell you that your too old or too ugly. This isn't the 80's, you will get into the venue!
The few exceptions are if you're not following the dress code (that goes for both men and women). Also, guest lists aren't available for some DJs, so you won't be able to sign up those nights. There are only a few DJs that don't have guest lists: Calvin Harris, Migos, 2 Chainz and Rick Ross. You'll know if there is no guest list because when you go to sign up, the date won't be available.
When Getting Bottle Service Makes Sense
Even though you can get into many Vegas clubs for free, there are still times when bottle service makes sense. Bottle service is obviously the best way to party in Las Vegas considering you get your own private area, expedited entry, and a lot of attention within the club among other things. Compare this to getting pushed around a crowded bar and bottle service looks like a no brainer.
Bottle service can often be cheaper than you think as it can start around $350 at some nightclubs. Also, when you have a group of 5 or 10 friends the total cost of a table goes up, but the individual price each person pays goes down. A $1,000 table split 6 ways is only is only $170 per person. That's actually a decent price when you consider that your going to be paying $20+ per drink at the bar (I know it's ridiculous!).
Depending on your budget, you may want to go the bottle service route. It's going to be slightly more expensive, but you'll have much more fun. You can learn more about Vegas bottle service here.
Related Questions
What are the most popular Vegas nightclubs? XS Nightclub along with Omnia are considered to be the best nightclubs in Las Vegas. Both clubs play mostly EDM music featuring resident DJs like, The Chainsmokers or Calvin Harris, that bring in large crowds. Drai's is another popular nightclub that focuses almost entirely on live Hip Hop music from top artists like Migos or 2 Chainz.
How do I sign up for the Las Vegas guest list? The easiest way to get your name on the guest list is to sign up online. All guest lists are 100% free and take seconds to sign up for. Women get free entry to all Vegas clubs on the guest list while men are required to have an even ratio of women to get in free at many clubs (but not all). You can sign up for dayclub and nightclub guest lists here.
How do I reserve bottle service in Las Vegas? To reserve bottle service in Las Vegas you must speak with a VIP host that works at the club. VIP hosts handle all bottle service reservations for the venue. If you're looking to reserve a table you can contact us here and we'll connect you with a VIP host that works for the club of your choice.