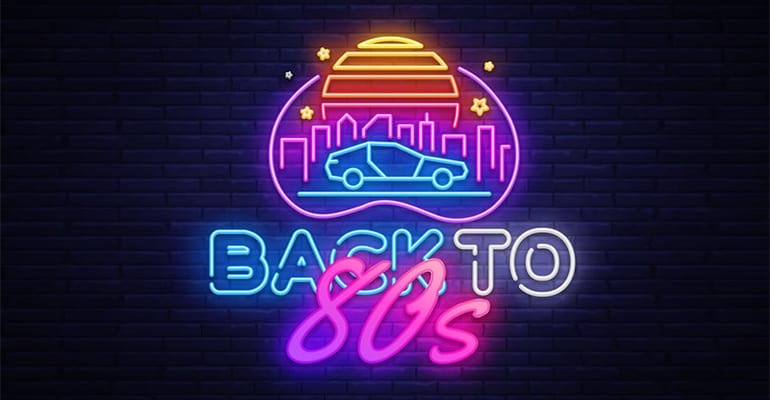 Most bars and clubs in Las Vegas play a mix of Top 40, EDM, and Hip Hop music. But, if you're anything like me, then you enjoy listening to some 80's classics from time to time. Fortunately, there are a few venues that continue to play 80's hits consistently.
What bars and clubs play 80's music in Las Vegas? Bars that play 80's music include Oddfellow's, Cat's Meow, and Level Up. Oddfellow's and Cat's meow are both located on the Fremont Street Experience, while Level Up can be found inside the MGM Grand. On The Record is the only Vegas nightclub that consistently plays 80's music.
There aren't many Vegas bars or clubs that play 80's hits every night. Rather, most bars either have an 80's night or mix it in with other genres of music. Also, some clubs play a lot of 80's, but through karaoke. I'll cover some of the most popular venues that play 80's music and the best days to go.
Oddfellows Las Vegas
Oddfellows is located on Fremont Street, which is downtown Las Vegas. The vibe here is much more casual than what you'll find on the Vegas strip. It feels much more like a traditional bar than a Vegas mega-club.
Oddfellows has a karaoke night on Tuesday where they play plenty of 80's, but you're going to want to be here on Friday nights. They hold their "Footloose" dance party every Friday, and that's where you're going to get the biggest dose of uninterrupted 80's music.
You'll hear all of the hits you were looking for and more. But if you don't hear your favorite song, the DJ often takes requests. Also, the drink prices are very reasonable, making this one of the best 80's bars in Las Vegas.
This Vegas bar also has a 90's night every Wednesday. So, if you're into 90's classics I would highly recommend Oddfellows that night too.
On The Record Las Vegas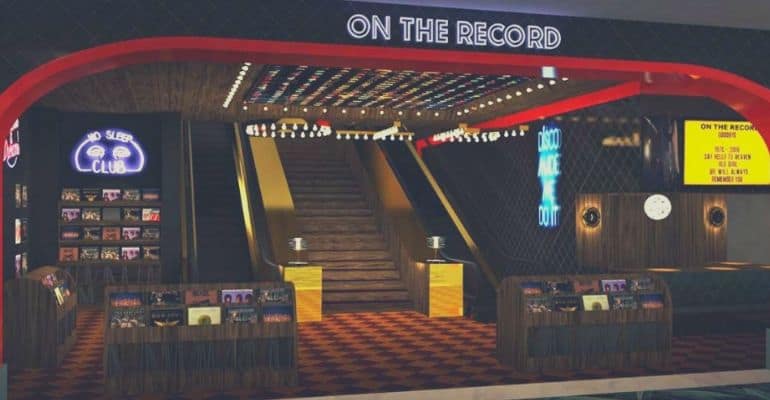 On The Record, located at the Park MGM, is the only Vegas nightclub that plays 80's music. It's true that some DJs, like The Chainsmokers, will play some 80's during their set, but it isn't much. If you want to listen to 80's hits at a Vegas nightclub, you're going to have to come to On The Record.
It's considered a nightclub, but On The Record is more of a speakeasy bar. They play music from every genre, so you're going to get more than just 80's here.
With that being said, classic rock is a big part of what they play. The club also has bottle service tables, including private karaoke rooms, that you can purchase for larger groups. Bottle service here is cheaper than at most Vegas nightclubs.
Another advantage of On The Record is that they offer free entry on the club's guest list. Both men and women get free entry when they sign up for the On The Record guest list. This can be done online or through a promoter that works for the club, but either way, it's free.
It takes less than 2 minutes to sign up and is by far the easiest way to get into a Vegas nightclub. Also, On The Record frequently hands out buy one get one free drink tickets to anyone who enters the club on its guest list.
The club is open Wednesday, Friday, and Saturday. I would recommend On The Record if you're unsure of where to go, because of its proximity to the strip. Most of the other bars that play 80's are a good 15 -20 minutes off of the strip.
Cat's Meow
Cat's Meow is a karaoke bar located on Fremont Street. It's open every night and is within walking distance from Oddfellows.
Cat's Meow plays plenty of classic rock, but it also plays a ton of music from other genres. Cat's Meow is by no means a pure 80's bar, but you'll hear a fair amount of it here.
The bar offers a 2 for 1 drink special every day during happy hour (5pm – 8pm). And while you aren't required to sing, it's a ton of fun. They'll get through about 8 requests an hour, so keep that in mind if you plan on doing a solo. In between songs the DJ will play non-karaoke songs to keep everyone engaged.
Level Up
Level Up can be found in the MGM Grand, directly outside of the nightclub Hakkasan. This bar has a bunch of games like bowling, shuffleboard, pool tables, and arcade games. They play a variety of musical genres here, but 80's music is a big part of that.
Level Up is one of the few bars, outside of On The Record, that will play 80's music on the strip. Level Up is really easy to get to, especially if you're staying at the MGM Grand and it's open 24 hours a day.
You'll have plenty of fun here, especially since there is no cover charge. Additionally, there are several other quality bars located throughout the MGM casino, making it easy to bar hop.
The Spazmatics At The South Point Show Room
Every Saturday the Spazmatics cover 80's music at the South Point Show Room, located south of the Vegas strip. The Spazmatics are essentially a cover band and all they play is 80's music.
The venue has a large dance floor along with a bar, that many people say reminds them of an actual 80's bar (I'm too young to remember that far back). The music is pretty good and tickets only cost about $10. This spot is great for older crowds.
Related Questions
What are the best Vegas clubs for older crowds? I would recommend any of the bars or clubs mentioned above. If you're looking to attend an actual nightclub and don't mind listening to EDM or Hip Hop music, then Light or Chateau are both solid options. Both men and women can get free entry on the Light guest list. Chateau offers free entry to women but men must have an even ratio of women in their group to sign up for the Chateau guest list.
Can you smoke in Vegas nightclubs? All Vegas nightclubs allow smoking. However, not all bars allow you to smoke inside the venue. Each bar has its own rules but most have at least one patio or balcony area outside, where you can smoke.
Do all Vegas Vegas nightclubs have guest lists? All Vegas nightclubs have guest lists. Clubs offer women free entry on their guest list while men are required to have an even ratio of women in their group, in order to get in for free. Not all clubs require groups of men to have ratio, but most do. You can sign up for nightclub and dayclub guest lists here.