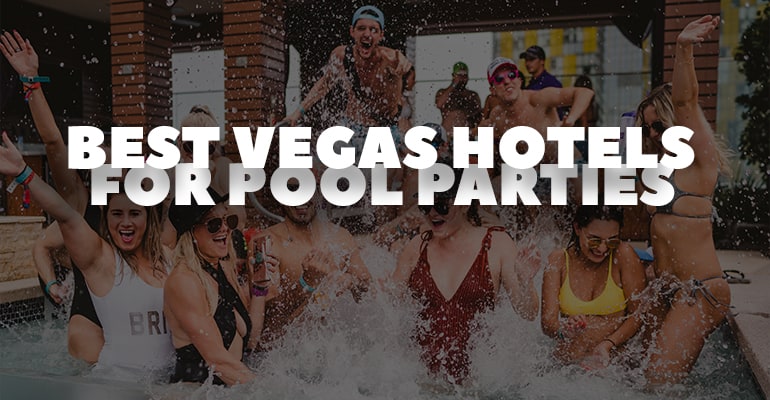 A good pool party is an essential for any Las Vegas trip. But a number of pool parties have closed down in recent years, including the infamous Rehab and Kaos Dayclub. So, which hotels have the best pool parties now? These are the current top hotels for pool parties…
Also See: Complete List of Pool Parties in Las Vegas
1. Encore at The Wynn – Encore Beach Club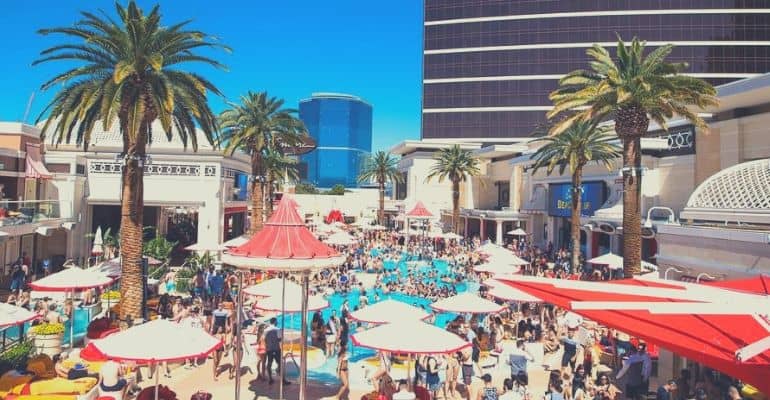 If you want to get as close to the action as possible, then you're gonna want to stay at the Encore. Encore Beach Club is the best pool party in Las Vegas.
This massive club has 3 total pools, 4 bars, a full kitchen, a gambling pavilion and a ton of VIP cabanas. On top of that EBC, as it's called, has many of the top DJs in the world performing every weekend. These DJs include The Chainsmokers, Diplo, Kygo and Major Lazor.
Coincidentally, XS Nightclub is located in the same hotel as Encore Beach Club. XS is the best overall nightclub in Las Vegas. This makes the Encore the best party hotel in town.
Tickets for EBC cost between $30-$50 for women and $40-$75 for men, depending on the DJ. Encore and Wynn guests can get discounted tickets through the hotel concierge desk. But don't worry if you're not staying at Encore, you can also get into the club for free by signing up for the guest list.
Women on the Encore Beach Club guest list get free entry into the club. Men can also get into the club for free on the guest list, as long as they have an even ratio of women in their group (or more women than men). You can sign up for the Encore Beach Club guest list for free online.
2. MGM Grand – Wet Republic
The MGM Grand has one of the largest pool complexes on the strip. Not only does this hotel have a lazy river, but it's also home to the second best dayclub in Wet Republic. Some may even argue Wet Republic is better than Encore Beach Club.
This dayclub has multiple pools, a full kitchen, a dance floor in front of the DJ booth and tons of VIP bottle service tables. The DJs here include Calvin Harris, Steve Aoki, Zedd and Martin Garrix.
The MGM ideal for anyone looking to have fun in the water. It's also highly accessible. Both men and women can get into Wet Republic free using the club's guest list. The Wet Republic guest list has no ratio requirements. The lazy river and general pool complex is also free to use, even if you're not staying at the hotel.
If you opt not to use the guest list, tickets cost between $20-$50 for women and $30-$75 for men. But don't pay for tickets. This is definitely one of the top dayclubs in Las Vegas and they allow everyone in for free on the guest list. Take advantage of that!
3. Cosmopolitan – Marquee Dayclub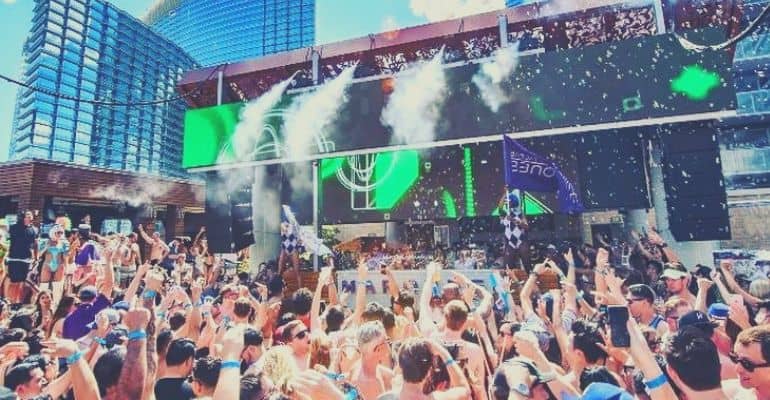 Not only does the Cosmopolitan have Marquee dayclub, but this posh hotel has several additional pool decks, available to hotel guests only. This makes the Cosmo an attractive hotel for those who are looking to both party, and relax in the sun between rounds of drinks.
Marquee Dayclub overlooks the heart of the Las Vegas strip. While it's not as big as the two previous pool parties, Marquee still gets pretty wild. The club also has a full kitchen for ordering food, along with a gaming area.
The Cosmopolitan makes it really easy for hotel guests to enjoy the pool party scene, offering them entry to the club. If you aren't staying at the Cosmopolitan you can also get free entry buy signing up for the Marquee Dayclub guest list. Women get free entry into the club, while men are required to have an even ratio of women in their group.
If you're purchasing tickets expect to pay $20-$40 for women and $30-$75 for men, depending on how busy the club is.
4. Mandalay Bay – Daylight Beach Club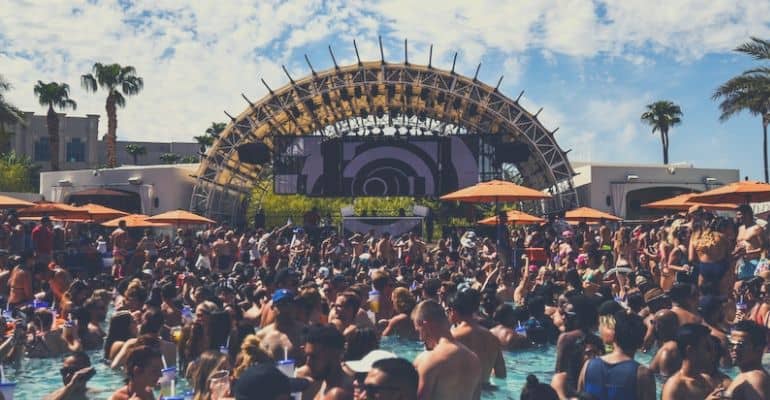 Mandalay Bay has the largest pool complex in town. The pool area spans 11 acres and includes a wave pool, lazy river and dayclub. Daylight Beachclub is a popular pool party that plays mostly EDM and Hip Hop music.
Daylight has one massive pool in the center, surrounded by bottle service tables and cabanas. The cabanas are actually the cheapest in Las Vegas, often going for $1,000-$1,500 for 10 guests. That's a great deal compared to a club like EBC, where you're going to be paying upwards of $4,000.
Tickets for Daylight cost between $20-$40 for women and $30-$75 for men. That being said, tickets are normally on the cheaper end of the spectrum. But, you don't have to buy a ticket if you sign up for the Daylight guest list.
Similar, to Wet Republic both men and women who sign up for the guest list get into the club for free. There are no ratio requirements here. Just make sure that you show up on time, since the guest list closes around 12:30 pm.
5. The Cromwell – Drai's Beachclub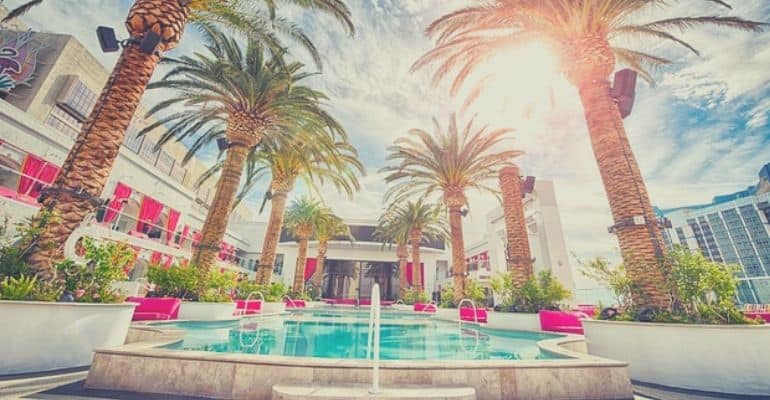 The Cromwell is unique in the fact that it has one a the few real rooftop pool parties in Las Vegas. The infamous Drai's Beachclub and Nightclub can be found at this hotel.
Drai's is known for it's Hip Hop music, but the dayclub often mixes in a good amount of EDM. This high energy club usually has beach balls being tossed around between the two main pools. The VIP bungalows also have their own private infinity pools.
Like the other clubs on this list, Drai's offers free entry to those who sign up for the guest list. Women on the Drai's Beachclub guest list get free entry into the club. Men must have at least an even ratio of women in their group to get free entry.
You can also get in for free by being a hotel guest. If you plan on getting a ticket, they normally run $20-$50 for women and $30-$75 for men.
6. Venetian – Tao Beach
The Venetian is home to Tao Beach, which is one of the smaller Vegas pool parties. The parties here are still pretty crazy, but they aren't nearly as crowded as the other clubs. This is great if you're looking to party without getting drinks spilled on you.
Tao has a main pool and a small beach spa off to the side. The bottle service here is also really affordable. Tables start at only $500 for a group of 6. Beside Daylight, you can't find prices like this at any other club.
Tickets at Tao are priced at $15-$30 for women and $20-$50 for men. In my experience tickets rarely cost more than $25, unless there's a special event. You can also get into the club for free on the Tao Beach guest list. Women on the guest list get in free, but men are required to have an even ratio of women.
Related Questions
Are Las Vegas pool parties worth it? Las Vegas pool parties are like nightclubs but during the day. They are actually more popular than the nightclubs during the summer. There are only a few good pool party options in Las Vegas, so everyone goes to a small number of clubs.
What do I wear to a Las Vegas pool party? You must wear pool attire to attend a pool party, jeans are't allowed. Women must also wear a cover-up while in line. Dayclubs allow guests to bring a small bag into the venue. If you don't bring a bag, most clubs have lockers available for rent. Towels are provided by the club.
When do pool parties open? Pool party season in Las Vegas starts in March, and goes until October. Although, the dayclubs don't start getting really busy until around May. During the winter, Lavo Brunch is the only dayclub open.