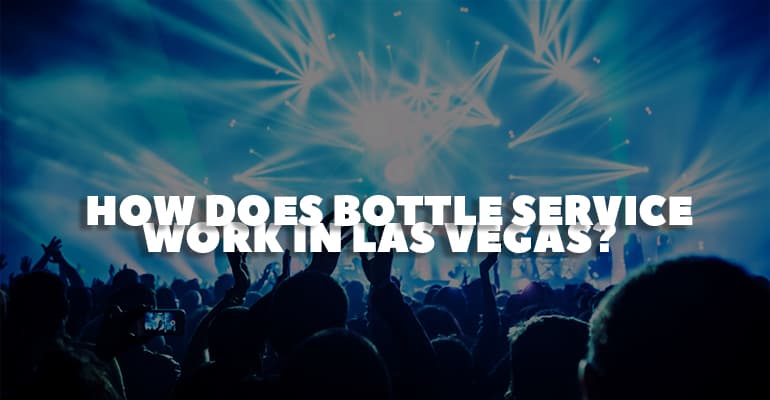 It's tough to get a strait answer on how Las Vegas bottle service works. So, I talked to several Las Vegas VIP hosts, to get the most comprehensive answer.
How does Las Vegas bottle service work? When ordering bottle service, most clubs will require that you spend a minimum amount while at the club (called minimum spend). This quoted price includes a private table, mixers, waived cover charge, cocktail waitress and security. It does not include taxes and gratuity. When making the reservation, many clubs require that you make a down payment.
More often than not, the quoted price is not what you end up paying. There are lot of factors that contribute to price, including the number of people in your group and your desired table location. In this post I'll cover how bottle servicing pricing works and what exactly a "reservation" really means. In addition, I'll touch upon what bottle service gets you.
How Does Bottle Service Pricing Work?
When you make a reservation, you agree to spend a minimum amount of money while at the club (i.e. $2,000). You can purchase whatever you want, as long as your tab at the end of the night totals at least your minimum spend. Items that count towards your minimum spend include…
Bottles of Alcohol
Energy drinks
Bottled water
Bottle presentations
Beer, shots, or mixed drinks added to the tab
Food (Dayclubs only)
Bottles are going to be the biggest item that counts toward your total spend, since they cost between $350-$600 each. When you make the reservation, you actually get the table for free. You don't have to pay for the table separately.
However, you will have to pay taxes and gratuity on top of what you spend on alcohol. Taxes are about 8% and gratuity is between 18%-20%. Both are automatically included onto your tab. As a general rule, you should expect your final bill to be about 30% more than your table minimum.
This is one of the things that no one tells you about bottle service. You will always end up paying more than the price that your host quotes you.
Determining Your Minimum Spend
The price that a club quotes you is dependent on a number of factors. I narrowed it down to the 5 most important variables…
Demand ("How busy is the club?" or "Is it a holiday?")
The club ("Which club are you attending?")
Group Size
The table location
Weekdays vs weekends
The most important factor is going to be demand. Special events like New Year, the 4th of July and Halloween are going to drive up prices. Expect to pay double what you normally would on a major holiday.
The next most important factor is the club itself. The bigger more popular clubs usually have higher prices than some of the smaller clubs. This isn't to say the smaller clubs aren't busy, since a club that holds 1,500 people is considered "small" in Las Vegas! But the venue itself is definitely a major factor. If you want to compare table prices at every club in Las Vegas, I put together another post here.
Group size also effects price. You're going to be paying more for a 12 person table than for a 6 person table. And table location plays an critical role too. The tables closest to the DJ typically cost more than the ones further away from the action.
One variable that is within your control is going out on a weekday. Weekday prices are often 10%-50% cheaper than the weekend. So if at possible, try to hit the club Sunday-Thursday instead of on Friday and Saturday. The club will be just as busy, but you'll save a ton of money.
What Is A Bottle Service "Reservation"?
When you make a "reservation" you're not always guaranteed a table. The price that you're quoted can change too. There are 3 ways that the club will handle your bottle service reservation…
Demand based reservations
Deposit based reservations
Full prepay reservations
Demand Based Reservations
Most clubs work off of demand based pricing. This means that they take your name like a reservation at a restaurant, but you don't pay for anything until you arrive. The club will give you estimated table cost, but this estimate often changes.
When you show up the day of your reservation, the club will tell you the actual price for the table. It may be higher or lower than the price that they originally quoted you. It all depends on how many reservations they got and how busy the club is. (The club does this to overbook its tables, which helps make up for no shows.)
Because of this, you may find that the table location you wanted has already been sold out, or that the price has just doubled. That's an unfortunate consequence of demand based pricing. The only way to mitigate this is to show up as early as possible, before too many tables sell.
In reality, when a host gives you a price quote it's going to be relatively accurate. It likely won't change too much between the time you get the quote and the date you show up for your reservation. I would however be careful if you're planning a trip during a holiday weekend, or if a big name DJ is performing.
Deposit Based Reservations
Clubs that do deposit based pricing will make you put down an initial deposit of about 20% up front. They will normally put a hold on your credit card for the specific amount. Then on the night of event you'll pay the remaining balance when you close your tab.
Be aware, that if you cancel the club will take your deposit. This type of pricing gives you more of a guarantee than demand based pricing. However, the club still reserves the right to increase the price if the demand is high enough.
You don't have to pay the higher price, if don't want to. You can still get a table at the original quoted price, but it may be in a different location.
I should mention that a club increasing prices after you make a deposit is extremely rare, but can happen on occasion. Again, this is only an issue on holiday weekends.
Full Prepay Reservations
The only way to fully guarantee a table is to pay entirely in advance. Most clubs don't offer this as a payment option, but it doesn't hurt to ask. You can still lose your table location if you show up late, but barring that your table is fully guaranteed.
How Do I Reserve Bottle Service?
To reserve bottle service, you're going to want to get in touch with a VIP host that works at the club. VIP hosts book tables and handle all bottle service inquiries at nightclubs. They also manage the ropes, getting people through the line.
Every nightclub has about a dozen hosts on staff. If you don't already know a host in Las Vegas you can contact us here, and we'll connect you with a host at the club of your choice.
What's Included In Bottle Service?
What makes bottle service so desirable? Getting a table allows you a number of benefits. These are some of the most noteworthy perks of bottle service…
Expedited entry and waived cover charge
Get your own private area to put your stuff and party
Place to sit (there is no seating in general admission)
Dedicated cocktail waitress
Dedicated busser
Security to keep unwanted people out
Avoid crowds at the bar
Plenty of attention and status within the club
Access to the Girl Guy (The Girl Guy is a host that finds party companions for you.)
Guys can bring girls back to the table
Girls can bring guys back or avoid weirdos
Having your own table puts some distance between you and general admission. You get a level of notoriety within the club, almost like a mini celebrity. Not only that, but depending on you table location you'll also have the best seats in the house.
Bottle service is the best way to party in Las Vegas, but you don't need a table to have a great time. You can also just sign up for the guest list and save your money for drinks. Every club offers a guest list that you can sign up for online, and they're free to use.
Women on the guest list get free entry at every club. Men are required to have an even ratio of women (or a greater number of women than men), to use the guest list at most clubs. However, some clubs allow men to use the guest list without even ratio.
Related Questions
How much do you tip when you get bottle service? Most nightclubs in Las Vegas include an auto-gratuity of 18%-20% on your final tab. This tip usually just goes to the cocktail waitress. You can also tip your busser and VIP host if you like, but that isn't included on your tab.
What Las Vegas clubs have the cheapest bottle service? Apex Social Club, Chateau Nightclub and Light Nightclub have some of the lowest bottle service prices in Las Vegas. These club have tables that start under $500. You can check out a list of the cheapest bottle service deals in Las Vegas here.