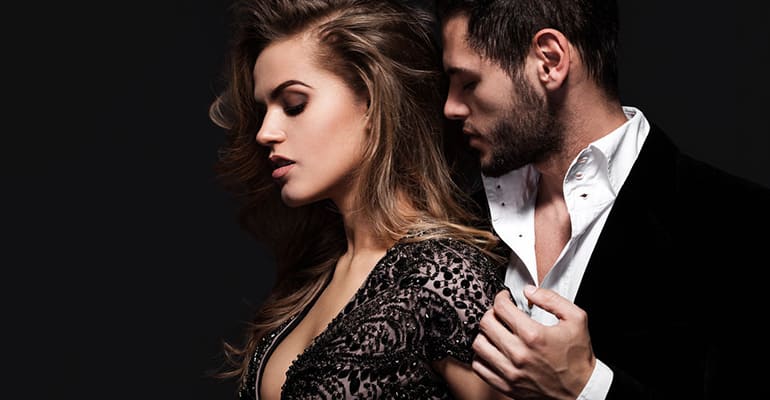 Heading to a Las Vegas nightclub for date night can be a great idea. But after going out to these clubs, I have found a few nightclubs to be better suited for couples than others.
What are the best Las Vegas nightclubs for couples? Because of their popularity and favorable guest list rules, these are the top Vegas nightclubs that cater to couples:
Tao Nightclub
Apex Social Club
XS Nightclub
Light Nightclub
Foundation Room
On The Record
Drai's Nightclub
Most Las Vegas nightclubs allow couples free entry when they sign up for the guest list. But, you can also reserve bottle service if that better suites your style. Either way, you're going to want to avoid loud, crowded venues where you're getting pushed around all night. In this post we'll take an in depth look at each of these clubs, to help you choose the best one.
1. Tao Nightclub
Location: The Venetian Resort & Casino
Type of Music: Mix of Top 40, Hip Hop & EDM
Price: Free for couples when using the guest list
Tao is one of the best nightclubs for couples. It's a small intimate venue, located on the second floor of the Venetian. I like Tao, because it's been a staple in Vegas night life for years. It's a classic club with a DJ booth so close to the dance floor, that you can almost touch the DJ.
Although Tao is a popular club, it doesn't get overcrowded. This makes it the perfect nightclub for couples looking to enjoy a night out. At other clubs you may have to wait 15 minutes in line at the bar to get a drink. This isn't a problem at Tao, since they have multiple bars.
There a several ways to enjoy Tao. First you can spend the night going back and forth between the dance floor and the bar. Or you can get off your feet and get a bottle service table.
| | |
| --- | --- |
| Method of Entry | Price |
| Guest List | Free |
| Tickets | $15-$40 |
| Bottle Service For 2 | $600 |
If you're just looking to grab a few drinks at the bar, I recommend entering the club on the Tao guest list. All nightclubs in Las Vegas offer free guest lists that encourage guests to show up early (early means by 12:30 am). Most guest lists require and even guy to girl ratio, so couples can easily take advantage of this.
You can also go the bottle service route and get a private table. The smallest tables at Tao are going to cost about $600, so be aware of that. If you interested in bottle service you'll want to talk to a VIP host that works for the club. You can contact us here if you don't know a VIP host, and we'll put you in touch with one at Tao.
Another great thing about Tao is the adjacent Tao restaurant. If you can get dinner at the Asian themed restaurant, the nightclub is only a few feet away. I've eaten here before and can honestly say that the food is really good.
2. Apex Social Club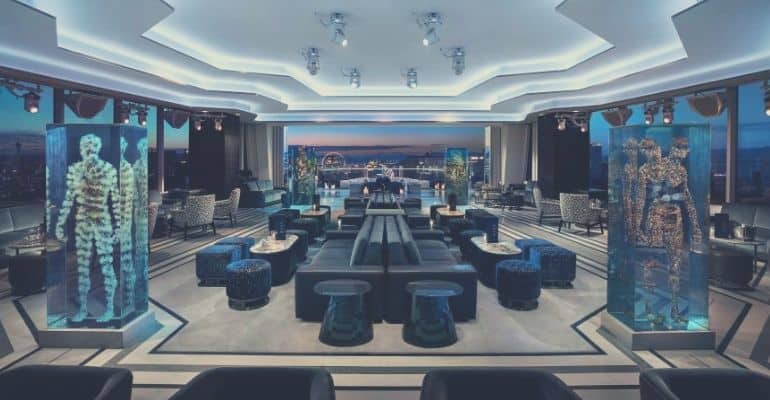 Location: The Palms Hotel & Casino
Type of Music: Top 40 & Hip Hop
Price: Free for couples when using the guest list
Apex Social Club is really more of an upscale rooftop bar than a nightclub. It's also located about 5 minutes off strip at the Palms, but the drive is more than worth it. From the 55th floor, this club has one of the best views in Las Vegas.
Apex also has some of the cheapest bottle service in town, starting at around $350. If you're looking to enjoy the VIP bottle service experience with your significant other, there isn't a better place to do it than Apex.
I highly recommend bottle service for couples. It creates a barrier between you and the rest of the club, allowing you to enjoy each others company without distraction. You won't break the bank ordering a bottle at Apex like you will at other clubs.
| | |
| --- | --- |
| Method of Entry | Price |
| Guest List | Free |
| Tickets | $20-$30 |
| Bottle Service For 2 | $350 |
If you're just looking to snag a few cocktails at the bar, Apex also offers a guest list. Again, couples will get into the club for free when using the Apex Social Club guest list.
The vibe Apex Social Club is energetic and it's always buzzing with friendly people. You're also likely to meet plenty of other couples at this chic club.
3. XS Nightclub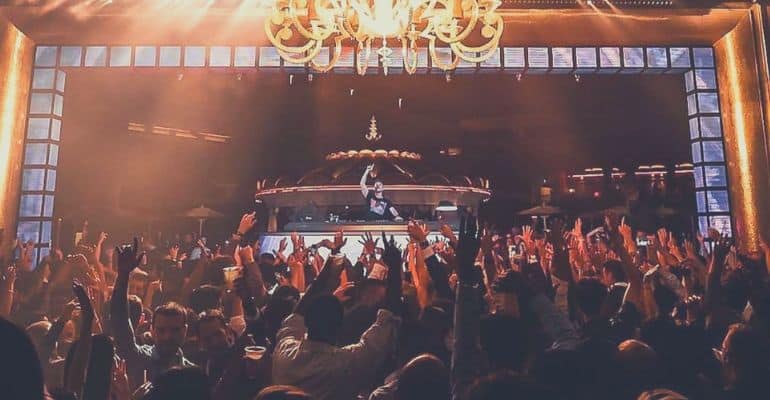 Location: Encore at the Wynn
Type of Music: EDM
Price: Free for couples when using the guest list
XS Nightclub is vastly different than the previous two clubs that I've mentioned so far. XS is a mega-club that holds over 4,000 guests each night.
You may think that many guests would make XS feel like an overstuffed cluster of bodies. But, XS is one of the largest nightclubs that you'll ever set foot in. It's a spacious half indoor/half outdoor venue with a lot to offer.
Not only does the club have a large pool in the center that opens for Nightswim on Sunday nights. But, the club also has a gambling pavilion with black jack and craps tables. Add on to that 4 bars and a dance floor, and you'll never run out of thing to do here.
Now since XS is one of the most popular Las Vegas nightclubs, it is more expensive. The smallest bottle service tables often start around $1,500, which is out of the price range for most. But couples can still get free entry to the club on the XS guest list. Just make sure you show up early, since the guys can't get in on the guest list after 11:30 pm.
| | |
| --- | --- |
| Method of Entry | Price |
| Guest List | Free |
| Tickets | $25-$100 |
| Bottle Service For 2 | $1,500-$2,000 |
I included XS on this list because it really is great for couples. The club is gorgeous from a design standpoint and I realize that some couples will want to attend a large club even if it's going to be super busy. The DJs here are also world class. They include: The Chainsmokers, Diplo, Kygo and Dillon Francis among others.
4. Light Nightclub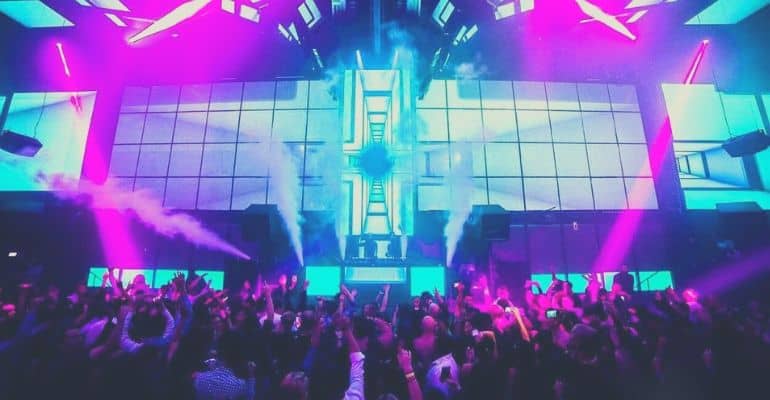 Location: Mandalay Bay Resort & Casino
Type of Music: Mix of Top 40, Hip Hop & EDM
Price: Free for couples when using the guest list
Light is another nightclub that has been a pillar in Las Vegas for many years. Light is a big club, but it isn't nearly as busy as XS. Which makes it a great venue for couples.
This club has a friendlier set up than most Las Vegas nightclub. There are standing tables by the bar, so you have the option of putting your drink down. Also, Light is know to give out free drink tickets to both men and women on the guest list.
Drink tickets are more common on weeknights, specifically Wednesday night. This is an easy way to save money on alcohol. Plus if you use the Light guest list, you'll get into the club for free.
In addition, bottle service prices at Light are super competitive. You can easily secure a private table in a good location for $500. On less busy nights I have even seen tables sell for $300.
| | |
| --- | --- |
| Method of Entry | Price |
| Guest List | Free |
| Tickets | $20-$50 |
| Bottle Service For 2 | $500 |
Occasionally, Light hosts live performances from artists like Rick Ross. During these events bottle service will costs significantly more and guest lists are unavailable. However live performances are relatively rare, only happening about once a month.
5. Foundation Room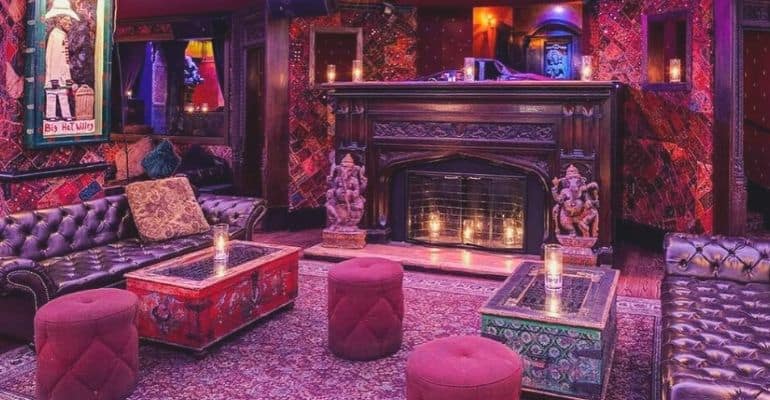 Location: Mandalay Bay Resort & Casino
Type of Music: Mix of Top 40, Hip Hop & EDM
Price: Free for couples when using the guest list
Similar to Light, Foundation Room can be found at the Mandalay Bay Hotel. But unlike Light, Foundation Room has a view, an extraordinary one. This club overlooks the entire Las Vegas strip from the 63rd floor of the hotel.
I don't consider Foundation Room a nightclub, it's definitely more of a rooftop lounge. But that's favorable for couples who are looking to avoid overpopulated nightclubs. Foundation Room even has seating available, for those that aren't getting bottle service.
If you are getting bottle service, the smallest tables start around $500. The actually tables have super comfortable seating. All the couches look posh and ritzy giving the entire venue an elegant feel.
| | |
| --- | --- |
| Method of Entry | Price |
| Guest List | Free |
| Tickets | $20-$30 |
| Bottle Service For 2 | $500 |
If you're looking for a luxurious spot to have a few cocktails without dealing with the normal Vegas party crowd, Foundation Room should be your number one choice. The venue is clearly built with class in mind, and it's a bit more laid back than any other club on this list. You can get into the club for free using the Foundation Room guest list.
6. On The Record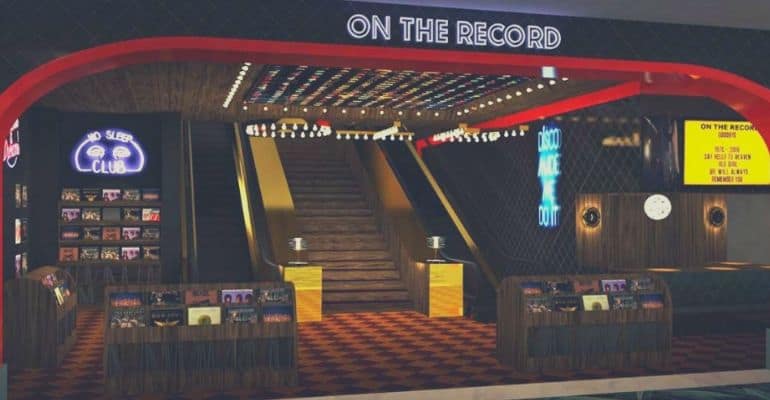 Location: Park MGM Hotel & Casino
Type of Music: Open format
Price: Free for couples when using the guest list
On The Record is one of the newer nightclubs in Las Vegas. It's designed like a retro speakeasy bar. The club has hidden rooms and the walls are lined with vintage vinyl records.
One of the more notable features of this club is the open musical format. You'll hear everything from 80's, to today's hits at On The Record. No matter your musical taste you'll find something you like here.
The club is on the smaller side, making it perfect for couples. It has several different rooms, including private karaoke rooms available for purchase. The club is really one of a kind, and worth checking out if you're staying by the Park MGM on the south side of the Vegas strip.
| | |
| --- | --- |
| Method of Entry | Price |
| Guest List | Free |
| Tickets | $20-$50 |
| Bottle Service For 2 | $600 |
There are plenty of bottle service options here. The most affordable of which start at $600. You can also get into the club for free by utilizing the club's guest list. You can sign up for the On The Record guest list for free online.
7. Drai's Nightclub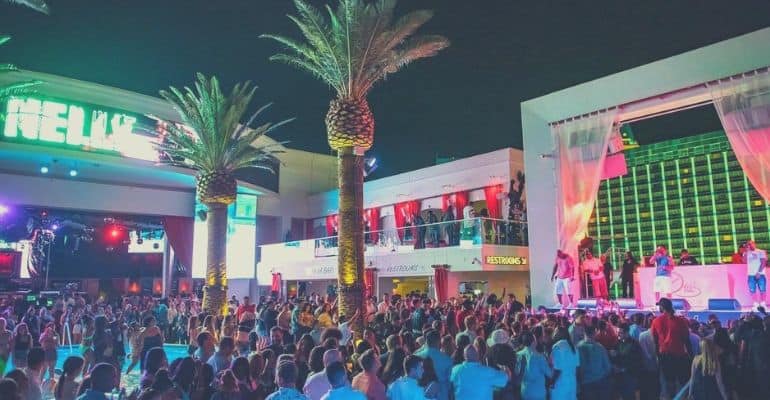 Location: Cromwell Hotel & Casino
Type of Music: Hip Hop
Price: Free for couples when using the guest list
The infamous Drai's is the final nightclub on my list. For couples that love Hip Hop, this is going to be your first choice in clubs. Drai's is the best club in Vegas for Hip Hop, hosting weekly live performances from top artists like Migos, 2 Chainz, Big Sean and many others.
The club also hosts Thursday night pool parties in the summer. Drai's is the only rooftop pool party in Sin City, so take advantage of any opportunity you have to come here.
Even though Drai's is considered one of the top nightclubs in Las Vegas, you can still reserve bottle service for around $600 on most nights. That's a steal for a club the size of Drai's. If not, you can also get free entry using the Drai's guest list.
| | |
| --- | --- |
| Method of Entry | Price |
| Guest List | Free |
| Tickets | $30-$100 |
| Bottle Service For 2 | $600-$1,200 |
It is important to note that guest lists at Drai's aren't available every night. For artist like Migos and 2 Chainz, the guest list is unavailable or limited to women only. Ticket prices and bottle service will also be more expensive for the premier DJs.
Nightclubs For Couples To Avoid
There are some nightclubs that I recommend couples should avoid all together. This isn't because they are bad clubs, they just get really packed making it uncomfortable to move around.
The same qualities that allow these clubs to throw wild parties, make them difficult for couples to navigate. If you don't want some random guy grinding on your girlfriend or wife, I suggest you avoid the following clubs on busy nights:
Omnia Nightclub
Hakkasan Nightclub
Jewel Nightclub
EBC at Night
Marquee Nightclub
Omnia and Hakkasan are always packed, so be prepared to bump elbows if you chose to go to either one. The same goes for Jewel on busy nights. However, you could avoid the crowds at these venues if you elect for bottle service.
EBC at Night isn't great for couples because it's mostly a pool party. If it's just you and your significant other you'll have to take turns watching each others stuff while the other one is in the pool. That isn't fun.
You could rent a locker, but they cost about $50. And to be honest, I don't think I've ever really seen a couple at EBC. It's mostly a party club.
Marquee is actually one of my favorite nightclubs in Las Vegas, but it can get really crowded. I would highly recommend bottle service if you head to Marquee. It's relatively affordable if you get a table in the Boom Box Room, or on the Outside Patio. Tables in those locations start at $600.
Nightclub Alternatives For Couples In Las Vegas
If you aren't a big fan of nightclubs, there are alternatives in Las Vegas. Here are some of my favorite nightlife options that don't involve nightclubs.
The Fremont Street Experience
The Fremont Street Experience is located in downtown Las Vegas, where the old Vegas strip used to be. It sort of feels like Times Square in New York. As you walk the length of the street you'll find plenty of bars, shops and street performers. It's a nice change of pace if you're tired of the main strip.
Las Vegas Strip Clubs
Strip Clubs are a risque alternative to nightclubs. Seeing couples enjoying Vegas strip clubs is becoming increasingly commonplace. If you're really looking for a hot date, I highly recommend you try this. I actually wrote a full guide for couples going to Vegas strip clubs.
Shows
From Zumanity by Cirque du Soleil to Le Reve, there are plenty of shows for couples in Sin City. There are also a number of comedy and magic shows every night. And if you would rather listen to music, plenty of popular artists like Aerosmith or Lady Gaga always have residencies.
Hotel Lobby Bars
If you would rather bar hop than stay in one spot all night, there is no shortages of lobby bars. There are literally hundreds of bars up and down the strip. You can easily explore the scenery while grabbing a drink or two. A few of my personal favorites are:
The Chandelier Lounge at the Cosmopolitan
The Dorsey at the Venetian
ALIBI Ultra Lounge at the Aria.
Restaurants
There are plenty of fancy restaurants open in Vegas late into the evening. Some are open until midnight, and a few are even open 24 hours a day. Splurging a little on food is always a great date idea, especially in a city like Las Vegas. These are some of my favorites:
STK Las Vegas at the Cosmopolitan (Steakhouse)
Allegro at the Wynn (Italian-American)
Cipriani at the Encore at the Wynn (Italian)
House of Blues at Mandalay Bay (Southern)
Lakeside at the Wynn (American Seafood)
SUSHISAMBA at the Palazzo (Sushi)
Javier's at the Aria (Mexican)
High Roller, The Stat & Gondola Rides
The High Roller is the giant Ferris Wheel behind the Linq Hotel. The ride is about 30 minutes long and you can order drinks if you like. The view is beautiful, especially if you hit the ride during the sunset. It closes at 2:00 am.
Gondola Rides are available at the Venetian. The are actual canals that run through the hotel, making it look very similar to Venice. There are a ton of restaurants and shops in that area too, so you won't run out of things to do. The gondolas rides stop around 11:00 pm.
The Strat is the giant needle like building on the north end of the strip. In my opinion, it's home to the best view in Las Vegas. There's also a restaurant and bar called the Top of the World about 800 feet up overlooking the city. If you have the nerves for it, you can Skyjump (kinda like a bungee jump) off the building too.
Related Questions
How do I reserve bottle service in Las Vegas? The easiest way to reserve bottle service is to talk to a VIP host that works at the club. VIP hosts handle all bottle service reservations and inquires. If you're looking to reserve bottle service you can contact us here, and we'll put you in contact with a host at the club of your choice.