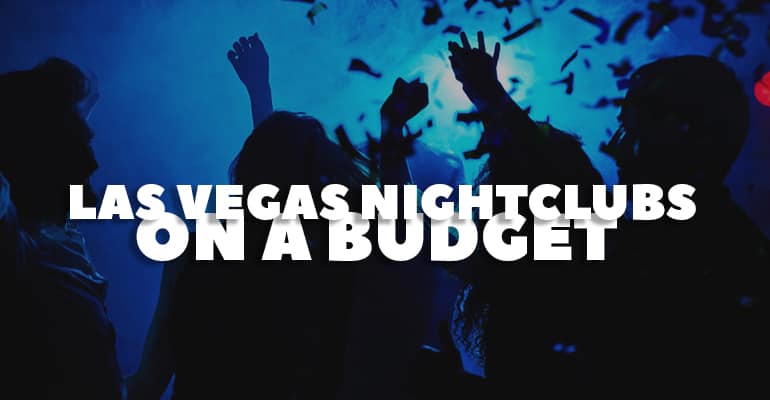 Las Vegas nightclubs have a reputation for being super expensive. But after partying at these clubs for a few years, I realized that doesn't have to be the case. There're plenty of ways to party in Sin City's top clubs for cheap.
What are the cheapest nightclubs in Las Vegas? Based on their average ticket prices, these are the cheapest Las Vegas nightclubs:
| | | |
| --- | --- | --- |
| Nightclub | Ticket Price (Women) | Ticket Price (Men) |
| Tao | $15 | $20 |
| Apex Social Club | $20 | $20 |
| Chateau | $20 | $30 |
| On The Record | $20 | $30 |
| Light | $20 | $30 |
| Jewel | $20 | $30 |
Most nightclubs in Las Vegas also have free guest lists available on a nightly basis. These guest lists allow you to avoid cover charges and party for cheap. I'll cover the guest list rules in this posts, along with some advanced tips that'll save you a ton a money.
Party In Vegas For Cheap Using The Guest List
What exactly are guest lists? The guest list is a way to party for free or at a reduced cost. They are offered by all major Las Vegas nightclubs and are completely free to use. You can even sign up for the guest list online in less than 2 minutes.
These guest lists are a way for nightclubs to encourage guests to show up to events early. So, most guest lists close by a certain time (usually by 12:30 am). If you're using the guest list, I would encourage you to get to the club slightly before it opens (by 10:30 pm), in order to ensure you get in for free.
In addition to arriving on time, some guest lists (but not all) have ratio requirements. This means that groups of women get into the club for free. But, men must have an even ratio of women in their group (or a greater number of women than men) to use the guest list. I've list the guest list rules for the most popular clubs below:
| | | |
| --- | --- | --- |
| Nightclub | Women (Guest List) | Men (Guest List) |
| Tao | Free | Free (With Even Ratio) |
| Marquee | Free | Free (With Even Ratio) |
| Hakkasan | Free | Free |
| Jewel | Free | Free |
| Omnia | Free | Free |
| Drai's | Free | Free (With Even Ratio) |
| Chateau | Free | Free (With Even Ratio) |
| Light | Free | Free |
| On The Record | Free | Free |
| XS | Free | Free (With Even Ratio) |
| EBC at Night | Free | Free (With Even Ratio) |
| Apex Social Club | Free | Free (With Even Ratio) |
Depending on how busy the club is, some venues will offer groups of men with ratio a reduced cover instead of free entry. But usually groups of guys that have an even number of women will get into the club completely free. Women on the guest list rarely pay cover under any circumstance.
The only time when guest lists are unavailable are during major holidays like the 4th of July, Memorial Day Weekend, Halloween and New Years. Guest lists may also be limited for special events, but 99% of the time guest lists are available.
Las Vegas Nightclubs With Cheap Tickets
There are a few nightclubs that sell cheap pre-sale tickets. The clubs with the lowest priced tickets are mentioned in the table at the beginning of this post. To recap, the following nightclubs consistently have the lowest priced tickets:
Tao Nightclub
Apex Social Club
Light Nightclub
Jewel Nightclub
On The Record
Chateau Nightclub
At these clubs women will pay an average of $20 for entry, while men pay an average of $30. If you don't purchase a pre-sale ticket and decide to pay cover at the door, it may end of costing you an extra $10-$15.
I still recommend using the guest list over purchasing a ticket. $20-$30 doesn't seem like much, but it's a lot to be paying before you even walk in the door. Tickets prices can even get as high as $75 for the biggest DJs.
Las Vegas Nightclubs With Cheap Bottle Service
Depending on the size of your group and how much you plan on drinking, you may want to consider bottle service. Drinks at Las Vegas nightclubs aren't cheap. Mixed drinks cost $15-$20, while beers and shots cost between $10-$15.
If each person plans on getting 5 drinks (which really isn't a lot for Vegas) it can easily cost upwards of $100. You can minimize those individual costs by splitting a bottle and getting a table. Here are some of the cheapest bottle service table prices in Vegas:
| | | |
| --- | --- | --- |
| Nightclub | Group Size | Price |
| Apex Social Club | 6 | $350 |
| Chateau | 4 | $425 |
| Light | 6 | $500 |
| Tao | 6 | $600 |
| Marquee | 6 | $600 |
| Drai's | 6 | $600 |
| On The Record | 6 | $600 |
Going VIP and getting bottle service has many benefits aside from splitting the cost of alcohol. It also gives you a place to sit and party within the club. Plus it eliminates the need to wait in long lines at the bar.
If you think you're going to be drinking more than a couple drinks, then bottle service is likely going to save you money in the long run. Especially if you're splitting it 5 or 6 ways. If you're looking to reserve bottle service feel free to contact us here, and we'll put you in touch with a VIP host that works at the club of your choice.
Saving Money While At The Nightclub
In addition to using the guest list to get into clubs for free, there are some other ways to save money. These are some things that I've done to keep my Vegas budget within reason.
1. Pre-Game Before Getting To The Nightclub
The second you walk through the doors of a nightclub, drinks instantly get more expensive. Why would you pay $20 for a single drink, when you can get a full bottle for that price at the package store down the street?
I recommend having a few drinks at your hotel before heading to the club. If you're pinched for time you can also go to the lobby bar directly outside of the club. Since all Vegas clubs are located in casinos, they all have multiple lobby bars. And drinks at these bars are much cheaper than they are at the club.
2. You Can Get Free Drinks On The Guest List
Not only can you get into clubs for free on the guest list, but you can also get free drinks. On select nights clubs give out free drink tickets to guests who enter the venue on the guest list. This is very common on less busy nights (Sunday-Thursday).
Drink tickets are usually only for women, but on occasion men can get them too. There are even some clubs, like Marquee on Monday nights, that offer women on the guest list access to an open bar.
Drinks are going to be your biggest expense while going out in Las Vegas. It's important take advantage of as many freebies as possible.
3. Take An Uber/Lyft To The Nightclub
If you don't already use a ride-sharing app, I recommend you download one before coming to Vegas. Taxis are known to take advantage of tourists by taking longer routes. The fares are also extremely overpriced.
If you take a Uber, you won't have to worry about this. You can go anywhere on the strip and you won't be paying more than $10-$15 maximum. Also you'll be confident that you're not being taken for a ride (No pun intended!).
Related Questions
What's the cheapest Las Vegas pool party? Like nightclubs, all Vegas pool parties offer free guest lists. All pool parties require men to have an even ratio to use the guest list, with the exception of Wet Republic and Daylight Beachclub. If you plan on purchasing tickets Tao Beach and Daylight have the cheapest tickets ($20 for women and $30 for men).