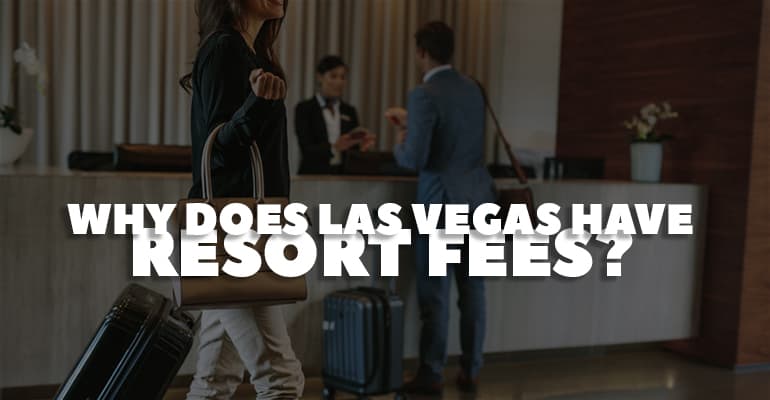 When I was recently booking a hotel in Las Vegas, I noticed I was charged an extra $30 a night for "resort fees." I decided to do some research to find out what these resort fees where for, and why hotels charged them.
Las Vegas hotels charge mandatory resort fees to offset the cost of amenities like Wi-Fi, pools, gyms and housekeeping. Resort fees are also intended to increase hotel revenue, since a percentage of profits are lost to online travel agencies.
There are a number of reasons why hotels charge resort fees including:
Cover the cost of basic amenities (like Wi-Fi, gyms and pools)
Advertise lower nightly rates
Recoup revenue lost to online travel agencies (like Expedia and Travelocity)
Boost earnings to appease shareholders
Resort fees aren't included in your initial booking cost, and aren't typically due until check-out. You're on the hook for resort fees even if you don't use the services they cover. Many guests find these fees to be deceptive, especially when they cost more than the nightly room rate itself! In this post I'll explain why most Las Vegas hotels charge resort fees, and how you can avoid them.
Why Las Vegas Hotels Have Resort Fees
Most hotels in Las Vegas charge a resort fee between $20-$45 per night, plus taxes of another 13%. So some hotels charge fees in excess of $50 a night, on top of the base room rate.
According to the hotels themselves, resort fees cover expenses for basic amenities that customer have come to expect (like Wi-Fi, pools and gym access). This seems like a decent justification for the additional charges, until you realize that the resort fees are mandatory even if you decline to use these amenities.
Increase Revenue Lost To Travel Agencies
The real reason hotels have resort fees has less to do with amenities, and more to do with profits. Back in the mid-2000s online travel websites like TripAdvisor and Expedia began providing customer reviews and recommendations online. These websites were able to aggregate hotel rates, so that customer could compare prices easily.
Once these website emerged, people didn't have to call the hotels directly to book a room. And when these travel websites started to get popular, hotels were forced to get listed on their platform. But in order to get listed, they had to give up a percentage of each reservation to the online travel agency. Giving up as much as 25% of the cost of a reservation resulted in a huge lose of profits.
To make this money back, hotels started charging fees that weren't part of the initial booking cost. They did this to avoid paying commissions to online travel agencies.
Resort fees started off small ($5-$10), for amenities like pool access or Wi-Fi. Initially, the fees where so small that they were generally accepted by most. But over time, resort fees gradually increased to the point that they are at today.
Advertise Competitive Prices
The travel and hospitality industry is cut-throat, especially in Las Vegas. There are nearly a hundred hotels in Sin City, all of them competing for the same customers.
In order to make keep their rates competitive, hotels advertise lower prices, and then tack on resort fees afterwards. For example, you can get a hotel room at Circus Circus for $25 a night, but then pay an additional resort fee of $30. The resort fee literally costs more than the room itself!
A lot of people don't realize that the resort fee exists because it's written in fine print, and isn't charged until you actually check-out of the hotel. Circus Circus isn't alone here, many hotels have adopted this practice to compete on price. Keeping resort fees separate from the advertised rate allows hotels to make rooms look cheaper than they actually are.
Appease Investors and Shareholders
Many of the casinos in Las Vegas are publicly traded companies. That means that they have a responsibility to shareholders to increase profits every year. If they don't make more money, the hotel executives risk losing their jobs.
Unfortunately for customers, raising prices is one of the best ways to make more money. A hotel can boost revenue by millions of dollars simply by raising resort fees by $4 or $5. If a hotel executive decided to just get rid of resort fees all together, the company risks losing one of it's biggest revenue streams. For that reason, resort fees are likely here to stay.
What Las Vegas Hotels Charge Resort Fees
It's difficult to find a hotel in Las Vegas that doesn't have a resort fee, especially on the strip. For that reason, I wouldn't worry too much about paying fees. If you want the full Vegas experience, resort fees are largely unavoidable.
Just be aware that these fees exist when calculating your travel budget. If you're staying 3 or 4 nights, resort fees can easily add up to over $100.
As I mentioned earlier, most resort fees are in the $20-$45 range. However, some hotels have resort fees as low as $5 a night. If you're wondering how much each individual hotel charges as a resort fee, Las Vegas Advisor put together an extensive list of all the resort fees in the city.
In addition to the few hotels that charge nominal resort fees, there are a small number that don't have any fees at all. I'll mention those hotels in the next section.
Las Vegas Hotels Without Resort Fees
The number of Las Vegas hotels with no resort fees gets smaller every year. However, a few hotels are still holding out. These are the hotels that don't charge resort fees:
| | |
| --- | --- |
| Hotel | Location |
| Travelodge Center Strip | Strip |
| Best Western Plus Casino Royale | Strip |
| Candlewood Suites Las Vegas | Off Strip |
| Desert Rose Resort | Off Strip |
| Four Queens Resort and Casino | Off Strip |
| Lucky Club | Off Strip |
| Marriott Grand Chateau | Off Strip |
| La Quinta Inn & Suites | Off Strip |
| Residence Inn | Off Strip |
| Red Roof Inn Las Vegas | Off Strip |
| WorldMark Las Vegas Boulevard | Off Strip |
| WorldMark Tropicana | Off Strip |
| Wyndham Desert Blue | Off Strip |
| Wyndham Grand Desert | Off Strip |
| Apache Hotel at Binion's | Off Strip |
| Holiday Inn Express | Off Strip |
| Hilton Garden Inn Las Vegas | Off Strip |
Only two of the hotels on this list are actually on the strip, but a few of them are right next to the strip. There are a bunch of hotels (like the Marriott Grand Chateau) that are only a block off the strip. A couple other hotels (like the Four Queens Resort and Casino) are located in Downtown Las Vegas on Fremont Street.
If you want a full list of Las Vegas hotels without resort fees, I did some serious research and put together a more in-depth post here.
How To Avoid Resort Fees In Las Vegas
If you're really caught up on not paying a resort fee there are a couple things you can do to avoid them. Here are some tips to avoid resort fees in Las Vegas:
Stay at a hotel with no resort fees

: I already touched on this, but the easiest way to avoid resort fees is to stay at a hotel that doesn't have them.

Caesars Reward Card

: If you get a Caesars Reward Card you won't have to pay resort or parking fees at the following properties:

Caesars Palace
Nobu Hotel
Harrah's
Planet Hollywood
The Cromwell
Paris
Bally's
The LINQ
Rio
Flamingo

Use travel rewards points

: Many hotels have reward programs very similar to Caesars, that sometimes waive resort fees. Hilton, Hyatt and Wyndham are all known for their rewards programs.

Airbnb

: You can stay at an Airbnb instead of a hotel. There are no resort fees for Airbnb rentals. You will have to pay cleaning and service fees, although they cost much less than resort fees. There are plenty of apartments and condos on Airbnb within a block of the strip.
Related Questions
What's the cheapest month to visit Las Vegas? The cheapest time to visit Las Vegas is right before and after New Years. June, July and August are also inexpensive times to visit Las Vegas. I compared the cost of visiting Las Vegas every month of the year in another article here.
Do you need a rental car in Las Vegas? Most people aren't going to need a rental car in Las Vegas unless you plan leaving the strip. There are plenty of cheap rental car alternatives in Las Vegas.
How much does a trip to Las Vegas cost? The average person is going to spend between $200-$300 a day in Las Vegas. Although, depending on what you do and where you stay you may spend more or less. I broke down the complete cost of a Las Vegas trip from food and hotels, to nightclubs and bars in another post here.