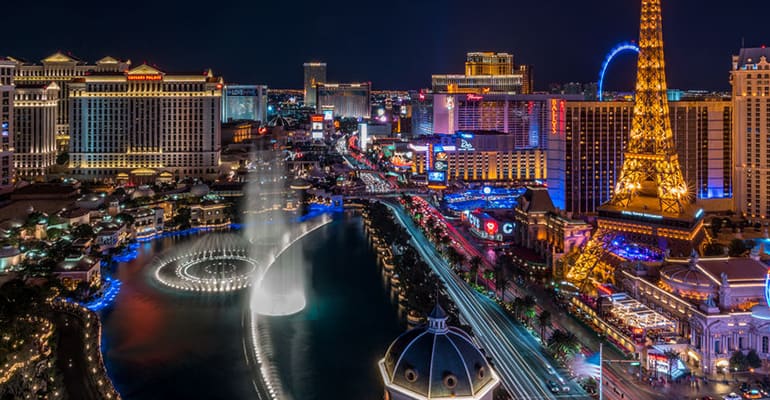 Whenever I visit Las Vegas, I always have a difficult time finding good prices on airlines and hotels. So, I decided to do some research to find the cheapest month to travel to Las Vegas.
The cheapest months to visit Las Vegas are December, January, July and August. Prices drop the most in mid-December directly before the holidays, and in January after New Years. Flights and hotels are also cheaper on weekdays (Sunday-Thursday) than on the weekend (Friday-Saturday).
These are the cheapest times to travel to Las Vegas:
Early and mid-December
Late November
January
June
Late-July (after the Fourth of July)
August
Generally, these are the least expensive months to visit Las Vegas, but that's not always the case. Seasonal prices often change year-to-year based on scheduled events. In this post I'll help you navigate these hurdles and figure out the cheapest time to visit Las Vegas.
Cheapest Months To Book Hotel Rooms In Vegas
I'll cut right to the chase here. It can be difficult to determine when hotel rates are the cheapest, since prices are always changing. As the dates get closer, sometimes the prices go up, and sometimes they go down.
It's impossible to compare nightly rates in July, to nightly rates in December, because hotels only show legitimate prices about 3 months out. If you try to book a room more than 90 days out, you'll notice everything is comically expensive.
So to get some real numbers, I went directly to the Las Vegas Convention and Visitor Authority. Here's want I found: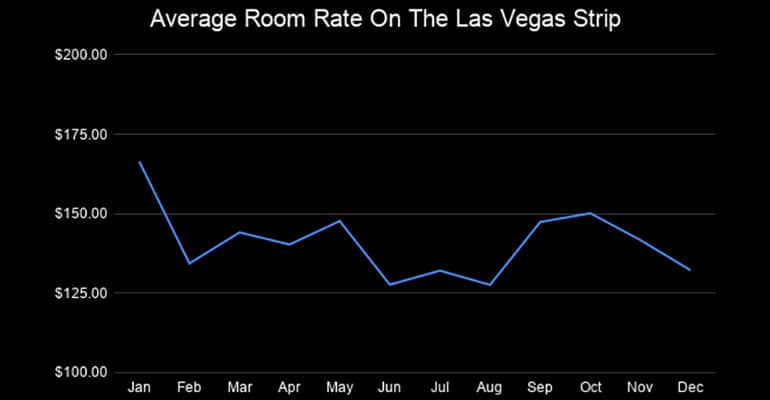 The official data was pretty much in line with what I was seeing when I tried to book rooms myself. June-August was pretty cheap and there where big dips in December and January. (The huge spike on the left side of the graph has to due with New Years-the rest of January is super inexpensive).
It makes sense that December and January are affordable, since it's directly before and after the holidays. But you may be wondering why June, July and August are so cheap, especially since tourism tends to peak over the summer.
The great deals available in the summer are a product of fewer conventions and special events being held during those months. Besides the Fourth of July, there are a limited amount of major events in the summer to push up prices.
To get the best deals you need to book your trip when less people are in town. Whether that's before Christmas, after New Years or in the summer when conventions have slowed, is up to you.
Cheapest Months To Fly Into Las Vegas
The amount of money you spend on a plane ticket is largely dependent on how far away you are from Las Vegas. For example, plane tickets from San Francisco to Las Vegas may only cost $100, but tickets from New York to Las Vegas cost $400.
There isn't too much you can do to combat this price discrepancy. Airline fares don't follow any real seasonal pattern, making it hard to predict when prices will fall.
However, you can take comfort in the fact that Las Vegas has some of the cheapest flights in the country. Vegas is heavily dependent on tourism, so the casinos have deals worked out with the airlines. Because of this, you can find good deals year round.
If you want to be extra sure that you're getting the best rates, make sure you book your flight at least a month in advance. Also try to avoid flying into Vegas on a Friday and flying out on a Sunday. You'll always get the best deals if you plan both your arrival and your departure on weekdays.
Cheapest Day Of The Week To Visit Las Vegas
When it comes to finding the cheapest day of the week to visit Las Vegas, Sunday-Thursday are going to be your best bet. Sin City is a little bit slower during the week compared to the weekend, and this leads to fantastic bargains.
No matter the time of year you visit, prices for hotels are often put to 50% cheaper on weekdays than they are on the weekend. This goes for both luxury and budget hotels. Here are a few examples from some popular hotels: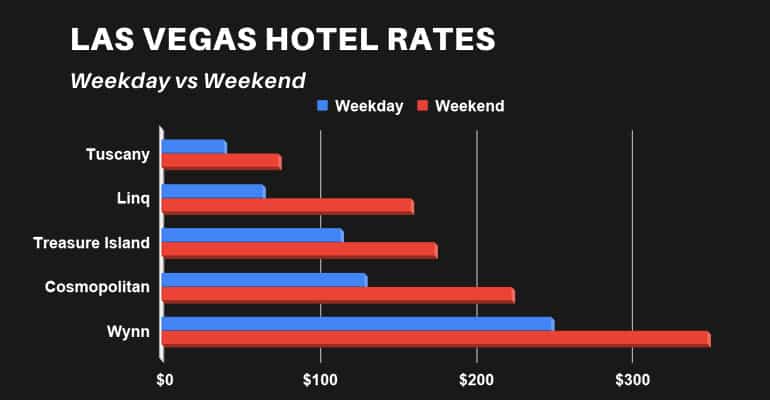 If you're wondering where I got these rates from: I got a couple quotes directly from the hotel websites themselves. The quotes were for several dates spread throughout the year, which I then averaged together. So, this is a fairly accurate representation of hotels rates, no matter the time of year.
The moral of the story is to book during the week, if you're looking for big discounts. Or if you plan on staying over the weekend, extend your trip to include a weekday. You'll get a great deal at nearly half the normal cost.
Avoiding Big Events To Get The Best Rates
The time of year plays a big role in hotel pricing. However, rates aren't always based on seasonality. Depending on the their expected occupancy, hotels may raise or lower rates, regardless of the time of year.
The scheduled events of a particular week are the final factor that determine prices. Since activities like festivals, conventions and major sporting events bring in so many people, these events can and will effect how much you pay for your hotel room.
A single convention can raise hotel rates across the board by hundreds of dollars. If you want the best prices you're going to want to avoid big events. There are two ways to do this…
One, you can look up when the biggest events are coming to town, and book around those dates. There's a full list of all of the major business conventions here, if you want to do that.
Or two, you can simply look at the rate calculator on any hotel website. The dates that coincide with the major conventions will be outlandishly priced. Just avoid those dates when booking.
To make your life even easier, I listed out some of the biggest annual events for each month down below. I also gave each month a rating on how expensive it typically is, using my patented $, $$, or $$$ rating system.
January

: $
Prices are low, coming off of New Years. The Consumer Electronics Show is a huge convention, bringing in nearly 200,000 people. Also watch out for the Shooting, Hunting & Outdoor Trade Show (or SHOT Show).
February

: $
Prices are low outside of Super Bowl Weekend. February is usually one of the biggest months for trade shows and conventions. The World of Concrete trade show is one of the biggest this month, but sometimes it's pushed up to January.
March

: $ – $$
You'll see a small uptick in prices because of March Madness. The ConExpo/ConAGG is big too, but you only have to worry about it once every 3 years. Look out for spring breakers, pool parties start opening in mid-March.
April:

$$
Keep an eye out for the National Association of Broadcasters (NAB) trade show. This one brings in over 100,000 media members each year. Also expect more college students on spring beak as the weather starts to get nice.
May: $$ – $$$
You'll see much higher hotel rates in May. Conventions start to slow down, but summer is in full swing by the end of the month. Memorial Day Weekend is the unofficial start of summer, but look out for Cinco de Mayo and EDC (Electric Daisy Carnival). All three of these events bring in hundreds of thousands of people.
June: $
Prices tend to drop by mid-June. There are very few conventions due to the heat, but tourism is high with school out. Pool parties, nightclubs and concerts are the biggest draws now.
July: $
Similar to June, prices are going to be fair. Fourth of July weekend is extremely busy and very pricey, but after that things tend to level off. There are plenty of deals to be found. This is one of my favorite months to visit Las Vegas.
August: $
Prices are similar to June and July. Conventions start to come back in a big way with Def Con (Hacker Convention) and Black Hat USA (Cyber Security Conference). Pool parties and nightlife remain huge draws as well.
September: $$$
Labor Day Weekend is another big weekend with high prices. This is the unofficial end of the summer, but it goes out with a bang. Huge events like LIB (Life Is Beautiful Festival) and the iHeartRadio Music Festival bring in thousands of people. Mr. Olympia is typically held in September too.
October: $$$
Conventions are back in full swing by October, making it one of the most expensive months of the year to visit Las Vegas. But the highest hotel rates come towards the end of the month as Halloween approaches. Halloween is one of the biggest holidays in Sin City.
November: $$
November is much slower than October, especially as Thanksgiving approaches. The weather has cooled down a bit, and there are less people in town making for some solid deals. The Vegas Golden Knights and the Las Vegas Raiders are both mid-season at this point so be careful as these teams can inflate prices if a big opponent is in town.
December: $ – $$$
You'll find the lowest prices of the year at the beginning of December up until Christmas. However, the week leading up to New Years is the most expensive week of the entire year.
Other Ways To Save Money In Las Vegas
Beside booking the correct dates, there are other ways to save money in Las Vegas. For example, you'll save a ton of money using ridesharing apps like Uber and Lyft, instead of getting a rental car.
Rental cars cost upwards of $50 a day, and some resorts charge parking fees in excess of $30 a day. I wrote another article covering all the rental car alternatives here.
If you plan on going out to nightclubs and pool parties, you'll be pleased to know that you can get into all clubs for free on the guest list. Every nightclub offers a free guest list that you can sign up for online. Women on the guest list get free entry at every club. Men can also get in free if they have an even ratio of women in their group (or a greater number of women than men).
But the way to save the most money is to pick the right hotel. Your hotel is always going to be your biggest expense in Las Vegas, and most people don't know about all the quality options on and off the strip. I mention a few of them in another post here, where I break down all of the costs associated with a Vegas trip, and show you how to enjoy Vegas on a shoestring budget.