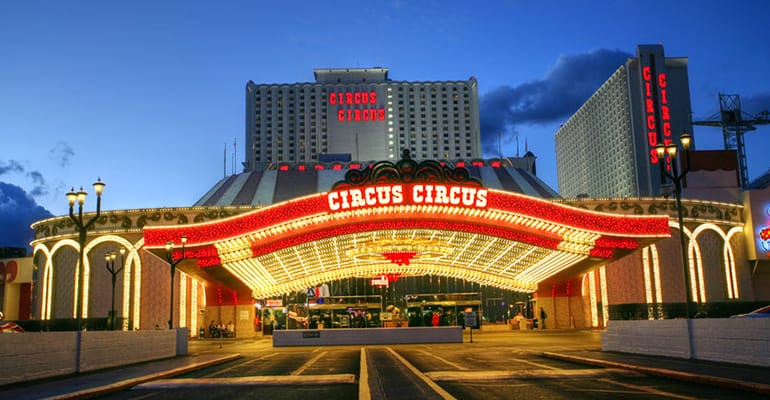 Whenever I compare hotel prices in Las Vegas, Circus Circus always comes up as the cheapest option on the strip. But if you actually take a look at the reviews online, the hotel scores way below average.
And that begs the question, why is Circus Circus so cheap? Is it actually a decent resort? I decided to stay at the hotel and find out.
Circus Circus is cheap because it's one of the oldest hotels on the Las Vegas strip. The rooms are outdated and lack the amenities offered by the top Las Vegas resorts. Circus Circus is also isolated on the north end of the strip, far away from most of the other casinos.
Although Circus Circus is outdated compared to many of the other Las Vegas resorts, there's no denying it offers the best prices. Let's take a deeper look at why Circus Circus is so cheap, and whether or not it's worth booking a room.
What Makes Circus Circus So Cheap
Before I get into my experience with Circus Circus Las Vegas, I'd first like to point out the difference between the actual resort and the Manor Motor Lodge.
The rooms you see online for under $20 are for the Circus Circus Manor Motor Lodge, which is located behind the casino resort. The Manor Motor Lodge is a bunch of 3-story motel buildings that were bought by Circus Circus a few years ago. It's about a 10-minute walk away from the casino, which is connected by a sky-bridge.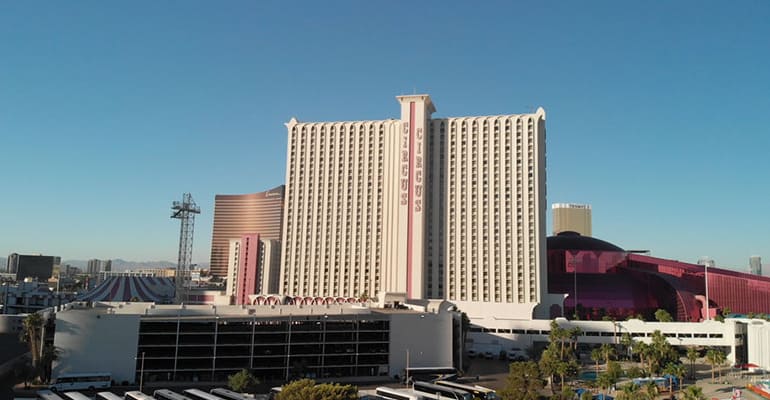 These are the rooms where you see a bunch of poor reviews. I'm not going to get into how bad these rooms are (you can find plenty of complaints online) but instead, I'm going to focus on the rooms that are located in the main Circus Circus building. My advice is to just avoid the Circus Circus Manor Motor Lodge altogether.
The main resort is actually a decent hotel. Yes, it's a little dated for a hotel on the strip, but for $40 a night, you kind of have to expect that. Overall, I recommend staying at the main resort (West Tower, Skyrise Tower, and Casino Tower rooms) if you're on a tight budget. There are just a few things that you'll want to be aware of at Circus Circus:
There's a $32 mandatory daily resort fee
Circus Circus is located far away from the action on the strip
Rooms are very basic (small, no refrigerator, no minibar)
Furniture in the rooms is older
The walls at Circus Circus are thin (not very soundproof)
Mild cleanliness issues are common throughout the resort
Lots of families stay at the hotel
The Circus Circus casino floor smells musky (from smokers)
Circus Circus Las Vegas Is More Expensive Than It Seems
Nightly rates for $30 or $40 a night are extremely deceptive. The base rate for a room may be $40, but Circus Circus charges an additional daily resort fee of $32. Resort fees cover amenities like Wi-Fi, pools, and gym access, but you're required to pay them even if you don't use the amenities.
Resort fees are misleading because they aren't charged when you initially book your room. They are charged when you check out of the hotel. And there is no way to avoid paying them.
So to give you an example, a $40 room is actually going to cost you $80 a night once you factor in the resort fee and applicable taxes.
| | |
| --- | --- |
| Base Rate | $40 |
| Daily Resort Fee | $32 |
| Taxes | $8 |
| Total (per night) | $80 |
Circus Circus Las Vegas isn't the only hotel that charges a resort fee. In fact, the vast majority of Las Vegas resorts do the same thing. It's just something to be aware of when you book. The room may look super cheap, but you always end up paying more than the advertised rate.
With all that being said, resort fees shouldn't be a reason to avoid Circus Circus. Even with the $32 daily resort fee, it's still the cheapest hotel on the Las Vegas strip.
Circus Circus Is Dated Compared To Other Vegas Hotels
Circus Circus is one of the oldest properties on the strip. They have done some small renovations, but it's clear the hotel isn't as modern as its competitors.
The rooms at Circus Circus are a bit small and lack basic amenities like a refrigerator, and clothes hangers (although there is a closet). The furniture in some of the rooms is a bit worn, you'll notice some scratches on the draws and table stand (not what you expect at a hotel on the Las Vegas strip).
The walls at the Circus Circus hotel are also very thin, so if you have a loud or annoying neighbor you may run into some issues. But the rooms do have:
A desk
Hairdryer
Safe
Air-conditioning
Free Wi-Fi
Flat-screen TV
Decent mattresses
As far as the resort goes, you obviously have the casino, but you also have a pool, fitness center, hair salon, carnival, and adventure dome (I'll talk about this more later). Circus Circus does not have a spa.
While the resort does have a few restaurants, I find the choices to be limited compared to other hotels on the strip. The shopping options at Circus Circus are a bit limited too. There are a ton of gift shops, but few traditional retail stores.
The Circus Circus Hotel Doesn't Have The Best Location
If you want to visit another casino on the Las Vegas strip, you're probably going to need to take a cab (or Uber/Lyft). Circus Circus is located on the north end of the strip between the Wynn and the Strat. It's a 15-minute walk to the nearest hotel (Wynn) and a 30-minute walk to the center of the strip, so most people aren't going to want to walk.
If you just plan on staying at Circus Circus for your entire trip to Vegas, then this isn't a problem. But if you want to check out other casinos, staying at Circus Circus is almost like staying off of the strip. It's that far away from the action.
Circus Circus Has Some Cleanliness Issues
Circus Circus as a whole has a reputation for having cleanliness issues. This includes the dirty windows in many of the hotel rooms and the musky smell on the casino floor. This isn't uncommon in Las Vegas since most hotels allow people to smoke, but it's particularly bad here.
The issue is much worse in the Circus Circus Manor Motor Lodge than in the actual resort, but it's still worth mentioning. In my experience, the hotel wasn't dirty enough for me to say it's a dump, but it's noticeable. Out of all the casinos on the Las Vegas strip, I would say the Circus Circus hotel would benefit the most from a deep cleaning.
Benefits Of Staying At Circus Circus Las Vegas
With all the issues that Circus Circus has, there are still some benefits to staying here. They include:
Free Wi-Fi
Free self-parking
Cheap nightly rates
Great for families
Besides the cheap rates, you also get free parking and free Wi-Fi at the hotel (although you can argue you pay for those with your resort fee). Circus Circus Las Vegas is also the most family-friendly hotel on the Vegas strip. There are a ton of things for kids to do and see at Circus Circus, including:
Free circus acts
Carnival games
Splash Zone Pool
Adventuredome (pictured below)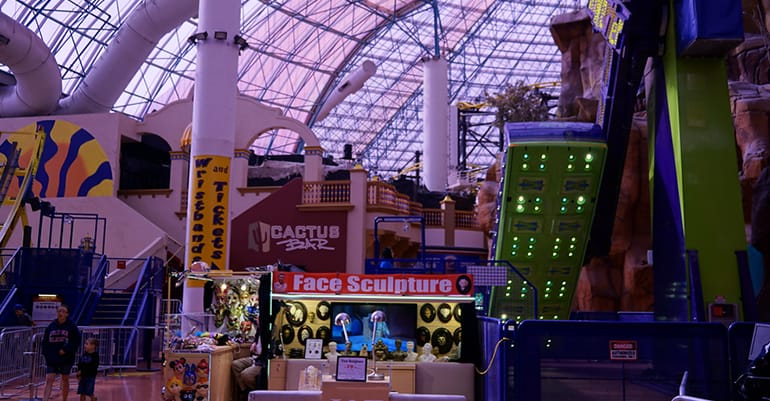 There are about a dozen different free circus acts, which start around 11:30 am and go until midnight. The performances range from trapeze tricks and gymnastics to clowns and juggling acts. These circus acts are free for both Circus Circus hotel guests and visitors.
The Midway Carnival has over 200 of the most popular carnival games at Circus Circus, where you can win prizes. Most games cost a dollar or less.
The Splash Zone has a water playground, huge slides, and whirlpools. If you're staying at Circus Circus you get 4 free passes per room. You can buy more at the desk if you need them. This is one of the few water parks on the Las Vegas strip.
The Adventuredome has a bunch of theme park rides like roller coasters, carousels, mini-golf, and a 4D theater. A day pass at the Circus Circus Adventruedome costs $40 for adults and $20 for kids.
Should You Stay At Circus Circus?
I would recommend Circus Circus to anyone who is on a budget or is bringing kids with them to Las Vegas. If you're looking for a luxury vacation, Circus Circus is not the hotel you should be staying at. Although, if you're just sleeping in the room and doing other activities during the day, Circus Circus is a suitable option.
This Las Vegas hotel gets a lot of mixed reviews online. But if you stay at the main resort and avoid the Manor Motor Lodge, you'll enjoy your time at Circus Circus.
It's one of the most affordable Las Vegas hotels on the strip. You'll be hard-pressed to find a cheaper option than the Circus Circus Hotel.
Related Questions
How much does a Las Vegas trip cost? The average person is going to spend about $250 a day in Las Vegas. If you stay at a budget hotel, like Circus Circus in Las Vegas, you can get that down to $150 a day (on the cheap end). I posted another article breaking down all the costs you should expect in Las Vegas here.
When is the cheapest time to visit Las Vegas? The cheapest time to visit Las Vegas is in December (right before New Years) and January (right after New Years). You can get good deals during the summer too. I wrote a more in-depth post on the cheapest month to visit Las Vegas here.