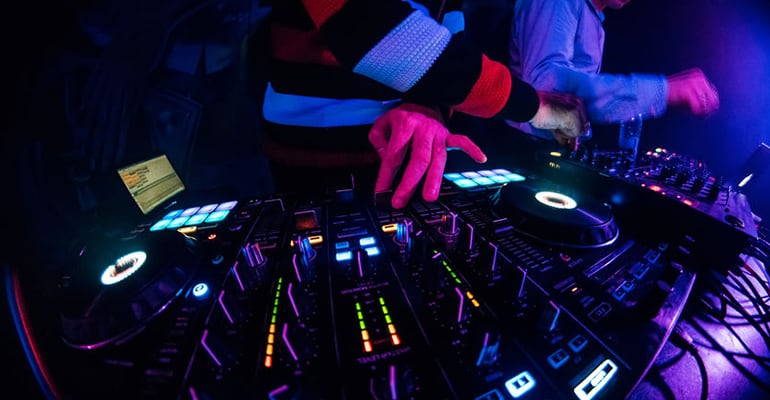 When you go to a Las Vegas nightclub, you may be surprised to learn that the headline DJ doesn't perform the entire night. In fact DJs in Las Vegas only perform for about 2 hours.
What time does the headline DJ come out in Vegas? In Las Vegas the headline DJ doesn't typically come out until 1:00-1:30 am. Most DJs will perform until about 3:00 am, but some will stay in the booth until 3:30 am. A house DJ will fill in for the headliner both before and after the performance.
Nightclub DJs in Vegas very rarely go on before 1:00 am. But, this doesn't mean that you should skip the warm up set and show up late. There are many benefits to showing up early like shorter lines, free guest list entry and cheaper bottle service prices.
See Headline DJs For Free By Showing Up Early
The main reason why you want to get to the nightclub early is because you can get free entry using the club's guest list. Every club in Las Vegas offers a guest list and it's free to use.
Women who sign up for the guest list get free entry at every club, along with additional perks like free drink tickets and open bars on select nights.
Men on the other hand are required to have an even ratio of women in their group (or a greater number of women than men), in order to get into clubs for free on the guest list. However, there are a few clubs that allow men free entry without even ratio.
The guest list is the club's incentive to get people to show up to the event early. So, there is a cutoff time for the guest list around 12:30 am. After that time you'll be required to pay full cover.
Showing up early also allows you to bypass long lines. If you show up slightly before the club opens (they open around 10:30 pm), you can minimize the time you spend in line. Showing up at 11:00 pm or later can potentially result in wait times several hours long.
Guest lists are available most night at every nightclub, with the exception of special events and holidays (i.e. the 4th of July or New Years).
Tickets Prices For Big DJs Increase During The Night
Even if the headline DJ doesn't come on until 1:30 am, there are many reasons why you want to get to the club early. One of those reasons has to do with ticket prices.
If you plan on purchasing a ticket instead of using the guest list, be aware that cover charges increase as the night progresses. A $50 ticket at 11:00 pm can often skyrockets to $100+ by 1:00 am. If you show up right before the DJ gets on you may be saving time, but you'll be paying extra money.
However, you can still avoid these elevated prices by purchasing a pre-sale ticket. If you know you're going to be buying a ticket I highly recommend pre-sale, since they are cheaper and they guarantee entry. You can purchase these tickets directly on the club's website months in advance.
Bottle Service Prices Increase Later In The Night
Not only do cover charges go up as the night goes on, but so do bottle service prices. If you plan on ordering bottle service, always get to the venue early. This is because tables sell out fast as the night goes on.
Even if you have a "reservation," clubs still have the right to sell your table or increase the price. The only way that you can guarantee that you get the table you want is by putting down a deposit. But even then, the club can still move your table location.
Similar to general admission lines, table lines also get longer over the course of the night. To ensure you get the table you want at the price you want, make sure that you show up to the club on time. Bottle service tables are no exception.
How Good Are The Warm-Up or "House" DJs?
Although you may not recognize the warm-up DJ's name, they still put together really good sets. Las Vegas has the biggest clubs in the world, these nightclubs don't put bad DJs in the booth.
It's also important to listen to the warm-up DJ because they do just that, they warm up the crowd. Most nights start slow, and so does the music. As the night goes on, it's the warm-up DJ's job is to build the anticipation for the main event. And many of them do a great job with this.
Don't miss out on half of the show because you want to skip to the headline DJ. It's not worth it, and it will often end up costing you both time and money.
Related Questions
What is dress code at Las Vegas nightclubs? Men should wear a dress shirt, jeans and dress shoes. Women can essentially wear anything that looks good. Most women tend to wear a well fitted dress paired with either heels or flats. You can get a more comprehensive dress code guide for both men and women here.