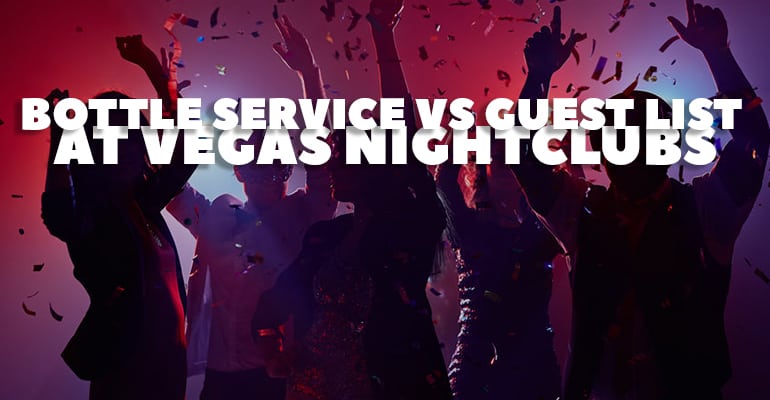 Purchasing bottle service and signing up for the guest list, are two of the easiest ways to get inside of a Las Vegas nightclub. But, these two methods of entry are very different. In this post, I'll talk about the main distinctions between the two, and help you decide which one to go with.
Comparing Bottle Service To The Guest List
First, I'll quickly compare bottle service to the guest list. You may be familiar with these terms if you have visited nightclubs in other cities, but clubs operate much differently in Las Vegas. I'll list out a few of the major benefits, offered by each one.
Las Vegas Guest List
The guest is a free service offered by every nightclub in Las Vegas. It allows you to get into the club for free, assuming you meet certain requirements. All clubs allow groups of women free entry on the guest list, along with groups of men that have at least an even ratio of women in their group (or a greater number of women than men). A few clubs also allow men to get in for free without having an even ratio of women.
Anyone can use the guest list, plus you can sign up for free online in less than 2 minutes. There are sometimes additional benefits that come with the guest list like free drink tickets or an open bar. The only downside is that you must get to the club early, to avoid the long lines. There is a cutoff time for the guest list around 12:30 am. Also, there is no guest list available during major holidays like Halloween or New Years.
Women get free entry at all clubs
Men with an even ratio of women (or more women than men) get free entry
Some clubs allow men free entry without ratio
Some clubs offer extra benefits like drink tickets or an open bar
Las Vegas Bottle Service
On the other hand, bottle service is where you purchase bottles of alcohol within a nightclub. With the purchase you also get a private table, a cocktail waitress, security and a number of other benefits. Not only will you have the best seats in the house (there is no seating available for general admission and guest list), but you'll be located in the VIP area and get special treatment. When you have bottle service you get seated fast, expedited entry is one of the main perks.
Expedited entry
Private area with a table and seating
Cocktail waitress
Buser
Security
Access to the girl guy (I'll cover this later)
These are the main advantages you get with the guest list and with bottle service. Depending on a number of factors like price or group size, you may be more inclined to go with one over the other. In the next section, I'll give some guidance on when it's best to get a bottle vs when it's best to use the guest list.
1. What Is Your Budget?
This is probably the most important element to consider when deciding between the guest list and bottle service. Bottle service isn't cheap, as it can cost between $350-$10,000+. The cost of a bottle service table depends on a variety of factors including: which club you go to, the table location, the DJ that is playing, your group size and the day of the week (weekend vs weekday). If you want more information or want to compare bottle service prices, I wrote a more in depth post here.
If you can afford to spend a couple thousand dollars on bottle service, it's more than worth. Bottle service is definitely the best way to party in Las Vegas and you'll be glad you went that route. On the flip side, if a couple thousand dollars sounds a bit expensive, then you'll want to go with the guest list. You'll still have plenty of fun at the club, you just won't get some of the added benefits of bottle service. Plus if you get into the club for free using the guest list, you'll have extra money to spend on drinks at the bar.
2. Who Did You Come To Vegas With?
The people you're with are a big factor in determining if bottle service or the guest list is the better option. If you're in Vegas with a few close friends and don't want to deal with crowds of people bumping into you, then the privacy of a table may be worth the extra money. Bottle service may also be a good idea if you have a large group, since you can split the bill up between multiple people.
The guest list is ideal for groups of all women, since you'll get in free at every club. The same goes for couples, since you'll have an even ratio. Groups of all guys can get in for free without ratio at a few clubs, but may be more inclined to get a table than a group of all women. You'll be better off getting bottle service at clubs like, XS or Drai's that require groups of guys to have at least as many women.
3. Do You Want An Over-The-Top Or A Low-key Night?
You may think that bottle service would make your night much more wild but that isn't necessarily the case. With bottle service, you have the choice of grabbing a ton of attention or just chilling in your own world. Depending on how you're feeling, you can go either way.
The guest list has the potential to get just as crazy, but you don't have the option of privacy. This isn't necessarily a bad thing, especially if you came to party. This is Las Vegas, it's guaranteed to be a wild time no matter what, but bottle service does give you a few more options.
4. What Club Are You Going To?
The venue can actually play a significant role in your decision making. I always recommend that you go see the DJ that you want. There is nothing worse than being at a nightclub and hating the music. But, many times the best DJs also have the most expensive bottle service prices.
For example, when the Chainsmokers play at XS, don't expect to pay anything less than $2,000 for bottle service. You may want to see the Chainsmokers and you may want to get bottle service, but $2,000 for a table that seats 6 people may be too expensive. You may be better served to get in for free on the guest list and save your money for drinks at the bar.
There are also clubs, like Apex, that offer bottle service starting at $350 for 8 people. At $43 a person, bottle service may actually make more sense than the guest list. Keep this in mind when choosing which club you go to.
5. Why Are You In Vegas?
The purpose behind your Vegas trip can and should impact your decisions. If you're in Las Vegas for a business conference and just popping in because you're bored, then definitely go with the guest list. The same goes for couples. There is no need to have 3 bottles of vodka all to yourselves!
If you're in town for a bachelor/ bachelorette party, then bottle service should be heavily considered. What happens in Vegas, stays in Vegas, but bottle service will ensure you have a once in a lifetime experience that you'll never forget.
Sin City is notorious for no strings attached flings and having a bottle service table makes the process much easier. Not only do attract more attention with your VIP status, but you also have more privacy. The table gives you a place to sit down, have a drink and talk.
Bottle service also grants you access to the girl guy. This is a host that works for the venue, who will go around the club and bring party companions back to your table. For guys, this is by far the easiest way to meet women in Las Vegas. For many guys, this alone makes bottle service worth the money.
Related Questions
How do I reserve bottle service? The simplest way to reserve bottle service is through a VIP hosts that works at the club. If you're interesting in reserving a table you can contact us here, and we'll put you in touch with a VIP host that works for the club of your choice.
Do Las Vegas pool parties have guest lists? All Las Vegas pool parties and dayclubs offer free guest lists. Similar to nightclubs, all women get free entry when they sign up for the guest list. Men also get free entry when they have an even ratio of women in their group. There are several clubs that allow men in for free without even ratio. You can sign up for dayclub guest lists here.