Las Vegas has some of the largest nightclubs in the world but, which of these mega-clubs is the biggest? I visited all the top Vegas nightclubs in person to do some research. In addition, I went to each club's website to get some exact numbers. These are the biggest clubs by size and capacity in Las Vegas.
Biggest Las Vegas Nightclubs
The following are the largest nightclubs based on total square footage. You'll notice that the biggest nightclubs in size don't always hold the most people.
| | | |
| --- | --- | --- |
| Nightclub | Size (sq. ft.) | Capacity (# of guests) |
| Hakkasan | 80,000 | 3,900 |
| Omnia | 75,000 | 4,500 |
| Marquee | 60,000 | 3,000 |
| EBC at Night | 46,000 | 3,500 |
| XS | 45,000 | 4,000 |
| Light | 38,000 | 2,000 |
| Drai's | 25,000 | 2,200 |
| Jewel | 24,000 | 1,900 |
| Chateau | 14,000 | 1,500 |
| Tao | 12,000 | 1,200 |
| On The Record | 11,000 | 750 |
| Apex Social Club | 8,000 | 500 |
Each club is designed differently. Some have a lot of open space, while others are much more crowded. Looking at the raw numbers alone is actually a bit deceiving, since some clubs feel bigger once you're actually inside them.
What You Experience In Person At These Nightclubs
Hakkasan is a 5 level venue, but the first and second floors are actually allocated to the Hakkasan restaurant. So, 80,000 sq ft is probably closer to about 60,000 sq ft. The nightclub is still huge and it's always packed.
Drai's nightclub is only 25,000 sq ft, but the club often opens up its dayclub during night time pool parties. This turns the club into a 35,000 sq ft venue that can hold an additional 300 guests.
Marquee claims to be 60,000 sq ft, but it feels much smaller once you're actually in the club. This is because the 60,000 sq ft are divide up between 4 separate rooms: the Main Room, the Pool Deck, the Library and the Boom Box Room. Not all of the rooms are open every night, so the main room can get really crowded.
XS Nightclub actually feels much bigger than it actually is. It's only the 5th largest club according to the numbers, but to me it feels like the biggest once you're actually there. This may be due to it's open layout. The club has very few walls and has a half indoor and half outdoor design.
EBC at Night is definitely a large club, but it's really only 40,000 sq ft. The other 6,000 sq ft are attributed to the indoor section that is really only open during the day. The club still feels huge since it's entirely outdoors and has 3 large pools.
All in all, I would say that Omnia is the biggest. It holds the most people and when you take away Hakkasan's restaurant, Omnia has more square footage. But, bigger doesn't always mean better. Depending on the needs of your group you may want to attend one of the smaller clubs. I'll cover this in the next section.
Which Nightclubs Are The Best
There are a couple of factors the determine what the best club for you is including:
What's the guy to girl ratio of your group?
What type of music do you like?
Are you getting bottle service?
The main variable is the guy to girl ratio of your group. This is because Vegas nightclubs allow you to enter the club for free if you sign up for guest list. Every club has a guest list, but the rules for each one are different.
Guest List Rules
As a general rule, groups of women get free entry at every nightclub when they use the guest list. On the other hand, men must have an even ratio of women in their group (or a greater number of women than men) in order to get into the club for free. There are a few clubs that allow men to get free entry without having an even ratio. Anyone can sign up for the guest list for free online.
So, this is a major determining factor when picking a club. If you're a group of guys you may want to choose a club where you can get in for free. I compiled a list of clubs where men get free entry here. If your group consist of all women or if you have an even mix, then you won't have to worry about this.
Consider The DJ
Another major factor is the DJ. You're probably going to want to choose a club where they play music you like. It doesn't make sense to go to Omnia just because it's the biggest club if you don't like EDM music. Most Vegas clubs play either EDM, Top 40, Hip Hop or have an open format. Choose a club that matches your music taste.
Bottle Service
The last thing to consider when picking a club is whether or not you plan on getting bottle service. Bottle service is the best way to party in Las Vegas, but it can get expensive at some of the bigger clubs. In fact, on the busiest nights it can cost upwards of $10,000.
If money isn't an issue then you don't have to worry about this. But, if you're on a budget you may want to go for something a little cheaper. Smaller clubs like Apex often offer bottle service starting at only $350 for 6 people. Bottle service pricing often plays a major role when deciding what club is best for your group.
You can compare bottle service prices at all of Vegas' nightclubs here. If you're interested in getting a table check that out and see what clubs match your budget.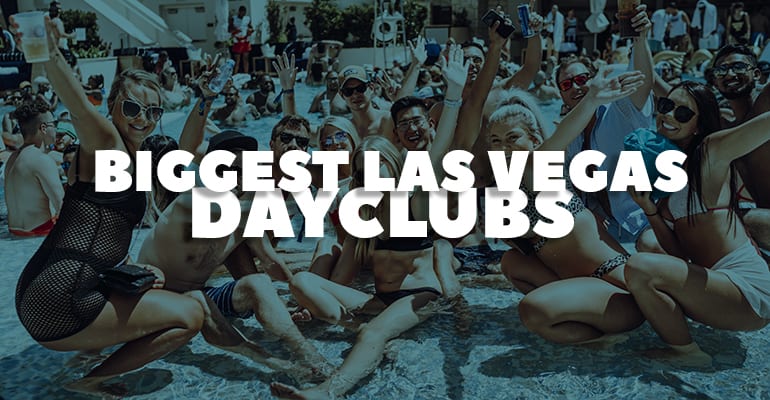 Biggest Las Vegas Pool Parties And Dayclubs
I also took a look at the biggest dayclubs and pool parties. Here are the numbers for some of the top Las Vegas dayclubs.
| | | |
| --- | --- | --- |
| Dayclub | Size (sq. ft.) | Capacity (# of guests) |
| Wet Republic | 54,000 | 3,000 |
| Encore Beach Club | 46,000 | 3,500 |
| Daylight | 50,000 | 1,800 |
| Drai's Beachclub | 35,000 | 2,500 |
| Marquee Dayclub | 25,000 | 1,800 |
| Tao Beach | 18,000 | 800 |
| Lavo Party Brunch | 5,000 | 700 |
Encore Beach Clubs is slightly smaller than Wet Republic in terms of size, but does hold more people. For this reason I consider Encore to be the bigger club. Both of these clubs are massive and often completely sell out.
Daylight is really big, but has a relatively small capacity for its size. This isn't necessarily a bad thing since there is a ton of open space and the club doesn't feel overcrowded. Daylight has one large pool in the center.
Lavo Party Brunch is the only dayclub open in the winter. There is no pool since Lavo is a converted restaurant. Also, the total square footage is hard to determine since many estimates include the now closed Lavo nightclub. But, I estimated it to be around 5,000 sq ft.
Which Dayclubs Are The Best
Just like the Vegas nightclubs, the best pool party for your group is dependent upon a several factors:
What's the guy to girl ratio of your group?
What time of year is it?
What hotel are you staying at?
What type of music do you like?
Are you getting bottle service?
Some of them are the same but there are some additional things to consider when picking a pool party. I'll cover the most important ones below.
Guest List Rules
All pool parties have free guest lists. Women get free entry at every club and men need an even ratio of women in their group to get free entry. The only two clubs that allow men in for free without ratio are Wet Republic and Daylight.
Lavo Brunch is a bit different. Women get free entry on the guest list, but men only get a reduced cover charge. You can sign up for dayclub guest lists here.
Time Of Year
It's important to note that pool parties are seasonal in Las Vegas. Most of them run from March to early October. So, if you want to attend a dayclub in the winter Lavo is your only option.
Lavo one of my all time favorite dayclubs. If you order bottle service at Lavo you're also able to order brunch. Tables start around $500 for 6 people and include alcohol and food. Additionally, women on the guest list often get access to an open bar.
However, Lavo Brunch is only open on Saturdays during the winter. This also goes for the pool parties during the summer. All pool parties are open Friday – Sunday, but only a handful are open during the week.
For example, Wet Republic is the only dayclub open on Monday. And on Thursday only Tao Beach and Wet Republic are open.
Your Hotel
This is important because dayclubs open early (around 10:30 am), and the club may be a bit of a hike from the hotel you're staying at. If you went to bed late the night before you may not get there in time, especially if you were up late the night before. The guest list for dayclubs closes around 12:30 pm.
Dayclubs are often more popular than nightclubs and many of them will hit their max capacity. So, if you know your friends are slow to get ready, it may make sense to pick a club closer to your hotel.
Plus, some hotels allow their guests complimentary entry to the in-house pool party (assuming the hotel has one). Not all hotels allow this but the Cosmopolitan is one that does. They let guests into Marquee Dayclub for free.
Check with your hotel concierge when you check in, to see if your hotel offers this. If not, the guest list is just as good.
Pool Party DJs
I can't over emphasize the importance of attending a club that plays the music you like. If you don't like the music, don't go to that club! Most dayclubs play a combination of EDM and Top 40. However, Drai's and Daylight on Sundays tend to play Hip Hop.
Bottle Service
Bottle service is going to be more expensive at the bigger clubs. Tao Beach and Daylight often have the cheapest prices.
Tao Beach offers a 6 guest table for only $500.
Daylight offers a 10 guest table for between $1,000-$1,500.
Both Tao Beach and Daylight offer 15 guest tables for between $1,500-$2,000 on most days.
Related Questions
What's the most popular Las Vegas club? The most popular Vegas nightclubs include XS, Omnia, Hakkasan, Marquee and Drai's. The most popular Vegas dayclubs include Encore Beach Club and Wet Republic. All of these clubs offer free entry on their respective guest lists.
How to reserve bottle service in Las Vegas nightclubs? The simplest way to reserve bottle service is by contacting a VIP host that works for the club. VIP hosts can give you accurate price quotes and offer the most up to date table information. If you're looking to reserve bottle service you can contact us here, and we'll put you in touch with a VIP host that works at the club of your choice.