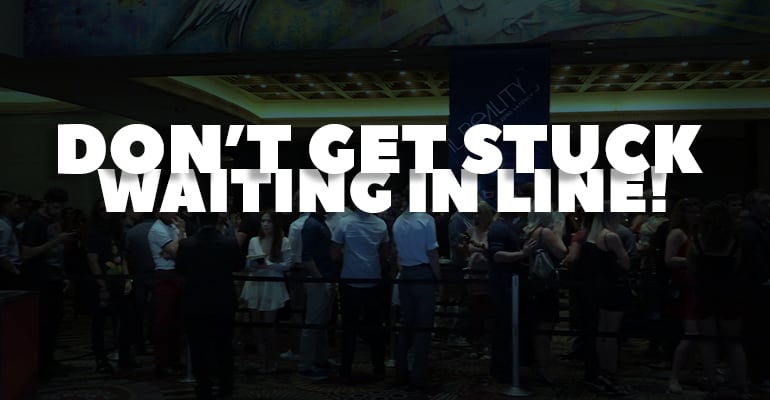 Waiting in long lines can be a pain that completely kills your night out. And seeing as Las Vegas has some of the most popular nightclubs in the world, lines often become an issue. So, I decided to visit every Las Vegas club to see which ones had the shortest lines.
What Las Vegas nightclubs have the shortest lines? Apex Social Club, On the Record, Light and Chateau are the Vegas nightclubs with the shortest lines. Depending on whether you attend on a weekend or weekday, it will take between 5-15 minutes to get inside the club at these venues. The only exception is during special events or holidays (like the 4th of July or New Years), where you may have to wait longer.
There are several ways to skip lines at Vegas nightclubs, like purchasing bottle service or going on a club crawl. But, if you're going to wait in line for the guest list or purchase a ticket, these clubs will get you through the door the fastest. Some of these club also have specials like free drink tickets or cheap bottle service, that I'll cover in this article.
1. Apex Social Club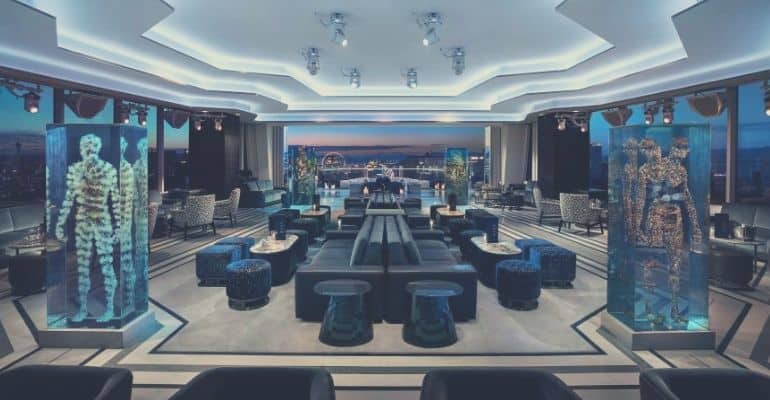 Apex Social Club is located on the 55th floor of the Palms Casino Resort. Because it's one of the smallest clubs in Las Vegas, the lines don't get that long. Apex also more closely resembles a high end rooftop bar than it does a traditional nightclub.
This club may be smaller than the mega-clubs but the parties still gets pretty wild. Apex is always buzzing and has an energetic vibe to it. Not to mention one of the best views in all of Las Vegas. I just wish the club was a bit closer to the strip, so I could visit more often. That's the main reason why Apex has the shortest lines; it's located off the strip.
The Palms is about a 5-10 minute drive off the Vegas strip, which really isn't that far but can prove inconvenient. If you're willing to make the short trip, you'll definitely be rewarded.
The club offers some of the best bottle service deals in all of Las Vegas. This includes bottle service specials starting at $350 for a group of 6 people. Apex Social Club also offers free entry into the club when you sign up for its guest list. Groups of women get free entry on the Apex guest list. Men only get free entry if they have an even ratio of women in their group (or a greater number of women than men).
2. On The Record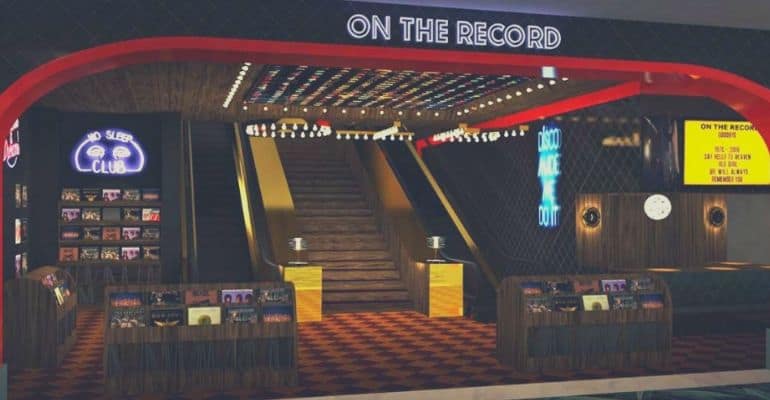 On The Record is one of the newer nightclubs in Las Vegas. The club is designed like a retro speakeasy bar. The music is played in an open format which includes anything from Oldies to Hip Hop and everything in between.
On The Record is also a smaller sized club, which leads to shorter lines. There are occasionally off nights where this club is completed packed but most of the time there is a healthy crowd, making it easy to get inside quick.
The club also offers a guest list which is free for both men and women. There are no ratio requirements and anyone can sign up for the On The Record Guest list for free online. As an added bonus, on many nights the club gives out free drink tickets to women who enter on the guest list.
3. Light Nightclub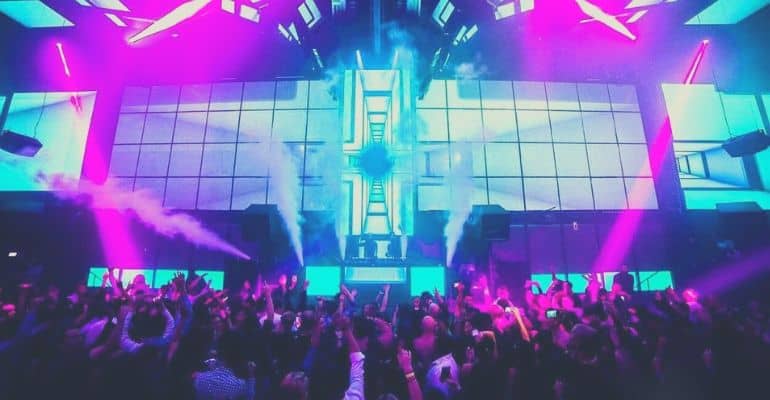 Light is one of the most established nightclub on the strip, as it's been around for years. But, it doesn't draw as much of a crowd as some of the newer clubs. Therefore, the lines at Light are extremely manageable.
Don't get me wrong, there are a few nights every month where the club is stuffed, especially when artists like Rick Ross are performing. But, most of the time you'll breeze right through the line and get inside in less than 10 minutes.
The best time to go to Light is on Wednesdays. There is basically no line (you'll get inside within a record 5 minutes) and the club often gives out drink tickets to both men and women who enter the club on the guest list.
No line, free entry and free drinks is one heck of a deal. Plus, you won't have to worry about being bumped around since Wednesday is considered a slower night. Both men and women can get free entry into the club on most nights by using the Light guest list.
4. Chateau Nightclub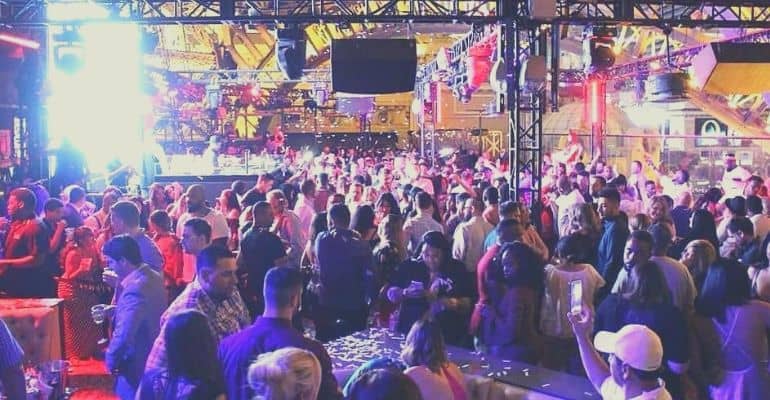 Chateau is another relatively small Vegas nightclub. I put a heavy emphasis on the word relatively. With a capacity of 1,500 guests, Chateau would be considered among the biggest clubs in any other city.
The club is located directly underneath the Eiffel Tower on the rooftop of the Paris Hotel. This gives the club an unmatched view of the beautiful Bellagio Fountains. It's also one of the few Vegas nightclubs to play mostly Hip Hop music. And the DJs are some of the most interactive in Vegas. They really know how to get the crowd involved.
Chateau offers free admission on its guest list. Similar to Apex, women get free entry on the Chateau guest list, but men are required to have at least an even ratio of women in their group. The club also offers bottle service starting at $425 for 4 guests.
How to Avoid Lines Completely
Those were the nightclubs with the shortest lines. But, there are also a couple techniques you can use to skip the line completely. I wrote a post that goes more in depth about skipping lines in Vegas, but I'll briefly mention few here.
Purchasing a bottle service table gives you expedited entry into the club. Bottle service clients are spending the most money and therefore have the highest priority. You can often reach out to your host before you even get in line, so they are ready for you when you arrive.
Vegas club crawls often have their own lines when entering the club. Most club crawls (which is a tour that visits several clubs over the course of a night) have contracts with the clubs themselves ensuring that everyone gets into the venue quickly. You can learn more about club crawls here.
Purchasing a ticket is often the fastest way into a Vegas nightclub. It may sound counter-intuitive, but general admission lines are usually the shortest lines of all. This is because a majority of the people who enter the club are either using the guest list or are purchasing a table. Very few people nowadays actually pay a cover charge.
You'll get into the club quickly if you purchase a ticket, but keep in mind that you're getting the least amount of value for your money. The guest list is obviously a great value because you get in for free. And bottle service has a ton of additional perks that you would never get otherwise. Buying a ticket gets you no additional value and you have to pay to get in. It's fast but not usually worth the 15-20 minutes you save.
Related Questions
How do I reserve bottle service at a Vegas nightclub? The best way to purchase a table is to contact a VIP host that works at the club. VIP hosts can give you up to date price quotes and reserve tables. If you're interested in purchasing a table you can contact us here, and we'll put you in touch with a VIP host that works at the club of your choice.