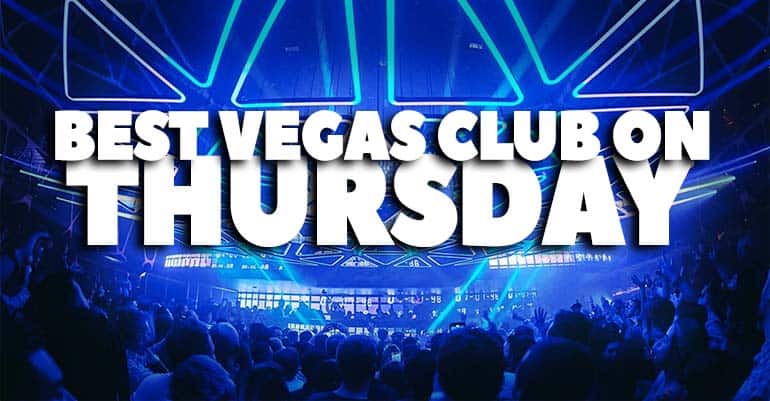 For most people, Thursday is just another day between them and the weekend. But in Las Vegas the weekend has already started. There are bunch of Vegas nightclubs throwing wild parties every Thursday, but which club is best?
What is the best nightclub open on a Thursday in Las Vegas? The best Vegas nightclub on a Thursday is Hakkasan which plays mostly EDM music. Although, Drai's is a better nightclub for people that prefer Hip Hop music. Hakkasan is located at the MGM Grand Hotel while Drai's is located on the rooftop of the Cromwell Hotel. Thursday nights at Drai's are pool parties.
All nightclubs that are open on Thursday include:
| | |
| --- | --- |
| Nightclub | Location |
| Hakkasan Nightclub | MGM Grand |
| Drai's Nightclub | Cromwell |
| Tao Nightclub | Venetian |
| Apex Social Club | Palms |
| On The Record | Park MGM |
| Chateau Nightclub | Paris |
There are a decent amount of nightclub options on Thursdays, but some are better than others. Hakkasan, Drai's and Tao are your typical Vegas mega-clubs. Depending on the ratio of guys to girls in your group you may want to choose one over the other.
Hakkasan offers a free guest list to both guys and girls regardless of ratio, making it the go-to club for most people. But depending on your taste in music and the DJ playing, you may want to attend another venue. I'll cover each individual club more in-depth below.
Hakkasan Nightclub On A Thursday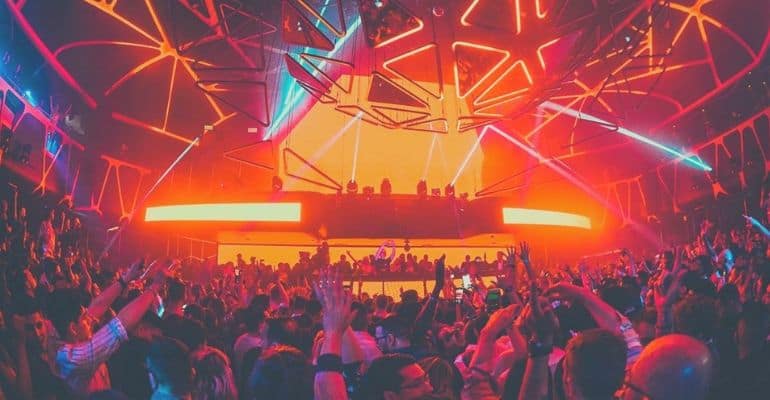 Hakkasan is the best overall nightclub on a Thursday night. In fact the argument can be made that Hakkasan is one of the best clubs open every time it opens it doors. This is a staple club in Vegas that has been around for years and it's not going anywhere soon.
Hakkasan is an extremely large club made up of 3 floors (they claim 5 but that includes the 2 floored restaurant). The sheer size of this venue automatically makes it one of the busiest on Thursday nights. I'll go into what the individual floors have to offer below, but the real draw of Hakkasan are the DJs.
Hakkasan Has Some Top Shelf DJs
Hakkasan mainly plays EDM music (although there is a Hip Hop lounge). They have some ridiculous DJ talent including Calvin Haris who was recently knocked off as the highest paid DJ in the world. Other acts include Zedd, Steve Aoki and Tiesto, who all happen to be in the top 10 for highest paid DJs.
Most nights you can see these DJs for free on the guest list.
Unlike many of the other clubs that require men to have an even number of women with them to utilize the guest list, Hakkasan allows everyone to get in for free. The one exception would be on busy Holidays and when Calvin Harris is playing, since there is no guest list on those nights.
The friendly guest list rules are a big reason why I believe Hakkasan is the best Thursday club. Hakkasan offers all world DJ performances with little hassle and at no cost.
Hakkasan Plays Both EDM & Hip Hop
The main room of Hakkasan is gigantic. There are two floors and a large pavilion area off to the side (which by the way offers solid bottle service prices). This room is where the main DJ plays.
EDM music is played in the main room and it doesn't disappoint. The large dance floor and state of the art lighting put on a show that you will not forget. The music is beyond loud making Hakkasan feel like a classic nightclub.
But down below the main EDM room, on the 3rd floor is a lounge that not too many people know about. It also happens to be my second favorite spot to listen to Hip Hop music behind only the Heart of Omnia.
The Ling Ling Lounge is the Hip Hop room at Hakkasan. This room is small compared to the main room, but could honestly be an entire nightclub on its own in any other city.
The Hip Hop room has its own DJ, dance floor, 2 bars and a ton a VIP tables. Again these tables go for an extremely reasonable price (as far as Vegas bottle service goes). You will hear a ton of classics mixed in with more recent hits. The DJs in the Ling Ling room play some really good music.
Guest List Rules At Hakkasan
Guys and girls get into the club for free on the guest list. I'll provide another link to the Hakkasan guest list here. I cannot stress the importance of getting in line early enough at Hakkasan. There is a hard cutoff time for the guest list around 12:30 am.
You will be charged cover if you don't make it into the venue by that time. And while there is the occasional Thursday night where you can just walk right in with a minimal amount of time in line, there are a good number of nights where the line goes out the door, literally. Do yourself a favor and get in line by 10:15 pm AT THE LATEST.
For anyone interest in bottle service, contact us here and we will connect you with a VIP host at Hakkasan.
Thursday Pool Parties At Drai's Nightclub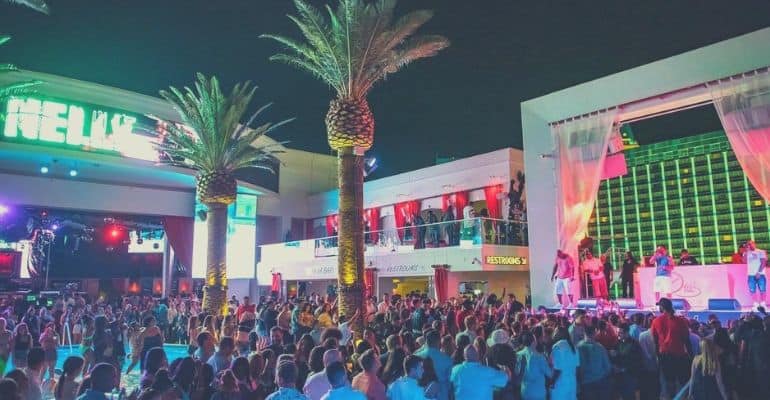 While Hakkasan is the best overall nightclub on Thursday, Drai's is a better option if you are really into Hip Hop. Some of the DJs here will throw in some EDM, like DJ Pauly D, but the crowd at Drai's can only be described as Hip Hop die hards.
Performances from Migos, 2 Chains, Big Sean and Snoop Dogg are common place at Drai's. Check out the Drai's event calendar here to see all the upcoming events.
No other club can touch Drai's when it comes live performances from Hip Hot artist that are hot right now. The DJ lineup is undeniably great but on the really busy nights, like Migos, there is no guest list available.
Drai's Has The Only Rooftop Pool Party In Vegas
Every Thursday Drai's holds its weekday pool party. That means that the pool is open for swimming at night while the club is open. These nightswim pool parties are some of the most fun parties in all of Las Vegas.
Vegas nightclubs are already insane as it is, now take away half of everyone's clothes, and it gets really interesting. Nightswim pool parties add a whole other layer to an already wild nightclub.
On top of all of that Drai's is located on the rooftop of the Cromwell, making it the only rooftop pool party in all of Vegas. The view of the strip is spectacular at Drai's.
It is important to mention that while the club is open year round, the pool is open seasonally. That means that you are only able to go swimming April through October. But even without the pool, Drai's is still a top notch nightclub.
Guest List Rules At Drai's
Women will get free entry to Drai's on the guest list. Groups of men with an even ratio of women in their group will get either free entry or a reduced cover.
The guest list rules here are not favorable to groups of guys without an even number of girls, so I would recommend Hakkasan to them, unless you plan on purchasing a ticket.
Like Hakkasan it is important to arrive early as the lines get long. There is also a cutoff time around midnight. You can sign up for the Drai's guest list here.
Thursdays At Tao Nightclub
There's a reason why Tao nightclub has been around for years. Tao has been a pillar on Thursday nights in Vegas because of the intimacy of the club. It's most certainly a favorite of many athletes and celebrities as they are often spotted here.
Tao is a large venue by most standards, but in Vegas it is considered small when compared to its peers. That's honestly not a bad thing in my opinion because it makes for a more personal environment.
For one the stage isn't some spinning platform 100 feet in the air. You can almost reach out and touch the DJ's hand at Tao, since the stage is very accessible to people on the dance floor. Also all the VIP bottle service tables are in close proximity encouraging people to talk to their table neighbor.
Tao's DJs perform a mix of EDM and Hip Hop music. Although the DJs at Tao aren't the most well known, they are actually really good and put out some seriously dope beats.
One other cool thing about Tao is that when you eat at the Tao restaurant you will get free entry into the club and cut the line. This doesn't happen every night but on most non-holiday Thursdays you can get expedited entry by eating dinner at Tao, which for reference is located in the Venetian.
Tao Guest List Rules
All women who guest list for Tao will get free entry. Men must have an even ratio of women in their group to get inside for free. You can put your name on the Tao nightclub guest list here.
Apex Social Club On Thursday Night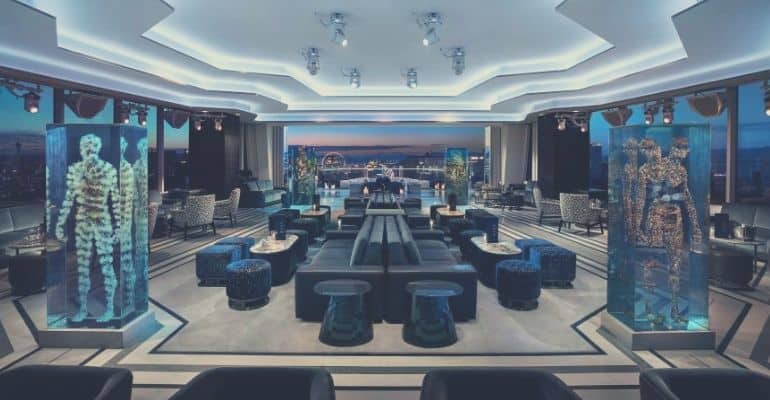 Apex Social Club is open 4 days a week starting on Thursday. Apex is one of the newer Vegas clubs and it shows. Its located on the rooftop of the beautify Palms Hotel and is decorated with a posh interior.
Apex is more of a high end luxury lounge than a traditional nightclub, but that doesn't mean that they don't know how to party.
Apex offers a fantastic environment to party in a more laid back setting. The view here is amazing from the 55th floor and the vibe of the club encourages everyone to mingle. Apex is not the most wild Vegas venue but it's a good alternative if you are looking for a classy place to have a drink with your friends.
Guest List Rules For Apex
Women as always get free entry when they are on the guest list. Men must have an even ratio of women in their group to gain free entry, otherwise you must pay a reduced cover. You can sign up for the Apex Social Club guest list here.
On The Record On Thursdays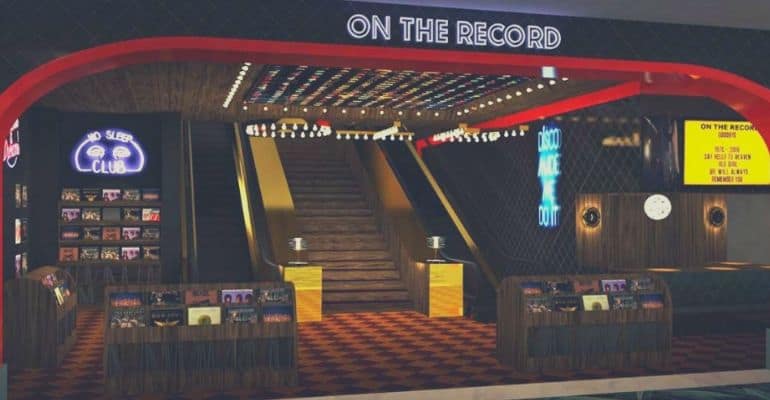 On The Record is open Wednesday through Sunday. It is called a nightclub but is designed like a speakeasy bar. There are secret rooms located throughout the club that are surprising hard to find if you have never been to the club before.
There is one hidden room located in the hallway closest to the bathrooms, where you have to push open a heavy door to gain access to the small room. The room itself has some bottle service tables and a bar, but from the outside it looks like the door is just decorative.
There are also private karaoke rooms that you are able to purchase that are a blast. The music played here is unique as it is mostly throwback hits of the past 20 – 25 years from all genres of music. You will hear song that you completely forgot about that used to be favorites.
Guest List Rules For On The Record
Men and women get free entry into On The Record assuming you are on the guest list. There are no ratio requirements here. You can hop on the guest list for On The Record here.
Chateau Nightclub Is Open On Thursday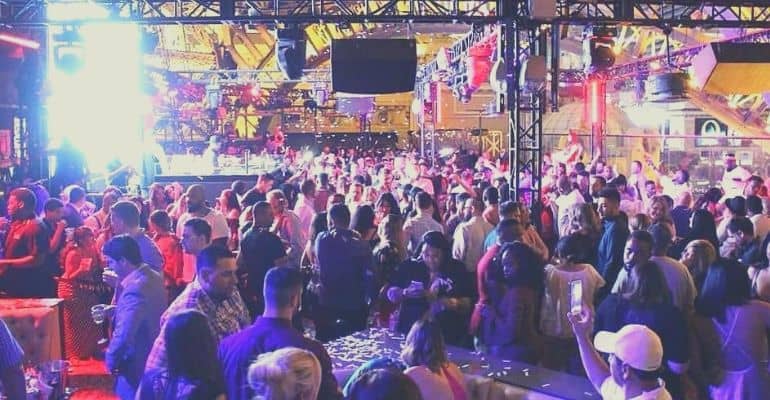 Chateau opens up its doors Wednesday through Saturday. Like Apex, the view at Chateau is what draws in a crowd, although Chateau gets more wild than Apex.
Chateau plays a lot of Hip Hop music and isn't afraid to let you know as the club get pretty loud. It is still one of the easiest Vegas clubs to speak at, as you don't have to talk over the music. For a club located under the iconic Eiffel Tower, they sure know how to turn up.
Chateau is a solid choice if you want a combination of views and hardcore Hip Hop music. Its almost like Drai's without the pool and the volume turned down just a bit.
Chateau Guest List Rules
Women on the Chateau guest list are granted free entry. Men must have an even ratio of women with them in order to get free entry. You can get on the Chateau guest list here.
Related Questions
What is the best Vegas nightclub on a Friday? The best Las Vegas nightclub on a Friday is XS Nightclub. XS is the number one rated nightclub in the world and has been for several years now. Depending on your choice in music there may be better nightclub options on Friday, as every Vegas club is open on this day.
Are there Vegas pool parties open on Thursday? Wet Republic and Daylight Beach Club are both open on Thursdays. Both of these dayclubs offer free entry on their guest lists. Pool parties in Las Vegas are seasonal and are only open from April through October. Lavo brunch is a good alternative to Vegas pool parties in the winter.