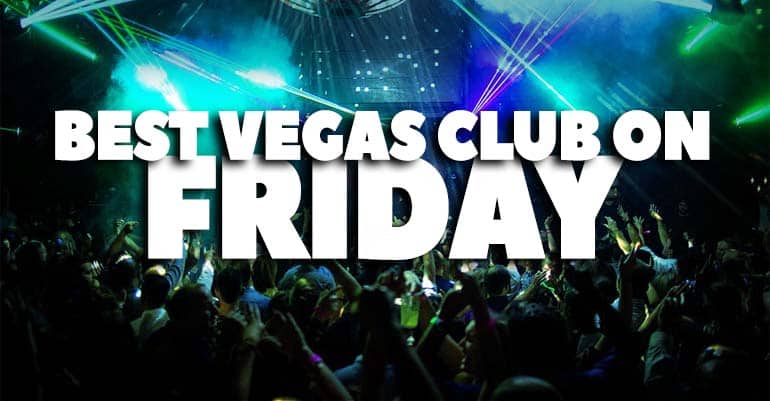 Friday nights in Las Vegas are the second busiest behind only Saturdays. Every nightclub opens its doors on Fridays, scheduling their best DJ talent to put on a show. With so many clubs open on Friday, which one is the best?
What is the best nightclub open on a Friday in Las Vegas? The best nightclub on a Friday in Vegas is XS Nightclub. XS is the best overall nightclub when it comes to DJs, club design, customer service, crowd and overall feel of the club. XS is notorious for putting on over the top shows and allowing guests to enjoy luxuries found nowhere else.
Its tough to determine the absolute best nightclub given everyone has different musical preferences, but I'm confident in saying XS is the best. They even offer free entry to women of the guest list on most nights. Men going in with an even ratio of women also get free entry.
XS is mostly an EDM club so depending on your taste in music there may be a better option for you.
You may also want to look to other clubs depending on your group size and the number of guys in your group, since some club offer free entry to guys on the guest list. Take a look at the chart below and see what Friday club is best based off of the type of squad you have.
| | | | |
| --- | --- | --- | --- |
| Club | Music | Women (Free Entry) | Men (Free Entry) |
| XS Nightclub | EDM | Yes | Must have ratio |
| Omnia Nightclub | EDM | Yes | Yes |
| Drai's Nightclub | Hip Hop | Yes | Must have ratio |
XS Is The Best Overall Nightclub on Friday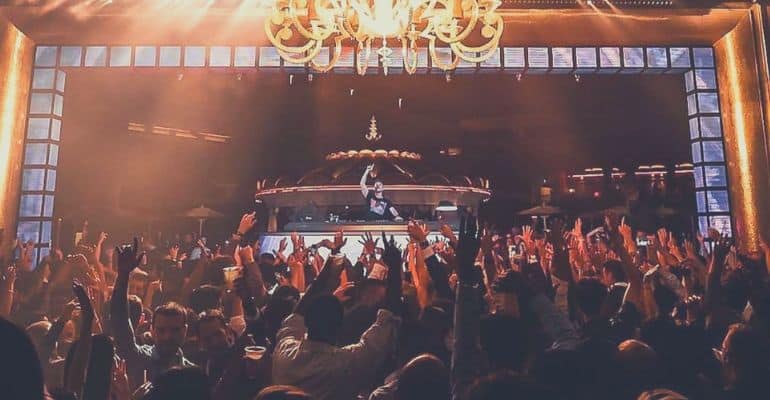 XS is the best overall nightclub every night it is open, which is Friday, Saturday and Sunday. There are so many things that make this club number one but I'll share a few of the most important reasons.
XS Has The Best DJ Lineup
In a town with so many great DJs XS has arguable the best DJ lineup of any Vegas nightclub. The only way you may disagree with this is if you prefer Hip Hop. Then you could make the case for Drai's, but I'll get to that later.
Residents DJs at XS include almost half of the top 15 highest paid DJs in the world. They include the Chainsmokers, Diplo, Major Lazer, DJ Snake, Alesso, Kygo and Afrojack to name a few. Drake also does a select few shows a year.
Pretty much any night you decide to go XS you will be rewarded with an over the top performance by a world class DJ. And with a 365 degree stage, it is impossible to miss any part of the show.
The Design Of XS And The Design Are World Class
Out of the 50+ times (probably underestimating here) that I have been to XS Nightclub, I cannot say I have ever had a bad experience. The staff here is extremely professional and arguably the best out of any club.
Nightclubs are notorious for rude bouncers and pretentious doormen, but XS doesn't have any of that. From the security, to the bartenders, cocktail waitresses and promoters all the way to the VIP Hosts, I can confidently say they are best in show.
And how can they not be, the club often deals with celebrities and billionaires purchasing tables every weekend. This club accommodates for everyone.
The layout of a nightclub is not normally too important but XS is different. This club is half indoors and half outdoors with a huge pool in the middle. The pool is only open on Sunday nights but its still one of the best designed clubs in the entire world.
Guest List Rules For XS
Women will get free entry into XS as long as they put their name on the guest list. Men also get free entry, but only if they have an even ratio of women in their group. More girls than guys is also acceptable.
If you are a group of guys and don't have even ratio, you can still get a reduced cover by jumping on the guest list. Both guys and girls can sign up for the XS guest list here.
For those of you that don't want to pay any cover, check out the next club on the list, as their guest list rules are more friendly toward guys.
Omnia Nightclub On Fridays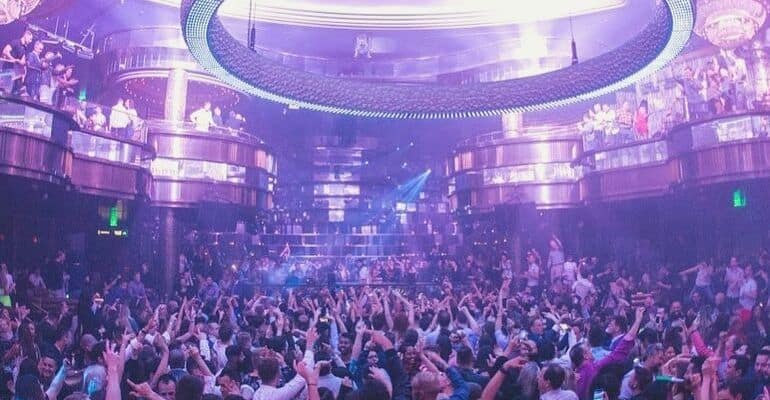 Although not as prestigious as XS, Omnia is pretty damn close. It's about the same size as XS in total but is designed much differently. Omnia is mostly an indoor venue (although they do have an outdoor rooftop terrace) while XS has a large outside portion.
Because of the lack of an large outside section (again not discounting the Terrace, I'll get to that in a minute), Omnia gets a bit more crowded than XS does. This is not necessarily a bad thing since the energy and atmosphere created by Omnia's layout is extremely impressive.
Hip Hop In The Heart Of Omnia
Omnia has 3 sections the main EDM room, the outside Terrace, and a desperate Hip Hop room called the Heart of Omnia. The heart room is my absolute favorite place in all of Vegas to listen to Hip Hop music.
It's a pretty large room; it has a bar, dance floor, DJ booth and VIP bottle service tables. And while the DJs are not big names they really do know how to lay down some dope tracks.
The Hip Hop room has a completely different vibe than the main EDM room, but they both are extremely high energy and a ton of fun. All the songs played here are classics, you won't be disappointed.
The Terrace on the other, hand plays mostly house music. This rooftop area is also quite large and has its own DJ booth, dance floor and bar. Also, the view isn't too bad from the Caesar's Palace rooftop.
Omnia Has The Second Best DJ Lineup Of Any Vegas Club
While XS has a majority of the highest paid DJs, Omnia is a close second. Staples in Omnia's DJ lineup include Calvin Harris, Steve Aoki, Zedd, Martin Garrix, Tiesto and Lil Jon to name some of them.
All of these DJs put on really good shows and draw huge crowds. All of them are more than worth seeing.
Guest List Rules For Omnia
Both men and women get free admission on the guest list. You can sign up for the Omnia guest list here. It is extremely important that you show up early on Friday, since the lines literally go out the door.
I recommend showing up at 9:45 pm even though the club doesn't open until 10:30 pm because the lines get really long, really fast.
One more thing to note about Omnia is that there is no guest list when Calvin Harris is playing. On those nights I would recommend Hakkasan instead. All of the same DJs play at Hakkasan since it's run by the same group. The guest list there is also free for both men and women, just get there early.
Drai's Nightclub On Friday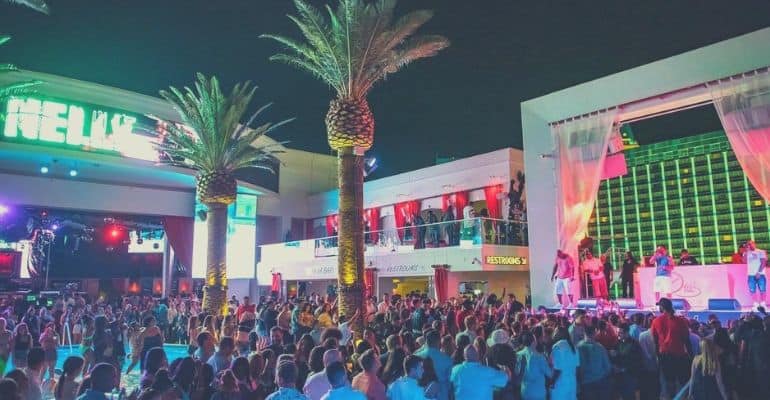 Drai's is constantly getting the hottest names in Hip Hop onto their schedule. Plain and simple that is what Drai's nightclub is all about.
Drai's is a well designed nightclub. They have the only rooftop pool party in Las Vegas (although the pool isn't open Friday nights). There are VIP cabanas overlooking the entire club both indoors and outdoors. But Drai's is about the live musical talent.
Drai's Is The Premier Club For Live Hip Hop
While many of the other Vegas nightclubs have consistent resident DJs that perform every week, Drai's seems to bring in new musically talent every weekend.
Not that Drai's doesn't have resident DJs (DJ Pauly D plays every week) but it seems like they have more variety than some of the other clubs. A few of the artists that play at Drai's are Migos, 2 Chainz, 50 Cent, Trey Songz, French Montana, Fabolous, Wiz Khalifa and Big Sean.
That is some serious musical firepower. But it is important to note that many of these artist are not consistent performers at Drai's. Meaning they will only have a handful of shows scheduled a year.
In this regard Drai's operates more like a venue that holds concerts than a traditional nightclub. But that being said, if you like any of the artist I just mentioned I would highly encourage you to go see them.
Guest List Rules At Drai's Nightclub
Women get free entry on the Drai's guest list. Men must have an even ratio of women in order to get free entry. You can sign up for the Drai's guest list here.
While Drai's does have a guest list available most nights, on extremely busy nights (like when Migos are playing) the guest list is either limited or not available. When you sign up for the guest list though us, we will update you on guest list availability on specific nights.
Related Questions
What is the best Vegas nightclub on a Saturday? XS is the top nightclub in Las Vegas whenever it is open. As the number one ranked nightclub in the world, XS sets the standard for all nightclubs. XS is the most expensive Vegas nightclub to purchase both tickets and bottles service. The club does offer free entry to those on its guest list.
What is the best Vegas pool party on Friday? Encore Beach Club is the best Vegas pool party. Encore Beach Club, or EBC for short, features many of the worlds top DJs every Friday, Saturday and Sunday. EBC offers free entry to women on its guest list. Men on the guest list must have an even ratio of women to get free entry.