Wednesday nights in Las Vegas are absolutely crazy. The party doesn't stop just because it's the middle of the week. There are plenty of nightclubs open on a Wednesday in Las Vegas.
What is the best nightclub open on a Wednesday in Las Vegas? EBC at Night is the best Vegas nightclub open on a Wednesday. EBC at Night, which stands for Encore Beach Club at Night, is a night time pool party. EBC plays EDM music for the most part, featuring popular DJs like The Chainsmokers, Kygo, DJ Snake and Diplo.
All nightclubs open on Wednesday include:
| | |
| --- | --- |
| Nightclub | Location |
| EBC at Night | Encore Las Vegas |
| Light Nightclub | Mandalay Bay |
| Chateau Nightclub | Paris |
| On The Record | Park MGM |
EBC at Night offers free entry to all women on the guest list. Men also get free entry if they have an even ratio of women in their group. Although EBC is the best overall nightclub on Wednesdays it is closed during the winter. You may also be interested in checking out another club if you prefer Hip Hop music or have a group of all guys. I'll go into detail about each of the best Wednesday nightclubs below.
EBC at Night Is The Best Club On Wednesdays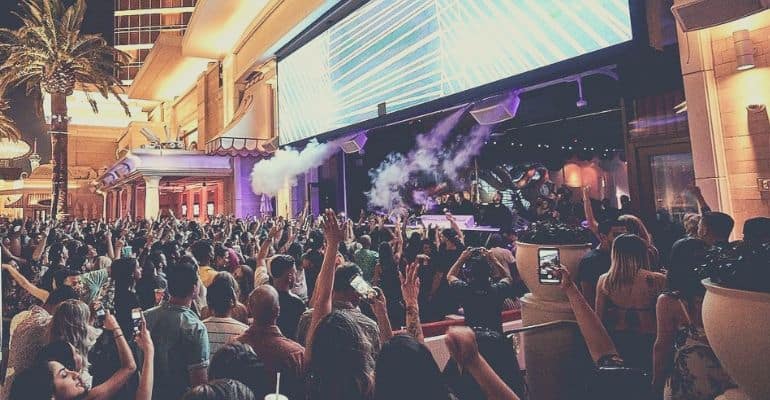 I always look forward to Wednesday nights in Las Vegas. It may seem weird looking forward to Wednesdays but once you go to EBC at Night, you will know exactly why.
EBC at Night is the night time version of the day time pool party Encore Beach Club, which is widely regarded as the absolute best pool party in Vegas. EBC at Night does not disappoint.
EBC hosts the only Vegas pool party on Wednesday, and the only night time pool party where the pool is the main attraction of the club. Other nightswim pool parties, like Drai's on Thursdays, have pools but you don't see as many people actually get into the water.
At EBC a majority of the guests are in the pool going wild. There are even some bottle service tables at EBC that are IN THE WATER! You literally need to jump onto a Lilly Pad to get to some of these tables. Other tables like Water Couches are almost completely under water. You need to take your shoes off and get into the water to sit down at these tables.
The only night time pool party comparable to EBC at Night is XS Nightswim on Sundays, which is coincidentally located at the same hotel. They really know how to party at the Wynn and Encore.
Not all the tables at EBC are under water and you don't have to go in if you don't want to but if you are looking for a crazy Vegas pool party, you have found it.
Your EBC Experience Will Vary Depending On Location
EBC is an interesting club. If you're on the dance floor as the main DJ comes on, this will be one of the most intense club experiences you ever have.
EBC is home to DJs like The Chainsmokers, Kygo, Diplo, Major Lazer and RL Grime. The EDM music will be both loud and intense. Although this club is an upscale and posh establishment, make no mistake, if you're someone who loves EDM music you will have the time of your life.
The same goes for the bars that are closest to the stage. There are typically 3 bars open: one by the entrance, one in the gambling are (yes you can gamble in the club) and a third to the left of the stage. The one to the left of the stage will be a mosh pit of wild Vegas party goers in bikinis and swimsuits dancing their ass off. I think it even gets too intense sometimes.
But the farther away from the stage you get the more laid back the club is. It's still the same club, with the same music but EBC is a huge venue. The vibes from across the pool at the gambling area are much different. People are still partying but the intensity is toned down quite a bit.
Cabanas Are The Ultimate Pool Party Experience
The cabanas even take the laid back vibe a step further. They are the furthest tables from the stage but still have the best view of it. They are elevated higher than the pool and are roped off to anyone who doesn't have a table there.
Essentially cabanas offer a private area to do whatever you want. You have an entire large room with multiple couches to yourself, along with a temperature control switch and a volume knob for the speakers in the cabana.
They'll cost a couple thousand dollars depending on location, but you can completely control your entire experience. It gives you your own space to party or a place to put your stuff while you go in the pool. The higher tiered cabanas, called bungalows, even have a large private infinity pool. If you want to purchase a cabana or any other bottle service table you can contact us here and we'll connect you with a VIP host for that club.
Cabanas are definitely a great way to party if you have the budget for it. But that being said, don't discount the guest list. Getting into the club for free on the guest list and using that money you saved to buy drinks at the bar is equally as fun. Especially if you plan on getting wild on the dance floor or in the pool. I'll cover the guest list rules below.
EBC at Night Guest List Rules
Women on the EBC at Night guest list will get free entry, and occasionally free drink tickets depending on the night. Men on the guest list must have an even ratio of women in their group to get free entry. Or a greater number of women than men. Guys that don't have an even ratio of women and are on the guest list will get a reduced cover (typically 50% off the advertised ticket price). You can sign up for the EBC at Night guest list here.
Light Nightclub On Wednesdays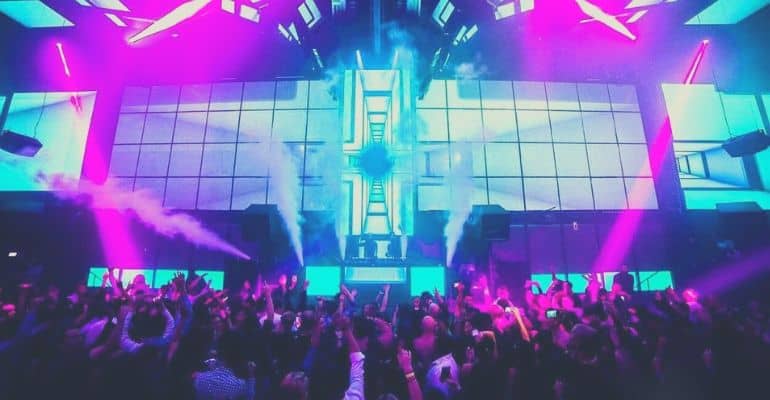 While Light isn't as big as some of the mega clubs in Vegas, don't count it out on Wednesday nights. There are couple advantages Light has over the competition.
Because Light doesn't have the same DJ talent as some of the other clubs on this list (although Rick Ross does perform here occasionally), they have some really good promotions to make up for it. And that's really good for you.
The main promotion is that the give out drink tickets to everyone on the guest list on most Wednesday. That goes for both guys and girl.
Girls will typically get 2 free drink tickets and guys will get 1.
Light is the only Vegas nightclub that does this. Most clubs will hand out a single drink ticket to women and that's it. Light takes it a step further.
This is definitely something worth taking advantage of, especially if you're staying near Mandalay Bay towards the south of the Vegas strip. Other clubs like EBC are on the north end of the strip and can be a hike to get to if you're staying at Mandalay.
Also Light is less crowded than many of the other Wednesday nightclubs. So while the club still plays loud EDM and Hip Hop music, it gives off a more relaxed vibe for the sole reason that you are not elbow to elbow with thousands of people in one tiny room.
The last point I'll bring up with Light is the bottle service which offers some of the best bargains in Vegas. If you want the VIP bottle service experience and don't want to drop too much money, Light is a great place to go. This club is extremely fun with bottle service. To get in touch with a VIP host for bottle service you can contact us here.
Guest List Rules For Light
Both men and women get free entry on the guest list (and very often free drink tickets). You can sign up for the Light guest list here.
On The Record Wednesdays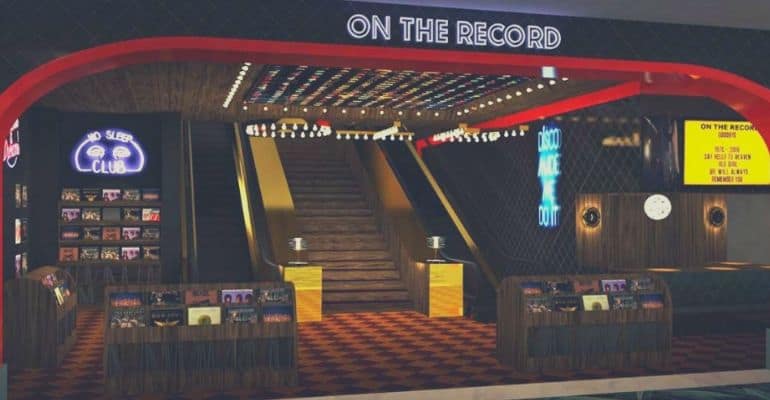 This nightclub is like no other Las Vegas nightclub. One of the newer clubs on the strip, On The Record is designed like a speakeasy bar.
On The Record, or OTR for short, plays mostly classics. Old hits from every genre of music Hip Hop, Pop, 90's, some 80's and essentially anything you have ever heard make a top 40 chart will be played here.
This type of music is actually really fun and refreshing. You are guaranteed to hear one of your favorite songs that you completed forgot about. And with private karaoke rooms you are more than encouraged to sing along.
Wednesday is the industry night for On The Record so don't be surprised if the party gets really wild. (For anyone who doesn't know, industry nights are nights where Vegas nightlife workers from other clubs go out and party). The Wednesday venue for industry night changes every week but more often than not it's hosted at On The Record.
The crowd is a good mix of both locals and tourists at On The Record, especially if industry night is being hosted there. I would even encourage older crowds to attend On The Record. Even though there are plenty of younger people, you will fit in just fine given the environment and type of music played.
Guest List Rules For On The Record
Both men and women on the guest list will get free entry to On The Record. You can get on the guest list for free here.
Chateau On A Wednesday Night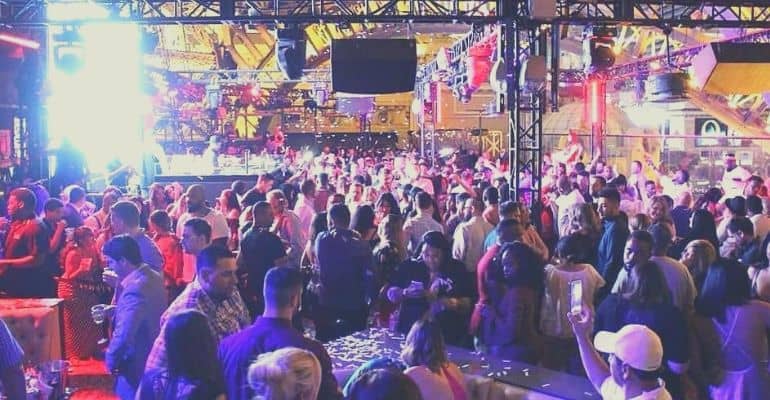 Chateau is the final nightclub open on Wednesday. Chateau is located at the Paris Hotel and Casino directly beneath the Eiffel Tower.
The main draw of this club is the view of the Bellagio fountains, which is absolutely gorgeous. The view alone makes the entire club that much better. Chateau's rooftop is especially enjoyable in the summer while its still warm.
You won't find any classical French music here as Chateau plays mostly Hip Hop music. The DJs names here are unrecognizable but the they go hard and put on a solid show.
The table prices at chateau are also a pretty good bargain given the view that comes with them. The bottle service prices here can compete with any Vegas nightclub.
Chateau Guest List Rules
Women on the guest list will always get free entry to Chateau. Men will get in free if they have an even ratio of women in their group. You can add your name to the Chateau guest list here.
Related Questions
What is the best Vegas nightclub on a Thursday? The best Vegas nightclub on a Thursday is Hakkasan. Hakkasan plays mostly EDM music and features DJs like Tiesto, Calvin Harris and Steve Aoki. Depending on your preference in music, Drai's might be a better option on a Thursday since they focus more on Hip Hop music.
Can I go to multiple nightclubs in one night? It is possible to attend more than one nightclub in a single night for free, as long as you get to the club before the guest list closes. Club crawls are the easiest way to party at multiple clubs. There are additional benefits to club crawls including expedited entry and drink specials, although you must pay to join the crawl. You can learn more about club crawls here.