Sunday nights in Vegas are some of the most fun nights to go out. Las Vegas nightclubs are slightly less crowded than they were earlier in the weekend, making Sunday night clubbing a must. There are plenty of nightclubs to choose from on Sunday but which club is the best?
What is the best nightclub open on a Sunday in Las Vegas? XS nightclub is the best nightclub to attend on a Sunday night in Las Vegas. Sunday nights are home to Nightswim at XS making the event half a pool party and a half nightclub. The pool party environment along with the famous DJ lineup, draw one of the largest crowds in Vegas.
All nightclubs that are open on Sunday include:
| | |
| --- | --- |
| Nightclub | Location |
| XS Nightclub | Encore Las Vegas |
| Drai's Nightclub | Cromwell |
| Hakkasan Nightclub | MGM Grand |
| Apex Social Club | Palms |
| Omnia Nightclub | Caesars Palace |
XS is the best overall nightclub to go to on a Sunday night. They offer free entry to all women on their guest list and to all men on the guest list that have an even ratio of women in their group. If your group has a majority of guys in it, there are better options for you on Sunday's.
Also depending on the time of the year and your musical taste, you may want to check out other clubs that can be just as good, that play your favorite type of music. I'll cover all the best Sunday options in this article.
Nightswim at XS Is The Best Club On Sundays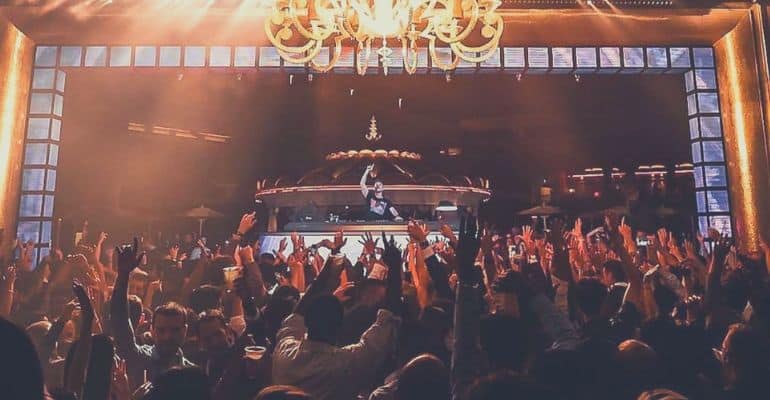 I'll start off with the best overall nightclub. It's no secret that XS is on the top of this list, as its been voted the number one nightclub in the world several years in a row. Its also huge venue, it's half indoor and half outdoor making it one of the largest.
As I mentioned earlier, on Sunday nights XS opens up its pool for Nightswim. In my opinion this is the absolute best party in all of Vegas. It is extremely fun to watch world famous DJs in a pool while getting drunk with your friends. There aren't too many other nightclubs where you can do that. And XS is one of the few that has its pool open on Sundays.
If you would prefer not to get wet, that's ok too. The other half of XS is a traditional nightclub with all the normal nightclubs amenities: bars, a dance floor and bottle service tables. But what makes XS unique is outside portion of the club.
XS Nightclub Has The Best Layout Of Any Club
Even if you don't feel like getting in the pool, the outside half of XS is what makes it so special.
Anyone who has been to Las Vegas before will tell you that it's pretty hot. The nights are a comfortable 80 to 90 degrees Fahrenheit in the summer (there is no humidity – trust me the whether is perfect ). It feels pretty damn good to walk around outside, and way better than being in a stuffy nightclub. Especially at a club as luxurious as XS.
There are plenty of daybeds and cabanas to hang out at along with some free seating along the back wall for anyone without bottle service. There is even a casino are located in the center of the pool.
Its pretty cool to gamble in a nightclub, that's outside with a pool while listening to some of the best musical talent in all of Las Vegas. But it's important to mention here is that XS Nightswim is seasonal. It's only open April through October. So if you're visiting in the winter and were looking for a pool party, you're out of luck.
Fortunately, while the pool is shut down the nightclub remains open all year round. And make no mistake, the inside part of XS alone is still one of the best nightclubs on the strip.
XS Has some Of The Best EDM DJs
XS plays mostly EDM music and they are pretty good at it. The DJ lineup at XS includes Drake, The Chainsmokers, Diplo, Kygo, Major Lazer and DJ Snake. That is quite the lineup. Anyone who is a fan of high energy EDM music will absolutely love XS.
Depending on the DJ, they will also throw in some Hip Hop or Top 40. I have even seen The Chainsmokers start singing older classics like "Don't Stop Believin" in the middle of their performance, in addition to the songs they wrote themselves. Obviously when Drake performs he'll rap/sing too. There really is something for everyone at XS.
Guest List Rules For XS Nightclub
There is a guest list for XS Nightclub every night the club is open (except during Holiday or special events). All women on the guest list get free entry. Men on the guest list get free entry as long as they have an even ratio of women in their group (or more women than men). Guys that don't have an even ratio will still get a reduced cover (typically 50% off the advertised ticket price). You can sign up and learn more about the guest list for XS here.
Drai's Nightclub On Sunday Nights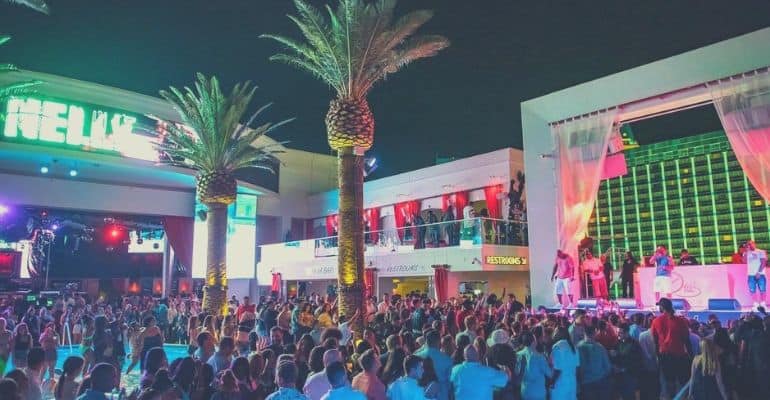 Drai's Nightclub is a close second to XS on Sundays. Although Drai's pool is not open to swim in on Sunday nights, the club still is still half indoors and half outdoors. On top of that, Drai's is located on the rooftop of the Cromwell hotel, offering an amazing view of the Vegas strip.
The Biggest Names In Hip Hop Play At Drai's
I would recommend Drai's over XS to anyone who is a fan of Hip Hop music. The reason why is because Drai's puts a larger emphasis on live concert like performances.
Frequent performers at Drai's include 2 Chainz, Migos, 50 Cent, Big Sean, Pauly D and Snoop Dogg. The biggest names in Hip Hop often come to Drai's to perform live, making it the go-to spot on Sunday's for Hip Hop lovers.
Guest List Rules For Drai's
Like XS, all women on the Drai's guest list get free entry. Men on the guest list get free entry as long as they have an even ratio of women in their group or a reduced cover charge. Most nights there is a guest list but on extremely busy nights (like when Migos are playing) the guest list will be closed or limited. To make sure you get in always show up early. You can sign up and and see a list of upcoming events at Drai's here.
Sundays at Hakkasan Nightclub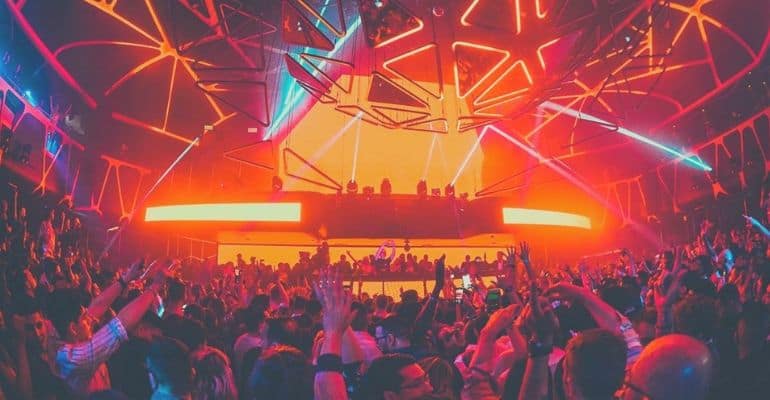 Hakkasan is another nightclub open every Sunday night. While Hakkasan isn't as sexy as the outdoor venues, like XS or Drai's, it's still one of my favorite nightclubs in all of Vegas.
Hakkasan is huge with 5 floors in total (only 3 involve the nightclub). Nights out at Hakkasan are always fun since it gives off the classic nightclub vibe.
Hakkasan plays a well balanced mix of EDM and Hip Hop music featuring DJs like Calvin Harris, Tiesto, Zedd, Steve Aoki and Martin Garrix. As you can tell there are some pretty big DJs in this lineup. In addition Hakkasan even has an entire floor dedicated to Hip Hop music in the Ling Ling Room.
For anyone looking to get bottle service, Hakkasan also presents a solid option, since there are plenty affordable tables. You can get a better table for less money compared to a club like XS.
Guest List Rules For Hakkasan
Unlike the previous two nightclubs on this list Hakkasan doesn't have any ratio requirements for guys. That means everyone on the guest list is able to get into the venue for free. The lines here do get extremely long on busy nights, so there is a cut off time for the guest list around 12:30 am. If you're just getting in line at 12:30 its probably too late. Its best to arrive at Hakkasan by 10:30 at the latest. You can see a list of upcoming events and sign up for the guest list here.
Apex Social Club On Sundays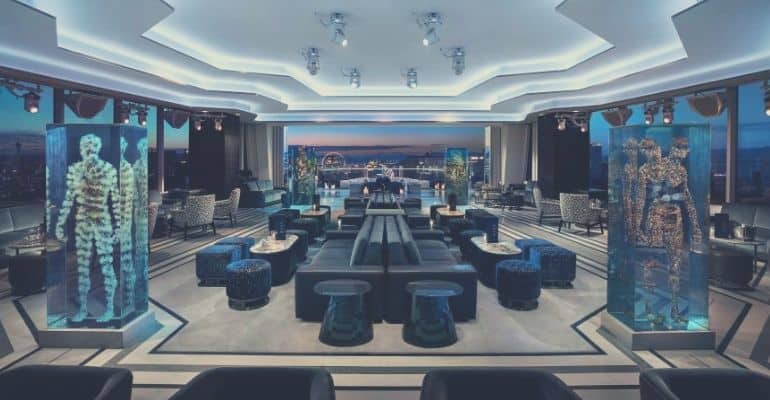 Apex Social Club, located at the Palms Casino Resort, is more of a high end lounge than a hectic nightclub. The environment at Apex is much more relaxed and offers beautiful views of the Las Vegas strip from the rooftop of the Palms on the 55th floor. Apex plays mostly Hip Hop and Top 40 music.
While this spot isn't as wild as some of the other clubs, it's a great change of pace along with a great place to grab a few drinks since it has some of the lowest priced bottle service in Las Vegas. It has bottle service that starts at $350, making it a no brainer if you're looking to avoid the crowds and just have a good time with your friends. If you're interest in bottle service at Apex, you can contact us here and we'll put you in touch with a VIP host at the club.
Apex Social Club Guest List Rules
Like all of these clubs women get free entry into Apex when they put their name on the guest list. Men will get free entry if they have an even number of women in their group. You can learn more about Apex Social Club and sign up for the guest list here.
Sunday Nights at Omnia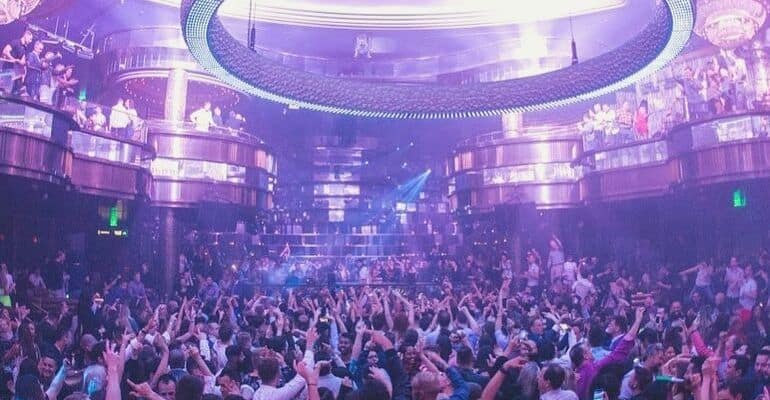 Omnia is a giant nightclub, but on Sundays only part of the club is open. This is not necessarily a bad thing since the best parts of the club are kept open.
During summer months the Omnia Terrace is open. The Terrace is a really nice rooftop bar with VIP tables and a light up dance floor. While the view is relatively average (it's on the second floor), this rooftop is extremely fun and one of my favorites in Vegas.
In the winter the Heart of Omnia is open on Sunday. The heart room is the room at Omnia dedicated exclusively to Hip Hop music and is by far my favorite spot in Vegas to listen to Hip Hop. While you likely won't recognize the names of the DJs, the music is really good, and that's an understatement. The energy in the heart room is seriously something that you need to experience.
While Omnia is better known as the go-to Tuesday nightclub, don't sleep on Omnia Sundays, they will pleasantly surprise you.
Guest List Rules For Omnia
Omnia is just like Hakkasan since there are no ratio requirements. Both girls and guys on the guest list get free entry into the club. You can put your name on the guest list for Omnia here.
Related Questions
What's the best Vegas nightclub on a Monday? Marquee is the best Vegas nightclub on a Monday night. Marquee is located at the Cosmopolitan and plays a mix of EDM and Hip Hop music. A number of DJs frequently play at Marquee including Travis Scott and DJ Mustard.
What's the best Vegas nightclub on a Tuesday? Omnia is the best nightclub to go to on a Tuesday night in Las Vegas. Omnia is one of the largest nightclubs in Vegas and is located at Caesars Palace. DJs like Calvin Harris, Steve Aoki Martin Garrix and Lil Jon all perform at Omnia.