Las Vegas is one a the few cities on the entire planet, where it is normal to party on a Monday night. In fact, in Vegas it's weird if you don't go out on Monday! But what's the best nightclub to kick off your week at?
What is the best nightclub open on a Monday in Las Vegas? The best Vegas nightclub on Monday night is Marquee. Monday is industry night at Marquee meaning that it will be packed with nightlife workers from many of the other nightclubs. The crowd at Marquee is a balanced combination of tourists and Vegas locals.
There are only three Las Vegas clubs open on Monday:
| | |
| --- | --- |
| Nightclub | Location |
| Marquee Nightclub | Cosmopolitan |
| Jewel Nightclub | Aria |
| Wet Republic (dayclub) | MGM Grand |
Marquee does offer a free guest list to all guests dependent upon on the ratio of guys and girls in your group. So while Marquee is the best nightclub option for most people, Jewel may be a better option if your group consists of more guys than girls. Both of these clubs play different styles of music and sometimes have an open bar for girls. To learn more about each of these clubs keep reading.
Marquee Is The Best Nightclub On A Monday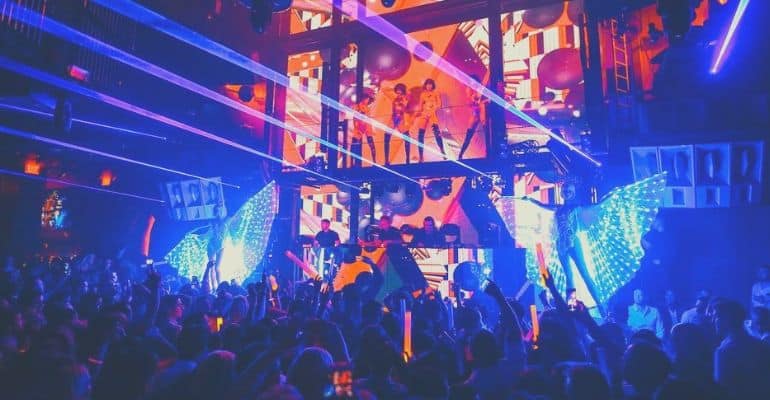 It's tough to compete with Marquee Nightclub on a Monday night. Marquee, which is located inside the Cosmopolitan, is such a well designed club and the energy is palpable. Really, I don't think that there is another club that matches the energy inside Marquee on a Monday night. That is partly due to the design of the club but I'll get into that in a minute.
This club plays a solid combination of Hip Hop, EDM and Top 40 music. That means that no matter the DJ there will be something for everyone.
Marquee has 3 separate bars in the main room. One of them is located directly outside the elevator when you walk into the club, which really sets the tone for the night. Most Mondays there is even an open bar for all women on the guest list until 11:30 pm. THAT'S CRAZY! Free drinks for the first hour that the club is open.
While it may seem unfair that the open bar is only for women, if you have guys in your group you can always get your free drinks, hand it to them, and then come back and get more for yourself (but don't tell anyone I said that).
Marquee also has some top musical talent in Travis Scott and DJ Mustard. The club is completely packed whenever those two are playing. The way Marquee is laid out makes these already great shows, even better.
The Entire Club Is Centered Around The Stage
There literally isn't a bad seat in the house. All of the VIP table in the main room at Marquee are facing the DJ booth. There aren't too many clubs that have that have as many high quality tables. Marquee is one of my favorite clubs to get bottle service at.
The same goes for the dance floor and bars. While these two can get a bit crowded at times, they offer a great view of the stage, no matter where you are standing. This is because the stage is slightly elevated and the VIP tables are stacked in tiers.
The layout of the club makes for an intimate feel and some great nights out. And like I said before, the energy this place gives off is unmatched. It is something that you need to experience for yourself. You can put your name on the Marquee guest list for free here.
The Library Gives Marquee A Unique Twist
On the second level of Marquee nightclub is a room called the Library. I've never seen a room quite like this in any other major nightclub anywhere.
The music in this room isn't very loud but when you walk in the staff hands you special headphones. These headphones have buttons where you can choose between 3 or 4 different stations and listen to your preferred type of music. All of the headphones light up a different color depending on what genre of music you decide to play.
I think this is pretty cool and is a nice break from the loud music being played downstairs. The room itself is designed like a posh, high class lounge with plenty of seating for everyone there.
There is even a pool table and a really long bar, making it easy to get drinks and avoid the lines at the bars in the main rooms of Marquee. The environment here is really relaxed and definitive deserves a visit, although it seems to only be open on the busier nights.
The Marquee Dayclub Area Occasionally Opens At Night
Marquee Dayclub is one of the premier pool parties in Las Vegas. On busy nights Marquee Nightclub opens up the outside pool area and although swimming is not allowed, it still makes for a special party experience.
Clubs like XS or Omnia have clear outside and inside club areas. The energy and vibe in the two section are very different. But when Marquee Nightclub opens up the outside patio area, the vibe of the inside nightclub transfers to the outside.
This may seem trivial, but in my opinion Marquee does the best job combining the inside and outside parts of their club. There are several entrances to the outside making the transition seamless.
Guest List Rules For Marquee
Anyone can sign up for the Marquee guest list and get free entry into the club. Women on the guest list will always be granted free entry, and on Mondays the occasional open bar. Men on the guest list must have an equal ratio of women in their group to get free entry on the guest list. Or a greater number of women than men also works.
Jewel Nightclub Is A Close Second On Mondays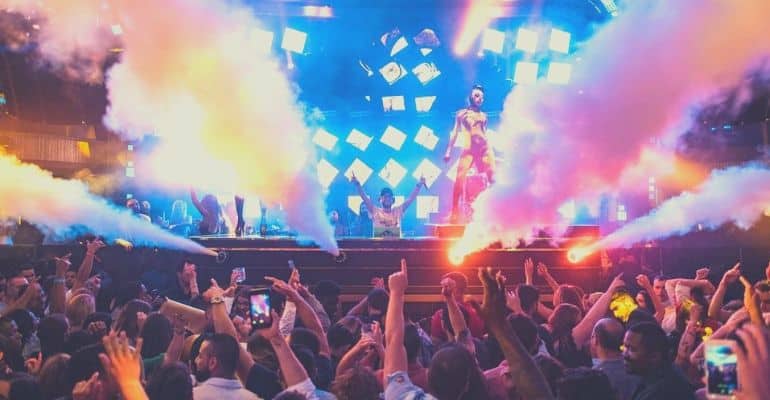 Jewel is not too far behind Marquee when it comes to Monday night parties in Vegas. Jewel is also well designed and features an elevated stage, a second floor overlooking the dance floor, private VIP rooms and 2 bars.
Jewel plays mostly Hip Hop and EDM music, but I would argue that they tend to lean more to the Hip Hop side. Like Marquee, Jewel features some impressive musical talent like Tyga, Lil Jon and Desiigner on Monday nights.
This is one of the newer nightclubs on the strip and it shows. Jewel is located inside the Aria, which is a really nice hotel if you have ever been. To enter Jewel you must go down a escalator, directly next to a giant waterfall. How's that for over the top luxury?
The lighting and sound systems are state of the art and speak for themselves. It will be noticeable to anyone partying here.
Jewel Guest List Rules Work In Favor Of All Guy Groups
Unlike Marquee where guys on the guest list need to have an even number of girls, Jewel does not require ratio. This is great for groups that have all guys or a majority of guys, since everyone will be able to get into the nightclub for free on the guest list. You can sign up for the Jewel guest list for free here.
Just because guys can get in for free on the guest does not mean that Jewel is a sausage fest. There are always a bunch of girls that go here and there are plenty of hard working promoters that bring a large numbers of women into the club every night.
I would highly encourage anyone that doesn't have an even ratio of guys to girls to consider Jewel. Both of these clubs are so close that it is often tough to choose between the two. There is no reason for you to be paying a cover to get into a nightclub on a Monday night.
Pool Parties Open On Monday
If you find yourself in Las Vegas on a Monday and are looking for something to do during the day, look no further than the dayclubs.
Pool parties in Vegas are not limited to the weekend and it just so happens that one of the best ones is open on Monday. Wet Republic is in my opinion the second best dayclub behind only Encore Beach Club.
Wet Republic has everything a nightclub has to offer and more, but during the day. The environment here is wild. Who wouldn't want to listen to world class DJs while sipping drinks at a crazy pool party. It's way better than going to work on a Monday in my opinion, but that's just me.
Wet Republic is the only pool party open on a Monday besides Bare Pool at the Mirage. But honestly Bare is closer to your average hotel pool than the epic party being thrown at Wet every Monday.
If you are looking to relax and tan by the pool you're better off just sticking to the pool at your hotel. Or you can even visit the MGM Grand Pool Complex directly outside of Wet Republic. That pool area is gigantic and throws in a little bit of party vibe while still mostly being a low-key area. Long story short, if your looking for pool fun on a Monday, go to MGM.
The one caveat here is that Las Vegas pool parties are seasonal. So they are only open April through October as Vegas gets relatively cold in the winter. As long as you're here during those months, you are good to go.
Related Questions
What's the best Vegas nightclub on a Tuesday? Omnia is by far the best Vegas club on a Tuesday night. Omnia plays mostly EDM music but has an entire room dedicated to Hip Hop music called the Heart of Omnia. Omnia also has an outside Terrace on the rooftop of Caesars Palace that offers a nice view of the strip. The terrace has its own bar and plays mostly house music.
What's the best Vegas nightclub on a Wednesday? The best Vegas nightclub on a Wednesday is EBC at Night. "EBC" at Night stands for "Encore Beach Club" since the club is in the same spot as the Encore Beach Club day party. EBC at Night plays mostly plays EDM music from world class DJs and features "Nightswim", where the pool is open all night.
Is there a dress code at Las Vegas nightclubs? Men should typically wear a collard shirt and well fitted jeans (avoid baggy pants). Women can get more creative with what they where, but a tight dress with heels is recommended. You can check out full dress code guides for men and women here.