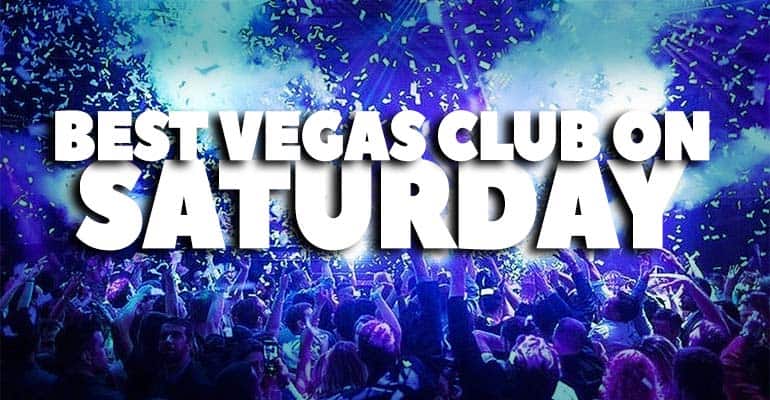 Saturday is the busiest night for Las Vegas nightclubs. It's hard to go wrong when picking out a nightclub on Saturday but still, there are some clubs that are better than others.
What is the best nightclub open on a Saturday in Las Vegas? The top nightclub on a Saturday in Las Vegas is XS. XS is located at the Encore Hotel and is open Friday, Saturday and Sunday. It is the preeminent nightclub every night it is open because of its combination of class, affluent clientele and world class DJs.
Other top nightclubs on Saturday include:
XS Nightclub
Omnia Nightclub
Marquee Nightclub
Hakkasan Nightclub
EBC at Night
Drai's Nightclub
The best nightclubs on Saturday are the same nightclubs that top Vegas nightlife on Friday night. To avoid rehashing the same information I'll link to the Friday article here, where I go into depth which clubs are the best and why.
That post explains which nightclubs you should go to on the weekend depending on your group size, the type of music you like and the ratio of guys to girls in your group.
But to answer the main question, XS is the premier nightclub on Saturday. The club offers women free entry on the guest list. Men can also get free entry if they have an even number of women in their group (or a greater number of women than men). Guys without girls also often get a reduced cover charge when signing up for the guest list.
I go more in depth on XS here. But XS nightclub doesn't have everything and some of these other nightclubs have features like night time pool parties, different types of music and friendlier guest list rules for guys. I cover all of your options and why you may want to chose them over XS below.
| | | | |
| --- | --- | --- | --- |
| Club | Music | Women (Free Entry) | Men (Free Entry) |
| XS Nightclub | EDM | Yes | Must Have Ratio |
| Marquee Nightclub | EDM/Hip Hop | Yes | Must Have Ratio |
| EBC at Night | EDM | Yes | Must Have Ratio |
| Hakkasan Nightclub | EDM | Yes | Yes |
EBC at Night Is The Only Pool Party On Saturday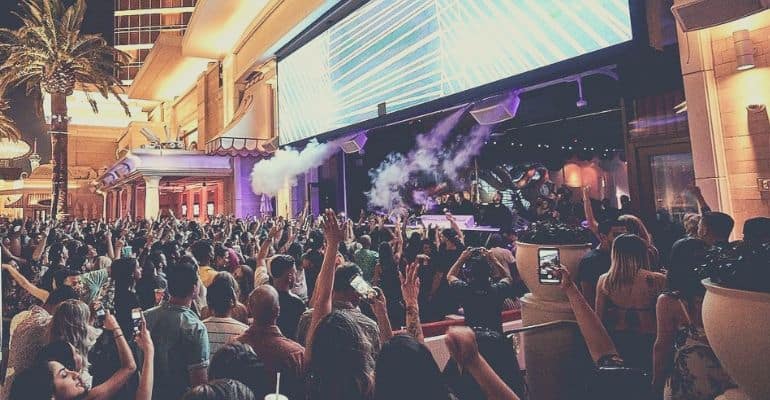 Vegas has a bunch of pool parties during the day on Saturday, but oddly enough there is only one at night. EBC at Night is the only night time pool party over the weekend.
XS hosts Nightswim on Sunday nights, but for the better part of the weekend (Friday and Saturday), EBC is the only pool party that is open at night.
EBC is a huge nightclub with top DJs playing almost every night. As you can imagine these parties get crazy.
EBC's Specialty Is Throwing Pool Parties
Unlike the other nightclubs that occasionally have night time pool parties, this is all EBC does. Every time EBC opens its doors, the pool is open (with the exception of October when the clubs starts to shut down).
What this means is people come to EBC to get into the pool. A majority of the guests at EBC will be in swimwear and willing to get wet. There won't be too many people in jeans standing by the bar.
This is great if you are looking for a wild Vegas pool party, since it eliminates the people who are in normal clothes not participating. Only the people who are serious about the pool will be at EBC.
Even if you are not in the pool the club sometimes shoots water cannons into the air. Also people in the pool tend to splash around, especially in the area close to the stage. So be ready to get wet if you come to EBC.
EBC At Night Has The Most Relaxed Dress Code
Some people who come to Vegas like to dress up and look their best. Others, while they still want to look good, put more of a priority on just having fun.
EBC has the most relaxed dress code of any Vegas nightclub. You are able to wear shorts, hats, tank tops and swimwear. It is the only club where the casual beach look is always allowed.
EBC is still an upscale and classy environment so you do not want to look trashy, but there is a lot dress code leniency allowed here.
The club even allows small bags into the venue and has lockers for rent. Although this does result in EBC having the tightest security of any Vegas club, which in turn causes long longs.
Anyone coming to Vegas to have a fun in a more relaxed setting should come to EBC. The club is extremely posh and always a ton of fun.
EBC at Night Guest List Rules
Women always get free entry while on the guest list. Men will be required to have an even ratio of women to get free entry. Groups of all guys on the guest can also get reduced cover charges if they don't have ratio. You can put your name on the EBC at night guest list here.
Marquee Nightclub On Saturdays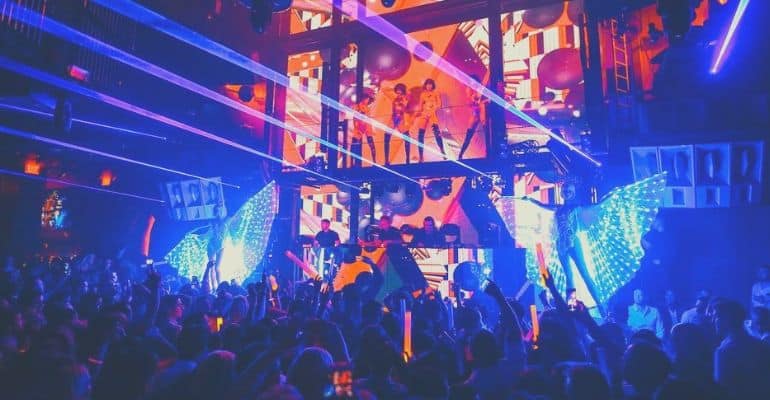 Marquee is one of my favorite nightclubs in all of Las Vegas. It's another club that has both an indoor and outdoor section, but the indoor area is much bigger.
The energy in this club is unreal, especially when DJs like Travis Scott are playing. From start to finish Marquee is puts on a show and keeps you entertained. From the numerous dancers scattered throughout the venue to the tasteful music, not too many clubs can compete with Marquee.
Although there aren't too many big name DJs that play here, the music which is a combination of Hip Hop and EDM, is extremely good. The few mainstream DJs that do have residencies at Marquee, mainly Travis Scott and DJ Mustard, do not disappoint.
The DJ performances are only part of what makes Marquee so amazing. The club design itself, cements Marquee as a top Vegas club.
Marquee Has Several Different Levels
Marquee's main room is centered around the main DJ booth. The stage is slightly elevated above the dance floor and surrounded by bottle service tables in tiers.
This layout makes it so you can see the stage from pretty much any location in the nightclub. There isn't a bad seat in the house.
Because of the great view of the stage the tables at Marquee are very desirable. The 3rd tier tables, which are normally relatively far from the action at most clubs, are really good at Marquee and come at a great price. Anyone interested in bottle service can contact us here, and we will put you in contact with a VIP host at Marquee.
Marquee also opens up the outside area where Marquee Dayclub is on the weekends. This is one of the best nightclub patio areas since the energy from the inside transfers to the outside seamlessly.
One level above the Marquee main room is a lounge called the Library. This lounge is unique in that they give everyone headphones and let you choose the music you listen to. On top of that, there is a pool table, bar and a ton of seating. You will leave this room impressed.
There is one more room at Marquee called the Boom Box. This room is not always open but when it is they play mostly Latin music. It's the only place on the Las Vegas strip that I've actually seen people salsa dancing.
Marquee Guest List Rules
Just like EBC at night all women get free entry on the guest list. Men must have an equal number of women to get free admission. You can get on the Marquee guest list here.
Saturdays At Hakkasan Nightclub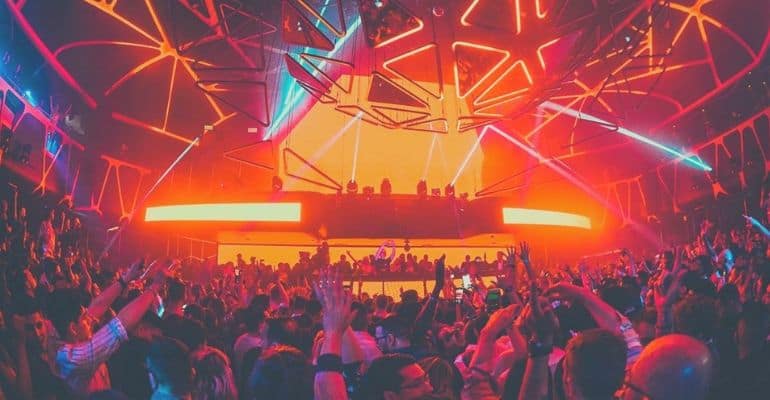 Hakkasan is by far the best nightclub option for group that only have guys in them. The guest list rules at Hakkasan are much more friendly than at the previous two clubs.
Hakkasan is a massive venue that can only be described as a maze. The club has 5 total floors (2 for them are dedicated to the restaurant) that are home to 7 separate bars.
One of the floors is dedicated solely to Hip Hop, even though Hakkasan is mostly known as an EDM nightclub. I'll go I little deeper down below.
Hakkasan Has Top DJs
To be a top Vegas nightclub you're going to need a few top DJs to draw people in, Hakkasan has that and then some.
Some of the DJs that play at Hakkasan include Calvin Harris, Tiesto, Steve Aoki, Lil Jon and Zedd. If you have been to Hakkasan's sister club Omnia, then you will notice that for the most part, they have the same DJs.
Pretty much every DJ listed here is a top 20 DJ in the world. You're going to be in for a show no matter who is taking the stage.
Hakkasan Has An Entire Hip Hop Floor
The main EDM room at Hakkasan is huge and includes a balcony that overlooks the entire dance floor and a pavilion area. This area alone could probably be broken up into three separate clubs.
But the the floor that is most interesting to me is the 3rd floor. The entire 3rd floor is home to the Ling Ling Lounge or Hip Hop room. This room is one of my favorite places in Vegas to listen to Hip Hop music, second only to Omnia's heart room.
The Ling Ling Lounge is large enough to be a stand-alone nightclub all be itself. And honestly it is because every time I go there I spend most of my night in this lounge and rarely go up to the main EDM room.
This lounge is slightly less crowded than the main room and plays mostly Hip Hop. Every single song played by the DJs in this room is a hit. I don't know what it is, but every time I come here they are playing bangers the entire night.
Don't get me wrong, I love EDM music but the Ling Ling Lounge offers a great alternative to the ear drum rattling music in the main room.
The laid back guest list rules may lead you to believe that Hakkasan is a step down from the other clubs. It's not. Hakkasan is a high quality nightclub and I highly recommend coming here.
Guest List Rules At Hakkasan
Both men and women on the guest list get free entry at Hakkasan. You must ensure however you get in line by 10:00 pm at the very latest. Hakkasan has one of the longest lines in Las Vegas and will stop letting people in on the guest list around 12:30 am.
If you are not in line by 10:30 pm there is a decent chance that you won't be able to get in. At that point you will have to pay cover. Always show up on time for Hakkasan. You can sign up for the Hakkasan guest list here.
One more note: When Calvin Harris is performing there is no guest list at Hakkasan. In that scenario I would recommend going to Omnia, since they have the same DJs and friendly guest list rules for guys.
Related Questions
What is the best Vegas nightclub on Sunday? Again XS is the best Sunday nightclub. Sunday at XS is different than Friday and Saturday because they actually open the pool up for swimming. XS Nightswim is the absolute best Vegas party in my opinion. If you do not visit XS on Friday or Saturday you must come here on Sunday, you will not regret it.
What is the best Vegas dayclub on Saturday? Encore Beach Club and Wet Republic are the two best dayclubs in Las Vegas. You can get into both for free on their respective guest lists. Encore Beach Club requires men to have an equal ratio of women in order to get free entry on the guest list. Wet Republic offers free entry to both guys and girls on the guest list.