When visiting Las Vegas, don't make the rookie mistake of not bringing enough clothes. Everything you do in Vegas will require different attire. You're not going to want to wear the same thing to the nightclub that you wore while walking the Strip.
In this article, I'll let you know EXACTLY what to wear in Las Vegas in every situation. I'll cover everything you need to know, including dress codes at casinos, nightclubs, shows, pools, and restaurants. We'll also touch upon what to wear during different seasons for both men and women. Let's dive in…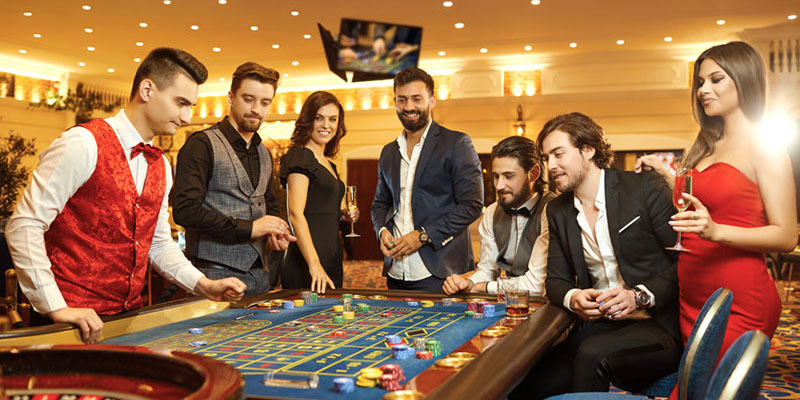 What to Wear in Las Vegas Casinos
What to wear in Vegas at casinos? Las Vegas casinos don't have official dress codes, so most people dress casually. Many years ago, people would dress up to go to the casino, but it's not as common anymore.
You'll see a bunch of people in shorts and t-shirts in every casino on the Strip. The only real requirement is that you have at least a shirt, pants, and footwear (you can't wear a swimsuit into a casino).
Although there is no enforced dress code, most people tend to dress up more at night. Nights are much more formal since people are typically heading to or from a restaurant, show or nightclub. You can also typically receive better service if you're dressed up.
If you want some photo examples of what is acceptable attire in Vegas casinos, you'll want to check out my casino dress code guide here.
Men
During the daytime, men should wear comfortable clothes to the casino. Shorts and t-shirts are perfectly fine. If you ever walk into one of the Vegas poker rooms, you'll actually see more people in shorts than in suits.
There still isn't an official dress code at night. However, you may feel out of place in shorts since more people are dressed up. I'd recommend at least a collared shirt with jeans after 5 pm.
Women
Similar to the men's casino dress code, women have a lot of flexibility when it comes to outfits. Anything from shorts, jeans, blouses, skirts, and sundresses will work.
At night things get more formal. A dress or romper is recommended, but not required. A fancy top with jeans can also work well.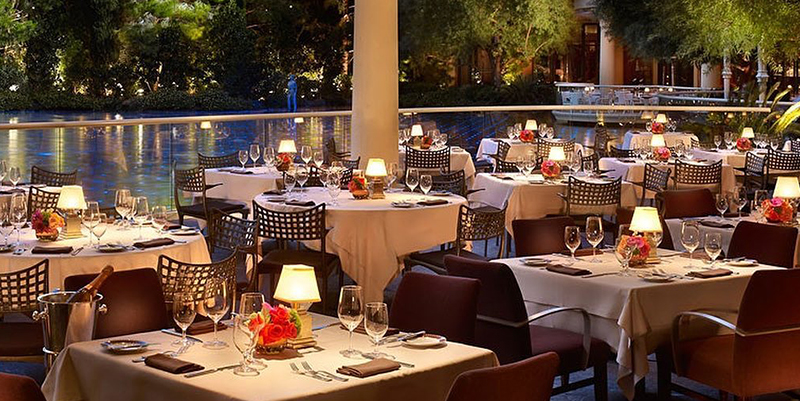 What to Wear to Vegas Restaurants
As a general rule, most restaurants in Las Vegas don't have a dress code. However, some of the more high-end restaurants do enforce a strict dress code for both men and women. These restaurants will require upscale attire.
You'll certainly want to dress up a bit for all restaurants that fall under the fine-dining category. All other restaurants have a casual dress code (which essentially means that anything within reason is acceptable).
Men
All upscale restaurants will require men to wear a collared or polo shirt at the minimum. Jeans are acceptable as long as they don't have excessive rips or tears. Sneakers are usually allowed as well. Shorts, sports jerseys, tank tops, and opened-toe shoes are absolutely not allowed.
For casual dining, men can wear anything including, t-shirts, shorts, and jeans. Opened-toe shoes are typically ok, but it depends on the restaurant.
Women
The Las Vegas restaurant dress code for women is much more relaxed. Ladies can wear almost anything at upscale restaurants, provided it's elegant and dressy. If you avoid things like athletic shorts, yoga pants, and flip-flops you shouldn't have any issues.
The rules for casual dining are even looser. The only thing that would prevent you from getting into a casual restaurant would be wearing a swimsuit or something too revealing.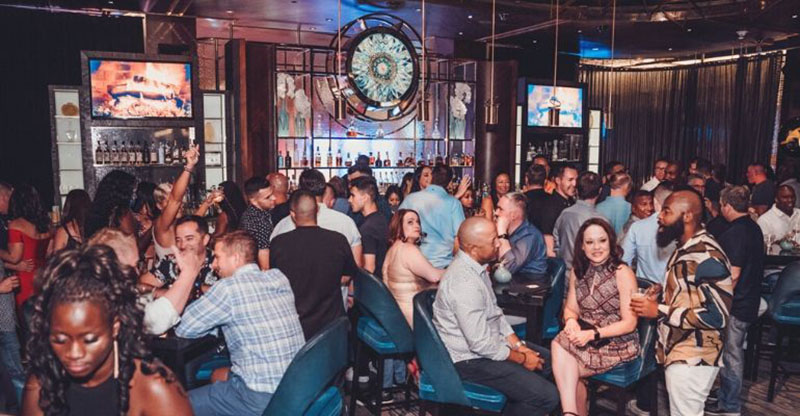 What to Wear in Las Vegas Nightclubs and Bars – Dress Code
Out of all the establishments in Las Vegas, nightclubs have the strictest dress codes. They're also pretty stringent when it comes to enforcement.
The most difficult part about nightclub dress codes is that they differ from venue to venue. For example, some clubs allow t-shirts while others don't. The staff has complete discretion as to what they allow.
There's a big discrepancy between the official nightclub dress code and what is actually acceptable. So I'll do my best to explain that here. Here's the Vegas dress code for men and women.
Men
Men should wear a collared shirt or sports jacket, dress shoes, and well-fitted jeans to Vegas nightclubs. Overly baggy jeans and shorts are not permitted.
A few clubs do allow fitted t-shirts and designer sneakers, however, these items are only permitted at the discretion of the staff. These items are a grey area and best avoided if it's your first time visiting Vegas.
There is also a laundry list of things not to wear in a Las Vegas nightclub. If you're wearing any of these items, you will be denied entry. I wrote a more in-depth guide to the men's dress code at Las Vegas nightclubs here. If you're planning on attending a nightclub, I highly recommend you check that out.
Women
Women should wear a well-fitted dress to the nightclub. Some girls wear black dresses, but many sport vibrant colors. A romper or a fancy top with jeans is also permitted. Women aren't required to wear heels, but they are recommended. Flats and wedges are acceptable alternatives to heels.
A small clutch is also recommended over large handbags. There are a few items that aren't allowed in nightclubs. I covered those in another post I wrote specifically about the women's dress code at Las Vegas nightclubs here.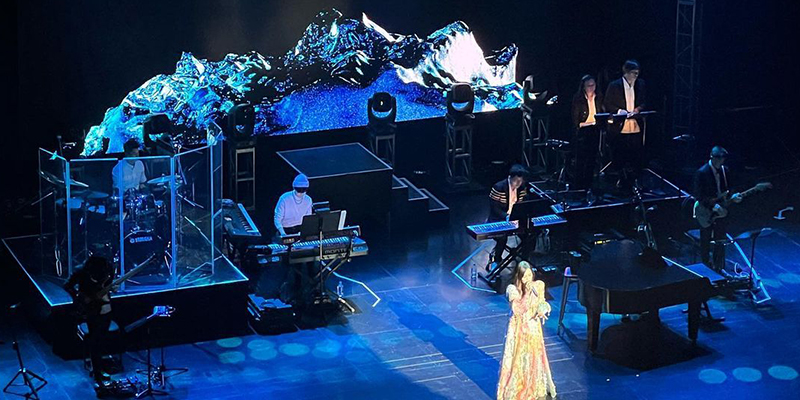 What to Wear to Shows in Las Vegas
What to wear in Las Vegas at a show? Unlike nightclubs, most shows don't have a dress code in Vegas. You can wear whatever you want to a show, assuming it's not swimwear.
The majority of shows are casual, but a few shows at the 5-star resorts do have an upscale ambiance. If you visit a show at one of these hotels, you may want to dress up a little bit. It's not required, but it will prevent you from feeling out of place.
Also, keep in mind that nighttime shows are a bit more formal than daytime shows.
Men
For casual shows, men should simply wear comfortable clothes. Shows at more expensive properties don't require any formal attire, but wearing a collared or polo shirt isn't a bad idea.
Women
Women should wear comfortable clothing to normal shows in Vegas. For upscale shows, you may want to wear an outfit that's a bit more dressy. The audience for these shows tends to be more posh, so you can show off your style if you want. Of course, you can wear jewelry as well.
What to Wear at the Pool in Vegas
Dress codes for pools and pool parties in Las Vegas are pretty straight forward. You basically just need a bathing suit and something to wear on your way to the pool. It's important to have a shirt or coverup because without one you won't be able to walk through any of the hotels.
You may also need to bring your ID if the pool serves alcohol. Most hotel pools won't bother to check, but the pool parties and dayclubs certainly will.
*The difference between a hotel pool and a pool party is that pool parties usually sell tickets and have a DJ. Hotel pools don't.
Men
Men can wear whatever they want to most hotel pools. A few of the bigger pool complexes may search your bags before you enter, so be aware of that. Don't bring anything into the pool area that isn't allowed.
Pool parties are a little different, as swimwear is required for entry. Athletic shorts, cargo shorts and jeans are not allowed into these venues. Hats and sunglasses are allowed. If you want to bring a bag, it has to be a small drawstring bag.
Women
Women can wear anything from a one-piece to a bikini, as long as it's not too revealing. Most girls in Vegas tend to wear a bikini at Vegas pools. For shoes, most women wear either flats, wedges, or sandals.
Pool parties have the same dress code, except you'll find most of the girls in full makeup. It isn't a requirement, but it's something most girls do. If you plan on going into the actual pool, don't worry about this. Also, make sure that your handbag isn't too big.
For both hotel pools and pool parties, make sure you have some sort of cover-up, like a romper, sarong, or shorts. If you walk through the hotel in your bikini, you'll get kicked out.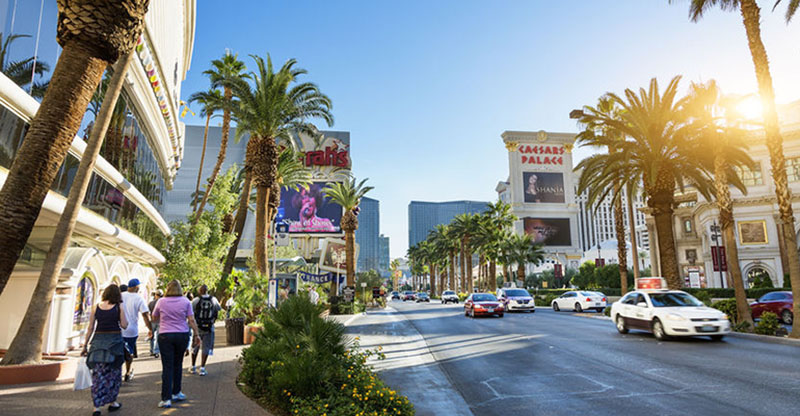 What to Wear when Walking the Las Vegas Strip
The Las Vegas Strip is a sidewalk, so there's no official dress code. You'd be surprised at what's allowed when you see Vegas Showgirls walking down the Strip with a bare minimum of clothing.
I recommend wearing something that's comfortable. The Strip is deceptively long (over 4 miles), so you're going to want some walking shoes.
Men
Men should wear whatever is comfortable. There's no dress code, so you don't even need to wear a shirt if you don't want to. Just make sure you have comfortable shoes.
Women
Women can also wear whatever they want. Again, just make sure you have some sort of walking shoes. Walking the entire Strip in high heels is NOT something you want to do!
What to Wear in Vegas during the Winter
Many people don't know that Las Vegas actually gets pretty cold in the winter. Nights during the winter often dip below 40°F (5°C).
It's recommended that you pack some warmer clothes if you plan on visiting Vegas from November to March. You don't need too many warm clothes since you'll probably be spending most of your time indoors, but a few pieces shouldn't hurt.
Swimwear isn't needed in the winter unless you stay at a hotel with a heated pool. There are only a handful of heated pools in Vegas, so I reviewed the best winter pools in this article here.
Men
In the winter men should wear jeans and a shirt with a light jacket, sweatshirt, or suit during the day. Shorts aren't recommended unless you're one of those guys that never gets cold.
Women
Most women still wear dresses out at night during the winter in Vegas. However, during the day you may want to wear something warmer like jeans or leggings. Layers are also a great way to stay warm without having to pack too many extra clothes.
What to Wear in the Summer in Las Vegas
Las Vegas gets ridiculously hot during the summer. Temperatures often rise above 110°F (43°C) during the day, so you'll want to pack accordingly.
You may also want to consider wearing sunscreen during the summer. The sun is really intense in Vegas and it's easy to get burned. Sunglasses and hats are also nice to have if you're out walking the Strip.
Men
All hotels and casinos are airconditioned, but you should consider wearing shorts during the day if you spend any time outside. At night it cools down a bit, so it's still ok to wear a suit if you choose. Just know that you still may sweat at night, so it pays to wear something a bit of a looser fit. Also, avoid white if you sweat a lot.
Women
Women generally tend to show more skin, so the heat isn't usually a problem. Your typical dresses, skirts, rompers, and shorts will work great.
Las Vegas Outfits for Every Month of the Year
There are more than two seasons in Las Vegas. You're going to want to pack differently for every month of the year. The chart below should give you a good idea of the weather each month, and what type of clothes you should pack.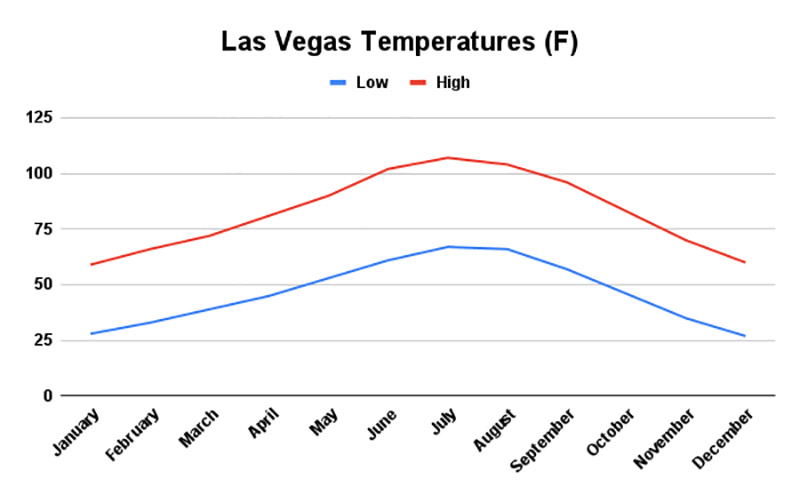 *All temperatures are in Fahrenheit.
It's also important to note that Vegas is sunny 29 days a month, even in the winter. Rain is pretty rare, and it only snows once every 5-10 years.
January (High 60°/Low 28°) – This is one of the coldest months of the year. You'll want to leave the shorts at home and opt for jeans and a light jacket. Although it's cold, most women still tend to wear dresses at night.
February (High 65°/Low 32°) – February is very similar to January. Again, long sleeve shirts, light jackets, and sweatshirts are all recommended.
March (High 72°/Low 40°) – It doesn't get too much warmer in March. Packing some layers is going to be a good idea.
April (High 80°/Low 45°) – This is the first month where things begin to warm up. Most pools in Vegas are open by the end of April. Temperatures are moderate, and you may still want a light jacket at night, but shorts should be ok to wear at this point.
May (High 90°/Low 50°) – By May, summer has started in Vegas. If you get cold easily you may want to pack a sweatshirt just in case, but there is no need for jackets anymore.
June (High 102°/Low 60°) – Summer officially starts in June. There is no need for any additional layers of clothing. Shorts and swimsuits should be the go-to.
July (High 107°/Low 70°) – July is even hotter than June. It gets extremely hot, so you may want to change outfits throughout the day.
August (High 105°/Low 65°) – Daytimes temperatures often rise above 100°. Nighttime temperatures often hover around 80-90°. So, more shorts and t-shirts.
September (High 95°/Low 60°) – Now that it's fall, the heat starts to subside a bit. It's still really hot during the day, but by the end of September, the nights can get cool. If you get cold easily you may need a sweatshirt at night.
October (High 80°/Low 45°) – By Halloween, it's cooled down quite a bit. Most people are going to want to put the shorts away and take out a light jacket at night.
November (High 70°/Low 35°) – There's a significant drop in temperature in November. For guys, long pants and a light jacket are required during the day. Women still wear dresses at night but may prefer to wear something warmer during the day.
December (High 60°/Low 28°) – December is the official coldest month of the year in Vegas. You'll definitely want to pack some layers along with a jacket.
You should definitely take the weather into consideration when picking out your outfits, deciding on how you want to style your hair, and what jewelry you wear. Once you understand the Las Vegas weather, you can start to put together outfit ideas. This is important to do before you travel to Vegas.
What NOT to Wear in Vegas
Now that we've covered what to wear in Vegas, there are a couple of items that are not needed. There are also a few that are largely frowned upon at many establishments. Some of these items are acceptable to wear while walking the Strip but may cause issues if you try to get into a bar, nightclub, pool, or restaurant.
I recommend simply not bringing these articles of clothing to Vegas. Some of these items:
Work boots
Heavy winter jackets
Sports jerseys (don't wear at nightclubs and restaurants)
Overly revealing swimwear (for men and women)
Flip flops (unless at a pool)
Worn-out clothes
There are always a few important items that everyone forgets to bring to Vegas, causing headaches later in their vacation. Don't make the rookie mistakes! Make sure that you have everything you need BEFORE you go.
If you want to know EXACTLY what you should be bringing to Vegas, I wrote another post here with a complete packing list for both men and women.