You don't want to be spending your precious time in Las Vegas picking up stuff at the convenience store because you forgot it at home. That can get expensive, and it's honestly just plain annoying.
Instead, make sure you have everything you need before you leave home. It's better to be overprepared than underprepared, especially when you only have a limited amount of time in Sin City. Here's a list of everything that you're going to need in Las Vegas, that you may have overlooked.
Men pack differently than women, so this list is specifically for men. I wrote separate guide for women here.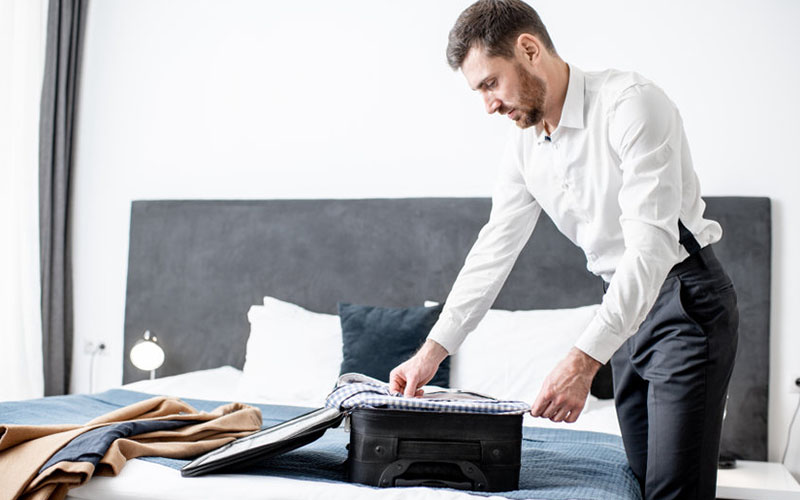 (This article may contain affiliate links and we may earn a commission if you make a purchase.)
1. Clothes
I'm not going to sit here and give you fashion tips, you can get those somewhere else. This guide is just to make sure that you have all of your bases covered. If you're going to a nightclubs and not sure what to wear, I wrote a more in-depth article here.
Otherwise, make sure you pack these basics:
3-4 T-shirts
2-3 Dress Shirts
2-3 Pairs of jeans
1-2 Pairs of shorts
Suit (optional)
Comfortable walking shoes
Dress shoes
Swimwear
Las Vegas does get pretty cold in the winter (it gets down in the 40's at night). So, if you're visiting November-March you may also want to bring a light jacket or sweatshirt.
2. Eye Mask and Ear Plugs
I started wearing eye masks after visiting Las Vegas a couple times. The sun is intense, and it shines through the curtains in every hotel, even the most expensive ones. If you want quality sleep, you're going to want a eye mask. This is important because without good sleep you'll quickly burn out in Vegas.
I've tried dozens of eye masks, and I've only found one that actually works. It's hard to find on Amazon so I'll leave the link here. I use that mask myself. I literally can't sleep without it.
The same goes ear plugs. Not all hotels are noisy, but many of the budget and mid-tier hotels get really loud around 9 am. This is especially true if you're room is facing the pool, since they tend blast music early in the morning.
If you're going out at night and want to sleep in a little, do yourself a huge favor and get some earplugs. You'll be groggy all day if don't (or you'll be forced to take a nap around 5pm). These are the ones I use.
3. Money Clip
It's nice to look like you have a few bucks, but carrying around a thick bulging wallet all day is uncomfortable. It also looks really bad if you wear slim jeans. If you don't want to look like a scrub, it may be worth investing in a money clip.
You can find hundreds of cheap money clips online for less than $10. I've been using this one from Amazon. It grips cash and cards pretty tightly, and it's got a really small profile.
4. Supplements
Tens of millions of people visit Las Vegas every year, making it really easy to catch something and get sick. The last thing you want to do in Las Vegas is get sick or lose your voice. There are 3 basic things I pack to prevent this from happening.
Airborne or an equivalent Vitamin C supplement
Taking vitamin C will boost your immune system. This is especially important if you're low on sleep.
Cough drops are a life saver if you start to loose your voice (I loose my voice a lot trying to talk over loud music in nightclubs, and it's almost worse than getting sick). The air in Las Vegas is also very dry.
Finally, Pedialyte comes in handy as an instant hangover remedy. It works a lot better than anything you'll find at the convenience store, and it's a lot cheaper. But it's important you order it before you need it. You can spend half a day walking around the Strip trying to find some.
5. Portable Phone Charger
There's no doubt that you'll be using your phone 24 hours a day in Las Vegas, so a dead phone is a headache that you don't want to deal with. If your phone is dies, you'll have to go all the way back to your hotel room to charge it for an hour.
That's a buzzkill and a complete waste of time. The easiest thing to do is get a small portable charger that easily fits in your pocket. I use this a cheap one. It's easy to carry in your pocket and charges quickly.
6. Sunscreen and Sunglasses
I'm not the biggest fan of sunscreen, but the sun in Las Vegas is really intense. If you plan on going to any pool parties, I highly recommend that you pick up some sunscreen, overwise you'll quickly get burned. Sunglasses won't hurt either.
7. Chapstick
I normally don't use Chapstick, but the air in Las Vegas is super dry. Chapstick is a no-brainer if you already have some at home. If not, quickly pick some up on Amazon before you leave. A 3-pack only costs $3.
8. Toothbrush Holder
Bad breathe is the worst. Make sure you brush you teeth. Most people have a travel toothbrush container, but if you don't they cost like $5 on Amazon. I somehow lost mine the last time I was in Vegas, so I replaced it with this cheap toothbrush holder.
9. Cologne
If you're going to hit a nightclub, you're going to want to look and smell your best. Cologne can definitely help with that. I'm not the biggest fan of cologne, but I like to be at my best while in Las Vegas.
It's tough to find a cologne you like without smelling it first, but I really like this one by by David Beckham. It's very subtle, and almost everyone I've asked liked the scent. A single bottle will last you over year. I got mine for $15 on Amazon.
Important Things to Know Before Visiting Las Vegas
That should cover all of your packing basics for Las Vegas. You don't need to bring much else, unless you're staying for more than a week. If it's your first time visiting Las Vegas, you'll want to check out these guides before you go: