I've been trying to find the best place to eat sushi in Las Vegas, so I've been testing all of the Japanese restaurants in the area. Sushi Fever has been on my list for a while, but there isn't much information about the restaurant online.
So after finally eating at Sushi Fever, I decided to write this article to give others some basic information about the restaurant. This post will cover the menu, price point, and how to make a reservation at Sushi Fever Las Vegas.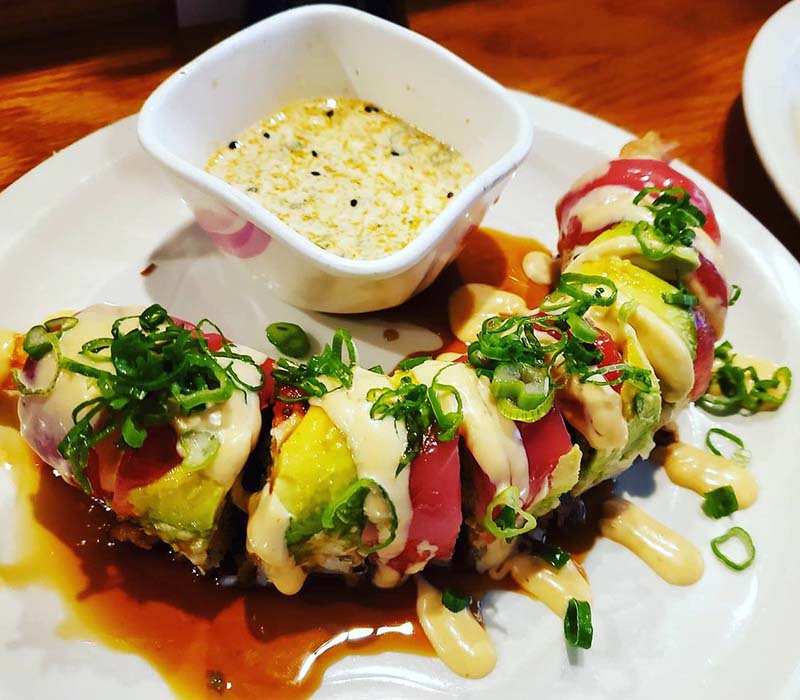 Sushi Fever Las Vegas Menu & Prices
Sushi Fever has a relatively extensive menu that includes appetizers, entrees, soups, sushi, and desserts. We'll go over the prices for many of the most popular dishes in the sections below, but if you're in a hurry, the restaurant also has Combo Boxes.
The Combo Boxes at Sushi Fever cost $11 for lunch and between $15-$20 for dinner. They allow to you pick 2 or 3 of your favorite menu items to put into a quick box to-go.
Appetizers
Sushi Fever offers a ton of options on their appetizer menu. Here are some of the highlights.
Miso Soup
Popcorn Shrimp
Salmon Crab Salad
Sashimi Salad
Soft Shell Crab Salad
Salmon Skim Salad
Chicken Salad
Seaweed Salad
Edamame
Bulgogi
Egg Roll
Gyoza (dumplings)
Yakitori
Fish Tempura
Calamari Tempura
Shrimp Tempura
Vegetable Tempura
Bacon Maki (shrimp or scallops)
Butter Yaki (shrimp or scallops)
Agedashi Tofu
Hamachi Kama (yellowtail)
Salmon Kama
Appetizers cost between $4 and $10 depending on what you order, but most are in the $5 to $6 range.
Sashimi
Sashimi (or sushi with no rice) is usually the most expensive item at any sushi restaurant. At Susher Fever, you'll get a couple of sashimi options. Each dish includes 10 pieces and costs $15 to $20.
Spicy Salmon
Spicy Halibut
Spicy Tuna
Super White Tuna
Spicy Yellowtail
Yellowtail Jalapeno
You'll find that the menu features Cajun Albacore and Tuna Poke in the sashimi section as well. If you want a variety of sashimi, the restaurant offers variety platters at a discounted rate. The more sashimi you order, the cheaper it gets.
10 pieces $20
20 pieces $32
30 pieces $48
Sushi Rolls
There are almost 100 different sushi rolls served at Fever Sushi. That's too many to list here, but here are a few of my favorites. Each dish cost between $10-$15 and comes with about 8-10 good-sized rolls.
Spider Roll
Golden Knight Roll
Dragon Roll
Mexican Roll
Nevada Roll
Caterpillar Roll
Carrot Top Roll
Tiger Roll
Japanese Burrito
Entrees
If you want Japanese food, but aren't in the food for sushi, Sushi Fever also offers entrees. Each entree cost between $12-$19 and includes a salad, miso soup, and rice.
Beef Teriyaki
Salmon Teriyaki
Chicken Teriyaki
Chicken Katsu
Shrimp Tempura
Vegetable Tempura
Tonkatsu (fried pork)
You can get an extra side order of meat for a couple of dollars more. They offer a Kabli Korean BBQ entree as well for $22.
Donburi
If you're not familiar, donburi is an excellent rice-bowl type dish. These dishes cost around $10 to $12 at Sushi Fever.
Toridon (teriyake chicken)
Katsu (chicken katsu)
Oyako (grilled chicken)
Tendon
Unagi Don (eel)
Salmon
Beef
Hibachi & Tepanyaki
Hibachi and Tepanyaki dishes are on the menu as well. These dishes include stir-fried vegetables with rice and cost around $15.
Chicken
Shrimp
Steak
Combination
Noodles
Sushi Fever serves a wide array of noodles, including:
Kake Udon
Tempura Udon
Pork Ramen
Chicken Udon
Miso Ramen
Yakisoba (beef, chicken, or shrimp)
If you want to order noodles, expect to pay between $5 and $15, depending on what you get.
Desserts
Sushi Fever Las Vegas serves several delicious desserts around the $5 price point. Here are your options:
Ice Cream
Mochi Ice Cream
Tempura Ice Cream
Fried Banana
Tempura Cheese Cake
Drinks
There are a couple of options for beverages. All of them are under $4 apiece.
Soda
Iced Tea
Hot Tea
Lemonade
Bottled Water
Apple Juice
Orange Juice
Ramune (Japanese soft drink)
Sushi Fever Reservations & Hours
Sushi Fever Las Vegas is open every day from 11 am to 11 pm. The best time to go is around 3 pm since the restaurant can get very busy during the dinner rush around 6 pm – 7 pm. If you plan on having dinner, I recommend that you make a reservation in advance.
You also have the option of ordering both takeout and delivery at Sushi Fever using Uber Eats. The restaurant is located about 20 minutes west of the Las Vegas Strip on West Sahara Avenue.
Sushi Fever Las Vegas Contact Information
Phone number: (702) 838 2927
Address: 7985 W Sahara Ave, Las Vegas, NV
Sushi Fever Cedar Park
There is a second Sushi Fever location in Cedar Park near Austin Texas. They have a different menu at the Cedar Park restaurant, but the reviews are just as good. I haven't eaten at this location, but it may be worth a try the next time you're in Austin.
Final Thoughts on Sushi Fever Las Vegas
Sushi Fever serves fresh sushi that never disappoints. The food is fairly priced for what you're getting, and the service is usually very quick. I highly recommend that you try Sushi Fever, especially if you live in Summerlin or Spring Valley.
Next: Best Vegan Sushi in Las Vegas
Previous: Best Japanese Restaurants in Las Vegas