Hiroba Sushi is one of the best sushi restaurants in Las Vegas. However, there isn't much information available about the restaurant online. This was one of the main reasons why it took me so long to review the place.
So after eating at Hiroba Sushi a couple of times, I decided to write this review to give other people some important information about the restaurant. This article will cover the menu, prices, and hours of Hiroba Sushi Las Vegas.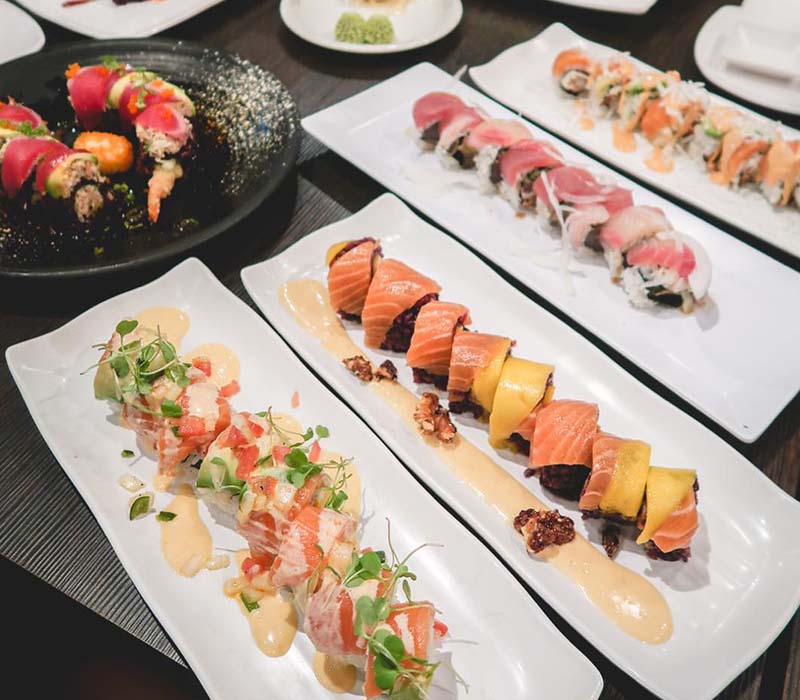 Hiroba Sushi Menu & Prices
There is a ton of variety on the menu at Hiroba Sushi. In fact, there is so much variety that it can be difficult to decide what to order. Let's take a closer look at Hiroba's menu, so you can have a basic idea of what to expect.
Appetizers & Salads
There are a number of both hot and cold appetizers on the menu at Hiroba Sushi. I'm not going to list out all of them, but here are a few of the more notable options.
Hot: Price Range – $4-$10
Baked Mussels
Corn Cheese
BBQ Beef Short Ribs
Soft Shell Crab
Shrimp Tempura
Beef Bulgogi
Cold: Price Range – $2-$12
Yellowtail Carpaccio
Tuna Poki
Fresh Oysters on a Half Shell
Smoked Salmon Sashimi
Avocado with Tomato Salad
Cold Tofu with Ponzu Sauce
Nigiri & Sashimi
Hiroba Sushi Las Vegas has an excellent selection of nigiri and sashimi. If you're not familiar, sashimi is sushi without rice, and nigiri is sushi on top of a small ball of rice. The nigiri costs $3.99 a dish, while the sashimi costs $6.99. Each order comes with 2 pieces. Here are some of your sushi options:
Tuna
Yellowtail
Salmon
Albacore
Shrimp
Red Snapper
Mackerel
Scallop
Halibut
Squid Octopus
Clam
Crab
Eel
Sweet Egg
There are also a couple of premium sushi options that cost between $3-$5 more per order. They include:
Bluefin Tuna
Tobiko
Sweet Shrimp
Smoked Salmon
Sea Urchin
Fatty Tuna
Sushi Rolls
There's a wide variety of sushi rolls on the menu at Hiroba. I didn't count them all out, but there seemed to be about 50 different types of unique rolls. This isn't a complete list, but here are some of the best in each category.
Basic Sushi Rolls & Hand Rolls ($3-$4)
California Roll
Salmon Skin Roll
Mexican Roll
Spicy Tuna Roll
Yummy Scallop Roll
Avocado Roll
Deep-Fried Rolls ($6-$12)
Golden California Roll
Golden Philadelphia Roll
Popcorn Lobster Roll
Jalapeno Popper Roll
Specialty Rolls ($6-$10)
Alaskan Roll
Crunch Shrimp Tempura Roll
Rainbow Roll
Calamari Tempura Roll
Dragon Roll
Salmon Lover Roll
Note: If your server recommends that you get the black rice, I highly recommend that you take their advice. I don't know what's in it, but it tastes amazing.
Donburi Rice Bowls
Hiroba Sushi also serves a number of delicious rice bowls in the $10 to $20 range. These are some of the flavors that you have to try.
Honey Chicken Teriyaki
Spicy Pork
Thai Chicken Teriyaki
Unagi
BBQ Short Ribs
Vegetarian Menu
If you don't eat meat, you'll be happy to know that Hiroba Sushi offers an extensive vegetarian menu. The menu has over 20 different options. Some of them include:
Edamame
Spring Rolls
Vegetable Udon
Avocado Cucumber Roll
Supreme Vegetable Roll
Vegetable Tempura Roll
Cold Tofu
Seaweed Salad
House Salad
Honey Crispy Potato Chips
Hiroba makes it clear that there are plenty of options for people with shellfish and sesame allergies on the menu as well. There is also a completely gluten-free menu.
Also See: Best Vegan Sushi in Las Vegas
Drinks
There's a fair-sized drink menu at Hiroba Sushi. A few of your beverage options include:
Soda
Lemonade
Iced Tea
Iced Milk Green Tea
Milk
Apple Juice
Bottled Water
Beer Sake
Wine
All of the drink options cost less than $5, with the exception of sake and wine.
Hiroba Sushi Hours & Reservations
Hiroba is one of the best sushi spots in Las Vegas, so I recommend that you make a reservation ahead of time. The staff is very friendly, so it's easy to call to make a reservation in advance (I included their phone number below). You can sometimes walk in and be seated right away, but that's not always the case.
You can order both lunch and dinner at Hiroba Sushi. The restaurant is open Tuesday through Sunday, from 11:30 am to 10:30 pm. They also offer takeout, although I usually dine in person. Hiroba is closed all day Monday.
The restaurant is located in Henderson, which is about 20 minutes from the Las Vegas Strip. You can find it near Dominos Pizza in the strip mall.
Hiroba Sushi Las Vegas Contact Information
Phone number: (702) 982 0021
Address: 10720 S Eastern Ave #100, Henderson, NV
Hiroba Sushi Reno
There is another Hiroba Sushi restaurant located on the outskirts of Reno, Nevada, however, it doesn't seem to be associated with the location in Las Vegas. It does get some good reviews online, so it may be worth checking out if you find yourself in the Reno area.
Final Thoughts on Hiroba Sushi Las Vegas
Hiroba Sushi is a top-notch sushi restaurant with very fair prices compared to the Strip. The service is always great, and the sushi always tastes fresh and delicious. If you live in Henderson, this should be your go-to sushi spot.