There are plenty of places to eat vegan sushi in Las Vegas. Whether you're looking for a fully Vegan restaurant or just a spot that offers vegan-friendly options, you'll have no shortage of choices.
I recently tried all of the most popular vegan sushi restaurants in Las Vegas to find out which ones are the best. After testing the top vegan restaurants, these are my top picks.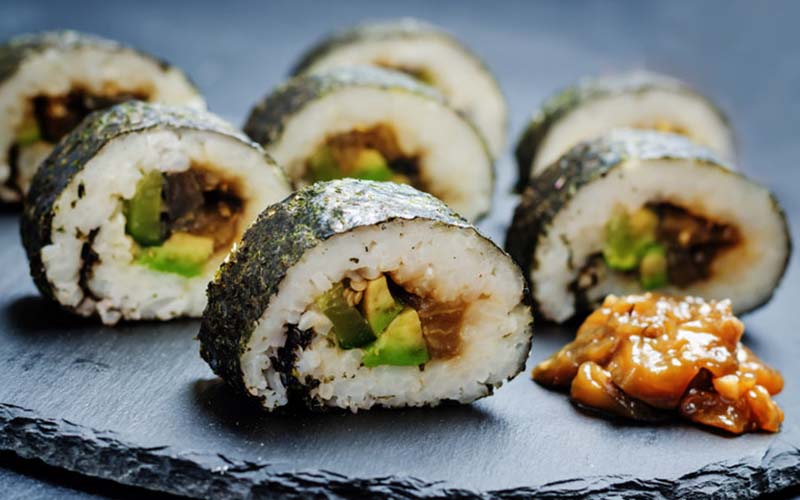 Also See: Complete List of Best Sushi Las Vegas
Chef Kenny's Asian Vegan Restaurant
Chef Kenny's Asian Vegan Restaurant is one of the best vegan restaurants in Las Vegas. It's located on Spring Mountain Road in the Chinatown district of Las Vegas, which is about a 10-minute drive from the Strip. It's very accessible for both locals and tourists looking for some delicious vegan cuisine.
The vegan sushi at this place is phenomenal. Chef Kenny prepares traditional Asian dishes with a vegan twist. You can order dishes like vegan crispy beef, chow mein, and vegan sushi rolls. The staff at the restaurant is always friendly, and they're open 7 days a week.
Location: 6820 Spring Mountain Rd, Las Vegas, NV
Chikyu Vegan Sushi Bar & Izakaya
Chikyu Vegan Sushi Bar is a plant-based Japanese restaurant located south of the Las Vegas airport. The chefs prepare excellent vegan dishes using ingredients like vegetables, mushrooms, fruits, and flowers. The entire menu here is vegan.
Sushi is their specialty, so you'll notice that many of the dishes look similar to what you'll find at traditional sushi restaurants (except without the fish). They offer vegan food in a number of forms, including appetizers, ramen, robata dishes, tempura, nigiri, and sushi rolls, along with a couple of house specials. Chikyu is open every day except Monday from 4:30 pm to 9:30 pm.
Location: 1740 E Serene Ave #130, Las Vegas, NV
Daikon Vegan Sushi
Daikon Vegan Sushi is a local favorite found in Summerlin, which is about 20 minutes from the Las Vegas Strip. They offer a wide range of vegan options like ramen, sesame "chicken" rice, sushi, and crispy spring rolls. Daikon serves affordable gluten-free options as well.
If you live in the area, the restaurant is located in the Whole Foods Market Plaza. They serve vegan food from 11:00 am to 9:00 pm Monday through Saturday. Daikon Vegan Sushi is closed on Sundays. If you're looking for a vegan restaurant open on Sunday, there are also a few other vegan sushi spots in the neighborhood.
Location: 7210 W Lake Mead Blvd #1, Las Vegas, NV
VeggiEAT Xpress Las Vegas
VeggiEAT Xpress isn't located too far from Daikon Vegan Sushi. You can find the restaurant near the Village Center Circle in Summerlin. VeggiEAT has an extensive menu of vegan dishes prepared with fresh ingredients. Some of the options here include vegan sandwiches, stir fry, sushi, noodles, and specialty rolls.
The restaurant also has a second Las Vegas location in Henderson on the opposite side of the city. Both VeggieEAT restaurants are high-quality and offer dine-in and takeout options. You can also order delivery using the Grubhub app.
Location: 1910 Village Center Cir Ste 1, Las Vegas, NV
Location 2: 390 N Stephanie Street, Ste 101, Henderson, NV
Hanabi Sushi & Rolls Las Vegas
Hanabi Sushi & Rolls is another vegan sushi spot located in Summerlin, which is quickly becoming a hotspot for vegan restaurants in Vegas. Hanabi isn't a fully vegan restaurant, however, they do offer a wide range of vegan and vegetarian options on their menu. This is the perfect spot to eat if you have friends who are not vegan dining with you.
Some of the vegetarian dishes available include veggie rolls, avocado rolls, fried tofu rolls, veggie tempura, veggie spring rolls, and bean curd tempura rolls, to name a few. Out of all of the vegan sushi options, Hanabi may offer the best deal since they are an all-you-can-eat restaurant ($25.95 for lunch and $31.95 for dinner). They offer dine-in, takeout, and delivery.
Location: 9350 W Sahara Ave #150, Las Vegas, NV
Hiroba Sushi Las Vegas
Hiroba Sushi isn't a 100% vegan restaurant, but they do offer a ton of vegan-friendly and gluten-free options. Their menu has over 20 vegetarian dishes, including items like spring rolls, avocado cucumber rolls, edamame, tofu, vegetable tempura rolls, seaweed salad, and honey crispy potato chips.
The restaurant is located in Henderson, making it a popular spot for Vegas locals. Hiroba is open every day except Monday. You can order takeout as well, but they don't typically deliver.
Location: 10720 S Eastern Ave #100, Henderson, NV
Other Restaurants that Serve Vegan Sushi in Las Vegas
Most sushi restaurants in Vegas offer some vegan or vegetarian options on their menu. I highlighted Hanabi Sushi and Hiroba Sushi on this list, but there are plenty of others that have a partial vegan selection. Sushi Fever is another spot I really like when I'm craving some sushi while in Las Vegas.