While you're in Las Vegas, you should seriously consider eating at an authentic Japanese restaurant. There are dozens of popular Japanese restaurants located throughout the city, so I recently made an effort to try all of them. After eating sushi for nearly a month straight, I found these to be the best places to get Japanese food in Las Vegas.
Best Japanese Restaurants in Las Vegas
1. Geisha House Steak & Sushi
Geisha is one of the best Japanese restaurants in Las Vegas. It was also one of the first Japanese hibachi restaurants in the area. I highly recommend that you try their premium bento boxes, onigiri dishes, and fried rice bowls if you plan on dining here. Their sashimi is very good as well.
Although it's located in the northern part of the city, the food makes the trip worthwhile, especially if you're a local. Geisha is one of the best hibachi grills in town.
Location: 6572 N Decatur Blvd #150, Las Vegas, NV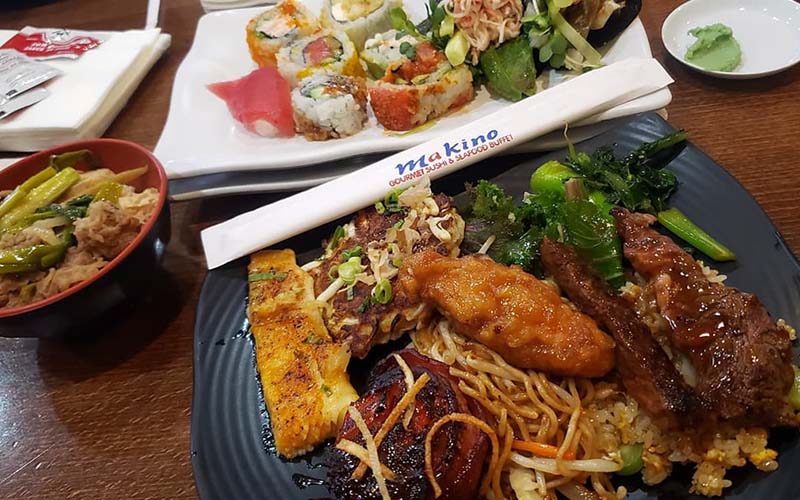 2. Makino
Makino is a Japanese sushi and seafood buffet located near the Chinatown neighborhood of Las Vegas. The restaurant is owned and operated by international sushi chef, Kaku Makino. They offer an all-you-can-eat (AYCE) lunch and dinner menu for $25-$40 a person.
The prices at Makino have gone up in recent years, but it still remains one of the best Japanese buffets in the city. The wide selection of seafood and sushi makes this place a local favorite for authentic Japanese food.
Location: 3965 S Decatur Blvd #5, Las Vegas, NV
3. Benihana
If you're looking for a Japanese restaurant with some flair, look no further than Benihana. Master sushi chefs will prepare your food right in front of your face. The menu features traditional teppanyaki dishes along with sushi, fresh sashimi, and maki rolls.
The restaurant accepts reservations over the phone and through Opentable, plus they take delivery and takeout orders. There are two locations near the Strip, one at the Fashion Show Mall and the other at the Westgate Hotel. The Westgate location is closed on Monday, but it's open from 5 pm to 10 pm every other day of the week.
Location: 3200 S Las Vegas Blvd, Las Vegas, NV (Fashion Show Mall)
Location 2: 3000 Paradise Rd, Las Vegas, NV (Westgate Resort & Casino)
4. Kabuki Japanese Restaurant
Kabuki Japanese Restaurant is located just south of the Strip. They are famous for their happy hour specials and fresh dishes. Kabuki's menu features both traditional and modern Japanese cuisines, like grilled Yellowtail and calamari rings.
The restaurant offers both pickup and delivery options, so you don't have to wait for your food. The staff has always been very friendly every time I've visited, and the prices are in-line with other restaurants of similar quality. Make sure you check out their sake menu.
Location: 6605 S Las Vegas Blvd Suite 147, Las Vegas, NV
5. Sushi Takashi
Sushi Takashi is another Japanese spot found in Chinatown. They have a ton of unique specialty rolls on their menu, along with fresh Japanese tapas. No matter what you order here, you can't go wrong.
The owner and head chef, Koji Takashi, has over 30 years of dining experience, and it shows well it comes to food quality. Like many other Japanese restaurants in Vegas, Takashi offers dine-in, takeout, and delivery options. Just be aware that they do close every day from 2:30 pm to 5:00 pm.
Location: 5300 W Spring Mountain Rd #101, Las Vegas, NV
6. Yummy Grill & Sushi
If you're looking for good-quality sushi at an affordable price, I recommend you stop by Yummy Grill & Sushi. The restaurant serves a number of musubi, nigiri, tempura, sushi roll, and sushi burrito options. Some of their specialties include the Alaskan Roll, Garlic Tuna Nigi, and the California Crunch Roll.
You can find them in Summerlin, which is about 20 minutes west of the Las Vegas Strip. If you don't live in the area, you can also order delivery on Grubhub.
Location: 7331 W Lake Mead Blvd #105, Las Vegas, NV
7. Osaka Japanese Bistro
Osaka Japanese Bistro has two locations in Las Vegas, one in Henderson and another a bit west of the Strip. Their claim to fame is the fresh ingredients they use in every dish. Not to mention that Osaka was the first Japanese restaurant in to open in Las Vegas.
You can order dishes from the teppanyaki grill or the sushi bar. The menu consists of a wide variety of options, including wagyu steak, rib eye, tiger shrimp, salmon, and signature sushi rolls, just to name a few items. The location that's closer to the Strip is open until 2 am daily, making it an excellent place to grab late-night sushi.
Location: 4205 W Sahara Ave, Las Vegas, NV
Location 2: 10920 S Eastern Ave, Henderson, NV
8. 888 Japanese BBQ
888 Japanese BBQ is one of the newest Japanese restaurants in Vegas. It's very similar to a Korean BBQ restaurant since you have the options to order different meats and cook them using a grill at your table. There are also various sushi options available.
The menu comes in an all-you-can-eat format, so you can order as much food as you want. There is a 90-minute time limit for AYCE, but you should be pretty full by that time. The adult menu costs between $25 to $40 a person, depending on the quality of meats you get. Make sure you check out their flavored soju and sake while dining here.
Location: 3550 S Decatur Blvd, Las Vegas, NV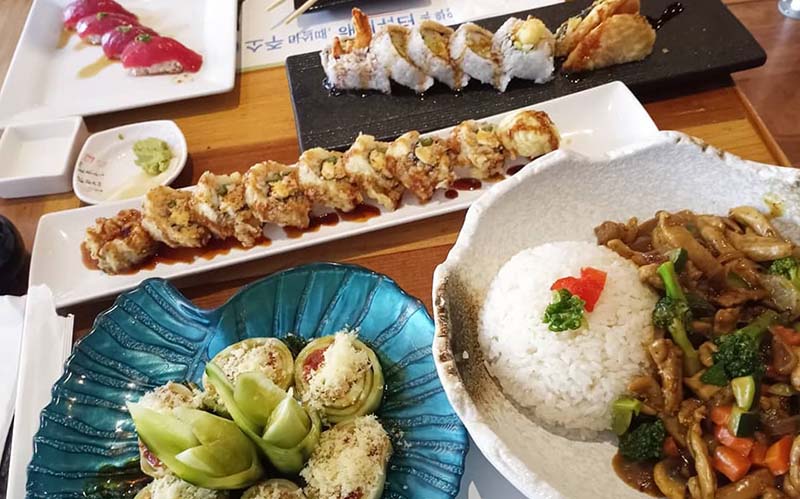 9. Kaizen Fusion Roll & Sushi
Kaizen Fusion Roll & Sushi is another great Las Vegas Japanese restaurant. It's located a few minutes east of the Las Vegas Strip near the University of Las Vegas. This is a great place to visit if you're looking to get away from the expensive restaurants on the Strip.
If you're in a hurry, Kaizen also offers takeout and delivery options. The menu has a wide range of sushi rolls, tempura rolls, sashimi, and tofu. The prices here are reasonable considering the quality of the fish.
Location: 4480 Paradise Rd #900, Las Vegas, NV, USA
10. Ondori Asian Kitchen
Onndori Asia Kitchen is located in the Orleans Hotel & Casino a few blocks off of the Strip. This chic Asian restaurant serves both Chinese and Japanese cuisine, along with a bit of sushi. Their menu includes items like fried rice, dumplings, Mongolian chicken, shrimp tempura, and edamame.
The restaurant is open daily from 11:30 am to 12:00. It can get busy at times, so a reservation is recommended. However, Ondori doesn't take reservations on the weekend (Friday, Saturday, and Sunday).
Location: 4500 W Tropicana Ave, Las Vegas, NV (Orleans Casino)
11. Hanabi Sushi & Rolls
Hanabi Sushi & Rolls is an (AYCE) all-you-can-eat sushi restaurant that offers Japanese entrees as well as sushi rolls. They offer a number of classic and specialty rolls and even have a vegetarian menu. You can eat as much as you want for $25.95 (lunch) or $31.95 (dinner).
Hanabi is located in Regal Village Square in Summerlin, so if you live in that area, this is going to be the closest Japanese restaurant to you. You can dine-in, get takeout, or order delivery.
Location: 9350 W Sahara Ave #150, Las Vegas, NV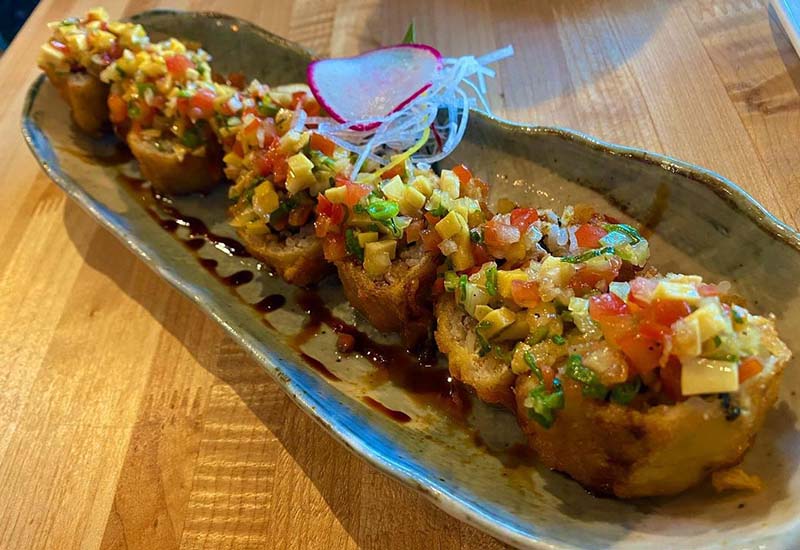 12. Chikyu Vegan Sushi Bar Las Vegas
Chikyu Vegan Sushi Bar Las Vegas is one of the few plant-based Las Vegas Japanese restaurants. The chefs utilize Japanese culinary techniques using ingredients like vegetables, mushrooms, fruits, and flowers to prepare delicious vegan dishes. The entire menu here is vegan.
It's amazing how large the menu is at Chikyu considering that they don't serve any meat. And the food is excellent. The restaurant is open from 4:30 pm to 9:30 pm daily (with the exception of Monday since they're closed). There are no reservations as all tables are distributed on a first-come, first-serve basis.
Location: 1740 E Serene Ave #130, Las Vegas, NV
13. Yellowtail Japanese Restaurant
The Yellowtail Japanese Restaurant is a high-end sushi spot found inside the Bellagio Hotel & Casino. The restaurant serves both traditional and modern dishes from Japan. The restaurant's head chef, Akira Back, even has a Michelin Star, so you know that the food is good.
The menu at Yellowtail includes an abundant selection of sushi rolls, sashimi, and tempura (you can order fresh omakase too). I particularly enjoy the braised Wagyu beef short ribs. Just know that Yellowtail isn't cheap, it's one of the most expensive Japanese eateries on this list, but the food is worth the price tag.
Location: 3600 S Las Vegas Blvd, Las Vegas, NV (Bellagio)
14. TAO Asian Bistro
TAO Asian Bistro is another upscale restaurant that serves Asian food. This spot serves pan-Asian dishes with a focus on Japanese, Chinese, and Thai dishes. Pretty much any cuisine that you can think of is on the menu.
The ambiance at TAO is unmatched by any Vegas restaurant. The silk draperies and infinity pool filled with Japanese Koi definitely sets the mood. TAO is also famously associated with the TAO Nightclub located next door. So if you're looking to have a night out while in Vegas, this is the place to do it. You may even get free entry, courtesy of the restaurant.
Location: 3377 S Las Vegas Blvd, Las Vegas, NV (Venetian)
15. Ono Sushi
Ono Sushi is an AYCE sushi spot found about 10 minutes from the Las Vegas Strip. You can order as much Japanese sushi as you want for only $24 during lunch. Once dinner rolls around, the price is increased to $29, but it's still a good deal.
You can order nigiri, skewers, soups, salads, desserts, and rolls off of the menu. The food is good yet affordable, and the waiters are always friendly. You're in for a treat when you eat here.
Location: 4161 S Eastern Ave Suite A1, Las Vegas, NV
16. JJanga Steak & Sushi Las Vegas
JJanga Steak & Sushi has two locations in Las Vegas – one in Spring Valley and the other in Paradise, Nevada near the Strip. The one near Spring Valley is a Japanese hibachi restaurant with some sushi options. I highly recommend you order something off of the hibachi grill.
The restaurant closer to the Strip is called JJanga Sushi & Oyster Bar. They have the same sushi menu but have a couple more sashimi options. Both spots are great places to pick up Japanese food.
Location: 6125 S Fort Apache Rd, Las Vegas, NV
Location: 280 E Flamingo Rd, Las Vegas, NV
17. ITs SUSHI
ITs SUSHI is a late-night Japanese restaurant in Chinatown Las Vegas. If you're looking for something to eat late at night, this is a solid option since they're open until 2 am. You can order all of the classic sushi flavors like tuna, salmon, albacore, red snapper, shrimp, crab, squid, and octopus.
There's an extensive sushi roll menu as well. Plus, ITs SUSHI is all-you-can-eat, so you can order as much food as your heart desires. It's a newer restaurant, but you can tell it's a local favorite if you read any of the reviews people post online (including this one).
Location: 4815 Spring Mountain Rd, Las Vegas, NV
18. Sushi Ya
Sushi Ya is right down the street from ITs SUSHI. This is another premium AYCE spot with a great selection. You can order unlimited rolls, noodles, and combination dishes for $30 a person. There's a lot on the menu, but I really like their Bulgogi Box.
The restaurant is open every day from 11:30 am to 11:00 pm. On the weekend, they actually stay open an hour later than normal, which gives you enough time to pick up your food if order takeout late at night.
Location: 3650 S Decatur Blvd, Las Vegas, NV
Japanese Restaurants on the Las Vegas Strip
These are all of the Las Vegas restaurants on the Strip that serve Japanese food. Most of these spots are located inside hotels.
Benihana
TAO
Yellowtail Japanese Restaurant
Nobu is another excellent Japanese restaurant in Las Vegas. It's located inside Caesars Palace on the Las Vegas Strip, but I didn't include it on this list since it's already on our list of best Las Vegas sushi restaurants. Nobu also has a second location inside the Virgin Hotel.
There are a few other sushi restaurants on the Las Vegas Strip not mentioned in this article. Dining at these restaurants is generally more expensive than the off-strip options. A few of them include:
Wazuzu
Mizumi
Otara Robata Grill
Zuma
Koi
Morimoto
Map of Las Vegas Restaurants that Serve Japanese Food
Here's a map of all the Vegas restaurants that serve Japanese food. You can use this map to save yourself some time and find all of the Japanese restaurants near you.
Top Japanese Restaurant Las Vegas
There are plenty of great places to grab sushi, but Makino is the best Japanese restaurant Las Vegas. Dining at the Yellowtail Japanese Restaurant at the Bellagio is also a very good option, however, it can get expensive quickly. Overall, you really can't go wrong choosing any Japanese restaurants on this list.
Next: Sushi Fever Las Vegas: Menu, Prices & Reservations
Previous: Best Conveyor Belt Sushi Las Vegas – Revolving Sushi Buffets