There is no shortage of quality sushi restaurants in Las Vegas. You can find both luxury and affordable sushi places all over the Strip.
After getting a few recommendations, I decided to try all of the most popular Las Vegas sushi restaurants to find out which ones are the best. After eating endless sashimi and spicy tuna rolls for a month, I'm convinced these are the best places to eat sushi in Las Vegas.
Best Sushi in Las Vegas
1. Sushi Hiroyoshi
Sushi Niroyoshi offers some of the best sushi in Las Vegas. The food here is fresh, authentic, and fairly priced for what you're getting. Plus, there is no shortage of options on the menu.
You can find the restaurant located a few minutes west of Fremont Street in downtown Las Vegas. The head sushi Chef at Hiroyoshi, Hiro-san, has been preparing top-quality sushi, sashimi, and maki for nearly 20 years. Overall, it's a great sushi option that doesn't break the bank.
Location: 5900 W Charleston Blvd #10, Las Vegas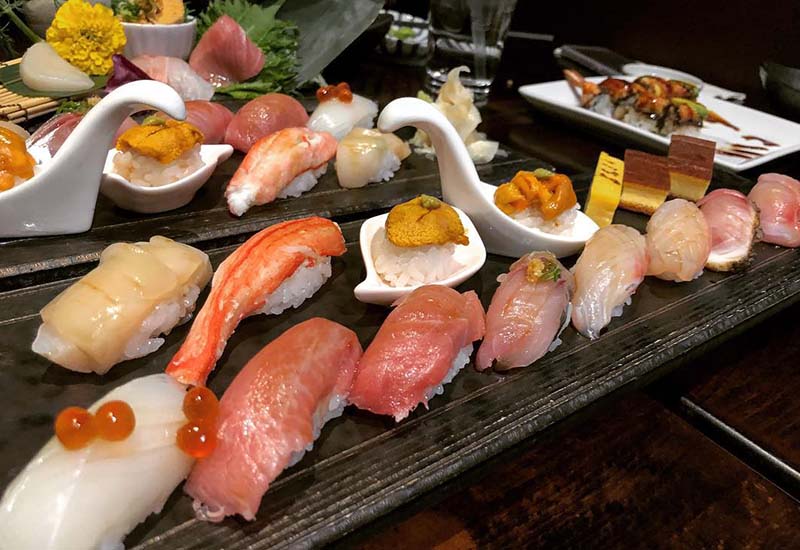 2. Kabuto Edomae Sushi
Kabuto Edomae is an excellent sushi restaurant located in Las Vegas' Chinatown neighborhood. You can expect to pay around $50-$100 for a meal at Kabuto, but it's worth it. The fish used in the sushi are imported directly from Japan.
When you order the omakase (which I highly recommend you do), they hand-deliver each dish to you and explain what it is. They are only open from 5:30pm-9:30pm, so you want to make a reservation in advance. They offer takeout as well.
Location: 5040 W Spring Mountain Rd, Las Vegas
3. Sen of Japan
Sen of Japan is a casual Japanese restaurant that offers sushi along with other entrees like steak and seafood. The dishes here are designed by Chef Nakano Hiromi, a former chef at Nobu, so you know the menu is good.
Sen of Japan offers an extensive sushi and maki roll menu that can be ordered both a la carte and to-go. Most meals are in the $20-$30 range.
Location: 8480 W Desert Inn Rd, Las Vegas
4. Nobu
If you're not familiar with Nobu, it's a luxury Japanese restaurant chain with locations around the world. There are currently two Nobu restaurants in Las Vegas, one at Caesars Palace and another at the Virgin Hotel.
The omasake costs between $165-$200 per person, but the nigiri, sashimi, and fish tacos are much more affordable (in the $10-$20 range per piece). The most popular dish at Nobu is the signature black cod, but they also have a number of other dishes, including smoked Wagyu dumplings, octopus, lobster, ribeye, and king crab. You can expect to pay a pretty penny at Nobu, but you'll definitely remember the experience.
Location: Caesars Palace and the Virgin Hotel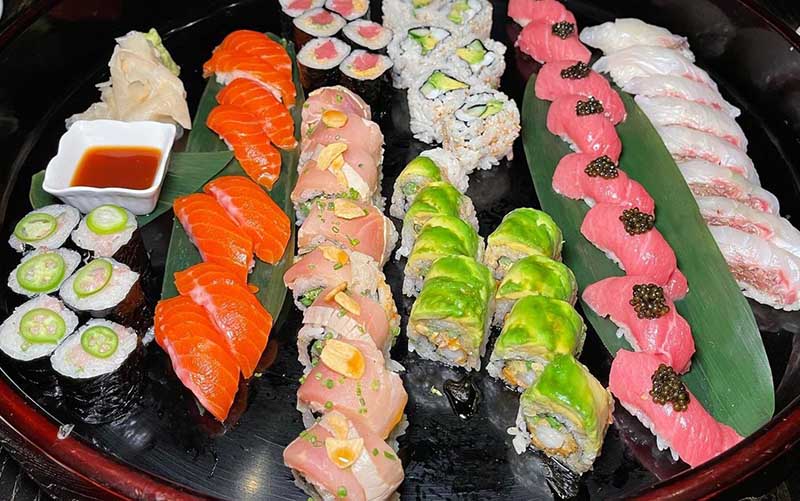 Also See: Best All-You-Can-Eat Sushi in Las Vegas
5. Jaburritos
Jaburritos is an Asian fusion spot that allows you to build your own sushi burritos and bowls. It's almost like Chipotle, but for sushi. This also happens to be the most affordable sushi place on the Las Vegas Strip.
The service is fast, and the food is nothing short of tasty. You can find Jaburritos on the LINQ Promenade in the center of the Strip. You can also order delivery through Uber Eats, Postmates, and Grubhub.
Location: 3545 S Las Vegas Blvd l12, Las Vegas
6. YU-OR-MI Sushi Bar
YU-OR-MI Sushi Bar is one of the best places to grab sushi in downtown Las Vegas (it's located in the arts district a few minutes from Fremont Street). They serve nigiri, sashimi, and specialty rolls. You can dine in, order takeout, or get delivery.
Their classic YU-OR-MI ROLL is delicious and includes tuna, salmon, yellowtail, shrimp, chives, avocado, fish flakes, and house soy, all wrapped in pickled daikon. They also offer several small sharable plates that are slightly more affordable than the main menu.
Location: 100 E California Ave, Las Vegas
7. Sushi Kame
Sushi Kame is one of the best omakase options in Las Vegas. Although expensive (between $250-$350 a person), the restaurant offers a 2-hour experience that you won't get anywhere else. They only have two seating's every night: one from 6pm to 8pm and another from 8:30pm to 10:30pm.
The menu at Sushi Kame is seasonal, so expect different dishes every time that you visit. All of the food is hand-crafted and served by the friendly chefs. This place gets busy, so it's important to make a reservation in advance.
Location: 3616 W Spring Mountain Rd Ste 103, Las Vegas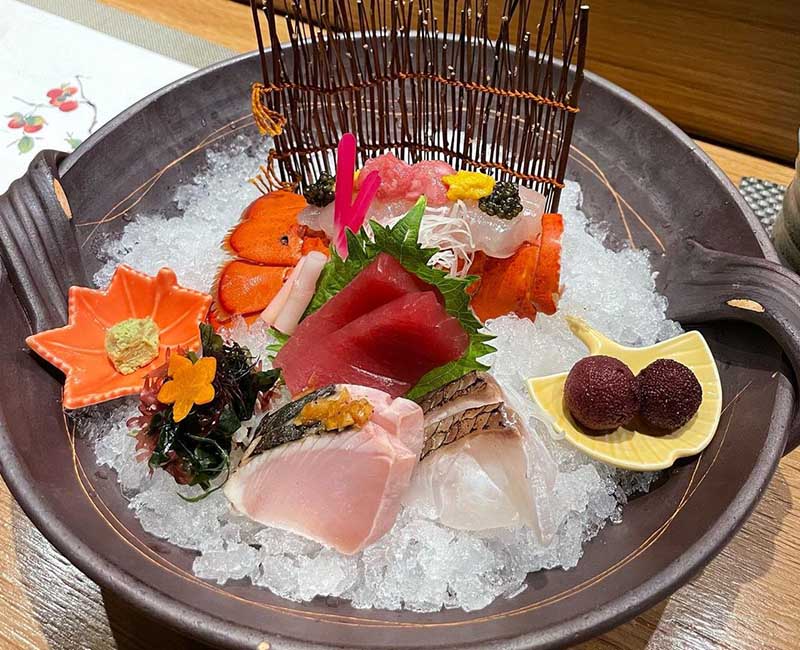 8. SUSHISAMBA
SUSHISAMBA is one of the most popular sushi restaurants on the Las Vegas Strip. It offers a unique dining experience since it serves a combination of Brazilian, Peruvian, and Japanese dishes. They also offer gluten-free and vegan menus.
The menu consists of a wide assortment of options, but there is a clear emphasis on sushi rolls. If you're looking for some deals, check out their SAMBA Hour, which is held every day from 3:00pm to 6:00pm (except Saturday).
Location: 3327 S Las Vegas Blvd, Las Vegas (Venetian)
9. Sushi Roku
Sushi Roku is located inside the Forum Shops at Caesars Palace. After eating here a few times, I would argue it's up there as one of the best places to get sushi on the Las Vegas Strip. And since the restaurant is located on the 3rd floor, you get to enjoy a terrific view of Las Vegas Boulevard while you eat your meal.
You can order your choice of sushi, sashimi, and specialty rolls directly off the menu, or you can order a sushi plate to get in some variety. Sushi Roku offers pickup and delivery options. Both are relatively affordable.
Location: 3500 S Las Vegas Blvd Ste T-18, Las Vegas (Forum Shops at Caesars)
10. Sapporo Revolving Sushi
Sapporo Revolving Sushi has four separate Las Vegas locations, but the one on Spring Mountain Rd is the most popular. Revolving Sushi is unique in that you get to order sushi off of a tablet, and then it gets delivered to you on a conveyor belt.
Each plate that you take off the conveyor belt costs about $3, and you can take as many as you want. When you're done eating, a server will come over and total everything up for you. You typically won't pay more than $20-$30 for a full meal.
Location: 4671 Spring Mountain Rd, Las Vegas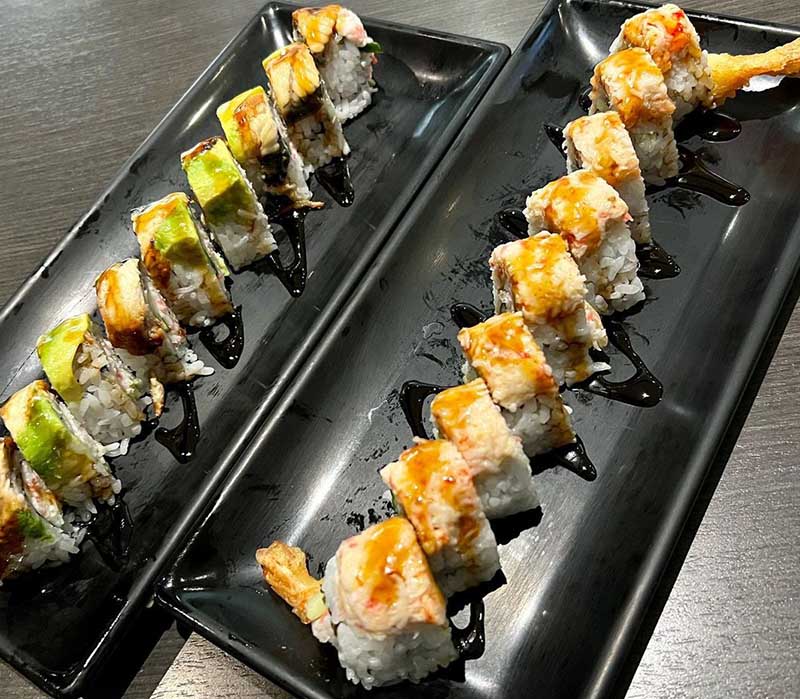 11. Yui Edomae
Yui Edomae is another high-end sushi spot located in Chinatown Plaza. The restaurant is heavily focused on Japanese traditional omotenashi service, which means to wholeheartedly look after guests.
They bring in fresh ingredients that range from fresh seafood flown in daily from Japan to premium Wagyu steak. This is a very simple restaurant, but the food is out of this world.
Location: 3460 Arville St HS, Las Vegas
12. Mizumi
Mizumi is a luxury sushi restaurant found at the Wynn. They serve an expansive menu of sushi, sashimi, tempura, robatayaki, and Wagyu steak. Mizumi even has vegetarian dishes. For beverages, you'll want to take a look at their superb sake and wine menu.
True to the Japanese atmosphere, the restaurant overlooks a koi pond with a 90-foot waterfall. Just make sure you dress appropriately since Mizumi does enforce a business casual dress code.
Location: 3131 Las Vegas Blvd S, Las Vegas (Wynn)
13. Wazuzu
Wazuzu is located at the Wynn's sister hotel, the Encore. This Pan-Asian restaurant combines Japanese, Chinese, and Thai cuisine all on one menu. The sushi menu features favorites like smoked salmon rolls, shrimp rolls, California rolls, and yellowtail.
The food is reasonably priced considering it's located inside one of the most expensive Las Vegas hotels. Expect to pay roughly $30-$50 a person for a meal.
Location: 3131 Las Vegas Blvd S, Las Vegas (Encore)
14. Yellowtail Japanese Restaurant
Yellowtail is an upscale Japanese restaurant found in the Bellagio. The restaurant's head chef, Akira Back, has a Michelin Star, so you know that the food is good. If you're lucky, you can get one of the tables with a panoramic view of the Bellagio Fountains.
The menu at Yellowtail includes sushi, sashimi, sushi rolls, and tempura. One of my favorites is the Angry Salmon specialty roll made of salmon, avocado, serrano peppers, and cucumber. You can order fresh omakase as well.
Location: 3600 S Las Vegas Blvd, Las Vegas (Bellagio)
15. Kaiseki Yuzu
Kaiseki Yuzu is one of the few Japanese restaurants that changes its menu monthly. Similar to Sushi Kame, they only have 2 seating times, 5:30pm and 8:00pm. Those are the only times that you can make a reservation, so it pays to book a few days in advance.
Kaiseki Yuzu offers two different dining experiences, Kaiseki and a sushi bar. Kaiseki is basically a multi-course meal with a wide variety of offerings. It costs between $125-$210, depending on what course you get, but it's well worth the experience. Also know, that they are closed on Tuesday and Wednesday.
Location: 3900 Spring Mountain Rd #A5, Las Vegas
16. Zuma
If you're staying at the Cosmopolitan, Zuma is going to be your closest sushi option. It's modeled after the Izakaya dining style, which is a casual Japanese bar. Zuma is known for its award-winning cocktails, but its authentic Japanese cuisine is also pretty good, to say the least.
They offer a modern menu that's prepared in three separate kitchens: the main kitchen, a robata grill, and a sushi counter. Zuma serves omakase, nigiri, sashimi, and maki rolls. They also have lobster, Wagyu, and rib-eye steak on the menu if you prefer a cooked meal.
Location: 3708 S Las Vegas Blvd, Las Vegas (Cosmopolitan)
17. Morimoto Las Vegas
You can find Morimoto inside the MGM Grand. It's named after Chef Masaharu Morimoto, who was one of the original stars of the hit TV show The Iron Chef. His distinct personality makes this one of the best dining experiences in Vegas.
You can order sushi, sashimi, maki rolls, and caviar off of the menu. Morimoto Las Vegas has several unique fish on the menu, including salmon, tuna, eel, squid, yellowtail, octopus, shrimp, red snapper, crab, and lobster.
Location: 3799 S Las Vegas Blvd, Las Vegas (MGM Grand)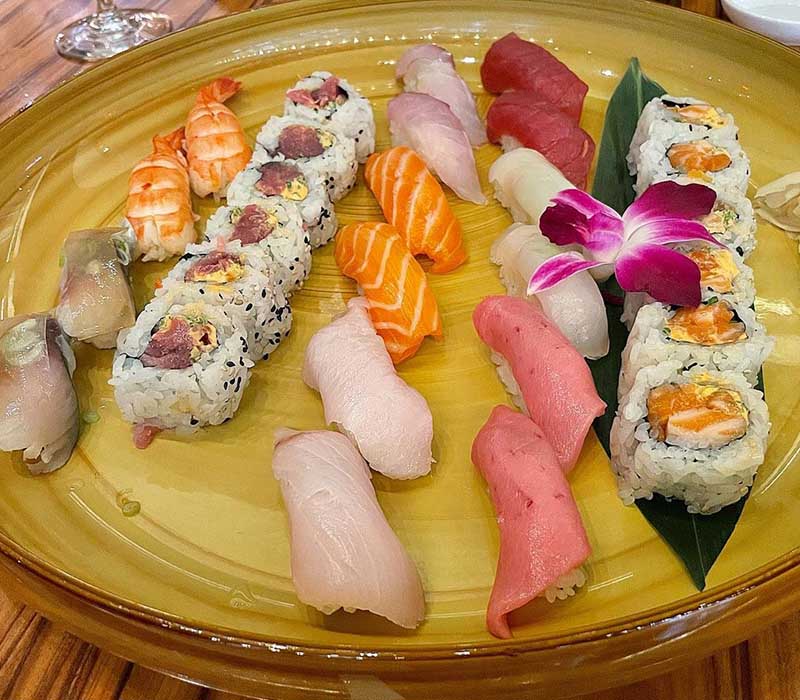 18. Soho Japanese Restaurant
Chef John Chien Lee used to run a Japanese restaurant on the Strip but ventured off to open his own eatery a few years ago. His new restaurant, Soho, is a much cheaper alternative to the sushi restaurants on the Strip, however, the food is just as good.
Visit between the hours of 3:00pm and 6:00pm to take advantage of their happy hour special. Soho Japanese Restaurant offers dine-in, takeout, and delivery for your convenience. They also have a sister restaurant called Soho Sushi Burrito.
Location: 7377 S Jones Blvd Ste 116, Las Vegas
19. Koi Restaurant and Lounge Las Vegas
Koi can be found inside of the Planet Hollywood Casino on the second level. This Japanese restaurant offers a seductive ambiance making it the perfect spot to grab some sushi before a night out. The happy hour menu (5:00pm to 7:00pm) offers salmon rolls for as low as $6 and spicy tuna rolls for as low as $8.
Koi offers both sushi and sashimi in a variety of flavors, including tuna, salmon, yellowtail, albacore, eel, crab, shrimp, octopus, urchin, and toro. The rolls are delicious too. I really enjoyed the shrimp tempura, rainbow, and vegetable rolls.
Location: 3667 Las Vegas Blvd S, Las Vegas (Planet Hollywood)
20. Tokyo Boys
Tokyo Boys is one of the few places to eat sushi in Henderson, NV (Henderson is part of the Las Vegas Metropolitan area). Very few people know about this place, making it one of the city's best-kept secrets. The interior of the restaurant looks like a '50s diner, but they serve some terrific sushi.
You can order sashimi, sushi, donburi bowls, and specialty rolls. Their signature dishes and bento boxes aren't bad either. Please note that Tokyo Boys is closed on Monday and Tuesday.
Location: 375 N Stephanie St UNIT 311, Henderson, NV
21. RA Sushi Bar
RA Sushi is a restaurant and bar found inside the Fashion Show Mall. One of the best features of RA Sushi is the outdoor patio that overlooks the Las Vegas Strip. Aside from the view, the food is really good too.
RA Sushi offers an extensive and diverse menu that includes sushi, sashimi, maki, nigiri, specialty rolls, and sushi burritos. They also serve bento boxes, hibachi, and poke, along with a gluten-sensitive menu. The majority of the dishes are in the $10-$25 range. You can order takeout and delivery as well.
Location: 3200 S Las Vegas Blvd #1132, Las Vegas (Fashion Show Mall)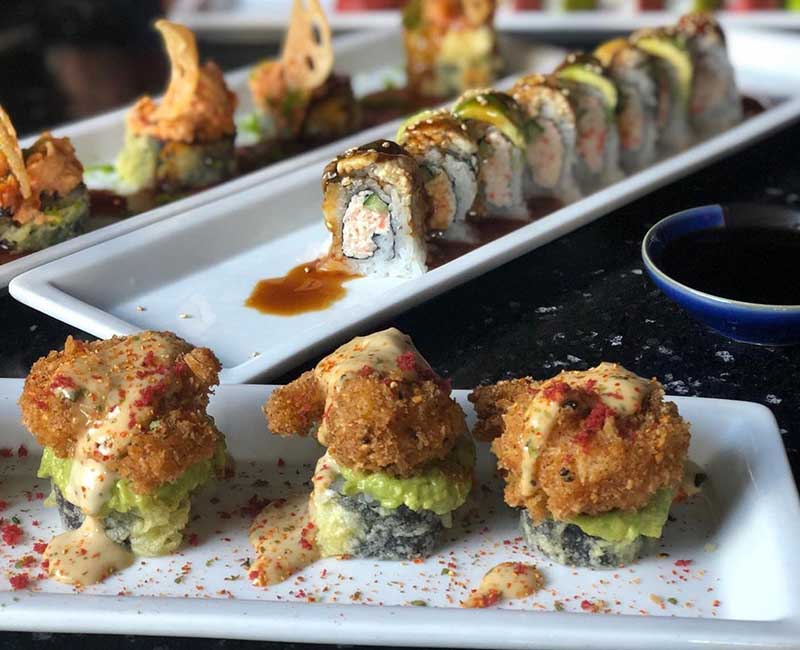 22. Hiroba Sushi
Hiroba Sushi is also located in Henderson near Tokyo Boys. Just like Tokyo Boys, Hiroba isn't as well known as some of the other sushi shops in Vegas. The locals that do eat here rave about the fast service and excellent prices.
They offer a good selection of sashimi, sushi rolls, deep-fried rolls, sushi plates, udon (noodles), and donburi (rice bowls). Hirobu has a vegetarian and gluten-free menu as well. You can dine-in or order to-go.
Location: 10720 S Eastern Ave #100, Henderson, NV
23. Kumi Japanese Restaurant
Kumi serves Japanese cuisine with a Korean-American twist. You can find them inside Mandalay Bay on the south end of the Las Vegas Strip. This spot has a great ambiance and the service is top-notch.
When I ate here, I tried their signature Bluefin Tuna Pizza, and I recommend that you do the same. There are plenty of other menu options at Kumi as well, including specialty sushi rolls, nigiri, sashimi, combination plates, Wagyu steak, and seafood.
Location: 3950 S Las Vegas Blvd, Las Vegas (Mandalay Bay)
24. OTORO Robata Grill and Sushi
OTORO is an intimate sushi spot found inside of the Mirage. This place is known for its terrific service and bite-sized meals. If you're looking to split something small with your friends, OTORO is an excellent choice.
Their sushi menu features rolls, nigiri, and sashimi. The options are a bit limited compared to other sushi restaurants, but prices are super reasonable. I really liked their entrée menu as well, which included Chilean Sea Bass, Wagyu steak, filet mignon, and salmon.
Location: 3400 Las Vegas Blvd S, Las Vegas (Mirage)
25. Blue Ribbon Sushi Bar and Grill
If you're staying near the Red Rock Hotel, you'll want to check out Blue Ribbon Sushi Bar. This place serves fresh sushi rolls and sashimi daily, along with burgers and wings. This makes it a great choice if not everyone in your group wants to eat sushi.
The menu here has different sections for east and west-coast fish, giving you a ton of options. There is a yasai (vegetable) sushi section if you don't eat meat.
Location: 11011 W Charleston Blvd, Las Vegas (Red Rock Casino)
26. Musashi Japanese Steakhouse
Musashi Japanese Steakhouse is a late-night sushi restaurant located a few blocks off of the Strip. It's a popular spot for locals since it's open until 1am on the weekends.
They serve sushi rolls and nigiri along with Japanese teppanyaki, chicken, steak, and seafood. You also get entertained by the chefs as they cook the food in front of you. Musashi is a very underrated Japanese restaurant in Las Vegas.
Location: 3900 Paradise Rd, Las Vegas
Best Sushi on the Las Vegas Strip
There are several places to eat sushi in Vegas hotels. These are the best sushi restaurants on the Las Vegas Strip.
SUSHISAMBA Las Vegas
Wazuzu
Mizumi
RA Sushi
Sushi Roku
Nobu (Caesars Palace)
Jaburritos
Yellowtail
Koi Las Vegas
Zuma
Marimoto Las Vegas
Kumi
OTORO
You have no shortage of dining options when it comes to sushi in Las Vegas. All of these places offer excellent food, so I can't say one is better than another. However, if you're on a budget Jaburritos, RA Sushi, and Sushi Roku have the best prices.
Map of Sushi Las Vegas
If you're looking for the nearest sushi Las Vegas, check out the map below. All of the Las Vegas restaurants mentioned in this article can be found on the map.