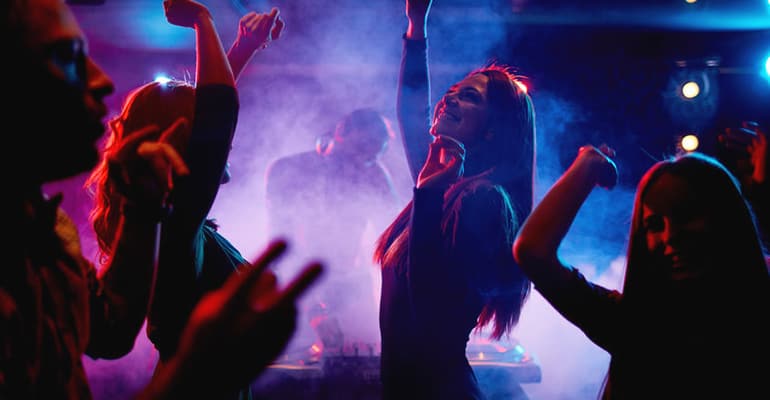 Las Vegas nightclubs close by 4:00 am, so if you want to keep the party going well into the morning you're going to have to attend an after hours club. There are only a handful of decent after hours spots in Vegas and many of the best ones fly under the radar.
It can be tough to avoid the clubs that are just plain bad if you don't have any firsthand experience partying at these venues. So, I decided to visit all of them to find out which is best.
1. Drai's After Hours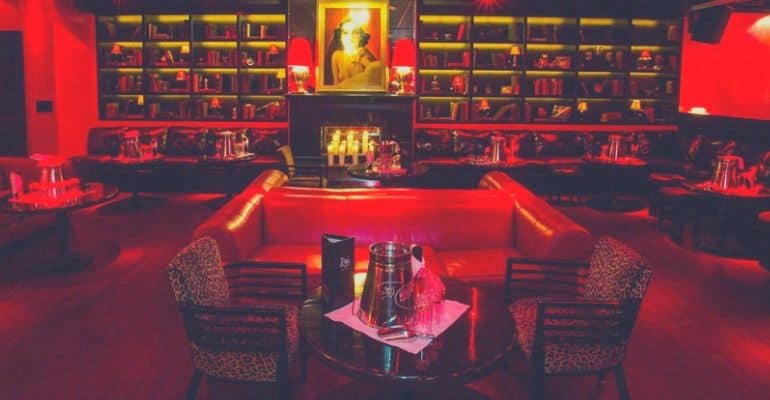 Not to be confused with Drai's Nightclub (located on the rooftop of the Cromwell), Drai's After Hours can be found in the basement of the hotel. Drai's After Hours has been a staple in Vegas nightlife since the late 90's and is the longest standing club in town.
Since it's the most well known, Drai's is always the busiest after hours spot on the strip. The crowd is always lively and you get a solid mix of guests. The club itself has 2 rooms and the DJs play a combination of EDM and Hip Hop.
Drai's After Hours opens it's doors around 1:00 am and keeps going until 8:00 am. It's open Thursday through Sunday, and on busier nights the club sometimes remains open until 10:00 am! Drai's peaks around 4:00 am, since that is well everyone heads over from the closing nightclubs.
How To Get Into The Club
Drai's After Hours offers a free guest list. Women on the guest list get free entry into the club, and men get a reduced cover charge. You can sign up for the Drai's After Hours guest list for free online. Just ensure you arrive at the club by 2:30 am, since the lines tend to get long. There is a cutoff time for the guest list at 3:30 am.
Dress Code
Traditional nightclub attire is perfectly acceptable at Drai's. Men can wear a button up shirt with jeans and dress shoes. Women can essentially wear anything that isn't too revealing. Most women wear a dress that fits their form, paired with either heels or flats.
2. Terrace After Hours
Terrace After Hours has one of the best views in Las Vegas. It's located on the rooftop of Larry Flynt's Hustler Club, so you're able to watch the sunrise while you party. While Terrace is an after hours venue, the floors below are part of a Gentlemen's club. So, you'll also get access to the Gentlemen's club when you attend Terrace After Hours.
The club plays underground house and techno music, which keeps going long after the sun rises. The club has a chill, relaxed vibe and attracts a diverse crowd. Plus the drinks here are relatively cheap compared to the nightclubs on the strip. Terrace After Hours is only open on Saturdays (Sunday mornings) from 2:30 am to 8:00 am.
How To Get Into The Club
Like Drai's, Terrace After Hours offers a free guest list. But, at Terrace both men and women get free entry into the club when they use the guest list. Just make sure to arrive by 2:30 am, since there is a cutoff time at 3:00 am. If you miss the cutoff you'll have to pay cover, which is usually $10-$15.
Dress Code
The dress code at Terrace is super casual. A t-shirt and jeans will fly just fine at this club. Just avoid looking like you just rolled out of bed. Try to avoid sports jerseys, tank tops, sweatpants and shorts.
Other Popular After Hours Spots
The three after hours clubs I mentioned above are by far the most popular. But, there are a couple other spots to party after 4:00 am that are less mainstream. Some of these places are still active party locations while other are more of a spot to wind down after a long night out.
3. Gold Spike
Gold Spike is open 24 hours a day 7 days a week. This massive bar has games like beer pong, giant Jenga, shuffle board, pool tables and live music. There is plenty to do here, so you'll never get bored. They also have plenty of food options if you want a late-night/early-morning snack.
The only downside to Gold Spike is that it's located on Fremont Street, which is about a 10-15 minute drive from the strip. Women always get in free at Gold Spike, but the bar starts charging men a $10 cover around 10:30 pm.
4. Beer Pong at Oshea's
Oshea's is a bar found at the Linq Hotel, in the center of the Vegas strip. If you're staying at any of the surrounding hotels, I would encourage you to check out Oshea's. The bar is always open and they have at least a dozen beer pong tables. It's a fun way to cap off your night without having to travel too far out of the way. If you're hungry there's also a fantastic restaurant called "Hash House A Go Go" just a few feet away within the hotel.
5. Peppermill
Peppermill is another 24 hour after hours spot with a bar and lounge. But, Peppermill also has one of the most popular restaurants in Las Vegas. Everyone from casino workers, to strippers eats at Peppermill. The restaurant has an extensive menu making for a great spot to wind down before you head back to your hotel room. It's even walking distance from the Wynn, so if you attended XS Nightclub or EBC at Night, Peppermill is right next door.
6. Taco Bell Cantina
Who doesn't love some Taco Bell at 5 in the morning? The Taco Bell Cantina is the flagship Taco Bell restaurant in Las Vegas. This restaurant has multiple floors and serves alcohol 24 hours a day. It's the perfect place to refuel if you're having a long night.
Surprisingly, it's also a good place to meet people. There have been times where I have meet someone at one of the nightclubs, and then ran into them again at Taco Bell. This place is packed and everyone comes here once the clubs start closing.
7. Hotel Lobby Bars
This one may seem obvious but a lot of people discount hotel bars. Every Vegas hotel has at least one that's open 24 hours a day. These bars can get pretty busy, especially the ones directly outside of nightclubs. If you're looking for a place to keep partying once you leave the club, look no farther than the bar right in front of your face.
8. Marilyn's Cafe At Tuscany
This is probably my favorite place to come after the club. Marilyn's is a 24 hour restaurant that can be found in the Tuscany Hotel. There's nothing special about this place other than the food. They have a good sized menu and they get your food out within 10 minutes most of the time. My favorite thing to ear here is the steak and eggs special. It costs $6 and you get a steak, 2 eggs and hash browns. There is nothing more satisfying than a hearty meal after a night of partying and debauchery!
Related Questions
What time do pool parties open in Las Vegas? Most pool parties and dayclubs open around 10:30 am. Pool parties often get busier than nightclubs, so it's important to get in line early. Most pool parties offer free entry to anyone that use their guest list. Women on the guest list get free entry at every pool party while men must have an even ratio of women in their group (or a greater number of women than men) in order to get free admission.
What is there to do in Las Vegas at night other than clubs? If you don't go out to a nightclub, the Fremont Street Experience is a popular alternative. It feels like the times square of Las Vegas with plenty attractions like themed bars and street performers. There are also a ton of shops if that's your thing.