Tuesday nights in Las Vegas are something of a legend. Even in the middle of the week some of the best parties in Las Vegas are thrown on Tuesdays. But what makes these parties so great and at what nightclub can you find them?
What is the best nightclub open on a Tuesday in Las Vegas? Omnia is the best Las Vegas nightclub on a Tuesday. Omnia, which is located at Caesars Palace, is among the largest clubs on the Vegas strip. For the most part, Omnia plays EDM music with the exception of the Heart of Omnia, which plays Hip Hop. There is also a rooftop patio called the Terrace, that plays house music.
You may think that Tuesdays are a slow day for Las Vegas nightclubs, but that is just not the case. Omnia consistently throws the best parties in Vegas which you can attend for free by signing up for the guest list. But before going to Omnia, there are a couple of things you will want to take into account.
Omnia Nightclub Beats the Competition Every Tuesday
Omnia is not only the best club that opens its doors on a Tuesday but also the only club open on Tuesday. That's right, there are no other clubs open on a Tuesday night in Las Vegas.
To be fair there are a few lounges open (I'll talk about those later) but as far as mega-clubs go, Omnia is the only one open.
That is not necessarily a bad thing. If you are looking to throw the most epic party, wouldn't you want everyone to be in one place? While Vegas is still popping on a Tuesday it's not nearly as busy as it is on the weekends. You're going to want everyone who is going out to be at the same place, as opposed to being spread out between 3 or 4 clubs.
Having everyone in one place just makes for a better party. And as it turns out, the number of people who consistently go out on Tuesday nights in Vegas is just enough to fill up a single nightclub. Personally, I always thought that having 3 clubs open on Tuesday was a bit much, so I'm happy Omnia took all of the business.
There's a Reason Why Omnia is the Only Club Open on Tuesday Night
There is a reason why it is Omnia that is left standing on Tuesday nights and not another nightclub. Not too long ago there were 3 clubs that opened their doors every Tuesday: Omnia, Drai's, and Hyde.
That's no weak competition but Omnia is the clear winner. Drai's moved their weekday pool party to Thursday while Hyde went out of business.
The parties at Omnia get wild and the Tuesday parties specifically were enough to put their competition out of business. Let's look at what makes Omnia's Tuesday party so great, so you can get the most out of your experience there.
What Makes Partying at Omnia Nightclub So Great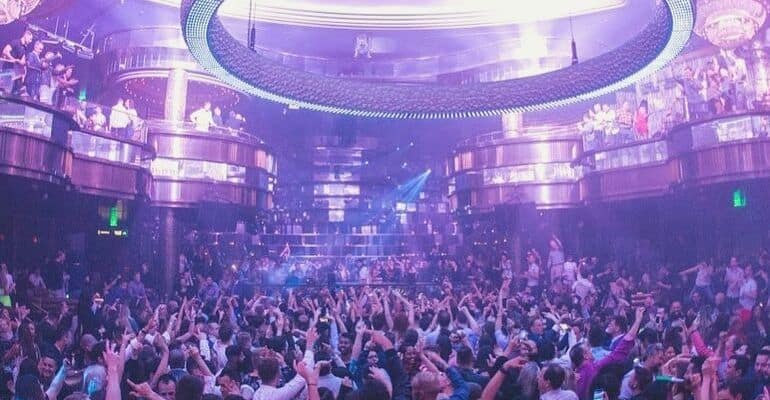 There is an entire list of reasons why Omnia is number 1 but these are the biggest factors:
Omnia has the best DJs
The size of the club (one of the largest in Vegas)
There are 3 separate rooms that all play different music
Tuesday nights are industry nights
They know how to put on a show (lighting & sound effects)
Omnia Has Some Great Musical Talent
I'll start with the DJs. Omnia has some of the biggest DJ names in the business. Resident DJs at Omnia include Calvin Harris, Zedd, Steve Aoki, Lil Jon, and Martin Garrix just to name a few.
Good luck finding DJs like that anywhere else on a Tuesday night. The talent speaks for itself. If you have ever heard of any of these DJs, I would absolutely recommend seeing them live, it's well worth it. You can do that for free by adding your name to the Omnia guest list.
Size Matters at Omnia
Unlike some other clubs, Omnia makes entry as easy as possible. The lines here can get extremely long, especially if there is only one club that's open. So for all the people that walk through Omnia's door every night, I'd say that they do a relatively good job keeping the chaos to a minimum.
Once the club starts filling up it begins to get crowded in some areas, but if this were any other club it would be way worse. The only question mark when it comes to entering the venue is the table line, which can only be described as an organized mosh pit.
The Heart of Omnia – Choose Your Own Music (Plus, Affordable Bottle Service)
This club was designed with 3 very different rooms. The main room is where the headline DJ plays. It has 3 separate bars and encompasses the entire first floor along with the balconies on the second floor. EDM music is what is played here.
Then there is an entirely different room called the Heart of Omnia. The heart room plays almost exclusively Hip Hop music. Honestly, the Heart of Omnia room could be a stand-alone club. It's that good.
The heart room has its own bar, DJ booth, dance floor, bathrooms, and VIP tables. The vibe here is completely different than the main EDM, it's almost like night and day,
If you love Hip Hop music you MUST go to the Heart of Omnia!
It's my favorite spot to listen to Hip Hop music in all of Vegas. They play some new stuff and a whole bunch of classics. You will love it!
The final room is the outside Terrace, which is on the rooftop of Caesars Palace. The Terrace is surprisingly large and features a really long bar and a separate DJ booth. The music here is house music, which I think is a nice change of pace from the eardrum-busting beats downstairs.
The view of the strip up on the Terrace isn't too shabby, especially in the summer months when it is warm out. There are also VIP tables up on the Terrace that offer a relatively affordable price for bottle service if you plan on going that route. If you choose to go for VIP bottle service, you can contact us here, and we'll put you in touch with an Omnia VIP host.
Tuesday Nights are Local Nights at Omnia Nightclub
Tuesday also happens to be local industry night at Omnia. What that means is all the nightlife workers from the other nightclubs come out to Omnia to party and let loose every Tuesday.
If you think you know how to party, wait until you see these guys get a few drinks in them. Partying side by side with Vegas locals just makes the club all that more wild. The crowd always ends up being a really nice blend of tourists and locals which again makes for a good time.
Omnia Puts on a Show
The staple of Omnia nightclub is the giant spinning chandelier dangling above the main dance floor. You may think who cares about a chandelier but trust me, it's quite impressive.
On top of that, the lighting and sound systems may be the best in Vegas. It seems the sound bounces off the walls and keeps getting louder. I could make the argument that Omnia is the loudest nightclub I have ever been to, and I have seen a few nightclubs in my day.
The lighting is top-notch, bouncing off mirrors on the walls and making the show that much better. This venue can capture your attention like no other.
It seems like they have the ability to make the club completely silent and then explode with light and sound at exactly the right time (during a bass drop). All of this is an understatement and you won't see a show like this anywhere else.
Navigating the Rope at Omnia – Avoiding Lines
As I mentioned earlier Omnia can get really busy. It is best to arrive here by 10:15 pm at the latest, but a would even recommend 10:00 pm if a really big DJ is playing. I have seen the guest list line go out the door, around the corner, and well into the sidewalk outside of Caesar Palace.
You do not want to be late for this club, especially if you're on the guest list. Speaking of the guest list I'll cover the rules for that in the section below this.
To find Omnia, enter through the main entrance to Caesars Palace and take a right. You will find Omnia right next to the Sports Book. The guest list line will start near the door that leaves the casino and like I said, it often goes out the door.
Omnia Guest Lists Rules – For Tuesday Nights
There is a free entry guest list for Omnia most nights it is open. I have never seen the guest list closed on a Tuesday, so you can be sure it will be available. One of the best things about Omnia is that there is no girl to guy ratio requirement that some other clubs have. Both guys and girls on the guest list will get free entry.
Although everyone gets free entry, there is a cut-off time around 12:30 am. So if you get there late and end up in the back of the line, you probably are going to have to pay cover. This club gets busy quick and is never empty so there is no harm in going early. You can sign up for the guest list and see upcoming events at Omnia here.
Dress Code on Tuesday Night
Omnia has the second most strict dress code behind Marquee. This is the club where I have seen the most people taken out of line for dress code violations, most of them however have had to do with shoes. I have a friend that was singled out in line for wearing a $600 pair of Yeezys.
Play it safe at this club. Men should wear a button-down shirt, fitted jeans (no loose jeans) and nice shoes. Women should wear a tight dress with heels.
These dress code recommendations are the condensed versions. If you want a full dress code guide and recommendations for men and women, you can check them out here.
Drink Prices at Omnia – Don't Break The Bank
It's no secret that nightclub drink prices are extremely inflated. With $20 a drink being normal at most places, you may want to start drinking before you get to the club.
It is true that you will be saving a lot of money by getting into the club for free on the guest list, but nobody wants to spend $100 – $150 at the bar in a single night.
So what do you do? Do you pre-game in your hotel room? Do you do shots in the parking lot? How do you get your initial buzz?
My recommendation is to get to Omina an hour early and pre-game at the lobby bars. There are several bars located directly outside Omnia that you can buy drinks at before you go it. The drinks at these bars are way cheaper than they are inside the club. This little hack will save you a ton of money over the course of a week.
Other Venues Open on Tuesday – Best Las Vegas Nightclubs
While Omnia is the only mega nightclub open there are a couple of lounge-type venues that are also open on Tuesday. One of them being Voodoo.
Technically Voodoo markets itself as a nightclub and I guess it still is, but it's not really that busy. I don't think I have ever seen more than 50 people there at one time on a Tuesday night.
You are way better off going to Omnia. The only thing Voodoo has going for it over Omnia is the view it has from the 51st floor. Honestly, the view is breathtaking, but if you are looking to party go to Omnia. You can check out Voodoo another time since it's open every night.
Voodoo is also located off the strip at the Rio Hotel and Casino. It's a bit of a hike so keep that in mind.
Related Questions – Best Nightclubs during the Week
What is the best Vegas nightclub on a Wednesday? The best nightclub on a Wednesday in Las Vegas is EBC at Night. This club is a nighttime pool party featuring DJs like The Chainsmokers, Diplo, and DJ Snake. EBC at Night plays EDM music drawing huge crowds every week. Wednesday is also EBC's local night, so there is a good mix of both tourists and Vegas locals in the crowd.
Are there any Vegas pool parties open on Tuesday? There are no traditional Vegas pool parties open on Tuesday. The Flamingo's Go Pool is open but it is not a traditional Vegas pool party. It closely resembles a typical hotel pool. If you are looking to go swimming on a Tuesday it is simply more convenient to stick with the pool at your hotel.