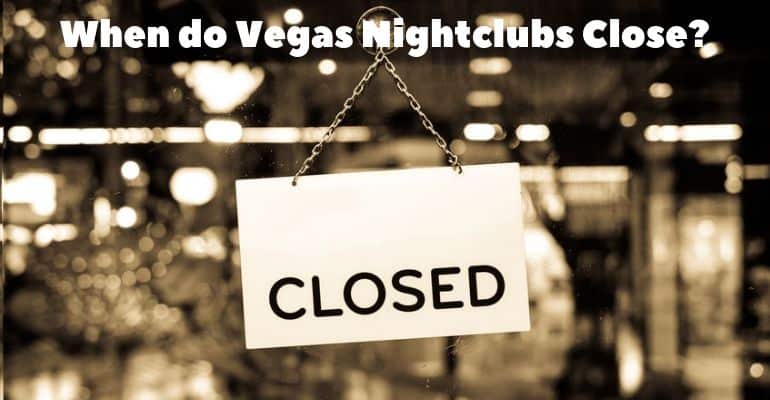 Las Vegas is known as a city that parties all day every day. While it is true that there is always a party happening somewhere in Vegas, the actual nightclubs and bars do have an official closing time. So that begs the question, what time do the nightclubs close and where can you go after to keep the fun going?
What time do clubs in Las Vegas close? Las Vegas nightclubs typically close their doors at 4:00 am. Clubs can close slightly earlier or later depending on how busy the venue was that night. It's also common for guests to remain in the club until 4:30 am while they are finishing their drinks, before being escorted out by security.
While it is not uncommon for the last of the guests to remain inside the venue until 4:30 am, it is safe to say that the party is essentially over by 4:00 am. When the clubs close and you still feel like partying there are plenty of places to go to keep drinking and having fun.
Although, I do have to say, some after hours spots are better than other. Depending on your taste I'll recommend a couple of the most popular spots in this post.
Drai's After Hours Is The Most Popular Late Night Club
Drai's After Hours is probably the most recognized after hours spot in all of Las Vegas, as its been around for over 20 years.
The after hours spot is located in the basement of the Cromwell hotel, as opposed to the normal Drai's Nightcub which is on the rooftop of the hotel. The entrance to the after hours spot is right next to the main entrance to the Cromwell Hotel on the Casino floor, there will be a clear admission line with signage there.
This is a fun spot that plays both Hip Hop and EDM music. The crowd here is going to lean more towards the Hip Hop side, so be aware of that. And since this is one of the most popular after hours spots, there is always going to be a good amount of people at Drai's. There is no need to worry that the club may be dead because at 5:30 in the morning, there WILL BE PLENTY of people here to party with.
Drai's After Hours is open on Thursday through Sunday. It's best to get there around 3:00 am, since this is when it starts filling up. The club closes around 8:00 am, so you will have plenty of time to drink and party.
Bottle service is normally cheaper at after hours spots compared to normal nightclubs, so if you ever wanted the VIP table experience, this is a good place to do it.
As far as cover charges go it's going to cost between $20 – $40 for girls and $30 – $50 for guys. You can also sign up for the guest list and find out more information here. Using the guest list, girls will be free and guys get a reduced cover. If you use the guest list make sure you are in line before 3:30 am.
Terrace at Larry Flynt's Hustler Club For After The Club
This next after hours spot is technically half Gentlemen's club half nightclub. There are multiple floors to this club, each a little different. The 3 floors inside are dedicated to the Gentlemen's club but are also really fun to hang out at. There are 6 full bars and a cigar lunge, so don't worry there is plenty to do.
The main reason why Hustler is on this list is because of the rooftop Terrace. It is only open on Saturday nights (technically Sunday mornings) from 1:30 am to 8:00 am.
If you are into underground house music this is the club for you! There is definitely a rave type of vibe, so if that is your thing you will absolutely love this club. Especially since it is on the rooftop and you get an amazing view of the sunrise around 5:00 or 6:00 am.
You can sign up for the Terrace guest list here. That will get you free entry so long as you arrive by 3:00 am, after that it's $15 a person.
Hotel Lobby Bars Outside The Club Never Close
Hotel lobby bars are probably the most underrated and convenient places to party in Vegas. Of course you don't want to spend your entire night at a lobby bar, but at certain points in the night they are the best places to be.
All the bars in hotel lobbies have drinks that are cheaper than inside the club. So before you go into the club and right when you come out, they are a perfect place to keep your buzz going.
Also, right when the nightclubs close at 4:00 am everyone who was in the nightclub and wants to keep partying goes directly to the lobby bar to keep drinking. So if you're looking to make some friends then definitely head there after the club.
Most want to keep partying but don't know where to go after the club. Lobby bars are a great place to meet people and then invite them to your favorite after hours spot.
Related Questions
What time do they stop serving alcohol in Vegas? Las Vegas bars and clubs serve alcohol 24 hours a day. While there is always a place to buy a drink in Vegas, most of the clubs close around 4:00 am. It is best to buy drinks at casino bars as the drinks there are cheaper and the lines are much shorter.