Striped Bass are one of the most common game fish in Las Vegas, so it's not too difficult to find them. There are some excellent spots to fish for Striper in the Las Vegas area, including:
Lake Mead
Lake Mohave
Colorado River
The lakes near Las Vegas are known for their Striper fishing. In this article, I'll let you know where the best Striper fishing spots are located, and what types of baits to use. I'll also cover some of the local regulations for Striper fishing.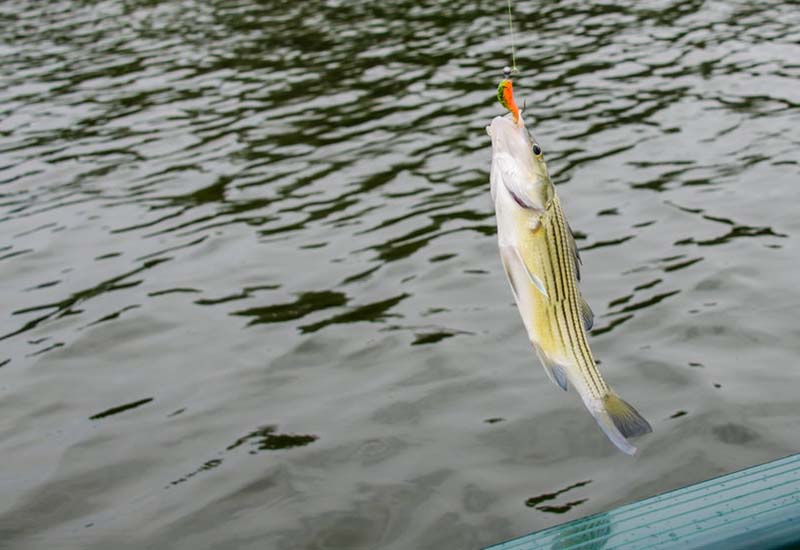 Where to Catch Striped Bass near Las Vegas
The three best places for Striper fishing near Las Vegas are Lake Mead, Lake Mohave, and the Colorado River. All three of these spots have a healthy population of Striper.
The best time to catch Striper is in the early morning or after dark, which is when they're most active. You can still catch them during the day, but Stripers tend to venture into deeper waters as the day progresses.
Lake Mead
There's an overabundance of Striped Bass in Lake Mead. The vast majority of the fish you catch will weigh between 5-10 pounds, but there have been Stripers caught here that weigh up to 40 pounds.
One of the best places to catch Striper in Lake Mead is near Callville Bay. You can usually spot Striper boils in this area. Another hotspot for Striper is near Echo Bay in the northern part of the lake.
You can catch Striper in Lake Mead year-round. In the Spring (March-may), you can usually find them in shallow waters for the spawning season. But in the winter, they tend to migrate into deep parts of the lake.
Lake Mohave
Nevada's record-setting Striper was caught at Lake Mohave in 2001 (it weighed nearly 70 pounds). Similar to Lake Mead, this lake has a very healthy population of Striped Bass.
You can find Stripers all over the lake. I prefer to fish for them in either the upper part of Lake Mohave near Cottonwood Cove Marina or in the far southern part of the lake near Davis Dam. The small coves near Katherine's Landing Marina are also great spots to find Striper.
Colorado River
You'll find plenty of Striper in the Colorado River. If you rent a fishing boat, you can easily sail all the way down the river and try new spots along the way. If you have you're own boat, there are a couple of boat launches near Lake Mohave that will give you access to the water.
One of the best spots to fish for Striper on the Colorado River is Topock Gorge. It's located about 2 hours from Las Vegas, right over the Arizona border. In addition to Striper, the area has a good amount of Largemouth Bass as well.
Best Bait for Stripers
Anchovies are one of the most popular baits used for Striper in the Las Vegas area. However, Stripers will also bite on lures that imitate baitfish.
Another highly-effective bait for Striper is shad. Threadfin Shad are the main food source for Stripers in Las Vegas Valley, so if you catch a few of them, they act as the perfect bait.
You'll often see hundreds of Stripers form boils around schools of shad on Lake Mead. These boils offer the best opportunity to catch Striper. The boils appear randomly, but you can find them by following the birds on the lake.
Lake Mead Striped Bass Limit
As long as the Stripers that you catch on Lake Mead are under 20 inches in length, there's no limit on how many you can keep. However, there is a 20 fish per person limit on Striper over 20 inches long (which is still a very generous limit).
If you want to catch other game fish, know that the National Park Service enforces a limit of 5 Trout, 6 Black Bass, 25 Catfish, and 15 Crappie.
Lake Mohave has the same regulations as Lake Mead. However, once you pass the Davis Dam on Lake Mohave, there is a limit of 10 Striped Bass.
Fishing Regulations in Nevada and Additional Costs
Both Lake Mead and Lake Mohave are located inside the Lake Mead National Recreation Area, so there is a $25 fee to enter the park (or you can purchase an annual pass for $45).
You're also going to need a Nevada fishing license, which costs $40 for residents and $80 for non-residents. Non-residents can also purchase a daily pass for $18 (it lasts for one week).
Since many of the lakes in southern Nevada are located on the Arizona border, you may also want to purchase an Interstate Boundary License for $30. The state boundary is located in the center of many of these lakes.
Other Types of Fish in las Vegas Lakes
Besides Striper, there are plenty of other fish found in Las Vegas lakes. Some of the other fish species found in the area include:
Largemouth Bass
Smallmouth Bass
Rainbow Trout
Crappie
Carp
Sunfish
Bluegill
Channel Catfish
Threadfin Shad
Crayfish
Bonytail Chub
Razorback Sucker
It's important to know that the Razorback Sucker and Bonytail Chub are not game fish. If you want to catch trout, check out the article I wrote about some of the other places to go fishing in Las Vegas. There are several lakes in Las Vegas that get stocked with Rainbow Trout on a monthly basis.
Related Articles