Floyd Lamb Park (also known as Tule Springs) is one of the many urban fishing spots in Las Vegas. If you don't want to make the trip out to Lake Mead, this is one of the best spots to fish in the city.
Floyd Lamb Park has four different fishing ponds. In this article, I'll cover everything you need to know about the park, including the species of fish found in the pond and the local fishing regulations.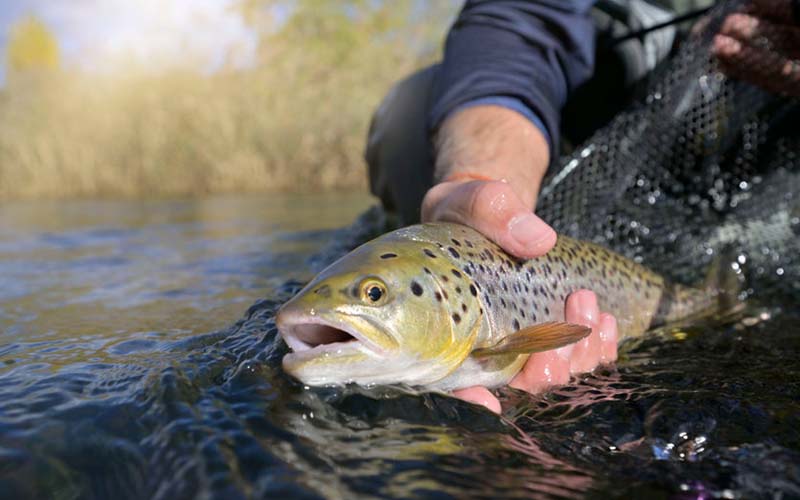 Can You Fish at Floyd Lamb Park in Las Vegas?
Floyd Lamb Park is located on the northern outskirts of Las Vegas. Fishing is permitted year-round since the pond is regularly stocked with game fish.
There are 4 total fishing ponds in the park, but only the largest pond (Tule Springs Pond) gets stocked. However, you can still catch decent-sized fish in all 4 bodies of water. The largest pond measures 5 acres across and has a maximum depth of 15 feet.
What Kind of Fish are in Floyd Lamb Park?
Tule Springs (the upper pond at Floyd Lamb Park) is stocked with Rainbow Trout, Bluegill, and Channel Catfish. You can also catch several other species that have been released into the pond over the years, including Green Sunfish, Largemouth Bass, and Carp.
Rainbow Trout
Channel Catfish
Bluegill
Largemouth Bass
Green Sunfish
Carp
While the park is open for fishing year-round, the best time to catch fish is in the Spring, Summer, and Fall (March-October). These are the months when the fish are the most active.
You won't catch as many fish in the winter since their metabolisms slow down, and they don't feed as often. It seems like the park also slows down on stocking catfish and bluegill in the winter. Cold Creek Pond is a better option for fishing during the colder months.
Stripers are one of the few fish that remain active throughout the winter, however, you won't find any at Tule Springs. If you want to fish for Striper in Las Vegas, you're going to want to head over to Lake Mead.
What Type of Bait Should You Use at Tule Springs?
The type of bait that you use will depend on the type of fish that you want to catch. If you want to go after trout, it's typically best to use PowerBait.
If you want to fish for bass, nightcrawlers and worms are always a good option. For hooking carp, canned corned seems to work really well.
Do You Need a Fishing License at Floyd Lamb Park?
Floyd Lamb Park fishing requires that you purchase a Nevada fishing license. You cannot fish anywhere in Las Vegas unless you have an up-to-date fishing permit.
Locals can get an annual license for $40 or a daily permit for $9. Non-residents can purchase a daily fishing permit for $18 and renew it for $7 per day. Youth fishing licenses only cost $15 regardless of whether or not you're a resident.
Cost to Enter the Park
Unlike many of the other ponds located within Las Vegas, Floyd Lamb Park at Tule Springs requires that you pay a $6 fee per vehicle. You can also purchase an annual pass for $45.
You can fish at Floyd Lamb Park every month of the year, but the park's hours vary by season. From April-September, the park is open from 8 am to 8 pm. In the winter (October-March), the park is only open from 9 am to 5 pm.
Other Things to do at Floyd Lamb Park
Besides fishing, there are plenty of other fun activities at Floyd Lamb Park. The recreational area has a picnic area, barbeque pits, and other wildlife beyond the ponds. You can also hit the mountain bike, hiking, and horseback riding trails.
Additionally, there are volleyball courts and horseshoe pits at Floyd Lamb Park. This is really one of the best parks in the Las Vegas Valley.