Most people visiting Las Vegas come for the casinos, shows, and nightclubs. However, Las Vegas is also a great fishing destination. There are dozens of lakes, ponds, and rivers all around the city.
Whether you're a tourist or a local, this article will provide you with the basics of fishing in Las Vegas. I'll cover all of the best fishing spots, the types of fish found in the area, and exactly what licenses you need to fish in Las Vegas.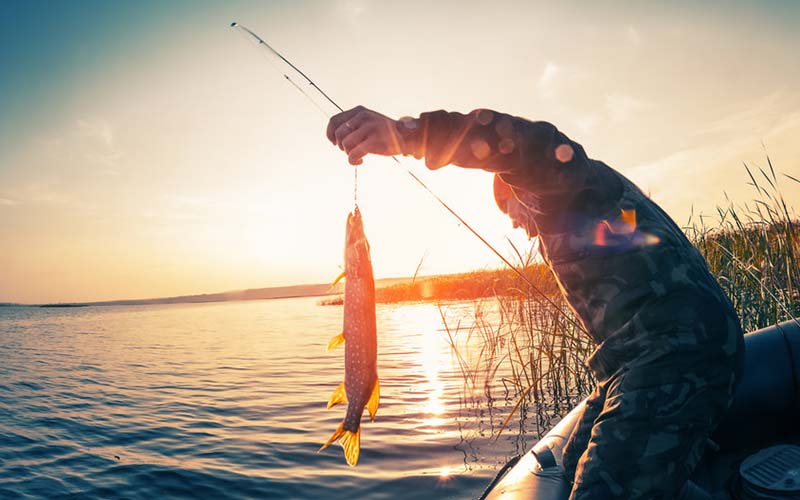 Best Fishing Spots in Las Vegas
Sunset Park Pond
Sunset Park is located a few minutes from the Las Vegas airport, which is only about 10 minutes from the Strip. The park is one of the largest in the city, and it has a 14-acre lake in the center. You can fish the entire shoreline of the pond from 6 am to 11 pm.
Sunset Park Pond is stocked at least once a month with rainbow trout and catfish, however, you can also catch largemouth bass, bluegill, black crappie, and redear sunfish. The fish are usually small to medium-sized, but some catches can get up to 10 pounds. This is a great year-round fishing spot because the fish are restocked so often.
Lorenzi Park Pond
Lorenzi Park Pond (also known as Twin Lakes) is located near downtown Las Vegas. Lorenzi Park Pond is a small body of water, but it's the closest fishing spot to the Las Vegas Strip. The park is well maintained, and it's free to fish here.
The pond is stocked with catfish in the summer and rainbow trout in the winter, but you can also run into some carp and sunfish. You'll find mostly smaller fish here, but it's a convenient fishing spot if you live in the area.
Floyd Lamb Park
Floyd Lamb Park is located on the northern outskirts of the city. The park measures 5 acres across and has 4 ponds that allow fishing. The largest pond, Tule Springs, is the only one that gets annual stocking, but you can catch some decent-sized fish in all of the ponds.
Rainbow trout, catfish, and bluegill are all stocked at Floyd Lamb Park, but you can also find some carp, sunfish, and largemouth bass. Unlike the other parks located within the Las Vegas city limits, this park does have an entrance fee. If you want to go fishing here, you are required to pay a $6 fee per vehicle for parking.
Lake Las Vegas
Lake Las Vegas is a large lake located about 30 minutes outside of the city. Although the lake is private, anglers can still rent boats and kayaks to go fishing in the area. Kayaks cost about $30 for a 2-hour rental, while boats cost about $150 for 2 hours.
It's unclear whether or not you're allowed to fish from the beach, but fishing from a boat is definitely allowed. The type of fish stocked in Lake Las Vegas isn't made public, but I've heard reports of people catching large carp and bass here.
Lake Mead National Recreation Area
Lake Mead is the largest lake in the Las Vegas Valley at 250 square miles and the most popular place to fish near Las Vegas. It takes about an hour to drive to this fishing spot from the Las Vegas Strip.
The most common fish caught in Lake Mead are striped bass, which can weigh up to 40 pounds. Largemouth bass, smallmouth bass, trout, carp, channel catfish, green sunfish, and black crappie also inhabit the lake. If you want to try these fisheries, it costs $25 per vehicle to enter the park, but you can camp overnight.
Where to Fish in Lake Mead
Lake Mead fishing is great, but aside from the main lake, the Lake Mead National Recreation Area also has plenty of smaller lakes and springs. These are often some of the best places to fish in Las Vegas. If you want to learn more about these fishing spots, I wrote a more in-depth article about fishing on Lake Mead here.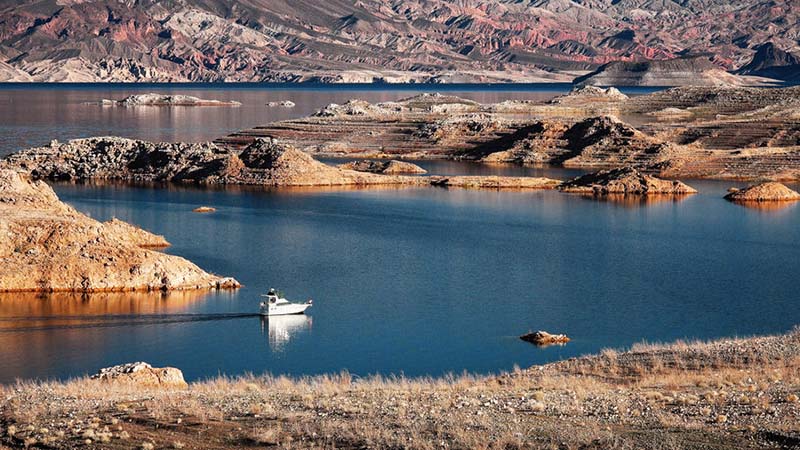 Lake Mohave
Lake Mohave is technically part of the Lake Mead Recreation Area, although it's located over 50 miles south of Lake Mead. It takes about an hour and 15 minutes to drive from Vegas to Lake Mojave, but the fishing here is worth the trip.
The lake is nearly 120 feet deep and extends over 65 miles. Striped bass are the dominant species at this reservoir, however, you can also catch plenty of rainbow trout, largemouth bass, smallmouth bass, bluegill, crayfish, sunfish, and catfish. Overnight camping is allowed at Lake Mohave.
Cold Creek Spring
Cold Creek Spring is located about 45 minutes outside of Vegas. This small, little-known pond is stocked with rainbow trout every year. There are no other species found in this pond aside from the stock trout (no wild trout).
True to its name, Cold Creek Spring is cooler than the rest of Las Vegas. This makes it a more comfortable place to fish in the summertime, however, it does get colder in the winter months.
Boulder City Pond
Boulder City Pond (also known as Veterans' Memorial Park Pond) is located in Boulder City, which is about 30 minutes outside of Las Vegas. It's halfway between Las Vegas and Lake Mead, making it an excellent fishing spot if you don't want to drive too far.
The Boulder City Pond is stocked annually with thousands of rainbow trout, bluegill, and catfish, but you can also catch some green sunfish and carp. There are several other ponds in the area, but this is the only one that allows fishing.
Best Spots to Fish Near Las Vegas (within 3 hours)
Topock Gorge (on the Colorado River)
You're allowed to fish up and down the Colorado River, and Topock Gorge is one of the best spots to do it. It's located in the Havasu National Wildlife Refuge, which is just over the Arizona border. In total, it's about a 2-hour drive if you're coming from Las Vegas.
You can catch everything in this canyon, including striped bass, largemouth bass, smallmouth bass, rainbow trout, sunfish, bluegill, and channel catfish. If you have a fishing boat, the Colorado River is a great place to take it out on the water.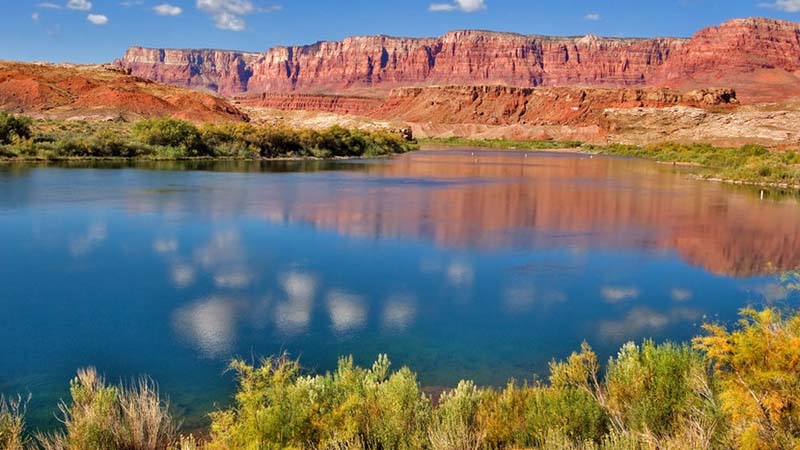 Pahranagat Lake
Lake Pahranagat is located approximately an hour and a half north of Las Vegas. The fish at Lake Pahranagat aren't as big as the ones you'll find at Lake Mead, but the lake is much more shallow, so you may have more luck here.
In the past, the two lakes in this area have had issues involving the overpopulation of carp since they tend to outcompete the native fish for food. It seems like carp populations have come back down recently, but you can still find plenty of them here. You can also catch bullhead catfish, sunfish, and the occasional bass while fishing at Pahranagat Lake.
Nesbitt Lake
Nesbitt Lake is located about 20 minutes north of Pahranagat Lake. Be aware that there can be a lot of grass in the water during the summer, which can make it difficult to fish. This issue can be avoided if you take a kayak out into the center of the lake.
The species of fish found at Nesbitt include bluegill, crappie, bullhead catfish, and largemouth bass. You aren't going to find any trophy bass while fishing here, but they can still grow to a decent size.
Lakes in Las Vegas that Don't Allow Fishing
There are several lakes in Las Vegas that don't allow fishing. It may be tempting to fish in these parks, but they are best avoided. You can face fines for fishing in these areas.
Clark County Wetlands Park – The Clark County Wetlands Area, along with Duck Creek, is designated as a fish sanctuary, so fishing is prohibited.
Craig Ranch Regional Park – Craig Ranch Regional Park has two lakes, the largest of which is known as Turquoise Lake. Unfortunately, fishing is not permitted in the park.
Cornerstone Park – Cornerstone Park in Henderson has a good-sized lake, however, it is designated as a no-fishing zone.
Lake Sahara Las Vegas – Lake Sahara is a man-made lake found in the western part of Las Vegas. Since the lake is located on private property and fenced-in, only residents have fishing access. However, you can go fishing here if you know someone that can let you in.
Lake Jacqueline – Similar to Lake Sahara, Lake Jacqueline only allows residents to fish.
Best Spots to Fish for Bass
If you're fishing for trophy bass in Las Vegas, the lake that you choose is going to be important. Some lakes simply have more bass than others. There are even a handful of parks that don't have any bass at all. These are the spots that regularly restock their bass population:
Sunset Park Pond
Floyd Lamb Park
While the smaller parks inside the city go out of their way to replenish their bass population every year, the larger bodies of water have wild bass. The wild bass tend to get much bigger than the stock bass. Here's where you'll find the largest bass near Las Vegas:
Lake Mead
Lake Mohave
Anywhere on the Colorado River
Fishing on Lake Mead is a ton of fun, especially if you have a fishing boat. Even if you don't have a boat, there are still plenty of great fishing locations on the shoreline.
Best Spots to Fish for Trout
Similar to the bass, there are some spots that are better for catching trout. Several ponds in Las Vegas regularly restock their trout population. Those ponds include:
Sunset Park Pond
Lorenzi Park Pond
Cold Creek Spring
You can also go fishing for wild trout in the larger lakes surrounding Vegas, however, they are less common in the wild. Rainbow trout are often caught in Lake Mead, Lake Mohave, and on the Colorado River.
The best overall place to catch trout is Cold Creek Spring, right after they restock. Cold Creek Spring is small, making it easy to catch multiple fish in a single day. They typically release over a thousand trout at a time, and it's the only fish species that lives in that pond.
Nevada Fishing License Cost
Before you start fishing in the Las Vegas area, you're going to need to get a Nevada fishing license. A fishing license is required for everyone over the age of 12.
It's important to follow the rules and regulations by purchasing a proper fishing license. This allows the state of Nevada to continue to stock and look after local fish populations. These regulations are the reason why fishing remains so robust in the city year after year.
| License | Nevada Resident | Non-Resident |
| --- | --- | --- |
| Annual Fishing License (ages 18+) | $40 | $80 |
| Youth Fishing License | $15 | $15 |
| 1 Day Fishing Permit | $9 | $18 |
| Add Additional Days to 1 Day Permit | $3 | $7 |
If you decide to fish on the Colorado River, be aware that you may cross the state border into Arizona. In which case, you will want to purchase an Interstate Boundary License for $30.
Southern Nevada Fishing Map – Fishing Las Vegas
Here is a map of all the best fishing spots in the Las Vegas area. All of the lakes and ponds mentioned in this article can be found on the map below. If you have a car, they aren't too far from the Las Vegas hotels on the Strip. However, without a car, your options will be limited when fishing Las Vegas.
This map is interactive, so you can zoom in to get a closer look.
Las Vegas Fishing Trips
There are plenty of Las Vegas fishing tours that will take you out on the water. If it's your first time fishing in the area, it may be worth it to look into some fishing tours. I haven't personally used any of the chartered fishing services in Las Vegas, but I've heard plenty of good reviews from other people who have gone on a tour.
Most of the fishing tours cost around $300-$500 for the day. That will cover a fishing trip for two people, including rods, reels, tackles, and lures. If you want to bring additional people, it will typically cost roughly $100 extra per person.
Most of these chartered fishing services will take you on tours of Lake Mead, but some will also take you fishing on Lake Mohave or the Colorado River. Either way, the trip will be an adventure and a great experience. After all, your guide will know exactly where to fish in Las Vegas.