Lake Mohave is one of the most visited lakes in Nevada. It's great for fishing, camping, and sightseeing in general. I recently visited the lake for the first time and was extremely impressed. However, there were a few things that I wish I knew ahead of time.
This guide will cover everything you need to know about Lake Mohave, including the weather, camping sites, and best fishing spots. I'll also let you know how much it costs to visit the park, along with where to rent a boat.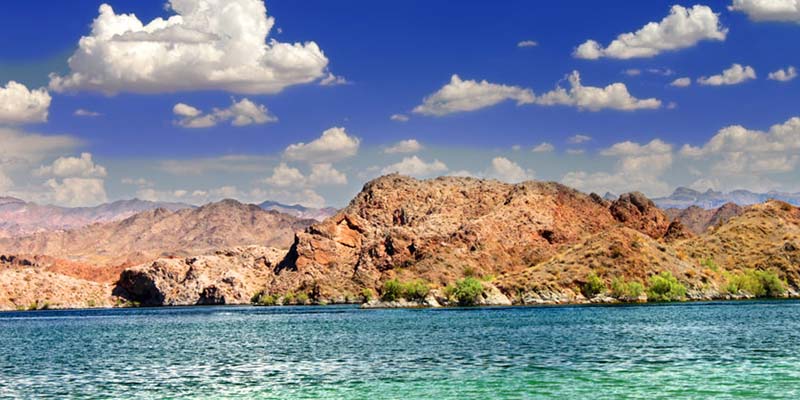 Also See: Best Fishing in the Las Vegas Area
Lake Mohave Fishing
Lake Mohave is known for its Striped Bass fishing. In fact, Nevada's record-setting bass was caught here in 2001 (the fish weighed nearly 70 pounds). Although Striped Bass are the main game-fish found in these waters, you can also catch several other species. They include:
Striped Bass
Largemouth Bass
Smallmouth Bass
Rainbow Trout
Crappie
Carp
Sunfish
Bluegill
Channel Catfish
Threadfin Shad
Crayfish
Razorback Sucker
Where to Fish on the Lake
You can find Striped Bass all over the lake. However, I prefer to fish for them in either the upper part of Lake Mohave near Cottonwood Cove Marina or in the far southern part of the lake near Davis Dam. The small coves near Katherine's Landing Marina are also great spots to fish for Striper.
For trout fishing, you're going to want to stick to the upper part of Lake Mohave. If you travel a few miles north up the Colorado River to Willow Beach Marina, you'll plenty of trout. Rainbow trout are released in that area every Friday.
The best time to fish is in the early morning or after dark. That's when the larger fish are more active. But you can really fish at any point in the day.
Lures and Baits
The best bait for catching Striper on Lake Mohave is anchovies. However, Stripers also tend to go for lures that imitate baitfish. I recommend that you start with anchovies and then try a couple of different lures to see what's working.
If you're fishing for Largemouth Bass, it's best to use worms or nightcrawlers. Trout will also bite on worms, but you can also land them with lures that imitate shad.
Fishing Regulations
Before you start fishing, it's important to know that half of Lake Mohave is located in Nevada while the other half is in Arizona. In Nevada, annual licenses cost $40 for residents, but you can also get a day permit for between $10-$20. If you cross the border into Arizona, you're also going to want an Interstate Boundary License, which costs $30.
Lake Mohave Boat Rentals
There are three marinas at Lake Mohave where you can rent boats: Willow Beach, Cottonwood Cove, and Katherine's Landing. These marinas have boat rentals, boat launches, docking facilities, and stores where you can purchase licenses and tackle.
Willow Beach Marina
Willow Beach Marina is located between Lake Mead and Lake Mohave. This is the best area to fish for trout on the Colorado River, and the marina has pretty much everything you could possibly need.
If you need supplies or bait, you can purchase them from the convenience store. Boat rentals are available as well, starting around $200 for 8 hours (the minimum rental period is 2 hours). The Willow Beach Marina is located on the Arizona side of the river.
Cottonwood Cove
Cottonwood Cove is located on the northern part of Lake Mohave. The marina has a café, a convenience store, a campground, and a motel. It's also one of the best places to rent houseboats and watercraft. 17-foot fishing boats only cost $150-$225 per day.
This is one of the best areas to fish in Lake Mohave. The marina is located on the Nevada side of the river, not too far from the city of Laughlin (it's about a 45-minute drive).
Katherine's Landing
Katherine's Landing is located on the south end of Lake Mohave, only 10 minutes from Laughlin. This is a full-service marina on the Arizona side of the lake that offers boat rentals, campsites, restaurants, a convenience store, and lodging. If you're launching your own boat, they offer repairs and refueling as well.
The Striper fishing here is great in the colder months, but water sports are the biggest attraction at Katherine's Landing. They offer wave runner rentals, water skiing, kayaking, and scuba diving. There's also a popular beach area for swimming.
Campgrounds and RV Parks at Lake Mohave
If you want to go camping at Lake Mohave, you'll have plenty of options. All three of the marinas around Lake Mohave have both a traditional campground and an RV park.
Willow Beach Marina – Camping at Willow Beach costs $35/night for a tent site and $70/night for an RV site. The campground has full hookups, fire rings, picnic tables, shower facilities, and laundry facilities.
Cottonwood Cove – This campground has 72 full-hookup campsites that cost $41/night for back-in spaces and $45/night for pull-through sites. The campground also has laundry facilities and restrooms.
Katherine's Landing – Camping at Katherine's Landing costs $25/night for tents and $45/night for RVs. The park has full hookups, picnic tables, grills, fire rings, restrooms, showers, laundry facilities, and Wi-Fi access. All spaces are back-in, with the largest site accommodating rigs up to 40 feet long.
There's also some dispersed camping in the region. 9 Mile Cove on Lake Mohave is one of the more popular dispersed camping sites.
Lake Mohave Weather & Climate
Lake Mohave's climate is very similar to what you see in Las Vegas. Summertime temperatures often rise above 100 degrees Fahrenheit during the day and remain in the 80s to 90s at night.
The weather in the winter is extremely mild, with temperatures staying in the 50-70 degree range. You'll rarely see temperatures drop below 50 degrees. It's also sunny almost every day of the year. There is typically only 2 or 3 rainy day per month.
Resorts and Hotels on Lake Mohave
Both Cottonwood Cove and Katherine's Landing offer accommodations that are just steps away from Lake Mohave. These are the two closest resorts to the lake.
Cotton Cove Motel – This Spanish-style motel offers rooms equipped with an outdoor patio, refrigerator, TV, and lakefront views. Rates are roughly $100-$150 a night.
Katherine's Landing Lodge – Katherine's Landing has a couple of different room types that range from cottages to motel-style rooms. They are equipped with a full kitchen, air-conditioning, Wi-Fi, and TV. Rates start around $180 a night but can get as high as $400 for the cottages.
Hotels and Casinos Nearby Laughlin, NV
Since Lake Mohave is located inside of the Lake Mead National Recreation Area, there aren't many options when it comes to hotels located directly on the lake. However, you can find a few more hotels just south of the lake in Laughlin, Nevada.
Most of these hotels are located about 15 minutes from Katherine's Landing. Here are some of the better options in the area.
Riverside Resort Hotel & Casino
Golden Nugget Laughlin Hotel & Casino
Tropicana Laughlin
Laughlin River Lodge
Harrah's Laughlin Hotel & Casino
Lake Mohave Map
There are very few Lake Mohave fishing tours, so you're going to need to navigate the area yourself. The lake is very narrow compared to Lake Mead, so it shouldn't be too difficult to get oriented. Following the lake's natural features will help you find your way around.
This map is interactive, so you can zoom in to get a closer view.
Lake Mohave FAQs
Can you swim in the lake? – Swimming is allowed in Lake Mohave. You can swim anywhere you want in the lake, including the beaches. However, there are no officially designated swimming areas or lifeguards, so it's important to wear a life jacket while in the water.
How much does it cost to get into Lake Mohave? – Since Lake Mohave is part of the Lake Mead National Recreation Area, you must pay the $25 entrance fee per vehicle. The pass is valid for 7 days.
Is the fishing better at Lake Mohave or Lake Mead? – There is an abundance of fish at both lakes. If you want to learn more about Lake Mead fishing, I wrote a more in-depth article here.
How far is Lake Mohave from Las Vegas? – The northern part of Lake Mohave is about an hour's drive from Las Vegas, while the southern part of the Lake is about an hour and a half away. If you want to stay closer to the city, you can also fish at Lake Las Vegas.
How far is Lake Mohave from Lake Havasu? – Depending on the route you take, Lake Mohave is approximately 1.5 to 2 hours from Lake Havasu.