Las Vegas club dress codes are real. So, if you want to get into a Vegas nightclub, you're going to want to dress appropriately. Fashion is changing all of the time, but you'll still want to make sure you follow the rules while staying ahead of the curve.
I've been going out to Las Vegas nightclubs for years, so I see first-hand what is and isn't allowed in the club. That's why I decided to put together a handful of dress code guides so you never get turned away at the door again. This guide will cover dress codes for both men and women.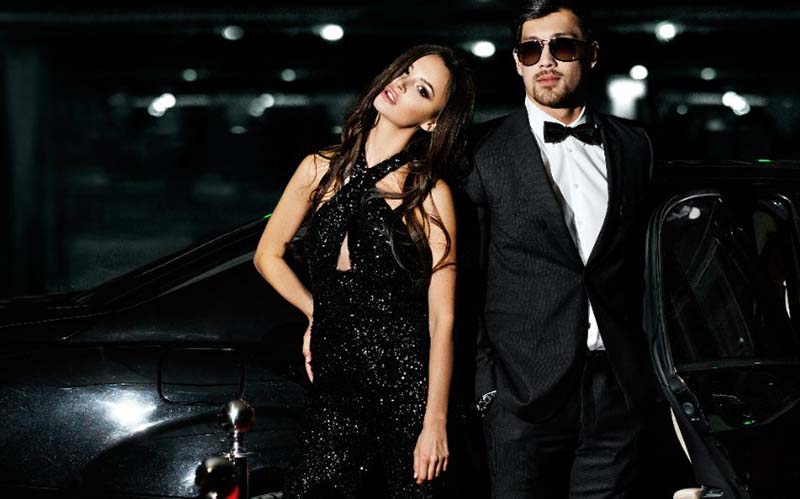 What is the Las Vegas Nightclub Dress Code?
Most Las Vegas nightclubs officially describe their dress code as upscale fashionable, which is extremely vague. So let's take a lot at some real examples of what is and isn't allowed into the venue.
Official Vegas Club Dress Code – What Isn't Allowed
All clubs have a different set of dress code guidelines, which makes it difficult to give universal recommendations. However, if you follow the rules below, you won't have any issues at any of the clubs in Las Vegas. You'll want to avoid the following items at all costs:
Shorts
Baggy jeans
Sneakers
T-Shirts
Flip flops and Sandals
Work boots
Jerseys
Hats
Cut-off shirts
Sunglasses
It's typically men that violate these policies, but women sometimes do too. Women can get away with a lot more than men (I'll talk about this more below), but the main thing that girls get turned away for is athletic apparel. Make sure you don't wear yoga pants to a Vegas club.
Unofficial Nightclub Dress Codes
Now that we've covered what's officially not allowed, let's talk about where those rules are sometimes broken. Vegas always has a way of bending its own guidelines.
You can usually wear shorts, hats, sunglasses, and sandals to nightclubs that are throwing pool parties. If a pool is involved, the dress code usually goes out the window. (Also, fedoras seem to be accepted at most places even though it's a hat).
Another grey area is t-shirts. Officially t-shirts are on the banned list, however, I see guys wearing them all of the time. If fact, I generally wear a t-shirt to the club myself. It's at the discretion of the doorman to decide whether your t-shirt is acceptable attire or not. And different people get different reactions.
Bouncers may let one person in with a t-shirt and not another, even though they look identical. That's why it's typically best to play it safe if you're new to Vegas nightlife. You don't want to ruin your trip by getting kicked out of the club. Keep that in mind when deciding what to wear. If you're only in town for a few days, don't risk making a scene.
What to Wear to Las Vegas Clubs – How to Pick an Outfit
Let's take a look at clothes and outfits that you can actually wear at the nightclub. Here are some examples of club attire that will get you throught the door at Las Vegas clubs.
Outfits for Men Attending Vegas Nightclubs
For men, the easiest thing to wear to a nightclub is jeans and a button up shirt, with a pair of dress shoes. A collared shirt will help you to avoid issues with the door staff while still looking somewhat fashionable. You don't need a 3-piece suit as you see in the movies, but you can wear a blazer, sport coat, or jacket if you prefer. The choice is yours.
For pants, jeans are acceptable attire at all Vegas nightclubs, especially black or dark blue jeans. You'll just want to avoid any jeans with excessive rips and tears. Dress pants and khakis are ok too, but they are not something you want to wear to a nightclub.
For shoes, the recommendation is dress shoes or dress boots. Brown or black dress shoes are the best since they can go with anything you wear and will never cause an issue with security. Sometimes all black tennis shoes can work as well.
If you want more details on the men's nightclub dress code in Vegas, check out the more in-depth article I put together here.
One important thing to note is that if you're getting bottle service, you can usually get away with more. Very few promoters and VIP hosts will question what you're wearing if you're spending a couple of thousand dollars on a table. Just know that bottle service packages for groups of guys aren't cheap.
Vegas Dress Code Advice for Women Attending Nightclubs
Nightclub dress codes for women are much more relaxed. If you're looking to party at a Las Vegas nightclub, here are some outfit recommendations for ladies:
Cocktail dresses
Rompers
Jeans with a nice top
Skirts
Heels
The most common outfit for women in Vegas is a figure-flattering dress in either black or a vibrant color. In addition to dresses, you can also sport a romper, a skirt, or jeans with a fancy top. For shoes, it's recommended that you wear heels or stilettos, although it's not required. Wedges and flats are also acceptable forms of footwear.
As far as accessories go, you'll want to leave your oversized purse in the hotel room in favor of a small clutch or handbag. It just has to be big enough to fit in some lip gloss, powder, gum, your phone, and maybe some makeup.
Your outfit may also call for jewelry like rings, bracelets, earrings, and necklaces. All are acceptable attire according to the Las Vegas nightclub dress code. Just don't get too crazy, since you'll be carrying everything around with you for a few hours.
In short, women car wear whatever looks good. This isn't a hard and fast rule, but most clubs in Las Vegas aren't going to be too strict when enforcing their dress code rules on women.
If you want information about the Vegas nightclub dress code for women, check out the more in-depth post here. I also mention how to get your entire group of friends on the guest list in that article.
Is there a Las Vegas Dress Code Outside of Nightclubs?
The Las Vegas dress code does extend beyond nightclubs, although, it's much more relaxed. The only places where you'll encounter a dress code outside of a nightclub are at shows, restaurants, and pool parties.
Las Vegas pool parties and beach clubs will require swim attire. If you attend a high-end restaurant, you may also be forced to follow their dress code or otherwise be refused service (although this isn't common in Las Vegas). If you want more tips about what to wear in Las Vegas for every occasion, check out this guide.
Other than these few exceptions, there are few places outside of Las Vegas night clubs that require you to follow a specific dress code. And if you don't attend a night club, it's entirely possible you won't even encounter a dress code during your entire trip to Vegas. Many guests never have to deal with this issue.
Vegas Nightclub Dress Code – Final Considerations
Now that you know the Vegas club dress code you're light years ahead of most people visiting the city. Clothing shouldn't be an issue for you when you party at the club in Vegas. And if you really don't like the dress code, you always have the option to make a bottle service reservation.
Visitors who order VIP bottle service are always given priority treatment by the nightclub. You won't have to follow the dress code as closely, and you'll get access to special events and performances.