Lake Mead is one of the best places to go fishing in the Las Vegas area. The Lake is massive, spanning nearly 250 square miles, so it can be difficult to find a good fishing spot. So, I went ahead and put together a map of all the most popular locations to catch fish on Lake Mead.
This article will cover everything you need to know about Lake Mead fishing. I'll let you know where the best spots are, what fish species live in the lake, and what type of lures to use. I'll also cover how much it costs to fish on Lake Mead, along with the local regulations.
Also See: Best Places to go Fishing in Las Vegas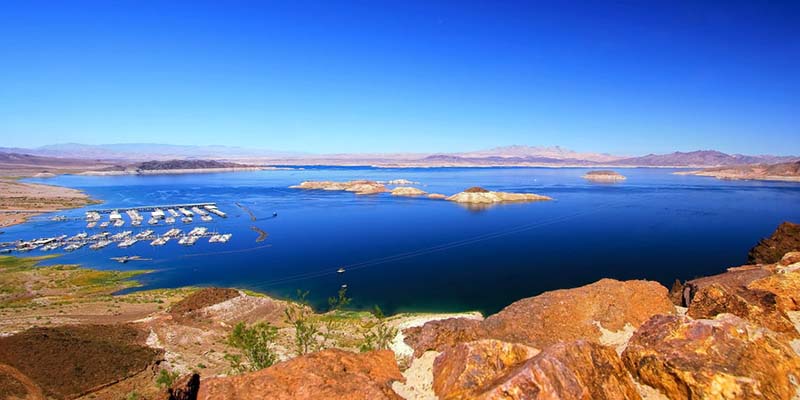 Where to Fish at Lake Mead (Best Spots)
There are two ways to fish on Lake Mead: from the shore and from a boat. You'll obviously have more freedom in a boat, but you can still catch plenty of fish from the shoreline. This is especially true in the spring when the bass wade into shallower waters to breed.
Shorelines and Piers
These are the best Lake Mead fishing spots if you plan on staying on the shoreline.
Hemenway Fishing Pier
33 Hole Overlook
Government Wash
Callville Bay
Echo Bay
Stewarts Bay
One of my favorites spots to fish is Callville Bay. You can usually find some Striper boils and a ton of good-sized carp in that area.
If you follow the Colorado River a little bit south of Lake Mead, there are three additional spots to fish. They are located between Lake Mead and Lake Mohave and are excellent places to catch trout and bass.
Willow Beach Marina
Cottonwood Cove
Katherine Landing Marina
Fishing Boats
If you're fishing off of a boat, you can go to any of the areas already mentioned. I also recommend that you follow the birds. Birds feed on the fish, and will typically congregate in areas that have a large concentration of them.
You can also try the Boulder Beach Area, Las Vegas Bay, and Overton Arm of the lake. These areas are all known as popular fishing spots for Striped Bass.
To make your life easier, I added all of these fishing spots to the map below. The map is interactive, so you can zoom in to get a closer look.
Best Time to Fish on Lake Mead
The best time to year to catch Stripers is in the Spring (March-May) since they venture into shallow waters for the spawning season. However, you can catch bass in Lake Mead year-round. They are typically most active in the morning, then venture out into deeper waters as the day progresses.
The best time to fish for Bluegill, Catfish, and Carp is during the summer. The winter is generally best for Crappie fishing.
What lures and baits should you use?
If you're fishing for Striper, then your go-to bait should be anchovies. However, shad and lures can catch Striper as well. I recommend that you try a couple of different types of lures and see what works. I like to use a lure that mimics a shad. If you're fishing for largemouth bass, they tend to prefer nightcrawlers and lures.
Species of Fish in Lake Mead
Lake Mead is famous for its Striped Bass fishing, but there are plenty of other species that inhabit the reservoir. Here's a list of the most common species of fish found in the lake.
Striped Bass
Largemouth Bass
Smallmouth Bass
Rainbow Trout
Carp
Bluegill
Channel Catfish
Green Sunfish
Black Crappie
Razorback Sucker
Bonytail Chub
You cannot fish for Razorback Sucker and Bonytail Chub. If you hook one, it must be released back into the water. It's also recommended that you report the catch to the National Park Service Office so that they can learn more about these endangered species.
Lake Mead doesn't stock any fish, however, Rainbow Trout are regularly released at Willow Beach on Fridays. The Willow Beach Marina is located on the Colorado River, just south of Lake Mead (it's about a 20-minute drive).
Striped Bass
The biggest fish species in Lake Mead is the Striped Bass, which can grow up to 30-40 pounds. Striped Bass are one of the most common species found in the lake, but most of them are between 5-10 pounds. There are 20+ pound Stripers out there, but they aren't as common as the smaller fish.
Can You Eat the Fish You Catch?
You can eat the fish that you catch in the lake. The fish here have been sampled for toxins for over 20 years, so they are safe to eat. There are several cleaning stations found in the Lake Mead National Recreation Area. They are located at Callville Bay, Echo Bay, Willow Beach, Cottonwood Cove, Kathrine Landing, and Temple Bar.
How Much it Costs to go Fishing on Lake Mead
To enter the Lake Mead National Recreation area, you can either pay an annual fee of $45 per vehicle or get a daily pass for $25 (it lasts for 1 week). Aside from the park entrance fee, here are some of the other expenses that you want to be aware of.
Licenses
The first thing you need before you start fishing on Lake Mead is a Nevada fishing license. I included a table of the prices below.
| License | Nevada Resident | Non-Resident |
| --- | --- | --- |
| Annual Fishing License (ages 18+) | $40 | $80 |
| Youth Fishing License | $15 | $15 |
| 1 Day Fishing Permit | $9 | $18 |
| Add Additional Days to 1 Day Permit | $3 | $7 |
Boat Rentals
If you want to rent a boat to fish on, you can do so at one of the several marinas on Lake Mead. You can either rent by the hour or by the day. Rental rates vary greatly from business to business, but you can expect to pay between $300-$600 for the day.
A houseboat is going to be the most expensive, followed by sports boats and pontoon boats. Although expensive, it's a ton of fun to fish from a boat. During the summer, the water at the lake feels like it's air temperature, so you can swim when you're done fishing.
Charters
You can also get a charter service to take you out on the lake. These fishing tours typically cost about $300-$500 for a group of two. The charter company will usually provide you with rods, reels, tackles, and lures. If you want to bring additional people to fish with you, it will cost roughly $100 extra per person.
Lake Mead Fishing Regulations
According to the Lake Mead National Park Service, you can fish 24 hours a day at both Lake Mead and Lake Mohave. It doesn't matter if you're fishing Lake Mead from a boat or from the shore, the rules are the same. The only thing that you need is a Nevada or Arizona fishing license.
Lake Mead FAQs
There are few things more fun than a Lake Mead fishing trip. Before you catch some fish, here are some of the frequently asked questions about the lake.
Are there sharks in the lake? – There are no sharks in the water at Lake Mead. Although there are several drownings in the lake every year, it's extremely safe to swim in the water.
Are the alligators in the lake? – There are no alligators in the lake. The water temperature and climate in Nevada is not ideal for alligators or crocodiles. You won't have to worry about them tugging at your line.
Are there snakes in the lake? – The state of Nevada has a lot of snakes. Several snake species live on the banks surrounding the lake, including rattlesnakes, but they rarely get into the water. The snakes are there, but they don't usually cause any issues.
How deep is Lake Mead? – The water levels have been falling for many years, but the lake is still one of the deepest in Nevada. Parts of the lake can get up to 530 feet deep.
How far is Lake Mead from Vegas? – The lake is approximately an hour's drive from the Las Vegas Strip. Depending on the directions that your GPS gives you, it may take slightly more time to get to the park. If you live in Henderson or Boulder City, NV, the trip may be shorter.
What is the biggest fish ever caught in Lake Mead? – The biggest fish pulled out of the lake was a 52-pound Striped Bass in 1982. However, there was a larger bass caught in 2001 at Lake Mohave. That bass set a Nevada state record at nearly 70 pounds.