Marquee Nightclub & Dayclub are two of the most underrated venues in Las Vegas. There are a number of things that no one will ever tell you about these clubs, due to the simple fact that they have never been here. Marquee should be atop the list of clubs you need to visit while in Vegas, and here are some of the reasons why…
Things You Need to Know about Marquee Las Vegas
You Can Get Free Entry On The Marquee Dayclub Guest List
To this day, there remains to be a ton of confusion around how the Las Vegas guest list works. You don't need to "know somebody" or be a celebrity to use the guest list. Anyone can sign up for the Marquee Dayclub guest list for free online. The same goes for Marquee Nightclub.
When you use the guest list, you get free entry into the club. There are just a few conditions that have to be met.
Women are always allowed free entry into the club.
Men are required to have an even ratio of women in their group (a greater number of women than men is also allowed).
You must arrive early (there is a cutoff around 12:30 am).
As long as you meet those requirements you get into the club for free. In addition to free entry, women who enter the club on the Marquee guest list get a few added benefits, that I'll mention later.
Free Champagne Before The Club Opens
For women, the benefits of the guest list don't stop at free entry. Occasionally, Marquee Nightclub will also get access to complimentary champagne before the club even opens!
To take advantage of the free champagne, head to the 3rd floor of the Cosmopolitan. You'll find a table next to the Beauty & Essex restaurant, where you can pick up your free drinks. This perk is only offered to women on the guest list and it starts around 10:00 pm, about a half-hour before the club opens.
Marquee Nightclub & Dayclub Table Service is a Great Value
You get some serious bang for your buck at Marquee Las Vegas. At most premier Vegas nightclubs, the best tables are going to gonna cost you at least $4,000, and very often run up to $10,000+.
At Marquee Nightclub, you can secure the best tables in the house (the lower dance floor tables), for as low as $2,500. These are the most sought-after tables in the club since they're the largest and located the closest to the DJ booth.
Among Vegas' top 5 nightclubs, Marquee consistently offers some of the best bottle service deals in town. I'll cover what I think are the best bottle service options at Marquee later in this post.
The Bungalow Suites Overlook The Club
If you're looking for the ULTIMATE VIP EXPERIENCE, then you're gonna want to check out the Cosmopolitan Bungalow suites. While these suites no longer offer direct access to Marquee Dayclub, they are still one heck of an experience.
The 3 story suites overlook the pool at Marquee Dayclub. You get your own private Jacuzzi along with some incredible balcony views of the strip.
The Cosmopolitan is one of the best hotels in Las Vegas. When you get a Bungalow suite, you'll also have accessibility to the Marquee signature food menu and butler service.
Marquee Has Four Separate Themed Rooms
The venue is so large, that the club is divided into four separate sections: the Main Room, the Library, the Outside Patio, and the Boom Box Room.
The Main Room plays a combination of EDM, Hip Hop, and Top 40 music. The energy generated in this room is matched by very few nightclubs. The vibe is absolutely electric.
The same goes for the Outside Patio. Unlike many Vegas clubs with both outdoor and indoor areas, this club seems to fit these two spaces together seamlessly. Plus the view of the strip is incredible.
Then you have the Library and Boom Box Room. These two rooms are probably the most unique rooms of them all. For this reason, I'll dedicate a whole section to each of the rooms…
Marquee Silent Disco In The Library
The Library is located a floor above the main room and literally looks like a library. There's a fireplace, the walls are lined with bookshelves and there is plenty of plush seating around the room. There is even a pool table, which is available for use.
The most distinctive elements of this room are the headphones the staff hand you as you enter. The "silent disco" allows you to pick the music you listen to, out of the several programmed channels to choose from.
The line at the bar for this Marquee lounge is really short too, making it super easy to grab drinks fast. The Library isn't open every night, but if you have the opportunity it's definitely worth checking out.
Latin Nights in Marquee's Boom Box Room
The Boom Box Room is located a floor below the main room is focuses on Hip Hop music. This small room may have an even higher temperature than the lively Main Room. Whenever it's open, the space is always packed to capacity.
The Boom Box Rooms is also known to have occasional Latin-themed nights. I have a friend that goes salsa dancing there every time one of these events is being held.
Marquee Offers An Open Bar
Women who enter the club on Marquee's guest list can occasionally get access to an open bar. This promotion is typically available on Monday nights from 11:30 pm to 12:30 am.
As you can see, it really pays to be on the Marquee guest list, especially for women. Very few nightclubs offer this many benefits to their guests.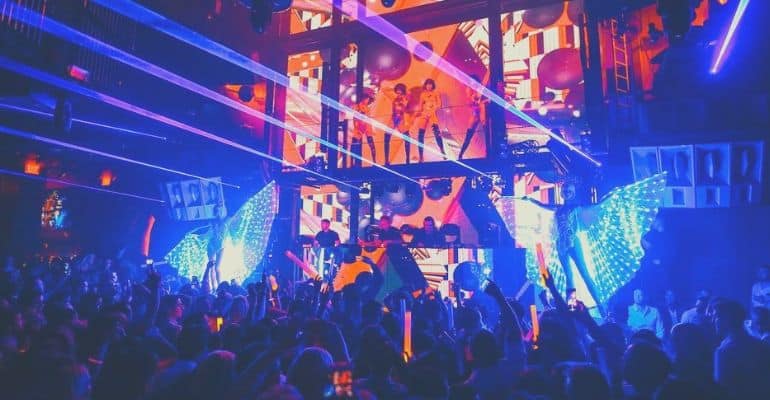 Marquee Hosts Industry Night on Monday
Marquee Las Vegas holds its local industry night every Monday. This is one of the best parties in town since everyone from promoters to cocktail waitresses will be partying here.
It's only one of two clubs that are open on Monday nights, so the nightlife workers from all of the other venues come out to party at Marquee Nightclub. This makes for some wild times and one of my favorite nights to go out in Vegas.
Marquee has Long Lines
Since I've been writing a glowing review so far, I'll mention one of the few drawbacks at Marquee Nightclub Las Vegas. THE LINES CAN GET RIDICULOUSLY LONG!
The long wait time is partly a consequence of the small entrance in front of the club. Everyone is trying to file into a few small elevators, to be taken up to the main floor. This causes chaos, especially when the table line turns into a free-for-all mosh pit.
Marquee Las Vegas Has Great DJs
Every club in Las Vegas claims they have the best music in town, but Marquee actually puts its money where its mouth is. In addition to having some big-name DJs like Travis Scott and DJ Mustard, the club fills out the rest of the roster with solid talent.
DJ sets at many of the other large clubs tend to get repetitive. A lot of the DJs just seem to play the same songs. At Marquee, they tend to mix it up every night. There is some great variety in the music that you're going to hear when you visit Marquee Nightclub.
Marquee Bottle Service Tables (Best Deals)
I already mentioned that Marquee bottle service tables are a great value when compared to the other premier nightclubs. But, now I mention some specifics.
These are the average prices for each of the Marquee Nightclub table locations. Keep in mind that prices are often raised and lowered based on how busy the club is going to be. But, this chart should offer a solid estimate of what to expect. (The dayclub table options are actually a bit cheaper than this).
| | | |
| --- | --- | --- |
| Table Location | # of Guests | Price |
| Salon (Side of Main Room) | 6 | $600 |
| Boom Box Room (Small) | 6 | $600 |
| Boom Box Room (Large) | 10 | $1,000 |
| Outside Patio (Small) | 6 | $600 |
| Outside Patio (Large) | 10 | $1,200 |
| Back Wall | 10 | $1,200-$2,000 |
| Upper Dance Floor | 10 | $1,500-$2,500 |
| Lower Dance Floor | 12 | $2,500-$3,500 |
Best Bargains
There are very few bad tables at Marquee since they are elevated coliseum style in the main room. As I mentioned earlier, the lower dance floor tables are the best since they are closest to the DJ. But the back wall tables are the best bargain.
The Marquee Dress Code has Strict Enforcement
Out of every nightclub on the strip, I would argue that Marquee has the strictest dress code. It's the only club where I have been pulled out of line because I wasn't wearing a collared shirt. I get away with wearing a t-shirt at every Vegas nightclub except Marquee.
I would recommend that guys wear a dress shirt, jeans, and dress shoes if you plan on going to Marquee. Women can essentially wear anything that looks good, but I recommend a dress that fits your body, paired with heels. You can also get away with jeans and a top if that's more your style.
The Cosmopolitan Gives Guests Free entry into Marquee
A common question I get asked is, Do Cosmopolitan guests get free entry into Marquee? The answer is yes, hotel guests get complimentary entry into both Marquee Nightclub and Marquee Dayclub. The Cosmo is one of the few Las Vegas hotels that does this.
When I asked the staff at the Cosmopolitan, they said this promotion is only available on Monday and Friday nights, but I have been able to get in for free on Saturday too. It may be worth, double-checking with the hotel concierge once you check-in since this perk sometimes isn't available during special events.
Marquee Dayclub vs Marquee Nightclub
Marquee Dayclub Las Vegas is a classic Las Vegas pool party, that offers a food menu, along with bottle service reservations. This allows you to bask in the Vegas sun while you enjoy the shows put on by the DJ.
The nightclub is more focused on putting on good music performances. Overall, both Marquee venues are excellent clubs. You can get into either Marquee venue by signing up for the guest list or purchasing a ticket.
Marquee Las Vegas Dayclub Ticket Price vs Nightclub Ticket Price
If you're not going to utilize the guestlist, the Las Vegas Marquee offers tickets. Tickets generally cost between $30 and $75 per person. Tickets for ladies are always a bit cheaper than for men. Marquee dayclub ticket prices are also usually cheaper than the nightclub. Getting a Marquee Dayclub table is also cheaper than purchasing one at the nightclub.
Dayclub bottle service is cheaper at Marquee as well. However, it's not the cheapest day club bottle service as that honor goes to Marquee's sister club, Tao Beach Club. Tao Beach has some of the cheapest tickets and bottle service prices in town.