It's nice to have the extra freedom that comes with a rental car, but is it really worth the price? Renting a car in Las Vegas is expensive, and with new apps like Uber and Lyft on the rise, it makes sense to ask the question: Do you need a rental car in Las Vegas?
Renting a car in Las Vegas is unnecessary, unless you plan on leaving the Strip. Most tourist attractions are on the Strip, making it easy to get around without a vehicle. There are plenty of cheap alternatives to rental cars including the monorail, taxis, buses, and ridesharing apps.
Most people who visit Las Vegas aren't going to need a rental car. However, there are a few instances where renting a vehicle not only makes sense, but is the cheapest option.
In this post, I'll walk you through some of the pros and cons of renting a car in Las Vegas. I'll also compare the price of a rental car to some of the other transportation options. By the end, you'll know exactly which option to go with.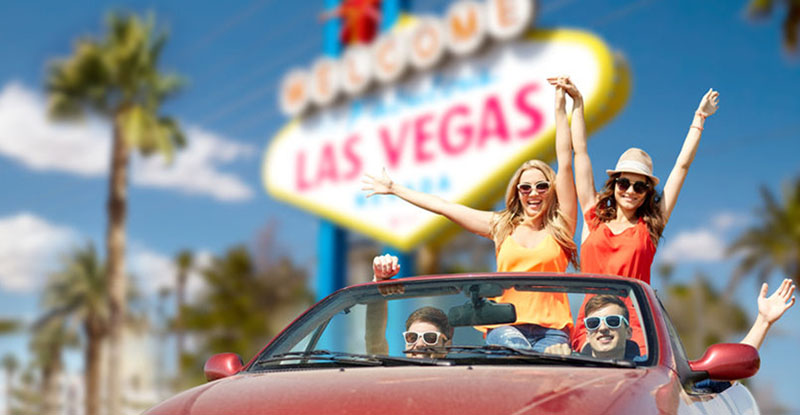 Advantages of Renting a Car in Las Vegas
Renting a car allows you to experience Las Vegas like a local. You'll have much more freedom and greater access to the city. Here are a few of the advantages of rental cars:
Range: A rental car allows you to go anywhere you want. Daytrips to the Grand Canyon, Hoover Dam and Red Rocks Canyon are all made possible with a rental car. You could take day trips to the Grand Canyon on a bus tour, but a car just gives you more flexibility.
Freedom: There's no need to wait around for someone to pick you up when you have a car. No waiting for Ubers, buses or taxis. You can just pick up and go whenever you're ready.
Privacy: When you have your own vehicle, you don't need to rub shoulders with strangers on public transportation or make small talk with your cab driver.
Size: If you have a larger family, it may make sense to invest in a rental car. A large rental that fits your entire family may be more cost-effective and UberXL or taking several taxis.
Disadvantages of Renting a Car in Las Vegas
Not everyone needs to be driving around the entire city. In fact, most people who visit Las Vegas have no need to even leave the Strip. A rental car would just be an unnecessary expense. Here are some of the disadvantages of renting a car in Las Vegas:
Driving: Driving around the city is no easy task. There is plenty of traffic and pedestrians that will cut right in front of you. You need to be alert when driving in Las Vegas.
Parking: Finding a place to park your car can be both confusing and expensive. There are a few resorts that offer free parking on the Strip, but most garages are just glorified mazes that charge you by the hour.
Price: Rental cars are not cheap. The most affordable rentals start around $50 a day, and that doesn't even include the taxes and fees. (I'll cover prices more in the next section).
Safety: If you're going to be driving a car while on vacation, you must make sure that you aren't drinking. If you are drinking (you probably will, it's Las Vegas), you're going to have to leave your car wherever you parked it and find another way back to your hotel.
Time: Picking up and dropping off a rental car is a huge pain, especially in Las Vegas. Not only do you have to wait in long lines to get the car, but you also have to get to the airport early to drop it off.
Cost of Renting a Car in Las Vegas
Rental cars seem to be getting more expensive every year. I compared the cost of a standard-sized vehicle from 15 of the largest car rental companies in Las Vegas and found that the average based rate for a car was between $40-$80 a day.
But in addition to the base rate every company charges taxes and fees that total an additional $20-$40 a day. (The advertised rates online are sort of misleading because you can't see these fees until you go to check out).
There is also a required security deposit of between $200-$300 that you won't get back until you return the vehicle. It's not a cash security deposit in most cases, they just put a hold on your card.
| Rental Car Expense | Cost |
| --- | --- |
| Base rental rate | $40-$80 (per day) |
| Taxes and fees | $20-$40 (per day) |
| Parking | $0-$20 (per day) |
| Security deposit | $200-$300 (refundable) |
| Total | $60-$140 per day (+$200-$300 security deposit) |
So the average rental car in Las Vegas is going to cost you roughly $60-140 a day. If you were looking to get a larger or sportier vehicle, you can expect prices to be even higher. To sum it up, a 3-day car rental can easily end up costing you $300-$400.
Now you don't have to rent a car for the entirety of your trip. You could easily rent a car for one day to do some sightseeing outside the city, then bring it back within 24 hours.
If you go that route, you're going to need some alternative modes of transportation for the rest of your vacation. So in the next section, we'll look at some cheap rental car alternatives and how much they cost.
Rental Car Alternatives in Las Vegas
Besides driving, there are 5 main ways to get around Las Vegas. All of these options are cheaper than renting a car as long as you don't venture too far away from the Strip.
Rideshare (Uber and Lyft)
Ridesharing apps, like Uber and Lyft, are one of the fastest and most convenient ways to get around Las Vegas. Uber has a strong network of drivers in Las Vegas, so you'll rarely have to wait more than 5 minutes for your ride to arrive.
Both Uber and Lyft are highly organized when it comes to pick-up and drop-off locations. Every major hotel and casino has designated rideshare areas with plenty of signage, so you'll be able to find your way.
Most rides to places on the Strip are only going to cost about $12-$15, sometimes even less. A 10-15 minute ride to a destination off of the Strip doesn't usually cost more than $20.
This is my go-to way to get around the city. I wrote a more in-depth article here comparing Uber to rental cars. You find everything you need to know about Uber in Las Vegas in that post.
Taxi Cabs
Taxi cabs are relatively comparable to ridesharing apps when it comes to speed and convenience. However, taxis are about 20%-30% more expensive than Uber in Las Vegas.
The taxi network also isn't as strong as it used to be. There are plenty of taxis on the Strip and near the airport, but once you go off the Strip, taxis are much less accessible. You may even have to go out of your way to call a cab at some remote hotels.
With that being said, taxis are still a viable transportation option. They may be your best option if you're not comfortable using apps like Uber.
Just keep in mind that there are a few other things that are unsettling about taxis. I cover some of the things to be aware of when using taxis in Las Vegas in this article here.
Bus System
The Deuce Bus makes stops at many of the hotels and casinos up and down the Strip. It runs every 15-20 minutes, and it's open 24 hours a day. The Deuce is the most cost-effective way to get around Las Vegas.
You can purchase tickets at vending machines found directly on the Strip. Here's how much it costs:
2-Hour Pass – $6
24-Hour Pass – $8
3-Day Pass – $20
While it's the cheapest way to get around Las Vegas, it's also relatively slow. It's still faster than walking, but I wouldn't recommend taking the Deuce if you're in a hurry.
Monorail and Trams
Monorails and trams can get you to your destination quickly. They run on tracks above the Strip, so they completely avoid all of the traffic. The monorail runs on the east side of the Strip and stops at 7 stations:
SAHARA Las Vegas
Westgate Station
Las Vegas Convention Center Station
Harrah's and The LINQ Station
Flamingo and Caesars Palace Station
Bally's and Paris Station
MGM Grand Station
Trains arrive every 4-8 minutes. Tickets for the monorail are pretty cheap too. They range from $5 for a one-way ticket to $29 for a 3-day pass. You can purchase them at vending machines at each of the stations.
The trams run on the opposite side of the Strip and are actually completely free. There are 3 individual tram loops that run from the Mirage to Mandalay Bay.
Aria Express Tram – Park MGM, Shops at Crystals, Bellagio
Mandalay Bay Tram – Mandalay Bay, Luxor, Excalibur
Mirage-Treasure Island Tram – Mirage, Treasure Island
The Las Vegas monorail is really underrated. I wrote a more detailed article about the monorail and a few of the other alternative modes of transportation in this post here.
Walking
The final way to get around Las Vegas is to walk. Most people who visit Las Vegas don't ever leave the Strip, so walking is a completely viable option. Just know that the Strip is deceptively long.
The main part of the Vegas Strip is a total of 4 miles long, so make sure you bring comfortable shoes. It can take an hour to walk the Strip from end to end.
It's also important to note that Las Vegas gets really hot in the summer (upwards of 110 degrees). I don't recommend doing too much walking in the summer as it can get really uncomfortable.
Tips for Renting a Car in Las Vegas
If you do end up renting a car, keep in mind that the rental car center is not located directly at the airport. Once you pick up your luggage at the baggage claim, you'll have to take a 10-minute shuttle to the McCarran Rent a Car Center.
The majority of rental companies operate out of this location including:
Advantage
Alamo
Avis
Budget
Dollar
Enterprise
Hertz
National
Payless
Thrifty
In my experience, Budget Rent a Car offers the best prices. Unfortunately, they have long wait times, even with a reservation. For that reason, I would recommend Alamo Rent a Car. They have the best customer experience of any rental car company in Las Vegas. They're also very fairly priced.
Does Getting a Rental Car Make Sense in Las Vegas?
For the vast majority of people visiting Las Vegas, rental cars are not going to be necessary. There's no reason to spend that much money on a car if you're not going to use it.
I would only recommend renting a car if you're going to visit an attraction off of the Strip like:
Lake Mead
Hoover Dam
Lake Las Vegas
Grand Canyon
Red Rocks Canyon
Las Vegas Motor Speedway
Water park
If you plan on staying near the Strip, Uber is going to the best way to get around. It's cheaper, quicker and easier than renting a car. However, if you do end up renting a vehicle, you'll want to check out the article I wrote after testing all of the best rental car companies at the airport in Las Vegas.