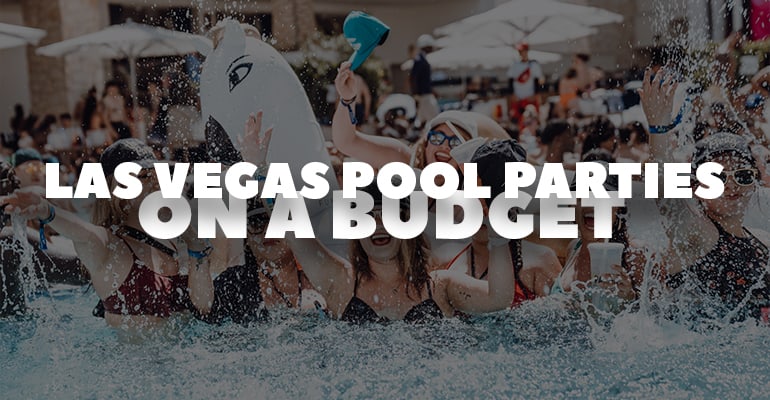 Every Vegas trip needs at least one pool party. But after attending some of these pool parties, I realized a day at the pool can easy cost a couple hundred dollars. So, I found some ways to minimize costs while maximizing fun.
What are the cheapest Las Vegas pool parties? Tao Beach and Daylight Beach Club have the cheapest tickets prices of any Vegas pool party. Tickets typically cost between $20-$30 at these clubs. You can also get into these pool parties for free by signing up for their guest lists.
You can avoid paying for expensive tickets at every Las Vegas pool party by signing up for the guest list. The rules for the guest list are different at each club, so I'll fully cover those rules in this article. I'll also give you some tips on how to save money on drinks and avoid unnecessary expenses.
Cheapest Way Into A Vegas Pool Party: The Guest List
If you're not familiar with the guest list, it's a way to get into all Vegas clubs for free or at a reduced price. All Las Vegas nightclubs and pool parties offer a guest list. You can sign up for pool party guest lists for free online, in about 2 minutes. These are the guest list rules for the top Vegas pool parties:
| | | |
| --- | --- | --- |
| Pool Party | Women (Guest List) | Men (Guest List) |
| Tao Beach | Free | Free (With Even Ratio) |
| Daylight Beach Club | Free | Free |
| Drai's Beachclub | Free | Free (With Even Ratio) |
| Marquee Dayclub | Free | Free (With Even Ratio) |
| Wet Republic | Free | Free |
| Encore Beach Club | Free | Free (With Even Ratio) |
At all Las Vegas pool parties, women get free entry. You don't have to be a model. As long as you're on the guest list, you get into the club for free.
Men on the other hand, men are required to have an even ratio of women in their group (or a greater number of women than men), to get into most pool parties for free using the guest list. However, there are 2 clubs (Wet Republic and Daylight Beach Club) where men can get in for free without having an even ratio of women.
In addition to free entry, the guest list can also save you money on drinks. Women on the guest list will occasionally receive free drink tickets or access to an open bar. These perks aren't always available, but getting free drinks on the guest list is not uncommon.
Guest List Restrictions For Pool Parties
Guest lists are available at every dayclub 95% of the time. The only exception is during major holidays like the 4th of July, Labor Day Weekend or Memorial Day.
Pool party guest lists also have a cutoff time around 1:00 pm. If you're not in the club by that time you'll have to pay full cover. Seeing as most pool parties open around 11:00 am, I would recommend getting to the club by 10:45. Pool parties are extremely popular and lines can get long fast.
Pool Parties With The Cheapest Tickets
If you don't plan using the guest list, then tickets at major pool parties can cost upwards of $75. That's not exactly ideal if you're looking to save money. Some pool parties like Tao Beach or Daylight sell tickets closer to $20-$30, but that's still a lot of money to pay before you even walk in the door.
The average prices for pool party tickets are listed in the table below. Note that these are pre-sale tickets. If you were to purchase one at the door of the club you may be paying significantly more.
| | | |
| --- | --- | --- |
| Pool Party | Ticket Price (Women) | Ticket Price (Men) |
| Tao Beach | $15-$30 | $20-$40 |
| Daylight Beach Club | $20 | $30 |
| Marquee Dayclub | $20-$30 | $30-$40 |
| Drai's Beachclub | $20-$40 | $30-$50 |
| Wet Republic | $20-$50 | $30-$60 |
| Encore Beach Club | $25-$50 | $45-$75 |
I don't recommend purchasing tickets unless you're visiting Las Vegas during a holiday. It also makes sense for groups of guys to purchase tickets if they're attending a club where they can't get in free on the guest list. But even then, I would recommend that groups of guys either go to Wet Republic or Daylight.
Women should never be purchasing tickets, since they can get into every dayclub for free on the guest list. Whether you're on a budget or not, the guest list should always be your first option.
Pool Parties With Cheap Bottle Service
Bottle service isn't exactly what comes to mind when you think of saving money. But, depending on your group size it can actually be cheaper than buying drinks at the bar. These are the average drink prices at Vegas pool parties:
| | |
| --- | --- |
| Drink | Price |
| Bottle Water | $8-$10 |
| Beer | $8-$12 |
| Shots | $10-$15 |
| Mixed Drinks | $15-$20 |
Drinks at pool parties tend to be more expensive than drinks at nightclubs. I have seen mixed drinks at Encore Beach Club cost as much as $22. If you're getting 5 drinks per person, you can easily be spending $100+ in alcohol alone.
If you have a larger group of say 10-15 people, you may be able to save some money by splitting a bottle service table. Both Tao Beach and Daylight Beach Club offer some of the lowest bottle service prices in all of Las Vegas. Both club's offer cabana's for as low as $1,500. I have even seen prices dip to $1,000 for a pool party cabana.
Now prices for bottle service are largely based off of demand, so prices change quite frequently. But, if you're shopping for cheap bottle service options, these two clubs have some attractive offers. If you're interest in bottle service you can contact us here, and we'll put you in touch with a VIP host that works at the club.
Avoiding Unnecessary Expenses At Pool Parties
If you're like most people, dropping $200 on a pool party can hurt your wallet. Especially, if you plan on attending a nightclub later on in the night. So besides using the guest list, these are some ways to keep your pool party budget within reason.
1. Pre-game Before You Enter The Club
I know it may seem a bit odd to be drinking before 11:00 am, but heck it's Vegas. Once you enter the pool party drinks are instantly going to get more expensive. You can combat this by pre-gaming in the lobby bars before you enter the club.
Lobby bars are always open, and drinks cost much less than they do inside the club. You can even have a drink or two while you wait in line to get in. Just know that you'll be required to finish your drinks before you enter the club.
2. Only Bring What You Need
Although, most pool parties allow you to bring a small bag into the club, it's best to pack light. You don't want to have to watch your bags all day, making sure that no one steals anything. And you definitely don't want to pay $50 for a locker. Yes, most pool parties have lockers available for rent, but if you're looking to save money, they are best avoided.
There is also no need to bring a towel. Almost all pools in Las Vegas will provide fresh towels for you. All you really need are the bare essentials which include your some cash, your ID and ideally open toe shoes.
Make sure you wear swimwear to the club, since jeans and sports attire (like basketball shorts) aren't allowed. You can bring hats and sunglasses. Women should remember to bring a cover-up, as you will be required to wear it while walking through the hotel.
3. Eat Before You Get To The Pool
Some pool parties have full kitchens, allowing you to order food in the club. You don't want to party on an empty stomach, but remember prices for everything will be inflated while at the pool. The food at your hotel is likely to be much cheaper.
4. Take An Uber/Lyft Or Walk To The Pool Party
Cabs and taxis in Las Vegas are extremely overpriced. It's not uncommon for a driver to take advantage of tourists, by taking longer routes. Cabs should be avoided at all costs. Luckily, there are plenty of Ubers and Lyfts in Vegas. They will be cheaper and you'll know that you're not over paying.
If the pool party you're attending is in the hotel next to yours, it doesn't hurt to walk. But if it's more than two hotels away, I would recommend getting a ride. The casinos in Las Vegas seem deceptively close together. What seems like a 5 minute walk can easily turn into a 30 minute ordeal, especially if you're wearing heels or wedges.
Related Questions
What's the best Las Vegas pool party? Encore Beach Club and Wet Republic are widely recognized as the best pool parties in Las Vegas. This is mainly because they are two of the largest dayclubs. These two pool parties also have the most popular DJs.
Can you bring your own drinks into Vegas pool parties? You cannot bring your own drinks into Las Vegas pool parties. Security at pool parties is extremely tight. Gum, vapes and liquids of any kind are generally best left in your hotel room.