Sushi restaurants are extremely popular in Las Vegas, but it's no secret that they can get expensive. That's why I decided to find the best affordable sushi in Las Vegas.
I grabbed a meal at all of the top sushi restaurants on the Strip and around the city to find out which ones offer the best deals. After nearly a month of eating non-stop sushi, I found these to be the most affordable sushi restaurants in Las Vegas.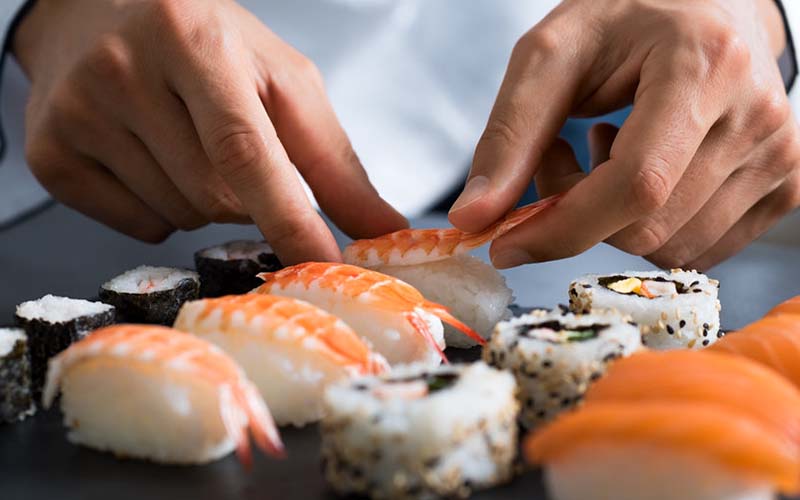 Also See: Best Las Vegas Sushi Restaurants
Cheap Sushi on the Las Vegas Strip
Jaburritos Sushi Burritos
Restaurants on the Strip tend to be more expensive than their off-Strip counterparts, however, Jaburritos bucks that trend. This Asian fusion restaurant allows you to build your own sushi burritos and sushi bowls at an affordable price. It reminds me a lot of Chipotle.
The service at Jaburritos is always fast, and the food is great. The restaurant is conveniently located on the LINQ Promenade in the center of the Strip. This is the most affordable sushi place on the Las Vegas Strip.
Location: 3545 S Las Vegas Blvd l12, Las Vegas
Price range: $10-$15
RA Sushi Bar Restaurant
RA Sushi is an affordable sushi restaurant located inside the Fashion Show Mall. It has an extensive offering that includes menu items like sushi, nigiri, sashimi, maki, specialty rolls, and sushi burritos. They serve bento boxes, hibachi, and poke as well.
Most dishes are in the $10-$25 range, and the service is fast. You can even order takeout or delivery. RA sushi also has a happy hour special that runs from 3 pm to 7 pm and 10 pm to close. If you eat here, I highly recommend that you get a table on their outdoor patio overlooking the Strip.
Location: 3200 S Las Vegas Blvd #1132, Las Vegas (Fashion Show Mall)
Price range: $10-$25
Related: Best Sushi Burritos in Las Vegas – On & Off the Strip
SUSHISAMBA Las Vegas
SUSHISAMBA definitely isn't the cheapest place to eat sushi in Las Vegas, however, they do offer a happy hour special called Samba Hour. This promotion is available from 3 pm to 6 pm every day except for Saturday.
During happy hour you can order items from the sushi bar for as low as $7. Other dishes like Wagyu slides and select sushi rolls are also pretty inexpensive. This is a great opportunity to grab premium sushi on the Strip at a reduced cost. Depending on what you order, your final tab usually comes out in the $30 range during happy hour. You can find SUSHISAMBA at the Venetian.
Location: 3327 S Las Vegas Blvd, Las Vegas (Venetian)
Price range: $7-$12 per dish (Happy Hour Only)
Affordable Sushi Restaurants Off the Strip
Gorilla Sushi
Gorilla Sushi is an all-you-can-eat sushi restaurant located near the Las Vegas airport. If you're staying on the Strip, that may seem far away, but it's really only about a 5-minute car ride from the MGM Grand. This is also an excellent late-night spot since they're open until 2 am on the weekend.
Gorilla Sushi offers some of the best sushi in town for the price. The restaurant serves nigiri sushi, sashimi, standard sushi rolls, hand rolls, specialty rolls, and deep-fried rolls. There are nearly 100 sushi items on the menu, and you can order as many as you want for $23 (lunch) or $28 (dinner).
Location: 1801 E Tropicana Ave
Price range: $23-$28 for AYCE
Sapporo Revolving Sushi
Sapporo Revolving Sushi is famous for its conveyor belt sushi concept. There are 4 separate Sapporo locations in Las Vegas, but I prefer the original restaurant in Chinatown, which is about a 5-minute drive from the Strip.
This is a true sushi buffet since you can take as many dishes as you want. Each dish you take off the conveyor belt costs between $2-$3, so it's not all-you-can-eat, but it's still pretty cheap. You usually won't pay more than $20-$30 for a full meal.
4671 Spring Mountain Rd, Las Vegas, NV
Price range: $20-$30
Hiroba Sushi
Hiroba Sushi is a local sushi spot found in Henderson, NV (about 20 minutes from the Las Vegas Strip). It isn't as well-known as other sushi restaurants in Vegas, but the food here is excellent. The menu offers a ton of options like sashimi, specialty sushi rolls, noodles, and donburi (rice bowls).
Nigiri and sashimi plates only cost $4-$7 apiece, while many of the sushi rolls cost less than $10. You can easily get a full meal for $20 a person. This is one of the best places to eat top-notch yet cheap sushi in Las Vegas.
Location: 10720 S Eastern Ave #100, Henderson, NV
Price range: $20-$25
Affordable Sushi in Downtown Las Vegas
YU-OR-MI Sushi Bar
There aren't many sushi restaurants in downtown Las Vegas, so your options are relatively limited. However, when it comes to affordable sushi, YU-OR-MI Sushi Bar stands out. The restaurant serves a full sushi menu that includes items like nigiri, sashimi, traditional sushi rolls, and specialty rolls.
A few of the different sushi options include yellowtail, snapper, king crab, salmon, shrimp, sea urchin, and lobster. If one of your friends isn't in the mood for sushi, the restaurant also offers a couple of main dishes, like lamb chops and chicken teriyaki. You can find YU-OR-MI Sushi in the Arts District, between the Strat and the Fremont Street Experience.
Location: 100 E California Ave, Las Vegas, NV
Price Range: $20-$25