Do you like sushi? Do you like burritos? Then, you'll love sushi burritos! Sushi burritos have become quite popular in Las Vegas recently, but where can you get them?
I checked out all of the best places to eat sushi in Las Vegas and found several restaurants that serve sushi burritos. After a couple of days of testing, I determined that these are the top spots to grab a sushi burrito in Las Vegas.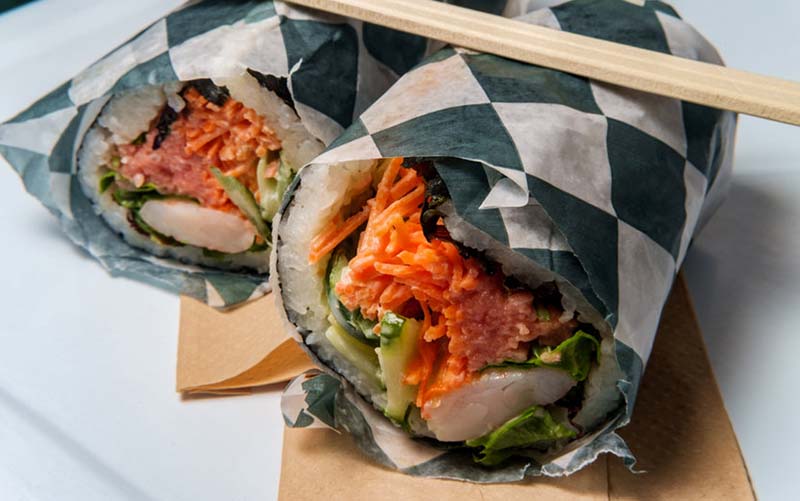 Jaburritos Sushi Burritos
Jaburritos is the top place to eat a sushi burrito in Las Vegas. The restaurant lets you build your own sushi burritos and bowls, very similar to Chipotle. It also happens to be one of the most affordable sushi burrito restaurants in Las Vegas.
The service at Jaburritos is fast, and the burritos are always delicious. The restaurant is located on the LINQ Promenade in the center of the Strip. You can order delivery through Uber Eats, Postmates, and Grubhub as well if that's more convenient.
Location: 3545 S Las Vegas Blvd, Las Vegas, NV
Price range: $10-$15
SOHO Sushi Burrito
SOHO Sushi Burrito is the more casual spinoff of the famous SOHO Japanese Restaurant. This restaurant offers several signature sushi burritos on its menu, but you can also build your own if you prefer. When you build your own, you'll have your choice of meats like chicken, beef, fish (raw and cooked), shrimp tempura, and soft shell crab. There are also nearly 20 vegetables and over 10 sauces to choose from.
The food here is high-quality yet affordable since most of the menu costs less than $10. SOHO Sushi Burrito has several locations throughout Las Vegas. I like the one on West Sahara Avenue, near the Strat Hotel.
Location: 2600 W Sahara Ave Ste 115, Las Vegas, NV
Price range: $6-$10
RA Sushi Bar Restaurant
RA Sushi doesn't specialize in sushi burritos, but they do have them on their menu. You can order spicy tuna and shrimp tempura burritos at RA Sushi. Both are delicious and include avocado, crab, lettuce, and jalapenos. The shrimp tempura burrito is made with cream cheese as well.
Aside from the sushi burritos, you can also order an assortment of menu items like sushi rolls, nigiri, sashimi, bento boxes, ramen, poke, and hibachi. You can find the restaurant on the Las Vegas Strip inside the Fashion Show Mall. Takeout and delivery options are available too.
Location: 3200 S Las Vegas Blvd #1132, Las Vegas, NV (Fashion Show Mall)
Price range: $10-$15
Sweet Poke
Sweet Poke is a build-your-own poke and sushi burrito restaurant. They allow to you build your own dishes using a number of ingredients, including tuna, crab, shrimp, salmon, and unagi (eel). Poke bowls cost $12-$15, depending on the size you choose, while burritos cost $12. A kid's meal only costs $9.
Sweet Poke has three locations in Las Vegas. They are all at least a 15-minute drive from the Strip, but I find the one on Rainbow Boulevard the easiest one to get to. If you're not able to get to any of the locations, you can also order delivery using Uber Eats and DoorDash.
Location: 7965 S Rainbow Blvd #135, Las Vegas, NV
Price range: $10-$15
Pokeman Sushi Las Vegas
Pokeman Sushi is another spot that serves sushi burritos. It's located in the Chinatown District of Las Vegas, about 5 minutes from the Strip. True to its name, Pokeman serves poke bowls, sushi burritos, and other Japanese dishes.
This sushi restaurant is lesser-known than sushi burrito spots on this list, but it still serves quality food. You can order one of their specialty burritos or opt to build your own using ingredients like tuna, shrimp, tofu, salmon, yellowtail, octopus, eel, and scallops. Most burritos cost about $10.
Location: 3735 Spring Mountain Rd #206, Las Vegas, NV
Price range: $8-$12
Suha Bites Sushiburrito & Hawaiian BBQ
Suha Bites Sushiburrito & Hawaiian BBQ is another Las Vegas sushi burrito restaurant. It's located in Summerlin, which is a bit of a hike from the Strip but is perfect for locals that live in the area. They serve excellent sushi burritos in the $10 range in a variety of different flavors. You can select an existing recipe or create your own burrito or sushi bowl from scratch.
Suha Bites also offers poke bowls, salads, and Hawaiian BBQ bowls. I'm surprised that this restaurant isn't more popular. The staff that works here is always super friendly, and the food never disappoints.
Location: 1780 N Buffalo Dr #106, Las Vegas, NV
Price range: $8-$12
Sushi Burrito Restaurants that Have Closed in Vegas
If you're looking for your favorite sushi burrito spot but can no longer find it, it's probably because they closed. There have been a couple of sushi burrito restaurants that have closed in recent years. A few of them include:
Ted's Sushi Burrito
Mexipanese
Tail & Fin
Poukei
Next: Best Affordable Sushi Las Vegas (Cheap Sushi Happy Hour)