If you're looking to visit a hookah lounge in Las Vegas, you'll be happy to know that there are plenty of options. However, there are so many choices that it can be difficult to pick the right one.
So I decided to try all of the most popular hookah bars in the city to see which ones are the best. After a couple of weeks of testing, I have determined that these are the best hookah lounges in Las Vegas.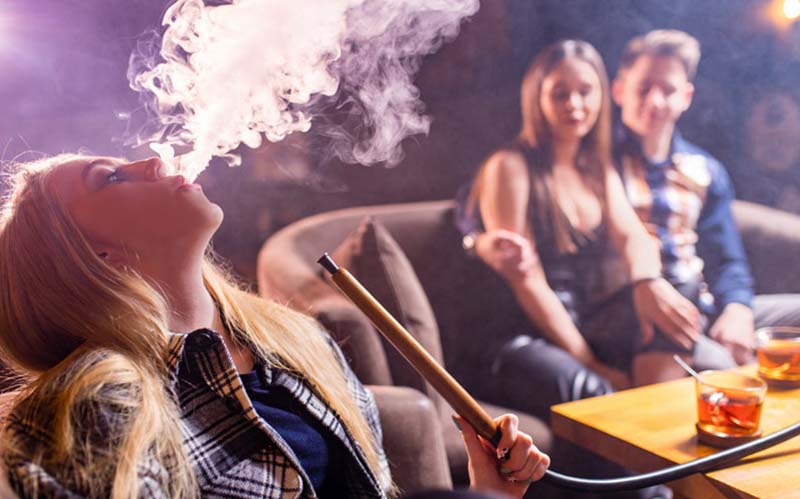 Top Las Vegas Hookah Lounges
1. Azuza Hookah Lounge
Azuza Hookah Lounge is located 2 blocks off of the Las Vegas Strip, near the Virgin Hotel. It's been voted the best hookah lounge in Vegas a couple of years in a row, so you know their hookah is good. Azuza not only offers premium hookah but also organic Halal cuisine and handcrafted cocktails.
This spot is open every day from 6 pm to 2 am. On the weekends, they actually extend their hours until 4 am so you can enjoy the lounge late at night. Insomnia Cookies is conveniently right next door if you're looking for a sweet late-night snack as well.
2. Paymon's Lounge
Paymon's is a unique hookah lounge and restaurant that offers a ton of options. The hookah lounge is known for the crazy parties it throws on Friday nights, while the restaurant is known for its diverse selection of Meditarian foods (Italian, Greek, Middle Eastern, Persian, vegan, and vegetarian).
Quality is the top priority at Paymon's, and it shows. The atmosphere and music here are great, not to mention the premium hookah. Paymon's has two Las Vegas locations, however, the one on West Sahara Avenue seems to be more popular.
3. Luna Hookah Lounge
Luna Lounge is located directly on the Las Vegas Strip, right next to the Wynn. This is a laid-back lounge fitted with comfortable couches and fair hookah prices. They also serve food and drinks at the bar. The hookah itself comes in many different flavors, so you'll have no shortage of options to choose from.
The lounge also hosts regular events, like comedy nights on Tuesdays and Latin Wednesdays. Luna Hookah Lounge is open until 3 or 4 in the morning most nights.
4. The Olive Mediterranean Grill – Cigar Lounge and Hookah
The Olive Mediterranean Grill is located right in between Paradise, NV (the part of the city that has the Strip) and Henderson. They offer hookah, along with an upbeat atmosphere and live music performances. The hookah at The Olive Mediterranean Grill is high-quality yet still affordable.
If you don't smoke hookah, they have a great selection of cigars as well. You can enjoy a cigar while you play pool at one of the pool tables. I also recommend that you check out their highly-reviewed Mediterranean restaurant while you're there. They are typically open from 11 am to 11 pm, but on weekends their hours change to 5 pm to 1 am.
5. Cloud 9 Hookah Lounge
Cloud 9 Hookah Lounge is one of the few 18+ hookah lounges in Las Vegas. It isn't the most luxurious club, but it attracts a younger crowd, especially on Friday and Saturday nights (some nights, it almost feels like a nightclub). It's located about 10 minutes west of the Strip, so you can easily access Cloud 9 by Uber or taxi.
Since Cloud 9 is an 18+ hookah lounge, it doesn't serve any alcohol. They are open every day from 6 pm to 3 am, so it's the perfect late-night Las Vegas hookah spot.
6. LUV Lounge
LUV Lounge is another Las Vegas hookah lounge. It's located just south of the Las Vegas airport, which is about a 10-minute drive from the Strip. This hookah bar is known for its top-notch customer service and high-energy atmosphere. It's a favorite of Vegas locals looking to party and smoke some hookahs.
This spot even holds events, like Karaoke nights every Thursday. In addition to hookah, LUV Lounge also serves drinks and snacks. Plus, there is a happy hour special that runs daily from 5 to 8 pm. This is another late-night spot, so they're open until 3 am most nights.
7. Sivas Vegas
Sivas Vegas is located near the Palms Hotel, which is a couple of blocks off the Las Vegas Strip. It's a good-sized hookah lounge with both indoor and outdoor seating. The hookah is good, and so is the music (they played a lot of hip hop when I went).
Although Sivas is not a restaurant, they still offer a selection of drinks and entrees on the menu. It's not the cheapest Vegas hookah lounge, but the prices are still reasonable. The lounge opens around 5 pm, but the closing time changes based on the day (usually between 1 am and 3 am).
8. Blaqcat Ultra Hookah Lounge
Blaqcat is one of the best places to grab hookah in Las Vegas. Blaqcat Ultra Hookah Lounge offers excellent customer service and great hookah in over 80 different flavors. The atmosphere is very laid-back, and the music is good too.
There is no alcohol served here, but this lounge is still 21+. However, they make up for it with their affordable happy hour hookah specials (5 pm to 8 pm). Blaqcat is open from 5 pm to 2 am most nights (they do close at 12 am on Sundays). Blaqcat Ultra Lounge brands itself as a hub for nightlife and entertainment, and I would say that they definitely accomplish that.
Hookah Lounges on the Las Vegas Strip
Although there is no shortage of hookah bars in Las Vegas NV, there are only two directly on Las Vegas Blvd – Luna Hookah Lounge and Rhumbar at the Mirage. Rhumbar stopped serving hookah for a while but has recently started offering it again in a limited capacity after 7 pm.
Here are some of the other spots near the Strip that offer hookah in Vegas:
Azuza Hookah Lounge
Starbuzz Vegas Hookah Lounge
Sivas Vegas
Starbuzz Vegas Hookah Lounge is another Vegas hookah spot close to the Strip that gets great reviews. If you're looking for a hookah lounge near downtown Las Vegas, you'll want to check out JaRose Hookah Lounge. They get some excellent reviews online as well.
Where to Find Hookah Lounge Las Vegas?
If you're looking for the nearest hookah lounge Las Vegas, check out the map below. All the most popular hookah lounges in the city can be found on this map.