Topless pools in Vegas is a thing, let's just start with that, for many tourists and visitors coming here on a yearly basis, the free and party atmosphere is a big part of why Vegas is such a fun place to vacation.
Sure, casinos, and many cool shows play their part, but a lot of the fun here revolves around the idea that you can be who you want, and do what you want, after all, what happens in Vegas, stays in Vegas right?
We rounded up all the pools in Vegas that are topless optional, so if the mood strikes you and you feel like letting the ladies out for some sun, you know where to go.
European Pool at Encore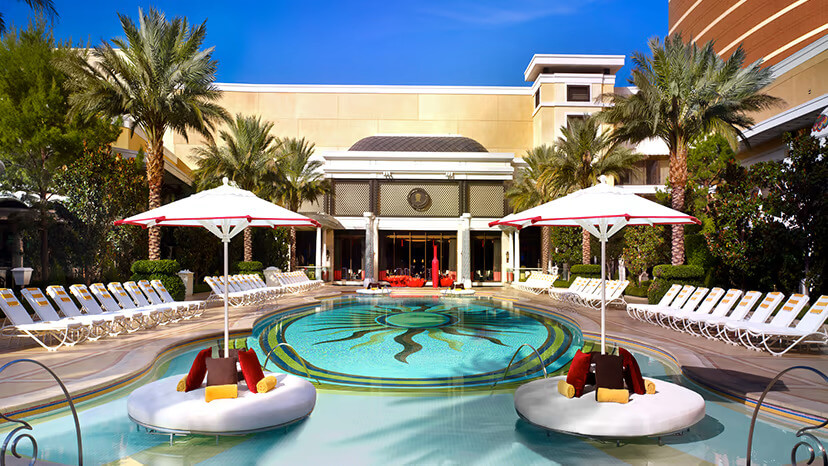 The pools at the Wynn and Encore are very high class, but very different, the Encore pool which is the bigger pool, is much more family friendly, and with much more room. It is NOT a European pool, and is not top-optional.
However, the smaller pool called the Encore Beach Club is!
The famous nightclub XS is where the party starts at night almost every evening. During the day, the guests of the Wynn and Encore can enjoy the European pool before they decide to party in it during the night.
| | |
| --- | --- |
| Hours | Address |
| 08:00AM to 07:00PM daily ( at 10:00PM the pool turns into the night club XS ) | 3131 Las Vegas Blvd S Las Vegas, NV 89109 |
Bare Pool Lounge at The Mirage
*Update – From June 2023, the Bare pool Lounge at the Mirage is not a topless pool anymore but is an adult only pool.
The best thing about this pool is the design and atmosphere. It looks like a tropical resort with palm trees and everything, and is very private.
If this is your first visit to Vegas, this pool is a must see when you're here. Another great thing about this pool is the large cocktail menu with unique drinks. If you want to get a real experience, get the VIP package.
We love this place and consider it one of the best topless pools in Vegas because the place has a natural feel and vibe to it, and not necessarily a sexy one.
| | |
| --- | --- |
| Hours | Address |
| 10:00AM to 05:00PM Friday to Sunday | 3400 S Las Vegas Blvd, Las Vegas, NV 89109 |
Lexi Pool at The Lexi Hotel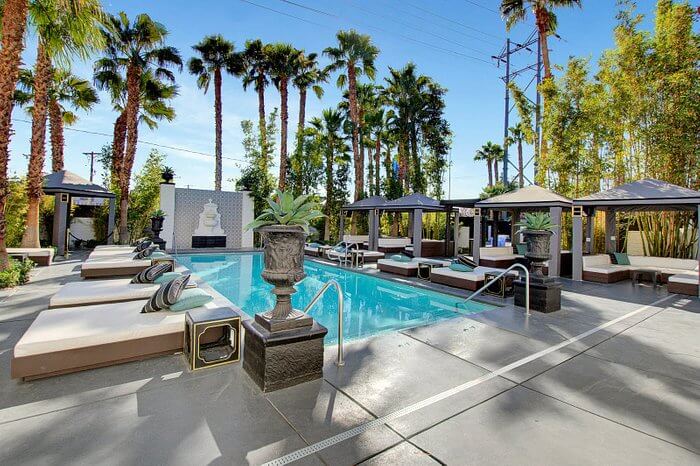 If you're looking for a smaller, more intimate topless pool that is also off strip, the Lexi is a great choice. This is a great European pool option. It's less busy, and has a much more intimate feel to it. Obviously, less tourists as well because of the location.
This venue has great pool parties all the time in a true Vegas style nature. Don't miss this one out.
This is the old and familiar hotel Artisan that was recently renovated and re-branded as Lexi
| | |
| --- | --- |
| Hours | Address |
| 10:00AM to 07:00PM Friday to Sunday | 1501 W Sahara Ave, Las Vegas, NV 89102 |
Moorea Beach Club at Mandalay Bay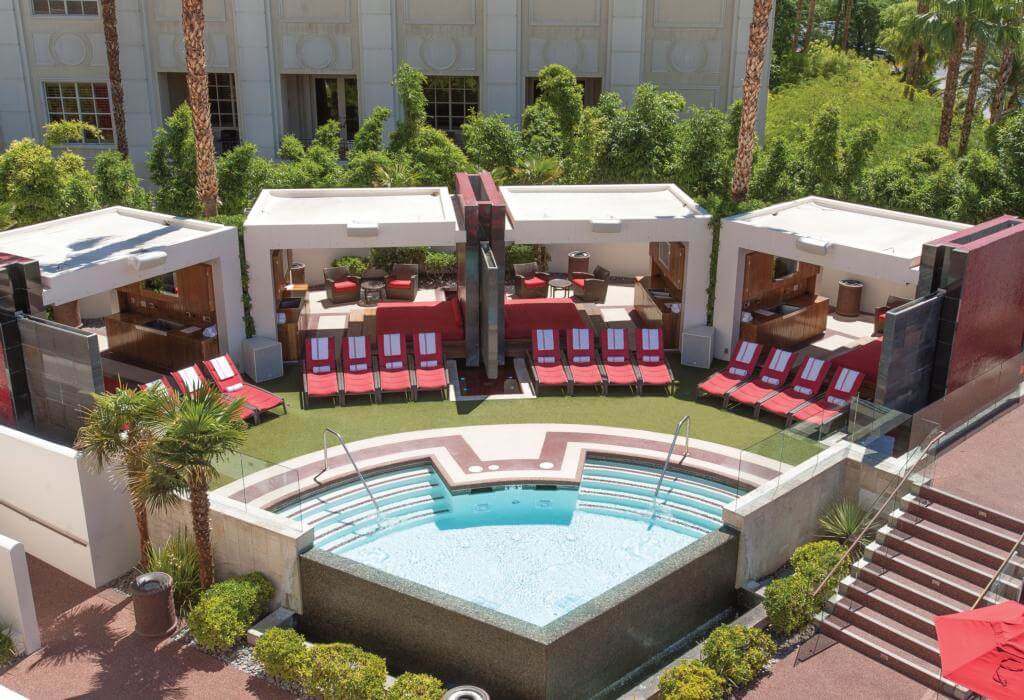 Mandalay Bay hotel has one of the best pools on the strip, hands down. You should visit this pool if you're here, it has a beach like pool with a lazy river and generally a really good atmosphere. And if you're in there, make sure to check out the Moorea Beach club as well.
The pool obviously has a top-optional policy, and a great upscale vibe. You would love to know that this pool is heated so you will never be cold and a DJ will keep you entertained.
For those who are looking for a VIP experience, the cabanas at this pool feels more like small condos and the beds are very very good.
Pool is open for both hotel guests and non-guests. Obviously, non hotel guests need to pay to get in.
| | |
| --- | --- |
| Hours | Address |
| 11:00AM to 06:00PM Thursday to Sunday | 3950 S Las Vegas Blvd, Las Vegas, NV 89119 |
Venus European Pool Lounge at Caesars Palace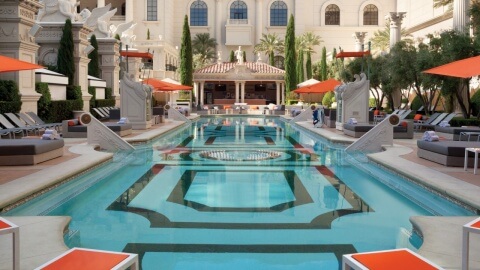 Maybe the most luxurious pool on the strip, and it's one of the best places to socialize by a cool pool and for adults only. The brilliant design makes it feel like you are a kind in ancient Greece, if you like that stuff.
A few things to note about this optional top pool is that it's one of the only on the strip that is open after hours and offers night swims. Also, women get in free while men need to pay a cover charge, and this includes men who are hotel guests, sorry guys.
| | |
| --- | --- |
| Hours | Address |
| 10:00AM to 05:00PM daily. Night swim starts at 06:00PM to 01:00AM on Thursday to Sunday | 3570 S Las Vegas Blvd, Las Vegas, NV 89109 |
Sapphire Club Pool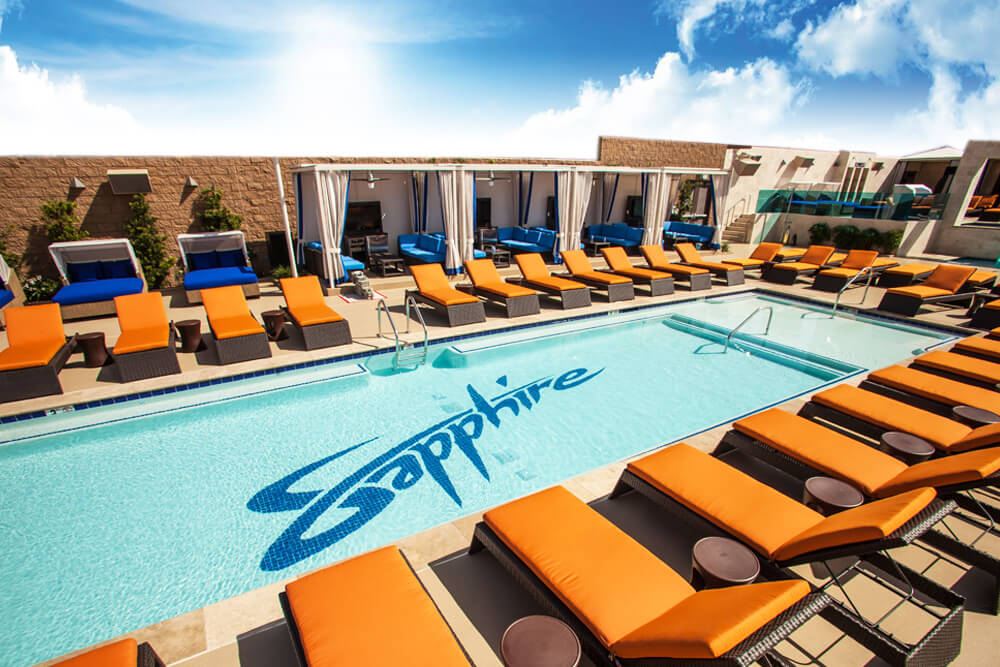 Probably the most popular spot for bachelor parties, and birthday parties in Vegas if you're looking for some topless fun. Sapphire is a gentlemen's club with the only on-site pool outside.
You won't be surprised to see celebrities over there from popular YouTubers, adult stars and more enjoying the awesome pool party.
Everyone is encouraged to go topless, even the employees, so you can be sure to have a great time.
You can rent out cabins, or just day beds, with a relaxing atmosphere and a great time. It is recommended to make reservations as soon as you know you want to go.
| | |
| --- | --- |
| Hours | Address |
| 12:00AM to 06:00PM Friday to Sunday | 3025 S Sammy Davis Jr Dr, Las Vegas, NV 89109 |
Honorable mention: WET24 ADULT POOL & BAR at Strat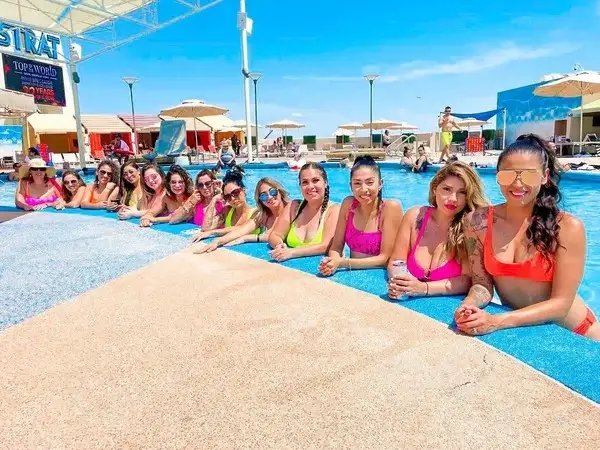 Based on the 25th floor of the Strat hotel, you can enjoy amazing views of Las Vegas. The place was called Radius Wet Lounge in the past, but now it's WET24 Adult Pool and Bar.
The place has a rich history of allowing guests to go topless in the summer season but it is not allowed when it's operating as the main all ages for guests of the hotel, this is mainly during the colder months of the year.
| | |
| --- | --- |
| Hours | Address |
| 10:00AM to 05:00PM Friday to Sunday | 2000 Las Vegas Blvd S, Las Vegas, NV 89104 |
Topless optional definition
A topless optional pool doesn't mean everyone at the pool will be showing skin, it just means that these pools are meant for guests that if they choose, can take off their top, and walk around freely, so please make this distinction, and don't think that just because you went to a bare pool, everyone will be naked.
Frequently Asked Questions
Are all Vegas pools top optional
NO, don't get it twisted, some pools on the Strip have strict rules about letting people go topless, so you should really find out before you lose your shirt.
Are there any other European pools?
While we try to mention all the Top optional pools we know of, things change rapidly, and we might missed something, so it's better to update with the hotel before you go down to the pool
Do you have to go topless?
NO, all European pools are very relaxed, and you can do what feels comfortable to you.