Tofu Hut is a favorite among Vegas locals looking for Korean BBQ. Very few tourists know about the restaurant because their name doesn't jump out as a KBBQ joint. But if you're looking for cheap Korean food, this is the place to go.
I recently reviewed all of the best Korean BBQ restaurants in Las Vegas and got a chance to eat at Tofu Hut. I'll break down everything you need to know about their all-you-can-eat special in this article so you'll know exactly what to expect.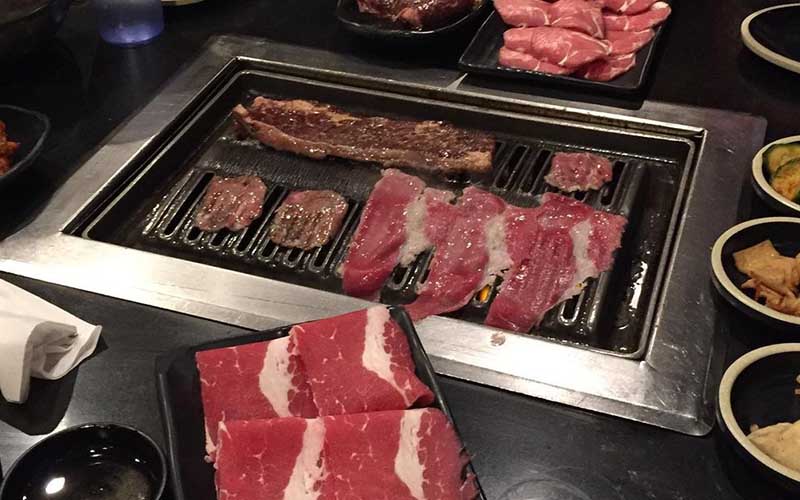 Tofu Hut Prices
There are two menus at Tofu Hut Las Vegas, the AYCE (all-you-can-eat) menu and the a la carte menu. The AYCE menu is the most popular, but it's not available to everyone (I'll talk about why in a moment). I've listed the prices for the AYCE menu below.
Adults – $18.45
Kids (ages 3-5) – $7.99
Kids (ages 6-8) – $10.99
The a la carte menu prices (individual items) vary depending on what you order but are roughly in the $10-$15 range for most dishes. Please note that it's possible that the menu prices change in the future.
AYCE Rules
When it comes to the all-you-can-eat menu, there are some rules. Most importantly, you must have a party of 2 to get a BBQ table. That means solo diners cannot order the AYCE special.
Can only choose 4 menu items for AYCE
There's a 90-minute time limit
Leftovers will be charged
Takeout is not allowed
Parties of 4 or more are automatically charged an extra gratuity
BBQ tables require a minimum party of 2
When ordering off the AYCE menu, it's important to only order what you know you can eat since leftovers will be charged.
All-You-Can-Eat Menu at Tofu Hut
The all-you-can-eat menu at Tofu Hut is a bit limited in the number of options they offer compared to some other Korean BBQ restaurants. However, they make up for it with the price. I highly recommend you order their marinated short ribs, but there are some other excellent BBQ meats on the menu as well.
Beef
Marinated slice ribeye
Marinated boneless short ribs
Thinly sliced brisket
Beef belly
Beef tongue
Intestines
Chicken & Seafood
Spicy chicken thigh
Soy sauce chicken thigh
Squid
Spicy squid
Pork
Sliced pork belly
Spicy pork
Portuguese sausage
Soups
Bean paste soup
Steamed egg
Sides
Fried dumplings
Garlic & jalapeno slice
Corn cheese
Rice
Salad
Sauces
Brisket sauce
BBQ sauce
Soy bean paste
Sriracha
Dessert
If you want more options, you can also order some items off of the individual menu.
A La Carte Menu at Tofu Hut
If you're eating by yourself or aren't hungry enough for the AYCE menu, there is also a menu that offers individual dishes. This menu changes periodically, but here is what is currently offered.
Appetizers
Steamed dumplings – $10.95
Pan friend dumplings – $10.95
Combo Specials
Bulgogi & mushroom tofu soup – $16.25
Chicken & mushroom tofu soup – $16.25
BBQ rib & mushroom tofu soup – $18.25
Shrimp, scallop & mushroom tofu soup – $17.25
Spicy pork & mushroom tofu soup – $16.25
Spicy squid & mushroom tofu soup – $17.25
Vegetable beef & tofu bibimbap – $9.25 (add tofu soup – $12.75)
Stone pot bibim rice $12.49 (add tofu soup $15.95)
Soups
Spicy shredded beef soup – $10.99
Kimchi pot stew – $10.99
Sides
Rice – $2
BBQ salad bowl – $5
Steamed egg – $5
House Specials
BBQ short ribs – $15.75
Bulgogi (sliced ribeye) – $13.75
Spicy chicken – $13.75
Spicy pork bulgogi – $13.75
Shrimp and scallop BBQ – $14.75
Spicy Stir-fried squid – $14.75
Drinks
Korean soju – $10.95
Premium sake – $6.95
Red/white wine – $5
Beer (large) – $7.25
Beer (small) – $4.25
Soda – $2.50
Hot Tea – $2.50
Sparkling water – $2.50
Bottled water – $2
How to Make Reservations at Tofu Hut Las Vegas
When I called to make a reservation at Tofu Hut, I was told that they only take walk-ins on a first-come, first-serve basis. This is understandable, considering the small size of the restaurant.
I highly recommend you get to the restaurant early since this place is so popular. You're almost guaranteed to have to wait for a bit, especially during peak hours.
Tofu Hut Contact Information and Hours
I tried to find Tofu Hut's website but was unsuccessful. The best way to reach them is by phone or by simply showing up at the restaurant. They are located in the Chinatown neighborhood of Las Vegas, which is only a 5-10 minute drive from the Strip. Tofu Hut is open every day from 11am to 11pm.
Address: 3920 W Spring Mountain Rd, Las Vegas
Phone number: (702) 257-0072
Related Articles