888 Japanese BBQ is a new restaurant that recently opened in Las Vegas. I decided to give it a try but had some difficulty finding information about the restaurant online.
If you're having the same issue as I did, this article should help answer any questions you have about 888 Japanese BBQ. This post will cover the menu, prices, location, hours, and how to make a reservation. I'll also cover some of the all-you-can-eat rules.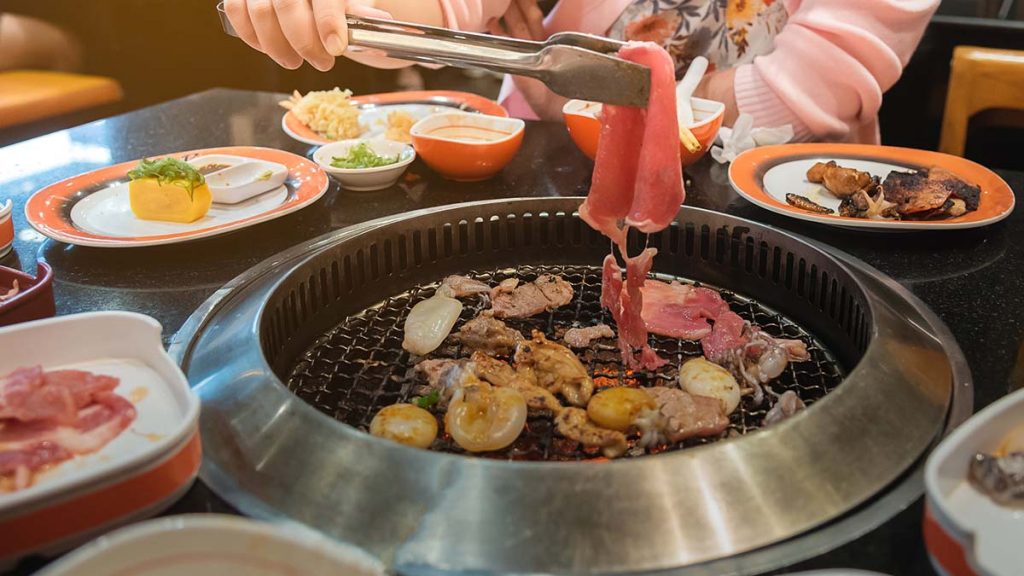 See Also: Best Korean BBQ Restaurants in Las Vegas
888 Japanese BBQ AYCE Menu and Prices
888 Japanese BBQ Las Vegas has an extensive menu that includes over 25 different BBQ meats. There are 3 separate AYCE (all-you-can-eat) menus available. I've listed the prices below (kids get a discount):
Angus – Adults: $24.95 (Kids ages 4-8 cost $14.95)
Prime – Adults: $28.95 (Kids ages 4-8 cost $17.95)
Kobe – Adults: $39.95 (Kids ages 4-8 cost $26.95)
Each menu comes with 3 different sections: sushi, appetizers, BBQ, sides, and ramen. While you can order as much as you want, there are several menu items that are limited to one helping per person.
The main difference between the 3 menus is the number of options available. For example, the Prime menu includes everything offered in the Angus menu, plus some additional options. Then the Kobe menu includes everything offered on both the Angus and Prime menus, in addition to exclusive dishes.
AYCE Rules
There are a few all-you-can-eat rules at 888 Japanese BBQ.
Everyone in your party must order the same menu
90-minute time limit
No leftovers
No to-go boxes
Sushi Menu – AYCE
Angus: 10 total options including: California Rolls, Spicy Tuna Rolls, and Tiger Rolls.
Prime: 19 total options including: Baked Salmon Rolls, Lobster Rolls, and Dragon Rolls.
Kobe: 19 total options including: Japanese Lasagna, Dynamite Rolls, and Unagi Philadelphia Rolls.
Appetizer Menu – AYCE
Angus: 14 total options including: Spicy Tuna Salad, Fried Gyoza (dumplings), and Shrimp Tempura.
Prime: 20 total options including: Salmon Poke, Chicken Karaage, and Veggie Spring Rolls.
Kobe: 23 total options including: Fresh Oyster, Kobe Beef Carpaccio, and Salmon Carpaccio.
BBQ Menu – AYCE
Angus: 29 total options including: Beef Belly, Spicy Pork, and Garlic Shrimp.
Prime: 36 total options including: Filet Mignon, Spicy Jidori Chicken, and LA Kalbi.
Kobe: 38 total options including: Beef Kobe, Marinate Prime Kalbi, and Pork Toro.
Sides Menu – AYCE
The sides are the same for all menus.
Kizami Wasabi
Wasabi
Sushi Ginger
Jalapeno
Kimchi
Radish Wrap
Seasoned Miso Paste
Seasoned Red Chili Paste
Sesame Oil with Seas Salt
Ramen & Soup Menu – AYCE
The ramen and soup options are also the same for all 3 menus.
Spicy Crunch Garlic Ramen
Tonkotsu Ramen
Black Garlic Ramen
Miso Soup
Soft Tofu Soup
Drink Menu
The restaurant also has a solid drink menu. These are ordered separately from the AYCE menu.
Beer – $5-$9
Soju – $12
Flavored Soju – $12
Sake – $8-$13
Signature Cocktails – $8-$12
Wine – $8 glass ($30 bottle)
Whisky – $7-$25
Vodka – $7-$8
Tequila – $8-$9
Gin– $7-$8
Rum – $7-$8
Cogna – $7-$8
Soda – $2
Tea – $3
Dessert Menu
The only a few dessert options, but they are very good.
888 Japanese BBQ Reservations and Contact Information
888 Japanese BBQ is similar to its sister restaurant, 888 Korean BBQ, in that it doesn't currently have a working website. They aren't very active on social media either, so it seems like they are getting most of their business through word of mouth.
The lack of an online presence can cause some issues for people looking to make a reservation. I tried to call them a couple of times, but the line was always busy. I have seen others post reviews saying that they don't take reservations, which makes sense considering that 888 Korean BBQ doesn't take reservations either.
With that being said, the restaurant still gets extremely busy. I recommend getting here early or adding your name to their Yelp waitlist. I haven't tried the waitlist myself, but others have mentioned that it works.
888 Japanese BBQ is located in the Chinatown neighborhood of Las Vegas on S Decatur Blvd. It took the place of Gyu-Kaku Japanese BBQ after it closed its Las Vegas location in late 2021.
Phone number: (702) 476-5033
Address: 3550 S Decatur Blvd, Las Vegas
Hours of Operation
This unique Japanese restaurant is open every day from 11:30 am to 12:00 am (midnight). However, it is possible that they change these hours in the future. It's difficult to know their true hours since they don't have a website.
Is the All You Can Eat Menu at 888 Japanese BBQ worth it?
888 Japanese BBQ in Las Vegas is receiving excellent reviews right out of the gate. After eating here myself, I can tell you that both the customer service and food quality are great. You'll get a ton of food for a reasonable price. I also recommend that you check out Tofu Hut when you're in the area.