When you visit Las Vegas, you should seriously consider eating at an authentic Korean restaurant. There are dozens of popular Korean restaurants scattered throughout the city, so I recently made it a goal to try all of them. After tasting enough kimchi to last a lifetime, I found these to be the best places to get Korean food in Las Vegas.
See Also: Check out my review of the Best Korean BBQ in Las Vegas
Best Places to Eat Korean Food in Las Vegas
1. Tang Tang Tang
Tang Tang Tang is an infamous Korean restaurant in Chinatown known for its excellent bone ox soup. The food here is a bit pricier than some of the other Korean options, but it's worth it. Other notable menu items include Kimchi pancakes, steamed pork, beef short rib soup with noodles, and beef dumpling soup.
Location: 6000 Spring Mountain Rd #1B, Las Vegas
Price range: $15-$40
2. Hwaro
Hwaro is located in Las Vegas' Chinatown neighborhood, only a couple of minutes from the Strip. They serve traditional AYCE (all-you-can-eat) Korean food at a fair price. The restaurant offers a number of meats, including pork belly, beef brisket, Cajun chicken, kalbi, and prime rib. Hwaro also makes several excellent side dishes, like corn cheese and egg rolls.
Location: 5030 Spring Mountain Rd, Las Vegas
Price range: $27 for AYCE
3. Komex Fusion
Komex Fusion is one of the best restaurants in Las Vegas. They found a way to perfectly combine Mexican and Korean cuisine in a way that tastes amazing. You'll find this small restaurant in the northern part of Las Vegas on Decatur Blvd. I recommend that you try their fusion tacos, fusion burritos, bulgogi cheesecake, and bulgogi rice bowls. The service here is fast and friendly, but they have limited hours. Komex is closed on Sundays but is open from 11 am to 8 pm Monday-Saturday.
Location: 633 N Decatur Blvd H, Las Vegas
Price range: $10-$12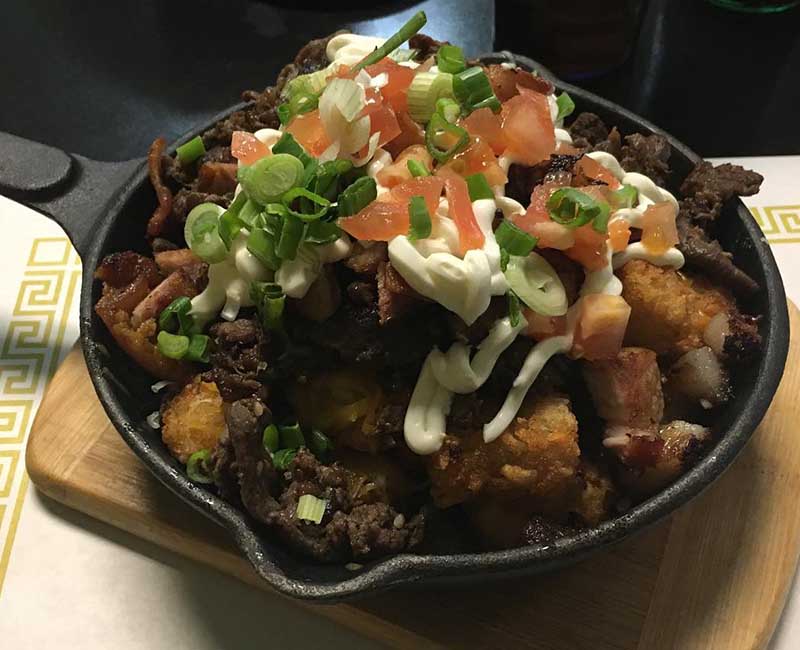 4. Island Style
Island Style serves an interesting combination of Korean, Chinese, and Hawaiian dishes. You can essentially order anything here. The menu options range from sweet and sour pork, fried chicken, shrimp, kalbi, and bulgogi to fried rice, noodles, and cheeseburgers. Island style also offers a decent all-day breakfast menu. This is one of the few Korean food restaurants in Las Vegas that offers both takeout and delivery. Just keep in mind that they're closed on Sundays.
Location: 3909 W Sahara Ave #1, Las Vegas
Price range: $10-$20
5. Buldogis
Buldogis is a unique restaurant that specializes in gourmet hotdogs with an Asian twist. The restaurant uses fresh, high-quality products like 100% premium beef, so you know their food standards are high. The entire menu comes highly reviewed, not just the hotdogs. Buldogis also makes great chicken wings, homemade chili, bulgogi, fresh slaws, kimchi, gourmet fries, and bibim rice bowls. If you don't eat meat, Buldogis offers a Veggie Dog too.
Location: 2291 S Fort Apache Rd #102, Las Vegas
Price range: $5-$15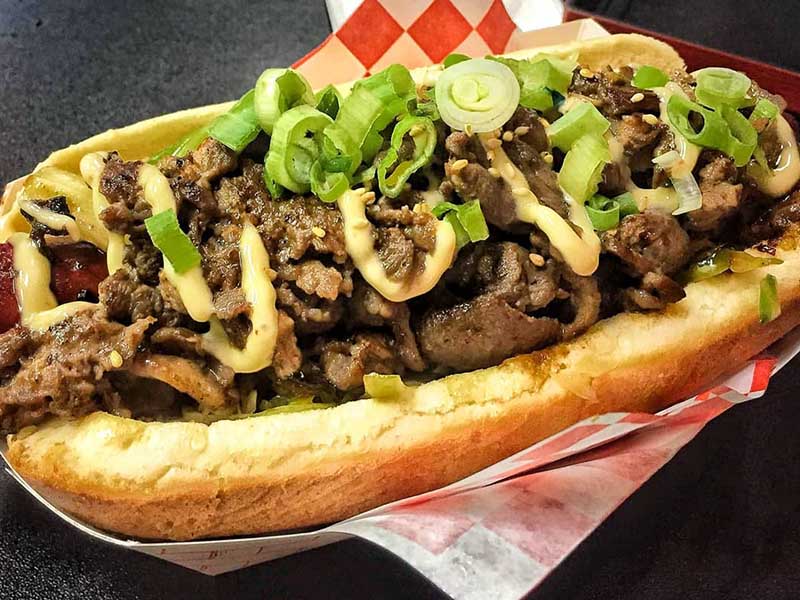 6. CrunCheese Korean Hot Dog
CrunCheese is another terrific Korean hotdog shop. It's located in the Chinatown neighborhood and is one of the cheapest Korean restaurants in Las Vegas. They offer many unique flavors like mozzarella & sausage, squid-ink, cheddar & sausage, potato mozzarella, and rice cake. The service is fast at CrunCheese, making it the perfect spot to grab an easy lunch or a quick snack.
Location: 4284 Spring Mountain Rd, Las Vegas
Price range: $2-$5
7. E Jo Korean Restaurant
E Jo is a small Korean restaurant that offers soups and traditional dishes. You'll have your choice of noodles, dumplings, beef brisket, and ox tail soups. The restaurant doesn't look like much from the outside, but rest assured, you won't be disappointed by the food. E Jo is located a block off of the Las Vegas Strip.
Location: 700 E Sahara Ave D, Las Vegas
Price range: $10-$20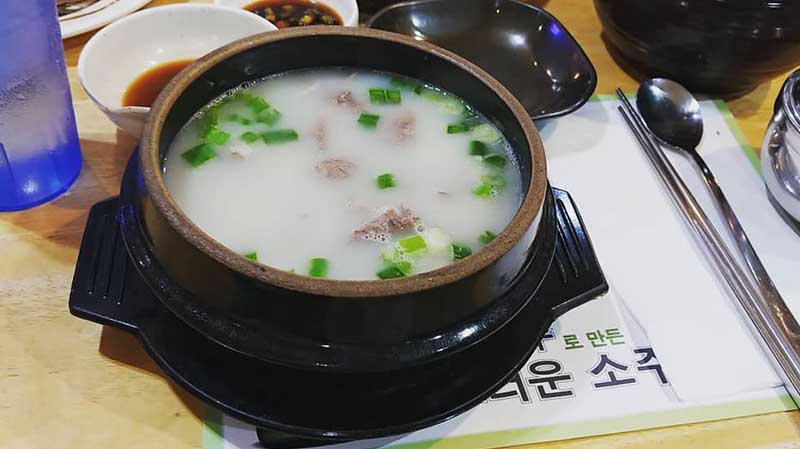 8. Garionban
Garionban is a casual restaurant that serves customary Korean dishes like bossam, jokbal, and gookbap. Their entree menu is very affordable, but they also offer a pricier special menu that features a few hard-to-come-by dishes. Not only can you sit down for a meal at Garionban, but they deliver as well.
Location: 4545 Spring Mountain Rd #102, Las Vegas
Price range: $10-$20
9. Soyo Korean Restaurant
Soyo is a Korean restaurant located in the southern part of Las Vegas. It's been locally owned and operated in Las Vegas, Nevada for over a decade, making it a staple in the community. This "barstaurant" plays modern K-Pop and Hip Hop, while serving authentic Korean street food to guests. A few of the more notable menu items include kimchi fried rice, dumplings, and bibimbap.
Location: 7775 S Rainbow Blvd # 105, Las Vegas
Price range: $10-$20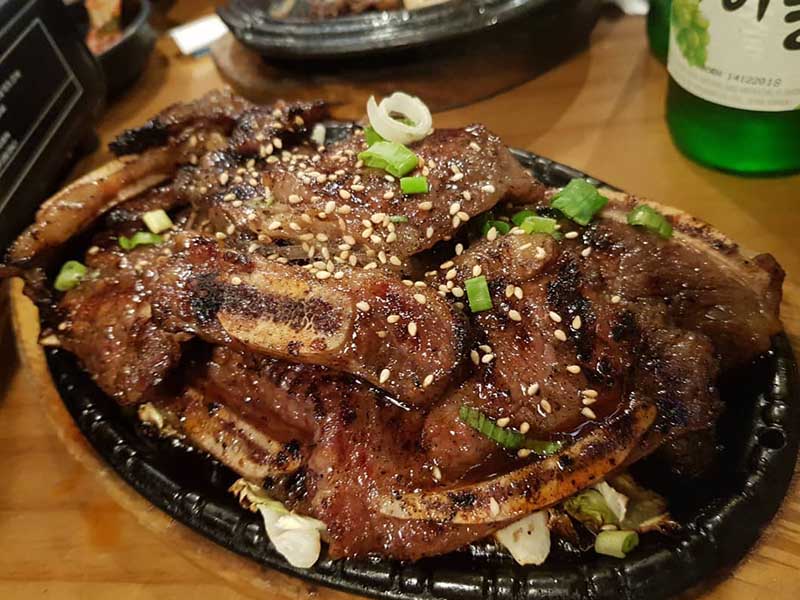 10. Seoul Tofu
Seoul Tofu serves authentic Korean tofu, along with other traditional dishes. They offer several tofu combos that include galbi, beef bulgogi, spicy pork bulgogi, teriyaki chicken, grilled mackerel, and bibimbap, to name a few. Their tofu salad and kimchi pancakes are very good too.
Location: 5980 Spring Mountain Rd Unit 5C, Las Vegas
Price range: $10-$20
11. YuXiang Korean Chinese Restaurant
YuXian is located in the southern part of Las Vegas, right next to Soyo Korean Restaurant. They serve a mix of tasty Korean and Chinese cuisines, available for both dine-in and take-out. Some of your options include kung pao chicken, sweet & sour pork, stir fry mushroom, seafood delight, and orange chicken bap.
Location: 7729 S Rainbow Blvd, Las Vegas
Price range: $10-$20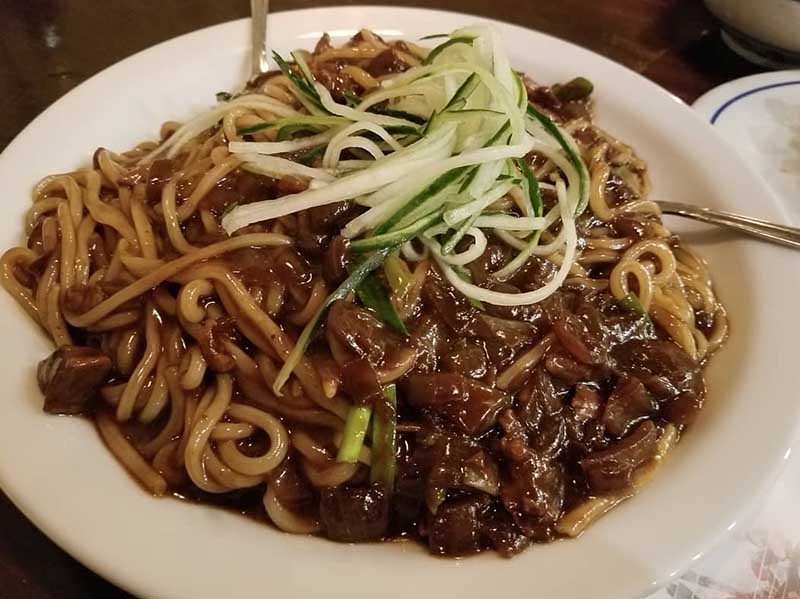 12. Good Fella Korean Bistro
If you find yourself in the west part of Las Vegas and you're craving some Korean food, check out Good Fella Korean Bistro. This tiny restaurant offers an array of Korean cuisines at an affordable price. Some of the notable menu items here include kimbap boxes, bibimbap, fried rice dishes, soups, tofu, noodles, and combo plates.
Location: 5035 S Fort Apache Rd UNIT 106, Las Vegas
Price range: $10-$15
13. Best Friend
Best friend is a Mexican-Korean fusion restaurant found inside the Park MGM. The restaurant is owned by Roy Choi, who created the gourmet Korean-Mexican Kogi Taco Truck. Since it's located inside of a hotel on the Strip, the food is more expensive, but it's worth it. I highly recommend the Kogi tacos and kimchi fried rice. The lamb lollipops and pork choppers are also very good. It's important to note that Best Friend doesn't open until 5 pm, but it remains open until 11 at night.
Location: Park MGM (3770 S Las Vegas Blvd, Las Vegas)
Price range: $20-$70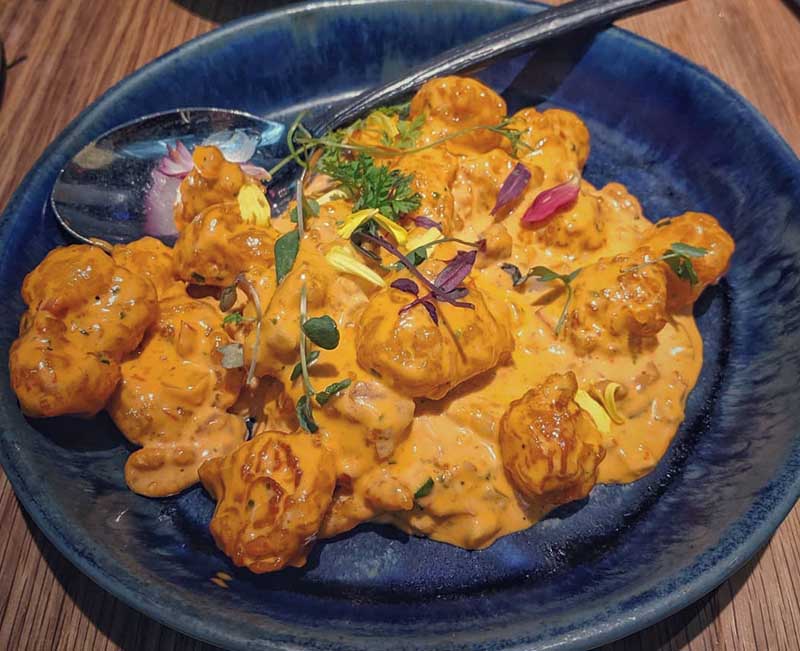 14. Moobongri Soondae
Moobongri Soondae is a popular Korean restaurant in Chinatown Las Vegas. Once you eat here, you'll know exactly why they get rave reviews online. You can choose from numerous menu options like beef bulgogi stone pot bibimbap, pork belly soup, ginseng chicken soup, marinated spicy pork bulgogi, and seafood pancakes. The service here is superb, and you can order to-go. Most of the menu is in the $15-$25 range.
Location: 3385 S Decatur Blvd, Las Vegas
Price range: $15-$25
15. Tofu Hut
Ironically, one of the best places to eat Korean food in Vegas is called Tofu Hut. Tofu Hut is a favorite among Las Vegas locals for its good food and fair prices. It has a cheap AYCE (all-you-can-eat) menu for only $18.45, which includes different cuts of beef, pork, chicken, and seafood. Tofu Hut is also known for its excellent tofu soup, which is where it got its name. The steamed eggs are worth a try as well.
Location: 3920 W Spring Mountain Rd, Las Vegas
Price range: $10-$20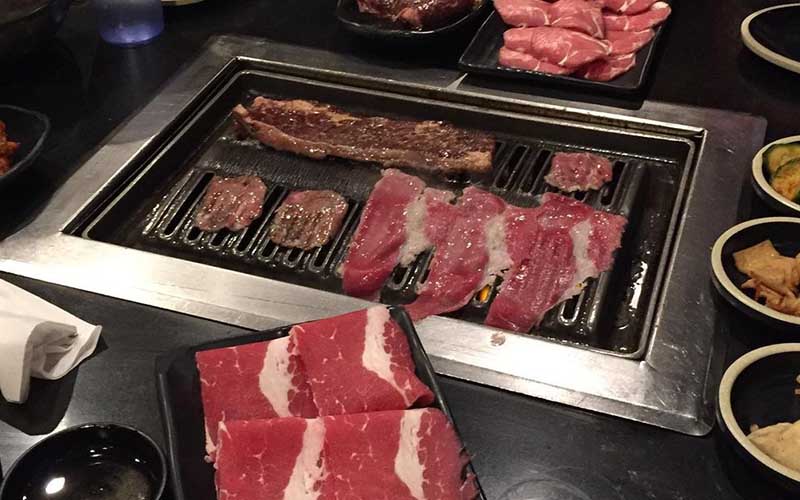 16. Kimchi Restaurant
Kimchi Restaurant is one of the few Las Vegas restaurants located directly on the Strip that specializes in Korean food. It's also open until 4 am daily, putting it on a short list of late-night Korean restaurants in Las Vegas. In addition to kimchi, you'll find a bunch of other great dishes here, like galbi, marinated short rib, marinated pork, beef tongue, ribeye, spicy chicken, cold noodles, stews, and rice dishes. There is a large sushi menu as well.
Location: 3049 S Las Vegas Blvd STE 14, Las Vegas
Price range: $20-$40
17. Gangnam Asian Dining
Gangnam is one of the better Korean barbecue restaurants in the area. Although not all-you-can-eat, the restaurant uses high-quality meats that don't disappoint. You can choose from a variety of menu options like Kobe beef, filet mignon, beef toro, pork belly, salmon with bacon, prime kalbi, miso chicken, fresh oysters, tuna poke, and calamari garlic. Their corn cheese comes highly recommended as well. You can find Gangnam Asian Dining right next to the Virgin Hotel, a few blocks off of the Strip.
Location: 4480 S Paradise Rd Ste 600, Las Vegas
Price range: $10-$30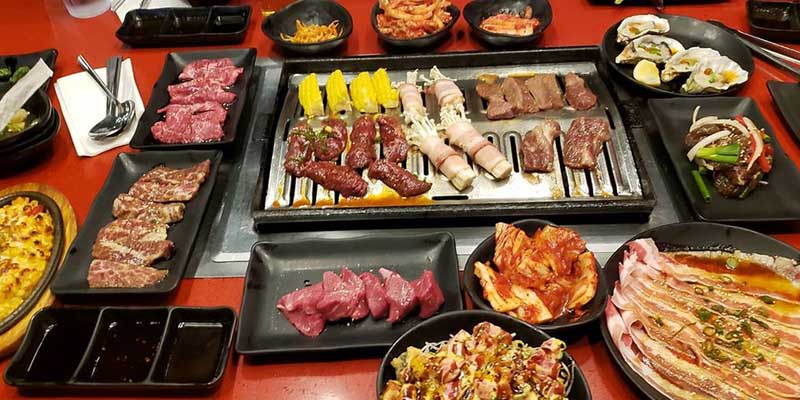 18. Belly Bombz Korean Inspired Chicken
Belly Bombz Kitchen started as a food truck concept in Los Angeles before opening a brick and mortar location in Las Vegas. This restaurant specializes in Korean bone-in and boneless wings of varying degrees of spiciness. They also offer fantastic burgers, sandwiches, rice bowls, salads, and fries. Update: Belly Bombz has unfortunately closed.
Location: 467 E Silverado Ranch Blvd Ste 125, Las Vegas
Price range: $10-$15
Map of Las Vegas Korean Restaurants
If you're looking for the Korean restaurant closest to you, check out the map below. You can find all of the Korean restaurants mentioned in this article on there.