Hwaro is one of the most popular Korean BBQ restaurants in Las Vegas. The restaurant has a great atmosphere and an impressive menu. The best part is, Hwaro is highly affordable.
In this article, I'll cover everything you need to know before you eat at Hwaro Las Vegas, including what to order, how much the food costs, and how to make a reservation. By the end of this post, you should know exactly what to expect.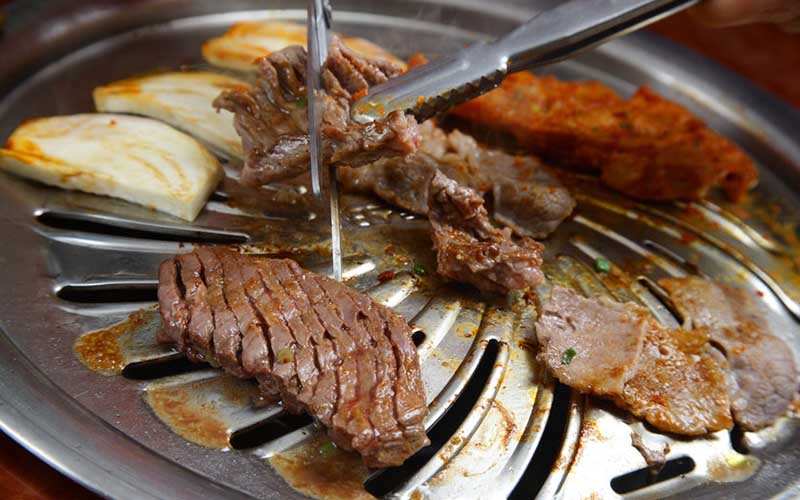 Hwaro Korean BBQ Prices
Hwaro's menu is AYCE (all-you-can-eat). There are two options available: the all-day special, and the late-night/lunch special. The difference between the two menus is the number of items available. The all-day special has 58 total menu items, while the late-night/lunch menu only has 48.
The prices may change in the future, but I listed the current AYCE prices menu below.
Lunch/Late-night Special – $23.95
All Day Special – $26.95
The lunch/late-night menu is only available Monday through Friday. You can order off this menu between the hours of 11:30am-4:30pm, and from 10pm until close. On the weekend, you must order from the all-day menu.
There are 3 sections on Hwaro's menu: appetizers, side dishes, and BBQ. You can order the majority of the menu items as many times as you want however, some items are limited to 1 per person. Now let's take a look at the individual KBBQ menu options.
Hwaro Las Vegas Menu
Appetizers
Over 15 different appetizers are available at Hwaro.
Fresh oyster
Gyoza
Egg roll
Korean fried chicken
Padak (honey chicken)
Sweet & spicy tofu
Bulgogi nachos
Japche
Cheese fondue
Corn cheese
Garlic butter
Seaweed Salad
Hwaro rice
Bean paste soup
Spicy tofu soup
Steamed egg
Side Dishes
There are nearly a dozen side dishes on the menu as well.
Green leaf salad
Green onion & beansprout salad
Sliced jalapeno & garlic
Sesame oil with salt
Radish wrap
Ssamjang (soy bean paste)
Kimchi
Cucumber kimchi
Fish cake
Corn cheese
Pickled radish & jalapeno
Potato salad
BBQ
When it comes to meats, there are plenty to choose from. I was especially impressed with their brisket-it's lean but also has just enough fat to add some serious flavor.
Skirt steak
Spicy skirt steak
Beef belly
Brisket
Pork belly
Green tea smoked pork belly
Sliced rib eye
Signature pork cheek
Prime pork rib
Hwaro spicy pork rib

Garlic jalapeno beef belly
Spicy pork bulgogi
Cajun chicken
Spicy chicken
Chicken bulgogi
Squid
Vegetable combo
All-Day Special
If you order the all-day special, you'll have an extended BBQ menu. This is the way to go since it only costs a couple of dollars more. I highly recommend the spicy pineapple beef steak!
Beef tongue
Short ribs
Red wine pork belly
Tripe (intestines)
Spicy pineapple beef steak
Beef flank
Green mussel
Hwaro premium steak
Baby octopus
King kalbi
The menu at Hwaro is very similar to Kogi Korean BBQ, but with a couple of different items.
Making Reservations at Hwaro
Like many other Korean barbecue restaurants in Las Vegas, Hwaro does not take reservations. Fortunately, the wait usually isn't bad (about an hour).
There are two Hwaro locations in Las Vegas, one on Spring Mountain Rd and one on Decatur Blvd. The Spring Mountain Rd location DOES NOT TAKE ALLOW PARTIES OF ONE. If you show up alone, you will be turned away.
However, the Decatur location does accommodate singles diners. So if you're eating alone, make sure that you visit the Decatur location (more on this below).
Hwaro Spring Mountain
This is the original Hwaro location in Las Vegas. You can find the restaurant on Spring Mountain Road, in the Chinatown neighborhood of Las Vegas. It's only about a 5-10 minute drive from the Las Vegas Strip.
Hwaro is part of a larger restaurant group, but it doesn't have its own website, so I included the contact information below.
Phone number: (702) 477-0363
Address: 5030 Spring Mountain Rd. #3-5, Las Vegas
Hours
I've seen different hours of operation posted in a couple of different places. It seems like the most current hours for Hwaro Spring Mountain is 11:30am – 3:00am.
Hwaro Decatur
Hwaro Decatur is the second iteration of Hwaro (it was creatively named Hwaro 2). It's located right up the street, but on South Decatur Boulevard. The restaurants are within a 2-minute drive of each other, making it easy to pivot if one is busier on a particular day.
Phone number: (702) 463-0070
Address: 3650 S. Decatur Blvd. #24-26, Las Vegas
Hours
The hours of Hwaro 2 are a bit more limited. It seems like they are open from 12pm to 12am (midnight), but that may change in the future.
Chosun Hwaro Las Vegas
Chosun Hwaro & Nara Teppan is a similarly named Korean BBQ restaurant in Las Vegas. It was located in the Miracle Mile Shops at Planet Hollywood, but the restaurant unfortunately closed in 2021. They have no association with the other Hwaro KBBQ restaurants.
For a complete list of current Korean restaurants in the Las Vegas area, check out the article I recently published here.