While recently trying to make a reservation at Sushi Hero Las Vegas, I had a difficult time finding information about them online. After a few minutes of searching, I quickly realized that they don't currently have a website. This surprised me since Sushi Hero is one of the best all-you-can-eat sushi restaurants in Las Vegas.
So after eating at Sushi Hero, I decided to write this article to give other people some basic information about the restaurant. This post will cover the menu, prices, hours, and location of this popular restaurant.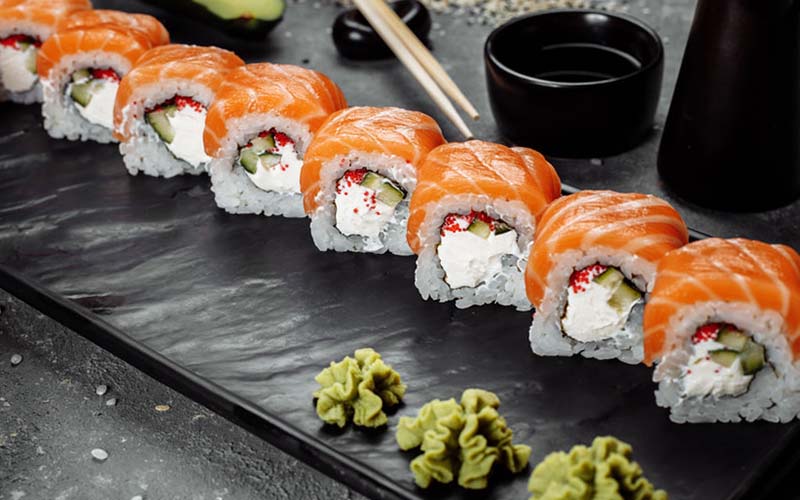 Sushi Hero All-You-Can-Eat Prices
Sushi Hero has well over 100 different sushi options on its menu. The restaurant is known for its all-you-can-eat (AYCE) sushi, but you do have the option to order a la carte. Individual dishes cost between $4-$15 per order, depending on what you get. Overall, the AYCE is the better deal, so that's what I recommend. Here are the AYCE prices:
If you don't get AYCE, expect to pay between $4-$15 per dish, depending on what you order.
Lunch – $25.95 (open – 3pm)
Dinner – $30.95 (open – close)
The dinner menu has a few more options than the lunch menu, but they are nearly identical. If you have kids, they will also get a massive discount if you get AYCE since they can share your sushi orders. The discounted amount depends on their height.
Kids under 35″ – $3
Kids under 42″ – $6
Kids under 48″ – $9
Kids under 54″ – $11.96 for lunch / $14.95 for dinner
There are also some AYCE rules at Sushi Hero. These rules are typical at all-you-can-eat sushi restaurants.
No sharing with non-AYCE party members
Leftovers are charged extra
18% gratuity will automatically be added to parties of 6 or more
Drinks are not included in AYCE
Sushi Hero Menu
Appetizers
Sushi Hero has a huge appetizer menu with over 40 items. I particularly liked the skewers, especially the bacon and scallop skewer. Here are a few of the appetizers offered:
Miso Soup
Mini Udon
Edamame
Spicy Garlic Edamame
Gyoza (dumplings)
Spicy Gyoza
Calamari Tempura
Shrimp Tempura
Coconut Shrimp Tempura
Vegetable Tempura
Baked Mussels
Shumai
Egg Rolls
Nuggets
French Fries
Takoyaki
Chicken Wings (garlic, spicy, lemon pepper)
Pork Katsu
Salmon Katsu
Baby Octopus
Skewer – Spicy Chicken
Skewer – Garlic Chicken
Skewer – Sausage
Skewer – Bacon & Scallop
Skewer – Meatball
Skewer – Asparagus
Bulgogi
Pork Belly
Chicken Teriyaki
Cheese Croquette
Corn Cheese
Jalapeno Poppers
Shrimp Ball
Mushroom Ball
Cheese Crab Ball
Agedash Tofu
Bulgogi Nachos
Salmon Kama
Golden Scallop
Deep-Fried Oyster – dinner only
It's important to note that the deep-fried oyster, salmon kama, and golden scallop are limited to 1 order per person, even if you have AYCE.
Nigiri Sushi
There are nearly 40 nigiri sushi options on the menu. Each dish comes with 2 pieces of sushi. These are a few of your options:
Tuna
Garlic Tuna
Seared Tuna
Karai Tuna
Salmon
Garlic Salmon
Seared Salmon
Yuzu Salmon
Yellowtail
Garlic Yellowtail
Karai Yellowtail
Yuzu Yellowtail
Albacore
Cajun Albacore
Seared Albacore
Escolar (ono)
Snapper
Yuzu Snapper
Octopus
Squid
Clam
Smelt Egg (masago)
Sweet Egg (tamago)
Salmon Egg
Scallop
Yum Yum Scallop
Eel

Mackerel

Crab
Yum Yum Lobster
Beef Tataki
Shrimp
Sweet Shrimp (amaebi) – dinner only
Sea Urchin – dinner only
Oyster – dinner only
The salmon egg, sweet shrimp, sea urchin, and oysters are limited to only 1 order per person, even if you have AYCE. Although limited, make sure you get the sea urchin. It's one of the best items on the menu.
Classic Rolls
Sushi Hero Las Vegas serves a bunch of popular sushi rolls. These are the classic rolls that every sushi spot has.
Tuna Roll
Spicy Tuna Roll
Yellowtail Roll
Spicy Yellowtail Roll
Salmon Roll
Spicy Salmon Roll
Salmon & Avocado Roll
Salmon Skin Roll
Baked Salmon Roll
California Roll
Philadelphia Roll
Spicy Crab Roll
Spicy Scallop Roll
Yum Yum Scallop Roll
Unagi Roll (eel)
Teriyaki Chicken Roll
Oshinko Roll
Veggie Roll
Veggie Tempura Roll
Avocado Roll
Cucumber Roll
Avocado & Cucumber Roll
Specialty Rolls
In addition to the classic rolls, Sushi Hero offers over 50 specialty rolls in unique flavors. A few of my favorites include the Popcorn Lobster Roll, the Grand Canyon Roll, and the Sashimi Roll. The Threesome Roll was also very good – it's filled with deep-fried cream cheese.
There are honestly too many rolls to list here, but these are the types of rolls offered on the menu:
Hand Rolls
Burrito Rolls
Deep-Fried Rolls
No Rice Rolls
Special Rolls
Baked Rolls
Shrimp Tempura Rolls
Soups & Salads
There are some soups and salads available too. I didn't want to get filled up on them, so I didn't try many of the salads.
Tuna Poki

Salmon Tartar
Salmon Skin Salad
Tuna Tataki Salad
House Salad
Seaweed Salad
Sashimi Salad – dinner only
Cucumber Salad
Desserts
Like the rest of the menu, the desserts are excellent. These are your options.
Ice Cream
Mochi
Tempura Ice Cream
Brownie w/ Ice Cream
Drinks
The drinks available at Sushi Hero are water, wine, and beer. They aren't included in the AYCE price, but they don't cost more than $5-$10 each.
Sushi Hero Las Vegas Reservations & Contact Information
Sushi Hero in Las Vegas can get busy, especially around 6pm to 8pm. Reservations aren't always needed, but I recommend that you make one if you can (I listed their phone number below). It will save you a ton of time if the restaurant is packed.
The restaurant is located between Paradise and Henderson, which is about 20 minutes from the Las Vegas Strip. To get there, just go straight down E Flamingo Road. You'll find Sushi Hero in the same plaza as Smith's grocery store.
Sushi Hero Las Vegas Contact Information
Phone number: (702) 476 1333
Address: 3870 E Flamingo Rd A1, Las Vegas, NV
Sushi Hero Henderson Hours – Henderson
Sushi Hero is open from 11:30am to 10:00pm Sunday through Thursday. On Friday and Saturday, they are open until 11:00pm, which is a bit later than during the week. As I mentioned earlier, the busiest times to eat here are during the dinner rush. So the best time to visit is before 5:00pm or after 8:00pm.
Is AYCE Sushi worth it at Sushi Hero Las Vegas?
Sushi Hero is one of my favorite sushi restaurants in all of Las Vegas. The food is always extremely fresh and delicious. The portion sizes are very generous as well. I highly recommend that you get the all-you-can-eat special. If not, specialty rolls cost about $12 per order, so it definitely pays to get AYCE.
Next: Best Sushi Burritos in Las Vegas – On & Off the Strip