There are so many places to grab all-you-can-eat sushi in Las Vegas, that it can be overwhelming. For the past few weeks, I've been running around the city trying to find the best sushi spots, and I finally got a chance to eat at Oyshi.
The reason why it took so long for me to try Oyshi Sushi is because there isn't much information available about the restaurant online. That's why I decided to write this article, which will cover everything you need to know about Oyshi Sushi. I'll cover the all-you-can-eat prices, the sushi menu, and how to make a reservation.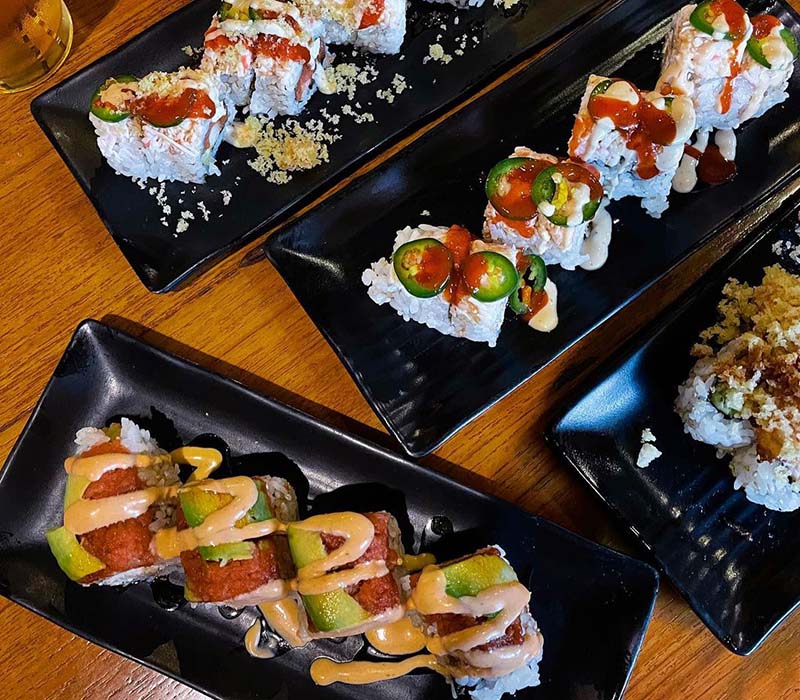 Oyshi Sushi Las Vegas Prices
Oyshi is famous for its all-you-can-eat (AYCE) sushi menu, although you can still order a la carte if you prefer. Here's the pricing for the AYCE special.
Lunch – $24.99
Dinner – $29.99
Kids (under 4ft) – $19.99
The AYCE sushi menu is pretty extensive. The only thing not included in AYCE is sashimi (I'll cover that more in-depth later). Oyshi Sushi has the same basic rules as other AYCE sushi restaurants. Those rules include:
No sharing food with non-AYCE party members

Leftovers will be charged extra
Parties of 8 or more are charged an automatic gratuity
Whether you order AYCE or a la carte, the menu is essentially the same. So, let's take a look at some of the sushi items on the menu.
Oyshi Sushi Menu Las Vegas
Appetizers
Oyshi Sushi offers a wide variety of appetizers from their sushi bar. I really enjoyed the baked mussels and popcorn scallops. Here are some of the other appetizers available:
Ahi Poke
Sunomono
House Salad
Seaweed Salad
Oysters
Baked Mussels
Japanese Miso Soup
Hiya Yakko (tofu)
Agedashi Tofu
Shrimp Tempura
Vegetable Tempura
Popcorn Scallops
Calamari

Grilled Beef Asparagus
Edamame
Yakitori (skewers in multiple flavors)
Potato Croquette (mashed potatoes)
Gyoza (dumplings)
Egg Rolls
Sizzling Plates (pork, steak & chicken plates)
Fried Rice
Pork Belly
Ramen
Simple Rolls
Like most sushi restaurants, Oyshi serves plenty of classic sushi rolls. These classics are the rolls that most people are familiar with.
California Roll
Orange Cali
Tuna
Spicy Tuna
Tuan & Cucumber
Cali Tuna
Yellowtail & Scallion
Shrimp Tempura
Crunch Shrimp Tempura
Yum Yum Scallop
Salmon
Salmon & Asparagus
Salmon & Avocado
Salmon Skin
Spicy Salmon
Cali Salmon
Eel & Asparagus
Eel & Cucumber
Eel & Avocado
Vegetable Rolls
If you don't eat meat, the restaurant also serves a fair number of vegetable rolls. Any roll with avocado in it is excellent.
Cucumber
Avocado
Avocado & Asparagus
Cucumber & Avocado
Cucumber & Asparagus
Plum & Cucumber
Oshinko (pickled radish)
Futomaki
Natto (soybean)
Special Vegetable
Specialty Rolls
Beyond the classic sushi rolls, Oyshi Sushi Las Vegas serves nearly 60 specialty rolls. A few of my favorites include Japanese Lasagna, Tiger, and Volcano. The specialty rolls fall into one of three categories:
Tempura Rolls
Baked Rolls
Signature Rolls
Sashimi & Nigiri Sushi
In the sashimi and nigiri section, Oyshi has about 2 dozen sushi options. The nigiri is included as part of the all-you-can-eat special. But, if you want sashimi, it will cost between $10-$18 per dish, depending on what you get.
All of the menu items listed below are offered as nigiri, however, not all of them are served as sashimi (sashimi is sushi without rice).
Tuna
Spicy Tuna
Albacore
Yellowtail
Ono
Salmon
Mackerel
Eel
Squid
Halibut
Izumidai
Tamago
Masago

Yum Yum Scallops

Ikura
Clams
Octopus
Uzura
Seaweed Salad
Shrimp
Sweet Shrimp – limited to 1 order
Sea Urchin – limited to 1 order
Hotate – limited to 1 order
Tobiko – limited to 1 order
Desserts
Oyshi offers a couple of excellent desserts. I highly recommend that you get the creme brulee.
Creme Brulee
Ice Cream
Mochi Ice Cream
Berry Parfait
Tiramisu
Drinks
One of Oyshi's specialties is premium sake. They have plenty of sake and wine options on the drink menu. Drinks are not included as part of the AYCE special.
Bottled Water – $3
Juice – $2
Beer – $5-$8
Sake – $15-$50
Soju – $12
Wine – $30-$50
Oyshi Sushi Reservations & Contact Information
Oyshi Sushi isn't currently taking reservations, which can lead to long wait times during the dinner rush. I always recommend getting there early because of the potential for long wait times during peak hours. They do utilize the Yelp waitlist, however, it was closed the last time that I checked.
Oyshi has 2 locations in Las Vegas, one north of Spring Valley and one south of Spring Valley. I have only visited the location on Rainbow Blvd (south of Spring Valley). Both locations are approximately 15 minutes from the Las Vegas Strip.
The hours of the two restaurants are slightly different. But they are typically open from 11:30am to 11:00pm Monday through Saturday. Their hours on Sunday are limited to 12:00pm to 10:30pm.
Oyshi Sushi Las Vegas Contact Information
Phone number: (702) 646 9744
Address 1: 7775 S Rainbow Blvd, Las Vegas, NV
Address 2: 7293 W Sahara Ave, Las Vegas, NV
Is the Oyshi Sushi all-you-can-eat menu worth it?
The service at Oyshi Sushi isn't the fastest, but the food is good. The sushi is fresh and fairly priced for an AYCE spot. I recommend getting to the restaurant early, in case there is a wait. Oyshi Sushi is definitely worth a try the next time you find yourself in the neighborhood.
Next: Sushi Hero Las Vegas: AYCE Prices, Menu & Hours
Previous: Sushi Way Las Vegas [Prices & Menu]