I recently decided to try all of the best hot pot restaurants in Las Vegas. I've had several friends recommend Shabuya, so I was really excited to eat here.
There isn't a whole lot of information available about Shabuya online, so after eating here, I decided to write this article to give other people some basic information about the restaurant. This post will cover the menu, prices, hours, location, and how to make a reservation.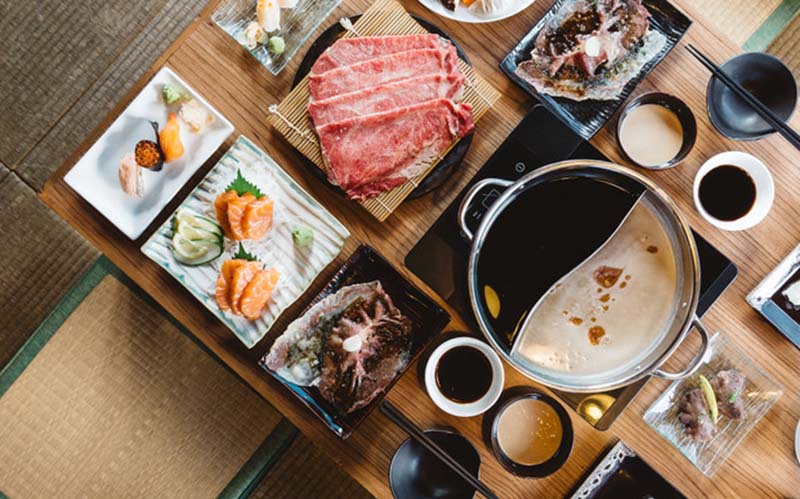 Shabuya Las Vegas Prices
There are two main menus at Shabuya, the lunch menu and the regular menu. The lunch menu is slightly cheaper, but there are fewer meats available at lunchtime. Both menus offer all-you-can-eat (AYCE) hot pot and seafood.
Lunch Menu – $22.99 /person (only available Thursday-Sunday 12pm-3pm)
Dinner Menu – $26.99/person
There is a 90-minute time limit on AYCE orders, and leftovers cannot be taken home. Also, all guests at the table will be charged in full regardless of whether or not they choose to order their own food. The one exception is kids.
If you have kids, you can get a pretty significant discount at Shabuya Las Vegas. Children under 40 inches tall eat for free, while kids between 40 and 50 inches are only charged $9.99.
Menu at Shabuya
Appetizers
Here are some of the more popular appetizers offered at Shabuya.
Gyoza (dumplings)
Takoyaki (grilled octopus)
Shishito Peppers
Edamame
Garlic Chili Edamame
Kani Croquette
Chicken Karaage
Soy Glazed Chicken Karaage
Volcano Chicken Karaage
Swai Fillet Tempura
Curry Rice
Stuffed Jalapeno Poppers
Broths
Shabuya has a pretty simple menu, which makes it really easy to order. Unlike some other restaurants that have a group hot pot, Shabuya give everyone their own hot pot and individual burner. Here are the broth bases that you can choose from:
Original House
Miso
Spicy Miso
Tonkotsu
Sukiyaki
There are a number of vegetables and noodles that you can put into your broth as well. Vegetables are available at the veggie bar in the center of the restaurant.
Meats
Once you pick your broth, you can choose what meats you want to cook in your hot pot. Some meats aren't available on the lunch menu.
Prime Cross Rib
Premium Rib Eye
Beef Toro
Natural Pork Belly
Natural Pork Shoulder
Prime Blade Meat – (dinner only)
Prime Flat Iron Steak – (dinner only)
Prime Sirloin Tip – (dinner only)
Australian Lamb – (dinner only)
Additionally, you can order seafood items to put into your pot like squid, crab, lobster, clams, shrimp, baby octopus, and tofu.
Seafood and Sushi
There are also some excellent seafood dishes served at Shabuya.
Carpaccio
These are thinly sliced fish dishes. There is a limit of 1 per table.
Tuna
Seared Garlic Tuna
Albacore
Spicy Albacore
Salmon
Sushi Rolls
The restaurant serves several classic specialty sushi rolls.
Philadelphia
California
Spicy Tuna
Red Dragon
Sumo
Ultimate Salmon
Albacore Lover
Alaskan
Snow
Drinks
Drinks are sold separately from the all-you-can-eat menu. You'll have several options:
Soda – $2-$4
Bottled Beer – $8
Draft Beer – $6-$10
Wine – $8
Sake – $7-$15
Soju – $8-$15
Cocktails – $16
Shabuya Las Vegas Reservations & Contact Info
I recommend that you make a reservation in advance since this restaurant can get busy at times. Shabuya's Yelp page says that they don't take reservations, but I was able to make one when I called. If you can't make a reservation, try to go early to avoid the lines.
Shabuya Las Vegas has very odd hours of operation. They change almost every day of the week. On Monday, Tuesday, and Wednesday they are open from 4pm to 11pm. On Thursday and Sunday, the restaurant is open from 12pm to 11pm. Then on Friday and Saturday, they are open from 12pm to 2am.
You can find Shabuya in the Chinatown neighborhood of Las Vegas. I listed their contact information below.
Shabuya Hotpot Las Vegas Contact Information
Phone number: (702) 776 9277
Address: 4725 Spring Mountain Rd Suite, Las Vegas
Final Thoughts
The food quality and presentation at Shabuya earn excellent customer reviews. The prices are also very fair for the amount of food that you're getting.
I particularly like how each person gets their own hot pot and burner. This allows you the freedom to dip your meats into the broth flavor of your choice. Shabuya is currently one of the best places to order all-you-can-eat shabu shabu in Las Vegas.
Related Articles